4. Quaternionisch schaars representatiemodel voor verwerking van kleurenafbeeldingen
Academiejaar: 2018/2019


Begeleiders: Srđan Lazendić (S8, bureau 130.071)
Promotoren: Aleksandra Pižurica (Technicum TELIN-IPI), Hendrik De Bie (S8, bureau 130.062)
Probleemstelling:
Veel problemen zoals beeld- en videoreconstructie, compressie en codering, digitale beeldinkleuring en content analyse halen voordeel uit het zogenaamde schaarse representatiemodel (zie [1]). Aangezien deze technieken zeer sterk en uitgebreid toepasbaar zijn, trekken schaarse representaties van signalen (inclusief beelden en hogerdimensionale data) de aandacht van onderzoekers uit diverse onderzoeksgebieden. Het doel van een schaarse representatie is om om een goede benadering te geven van een signaal, enkel gebruik makend van een dictionary (zie Figuur 1 en 2). Een van de best gekende en algemeen gebruikte aanpakken voor dictionary learning is de zogenaamde K-SVD methode. K-SVD is een uitbreiding van de 'K-means clustering' methode, die toelaat tot efficiënt leren van de dictionary, gebruik makend van de 'sigular value method' (SVD). De vaak voorkomende dictionary learning technieken, inclusief de recente K-SVD methodes, behandelen signalen op eenzelfde manier, onafhankelijk van de dimensie en het soort verschillende kanalen in het geval van data die uit verschillende componenten bestaat (zoals kleur, multispectrale en hyperspectrale afbeeldingen). Alle data in een 2-D venster (in het geval van een grijsgeschaalde afbeelding) of een 3-D venster (in het geval van een beeld met meerdere componenten) zijn eenvoudig samengesteld in een rij, gebruik makend van een vooropgestelde volgorde en op die manier behandeld als een enkele 1-D vector.

Fig 1. - Voor gegeven data Y zoekt de dictionary learning methode een dictionary D en een representatie matrix X zodat zijn kolommen Xi schaars genoeg zijn (Data 61).
Een zeer recente trend in signaalverwerking en machineleren probeert een verbeterd schaars representatiemodel te bouwen van kleurenafbeeldingen door quaternionen te introduceren in de opbouw van de dictionary (zie [2],[3]). Quaternionen zijn vier-dimensionale veralgemeningen van complexe getallen (met drie imaginaire eenheden in plaats van 1). Door hun eigenschap dat ze op een efficiënte manier rotaties in 3-D beschrijven, hebben quaternionen tal van toepassingen in theoretische en toegepaste wiskunde, alsook in verschillende gebieden binnen de ingenieurswetenschappen, zoals computerbeelden en computervisie, alsook in tal van toepassingen in biomedische verwerking, afstandsvoelen, hyperspectrale beeldverwerking en vele andere. De quaternionische representatie met drie imaginaire eenheden is ook perfect geschikt voor de representatie van drie kleurkanalen. Daarom zijn quaternionen al excessief gebruikt in verwerking van kleurbeelden. Een zeer recente methode, de zogenaamde K-QSVD, een veralgemening van het K-SVD algoritme in de quaternionische setting, toonde al opmerkelijke resultaten (zie Figuur 2). Het potentiel van quaternionen voor het verbeteren van schaarse representaties van beelden die uit meerdere componenten bestaan moet nog worden onderzocht, beginnend bij de eerste aanmoedigende resultaten. De motivatie is dat de coëfficiëntenmatrix niet alleen de correlatie tussen kanalen behoudt, maar ook de orthogonaliteitseigenschap. Volgens recente studies, is dit belangrijk voor de complexiteit van de berekeningen en in termen van kleur-betrouwbaarheid in de reconstructie. Echter, vele aspecten van deze aanpak moeten nog worden onderzocht, zowel theoretisch als het praktische ontwerp. In deze masterthesis zal de student worden geleid door de promotoren van de onderzoeksgroep 'Image Processing and Interpretation' en de onderzoeksgroep 'Cliffordanalyse'.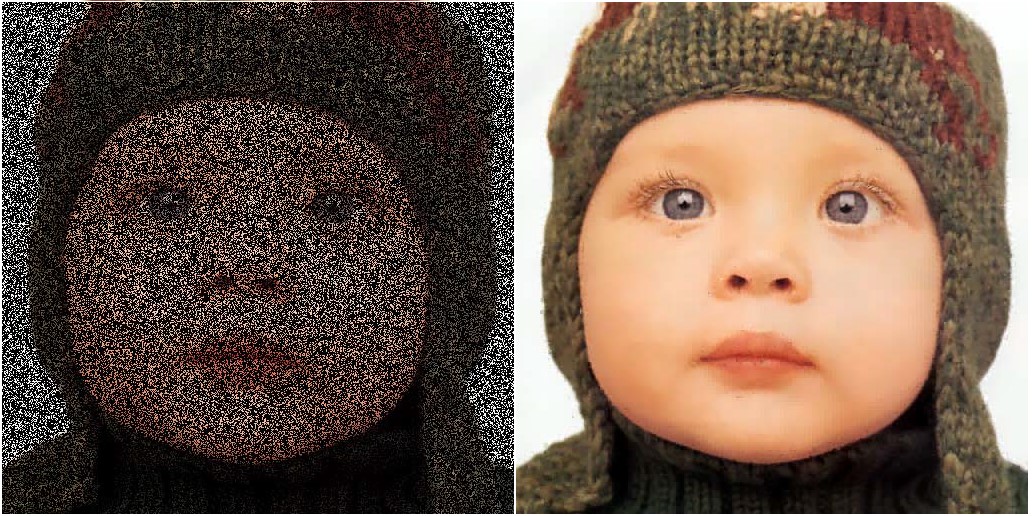 Fig. 2. - Een voorbeeld die het gebruik van K-SVD toont bij inkleuring van afbeeldingen. Links: beschadigde afbeelding (70% ontbrekend);
Rechts: een gereconstrueerde afbeelding met K-QSVD.
Doelstelling:
Deze thesis combineert opkomende en zeer populaire technologieën in beelverwerking en computervisie met een goed onderbouwde wiskundige theorie om een gegrond kader te bouwen dat zal gevalideerd worden in een aantal concrete toepassingen die nog meer toepasbaar zijn. Het belangrijkste doel van deze thesis is om een krachtige methode te bouwen om kleurenbeelden te coderen met behulp van quaternionische dictionaries, started bij de literatuur en reeds gekende algoritmen zoals K-SVD en K-QSVD. Eerst is een verkenning nodig van de efficiëntie van K-QSVD dictionaries, in vergelijking met de meer traditionele dictionaries in termen van de benaderingskracht (het doel is om de afbeelding samen te stellen op een zo getrouw mogelijke manier, waarbij zo weinig mogelijke elementen gecombineerd worden op elke lokale positie). Ten tweede dient de ontwikkelde methode toegepast te worden in twee concrete beelverwerkingstoepassingen - verwijdering van ruis uit afbeeldingen en digitale inkleuring (zie figuur 3). In deze toepassingen zal het gebruik van quaternionische dictionaries praktisch worden geëvalueerd en vergeleken met een aantal huidige state-of-the-art methodes die de student zal kunnen gebruiken.
Referenties:
Elad, Michael, Sparse and Redundant Representations: From Theory to Applications in Signal and Image Processing, Springer, 2010.


Xu, Yi, et al. Vector sparse representation of color image using quaternion matrix analysis. IEEE transactions on image processing, 2015, 24.4: 1315-1329.


Zou, Cuiming, et al. Quaternion collaborative and sparse representation with application to color face recognition. IEEE Transactions on Image Processing, 2016, 25.7: 3287-3302.


Mairal, Julien et al. Learning multiscale sparse representations for image and video restoration. SIAM Multiscale Modelling and Simulation, 2008, 7(1):214-241