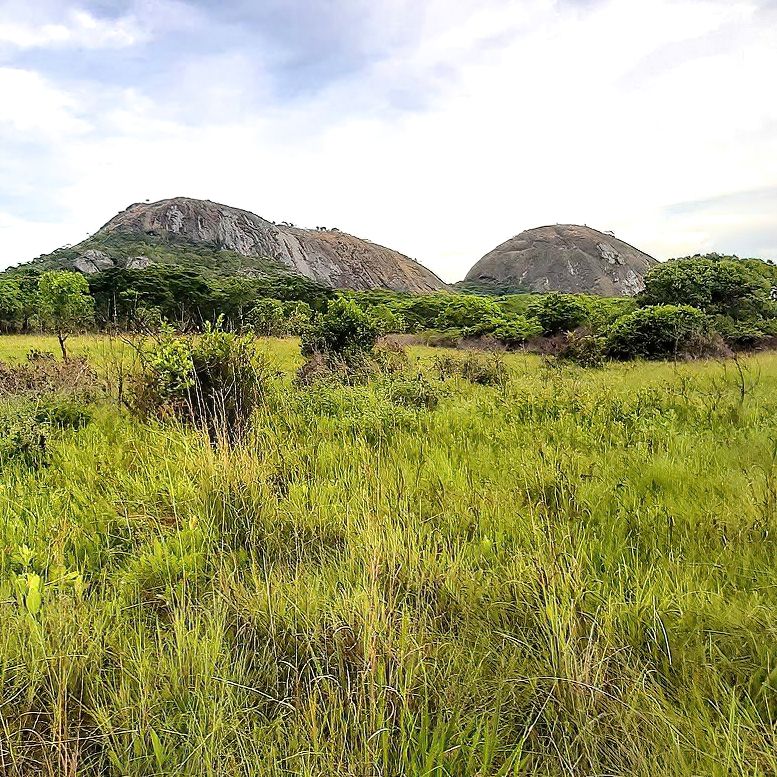 Report by Dries & Hans - all bird pictures by Marijn
Download kml file with all gps coordinates.

All sound recordings made during this trip can be found and downloaded on xeno-canto.
INTRODUCTION
Zambia is a landlocked country in central Africa. Apart from the main river valleys (Zambezi in the west and south and Luangwa in the east) and some lower lying lake basins in the North (Lake Tanganyika and Mweru), the majority of the country is part of the Central African Plateau (900m - 1400m a.s.l.). Besides the escarpments bordering the river valleys and the lake basins, the country is relatively flat. The highest areas are the Mafinga hills (over 2200m asl) and the Nyika plateau (accessible from Malawi) in the east of the country.

The dominant vegetation type is Miombo (and Mopane in the drier areas) woodland. Intrinsically associated with these woodlands are dambos which are (seasonally) wet grasslands and evergreen riparian forest (along streams and rivers) which may develop into Mushito or swamp forest on permanently wet soils. These vegetation types are often found within one area at close distance from each other such as at Kalwelwa, Kasanka NP, Mutinondo, etc. Other vegetation types include floodplains, swamps/marshes (e.g. Bangweulu), shrub/thickets (mostly in the valleys and lake basins) and cliffs/rocky outcrops (e.g. escarpments and Mutinondo).

Zambia lies central in, and takes up the vast majority of, the Zambezian Biome. This biome boasts a number of restricted species generally associated with Miombo woodland. While most of these species can be found in neighboring countries as well (most notably Tanzania, Malawi, Zimbabwe and Angola), Zambia definitely seems to offer an easy way to get a good part (all?!) of these regional target birds. This, in combination with easy accessibility and the relaxed atmosphere of the people, should do Zambia more justice as a dedicated birding destination!

An indispensable resource is the Birds of Zambia app which holds information, pictures, maps and sounds on the entire avifauna of Zambia - highly recommended! The Merlin app (Cornell) also has a Zambian package (albeit with few Zambian species missing) with good pictures, sounds and world distribution maps.

Besides these apps, the only book that covers all Zambian birds is Sinclair & Ryan's Birds of Africa south of the Sahara. Noteworthy extra resources are Roberts Birds of South Africa (also as app) and the LBJ book by Faansie Peacock (can be purchased as pdf from his website). For additional information on the distribution and biogeography of Zambian birds, see the book on Zambian IBA's (Birdlife International) and the Dowsett & Lemaire Birds of Zambia atlas. Zambia is part of the ongoing SABAP (the South African Bird Atlas project), which is besides the global online observation databases (e.g. eBird, Observado) also a valuable source for species' observations.

The recently published Tracks4Africa Zambia guide and map are recommended resources for general travel information.

Many thanks to Frank Willems (Birding Zambia), Carl Beel and Damian Newmarch for exhaustive pre-trip information and frequent last-minute info and tips, as well as Ross & Melissa Gallardy for GPS coordinates. We had a great encounter with Frank, Gabriel and Wouter - thanks for the chat and pitta help!
ITINERARY

Notes on our itinerary
We ended up doing a modified trip from the initial itinerary. The combination of a Covid infection just prior to the initial departure and the more strict sanitary regulations due the the upcoming Omicron variant, made us postpone the trip for one week. Not everybody could stay the planned full 3 weeks. We planned the trip this way so that the Pitta was available for all of us. As a result, there was no time to make the full Northern loop and we had to skip the Tanganyika Masked Weaver, Babbling Starling and Pitta searching in the North (Mweru Mwantipa). We choose to get the Margaret's Batis in Imanda Forest instead of Mavunda Forest for logistical reasons. We also had only one morning in Kasanka. In our rescheduled trip, Dries and Hans would make a short extension loop to Kafue NP for the Black-cheeked Lovebird and Choma for Shelley's sunbird. Unfortunately, this also had to be skipped, due to very nearby Covid (what else) and the risk of getting stuck in quarantaine. Luckily for us, we stayed healthy and safe...
| | | | |
| --- | --- | --- | --- |
| Date | Activity | | Night |
| 7 Dec | Departure Marijn and Hans Brussels | | Flight |
| 8 Dec | Arrival Marijn and Hans Ndola + birding Kamfinsa Farm (private) | | Kamfinsa (Dries' place) |
| 9 Dec | Morning birding Mwekera Forest + arrange logistics Kitwe + afternoon birding Mwekera Forest | | Kamfinsa (Dries' place) |
| 10 Dec | Travel to Mwinilunga with short birding stop-overs at Amano Christian School and Chimfunshi entrance road + late afternoon birding Chitunta Plains + Travel to Kalwelwa | | Kalwelwa |
| 11 Dec | Birding Kalwelwa (main forest, afternoon plains + delta) | | Kalwelwa |
| 12 Dec | Birding Kalwelwa (main forest + bush camp, afternoon transition zone + delta) | | Kalwelwa |
| 13 Dec | Morning birding Kalwelwa (main forest) + birding Chitunta Plains + travel to Mutanda lodge | | Mutanda lodge |
| 14 Dec | Birding Mutanda Falls + travel to Kitwe (Kamfinsa) with birding stop-over at Chimfunshi entrance road | | Kamfinsa (Dries' place) |
| 15 Dec | Travel to Imanda forest + birding Imanda Forest + travel to Forest Inn + afternoon birding around Forest Inn and Mkushi area | | Mkushi (Forest Inn) |
| 16 Dec | Morning birding around Mkush area + travel to Kasanka + afternoon birding and sundowner batting Kasanka NP  | | Kasanka Pontoon Camp |
| 17 Dec | Morning birding Kasanka + travel to Lake Mweru (Nchelenge) with roadside birding at the Luapulu River Bridge + evening birding Nchelenge Papyrus marsh at Luapula River mouth | | Nchelenge |
| 18 Dec | Morning birding Nchelenge Papyrus marsh at Luapula River mouth + travel to Chisimba Falls with roadside birding for Oustalet's sunbird | | Chisimba Falls |
| 19 Dec | Morning birding Chisimba Falls + travel to Mutinondo + evening birding Mutinondo Wilderness | | Mutinondo |
| 20 Dec | Birding Mutinondo Wilderness | | Mutinondo |
| 21 Dec | Morning birding Mutinondo Wilderness + travel to Chisamba | | Fringilla |
| 22 Dec | Morning birding Chisamba IBA + around Fringilla Lodge + travel to Chirundu (Gwabi River Lodge) + evening birding Gwabi River Lodge | | Gwabi River Lodge |
| 23 Dec | Morning birding Gwabi River Lodge (pitta) + afternoon birding Kafue/Zambezi confluence from boat | | Gwabi River Lodge |
| 24 Dec | Morning birding Gwabi River Lodge (pitta) + travel to Lusaka | | Lusaka (private) |
| 25 Dec | Morning birding Kasisi Mission + Marijn flight to Belgium + travel to Itezhi-Tezhi (Kafue NP) | | Itezhi-Tezhi |
| 26 Dec | Abort plans due to nearby Covid case and travel back to Lusaka + afternoon birding Kasisi Mission and Chamba Valley | | Lusaka (Natwange Backpackers) |
| 27 Dec | Hans flight to Belgium | | |

Map showing visited sites (red markers) and other key sites (blue markers).
PRACTICALITIES

GETTING THERE & GETTING AROUND
There are 3 international airports in Zambia: Lusaka (capital), Livingstone (near Victoria falls in the South) and Ndola (Copperbelt, close to the Congolese border). Over the past pandemic years, Ethiopian Airlines has proven to be the most reliable airline with the most frequent service. During the height of the pandemic they were basically the only airline to continue to serve Africa.

We had the privilege of driving around in Dries's personal Toyota Land Cruiser Prado. Despite some minor flaws, this took us without any hassle all across the country. The only occasion where we really needed the 4WD was in and around Kalwelwa (Mwinilunga). During the rainy season a 4WD will most definitely be necessary on more occasions (see below).

Rental cars in Zambia are easy to arrange, but the options are relatively limited and can be expensive

Fuel prices are more or less consistent across the country. During our visit, the prices increased substantially after years of unchanged pricing. Prices for Diesel and Petrol ranged between 20 and 21,5 ZMW. When driving in Zambia, be aware that there are regular speed controls along main roads.


WEATHER & TIMING
Zambia has three distinct seasons: a hot and dry season (mid-August to mid-November), a wet rainy season (mid-November to April) and a cool dry season (May to mid-August).

A number of bird species, most notably the typical Miombo birds and nightjars start breeding at the start of the leaf-flush (September onwards). On the other hand, birds associated with wetlands (weavers, bishops, indigobirds, flufftails, rails/crakes) will only breed (and be in breeding plumage: e.g. indigobirds (!) ) during the rainy season (from mid-december/January onwards). The Northwestern-area (Mwinilunga: Kalwelwa) has a slightly different rainfall and bird activity pattern. Rains arrive earlier and birds start breeding earlier (best period for Mwinilunga visit is August), with notable target birds such as Bocages's Weaver and Black-and-Rufous Swallow becoming more challenging or impossible (very low numbers) from December onwards. The African Pitta, a top target and intra-African migrant, arrives on their breeding grounds with the first rains from mid-November onwards and are easiest in December when actively calling and displaying. They can be very elusive from January onwards when not calling and leave Zambia by early March. Read more at the Weather & Climate website.

As African Pitta was one of our major targets, we planned our trip according to their prime display time. We figured that we would still just be in time for Mwinilunga, and might be lucky with some early wetland breeders. Eventually, we found most of our target birds in this season, but there were several species that didn't respond (well) to play-back. We encountered several juvenile birds alongside their parents which is indeed an indication for the end of the breeding season for several species. None of the indigobirds and very few widowbirds/widah's we encountered (with the exception of long-tailed widowbird) were already in full breeding plumage.

We have been lucky that rains came very late this year and we hence did not experience any heavy rains during our trip. Birding time was almost unaffected by downpours and all roads were still perfectly accessible.

The majority of the roads in our itinerary were tarred (albeit sometimes badly) and will remain accessible throughout the rainy season. During the rainy season, some of these badly tarred roads would take longer to travel and it would be necessary to make prior enquiries about the state and conditions of the roads for the following stretches: to and around Imanda forest (from Mpongwe onwards), in Kasanka NP, from Chirundu to Gwabi River Lodge.

Note that a very large part of Zambia becomes inaccessible in the rainy season. Many lodges and (parts) of National Parks close completely as they are simply inaccessible. Roads that are otherwise fine might become unpassable, or need a 4WD and take a lot longer to cover. During the cool season nights at the plateau (e.g. Mutinondo) can be very cold (down to freezing), so come prepared for such temperatures!


ACCOMMODATION & FOOD
As Zambia is not as heavily visited by tourists as neighboring countries, accommodation cannot always be found in different price classes. In some places (Mutinondo, Kalwelwa, Kasanka, etc), there is only one convenient place to stay. Lodges can be rather expensive, but almost invariably, camping is welcomed/provided.

Below is a list of places we spent night:

In the larger cities, some very tasteful food was found. The local knowledge of Dries did come in handy here. In the smaller villages and along the roads, food was more basic, but nevertheless easy to get and mostly of decent quality. We never tried, but it should be possible to have your meal in a lodge when 'only' camping on their grounds. We were fully equipped with cooking material which was always a guaranteed backup. All needed ingredients were easy to find in the larger supermarkets.


HEALTH & SAFETY
Zambia is a safe and pleasant country to travel around. People are very friendly and we never encountered any problems. Police (and other) checkpoints are generally correct, although they might 'try you out'. Be aware that police officers might still be tempted into corrupt and unofficial practices, although we did not encounter any of that during our trip. We felt safe and confident to leave our car in car parks or along the road while birding/eating/shopping.

Traveling during Covid-19 pandemic had its own restrictions which are dependent on the current situation - hence we won't go deeper into this. Best to read the website of the Zambian Ministry of Health or its Facebook Page (more frequent updates).


VISA
We did not have to apply for a visa beforehand, although it would have been possible. Getting a tourist visa upon arrival was very straightforward. Make sure to bring along the needed money to pay in cash (50 USD at the time of writing). Read more at the site of Zambia Department of Immigration.


MONEY
The local currency is the Zambian Kwacha (ZMW or k). ATM's were fairly easy to find in the larger cities and both credit and debit cards were accepted. Most ATM's max out at 4000 ZMW, with 6000 being the exception. In a good part of the hotels, shopping malls, restaurants in the cities and filling stations 'swiping' (using cards) was possible, although it might not always work with all foreign cards. Make sure to have sufficient cash (Kwacha) with you as the connection might be down at any time.

Note that over the last two years there has been (and still is) a steady devaluation of the Kwacha, although the government has at some occasions artificially re-validated the kwacha back up again. During our trip, ZMW to EURO changed from 18 to 16 overnight. Make sure to keep track of the exchange rates!


TRAVEL TIMES
All travel times consider direct, non-stop drive with a personal vehicle.


| | | |
| --- | --- | --- |
| Kitwe - Mwinilunga | 7-8 hrs (road very good until c 40km past Mutanda turn-off, then moderate to bad tar until Mwinilunga) | |
| Mwinilunga - Chitunta | 30-45 min (dirt but good) | |
| Chitunta - Kalwelwa | 1 hr (dirt and bad) | |
| Kitwe - Kamfinsa (Mwekera) | 30min (tar + part dirt, good) | |
| Kitwe - Imanda Forest | 3 hrs (tar (good) + last stretch dirt; might be considerably longer during rainy season) | |
| Imanda Forest - Forest Inn | 4hrs (first stretch dirt, bad tar until turn-off on Great North road; very good tar from Kapiri to Forest inn).  | |
| Forest Inn - Kasanka | 4-5 hrs (generally very good tar, small moderate stretch between Serenje and turn-off to Mansa) | |
| Kasanka - Nchelenge | 7-8 hrs (generally moderate to bad tar); we took the route Mansa - Kashiba - Kazembe - Nchelenge (D79, along the Congelese border, next to the Luapula river) as this was the recommended route (fastest) at that time. Might be considerably longer during the rainy season | |
| Nchelenge - Chisimba falls | 7-8 hrs took the route Mbereshi (D79) - Kawamba - Mushota (D74) - Kanyense (back to M3) - Luwingu (M3) as this was the recommended (fastest) route at that time. Might be a bit longer during the rainy season | |
| Chisimba falls - Kasama | 30-45 min | |
| Kasama - Mutinondo | 5-6 hrs (generally moderate to occasionally bad tar) | |
| Mutinondo - Fringilla | 9-10 hrs (moderate tar between Mutinondo and Serenje, good tar from Serenje onwards) | |
| Fringilla - Chisamba IBA | 30 min (good tar) | |
| Fringilla - Chirundu | 4 hrs (good tar; traffic jams in/around Lusaka might considerably prolong the journey) | |
| Chirundu - Lusaka | 3 hrs (good tar, traffic jams in/around Lusaka might considerably prolong the journey) | |
| Lusaka - Itezhi-Tezhi | 5-6 hrs (good tar until c 30 km after Mumbwa turn-off to Itezhi-Tezhi, then moderately to bad dirt). Last dirt stretch might be considerably longer during the rainy season. | |
SITE INFO
MWEKERA FOREST
Mwekera is a small remnant forest associated with the forestry college. The access road bisects the forest. It holds a good set of Miombo target species. Accessibility and the small size (high density and easy birding!) make it a highly rewarding and essential stop. It has turned out to be an easy and reliable site for Chestnut-backed Sparrow Weaver (rare and sparsely distributed, but readily seen at sites where known to occur including here) and Miombo Pied Barbet (wide distribution but can be highly challenging). Other Miombo target species present include Souza's Shrike, Böhm's Flycatcher, Miombo Rock Thrush, Arnot's Chat, Pale-billed Hornbill.

To reach Mwekera, take the turn-off from the Ndola-Kitwe dual carriage road towards Kamfinsa at -12.889353, 28.310361. We birded the forest patches both North and South of the dambo (-12.861426, 28.352701). The areas on the east of the road and closer to the edge of the dambo were most productive. We also briefly checked out the dam (-12.846953, 28.355048) on the other side of the college.

Highlights: Miombo Pied Barbet (responded to tape at the dambo edge -12.859946, 28.350740), Chestnut-backed Sparrow-Weaver (-12.860830, 28.356805), Black-necked Eremomela, Miombo Tit (the latter two in mixed-species flocks), Arnot's Chat (several)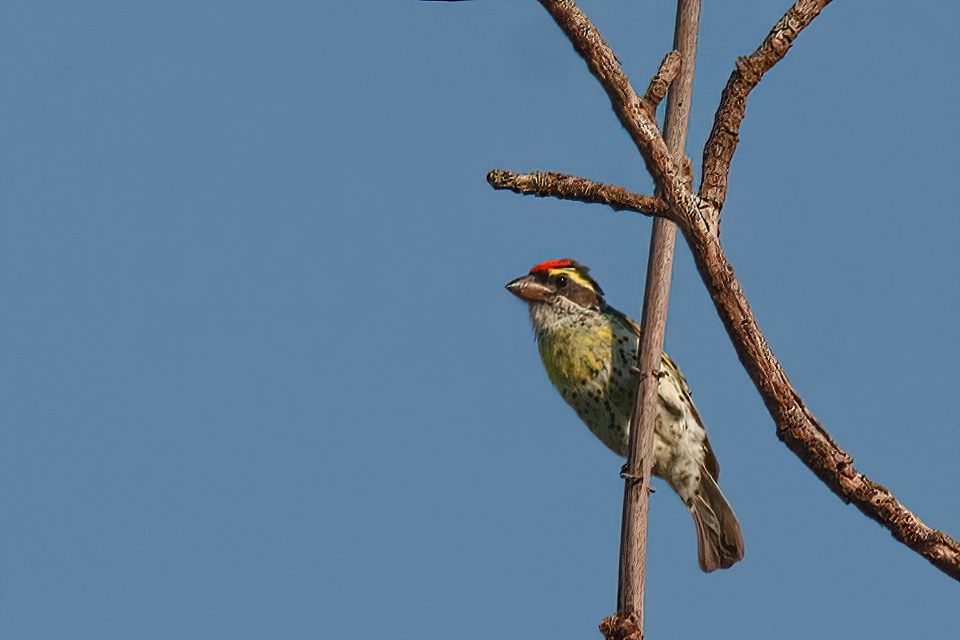 Miombo Pied Barbet - Mwekera Forest


AMANO CHRISTIAN SCHOOL
Private area. We came across this site when searching for potential sites for Whyte's Barbet on eBird. This species has been seen here regularly and we gave it a short try en route to Kalwelwa. The border of the forest along the main road did seem promising (-12.590434, 27.945336). Later on we also asked permission to bird on the private grounds. We had no luck.




CHITUNTA PLAINS
Chintunta plains lay just north of Mwinilunga town, just a couple of km past the turn-off to Kalwelwa. These plains are best known for the Bocage's weaver colony (breeding August - November), which is (one of ?) the only known breeding localities for this species. Besides the weavers, the plains also boast a good number of highly sought after birds such as Locustfinch, Angolan lark, Grimwood's Longclaw, Dambo cisticola, Black-and-rufous Swallow and Short-tailed Pipit. Besides the weaver, all other birds can be found on the plains around Kalwelwa as well.

We birded the area on two occasions: in the evening when driving to Kalwelwa and in the late morning when leaving Kalwelwa. The first time, we immediately headed for the Bocage's Weaver colony at -11.519511, 24.362621. As this species normally breeds from August to November, we were not sure whether we would still find an active nest. The colony was indeed completely deserted upon arrival and no weavers could be seen. After some time, three Bocage's (2 males, one female) flew in from a distance and hid upon arrival almost directly deep in bushes along the river. They moved to some more distant bushes afterwards, in which they again disappeared rapidly. In general, they behaved very cryptic and were challenging to see properly.

Note that the colony can be reached more easily along the north of the small woodland (-11.516367, 24.367371), and not by trying to follow the river edge (we tried). It takes about 1hr to reach the colony from the bridge across the small stream where you park the vehicle (-11.504293, 24.379034).

We focussed on Short-tailed Pipit (the only species we missed in Kalwelwa) on our second visit. We birded the plains at the east side of the road from the bridge and quickly flushed a Short-tailed Pipit. We were able to follow and flush it several times, after which it each time remained motionless on the ground, occasionally allowing for some good views. A second bird was found closeby.

Highlights: Bocage's Weaver (-11.518706, 24.362054), Short-tailed Pipit (-11.499593, 24.381372)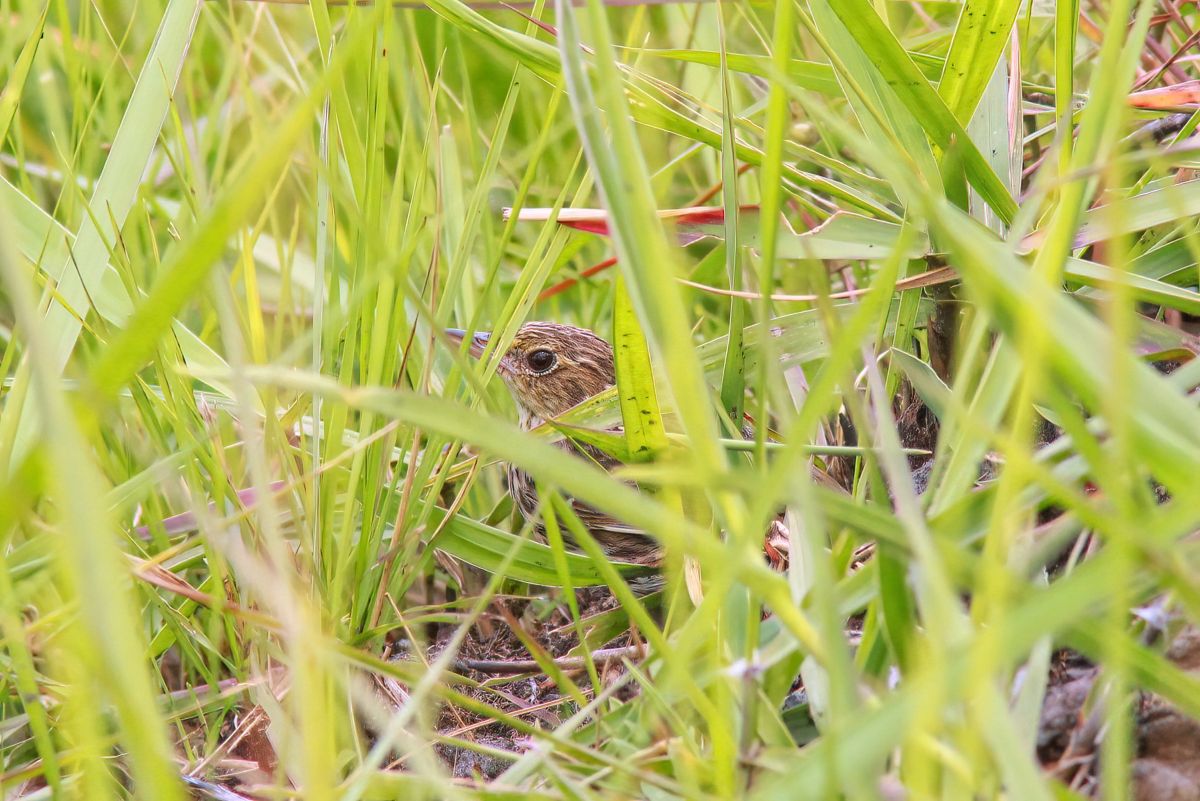 Short-tailed Pipit - Chitunta Plains


KALWELWA DEPRESSION
The Kalwelwa depression is a spectacular birding destination which holds a good set of range restricted species, including a number of unique and highly sought after Congolese-Guinea biome species. The Vermiculated Fishing Owl and Spot-breasted Ibis were discovered in Kalwelwa only very recently (fishing owl only as late as 2021), basically rendering a visit to the Kakoma area (about 50km in straight line to the east of Kalwelwa over very bad roads) unnecessary. That said, Bamboo Warbler and Spot-breasted Ibis are still far more reliable in the Kakoma area and remain rather challenging in the Kalwelwa area.

Birding the Kalwelwa area has only recently been made possible through Birding Zambia, who set-up a tented bushcamp in the area. A visit to the area should be arranged (well) in advance with them (see in the "Accommodation & Food section"). The tented camp is composed of a number of nice tents and a dining tent. From their camp, all the necessary sites are within (short) driving distance (max 10km away). Note that the camp is broken down during the rainy season as the area becomes virtually inaccessible.

To get there, in Mwinilunga follow the main road nordwards (in direction of Chitunta Plains) and take the turnoff at -11.521761, 24.412949. Follow the dirt road all the way along the Congolese border until you reach the Muwana settlement and turn right here (-11.40162, 24.64241)

You basically need to bird four sites: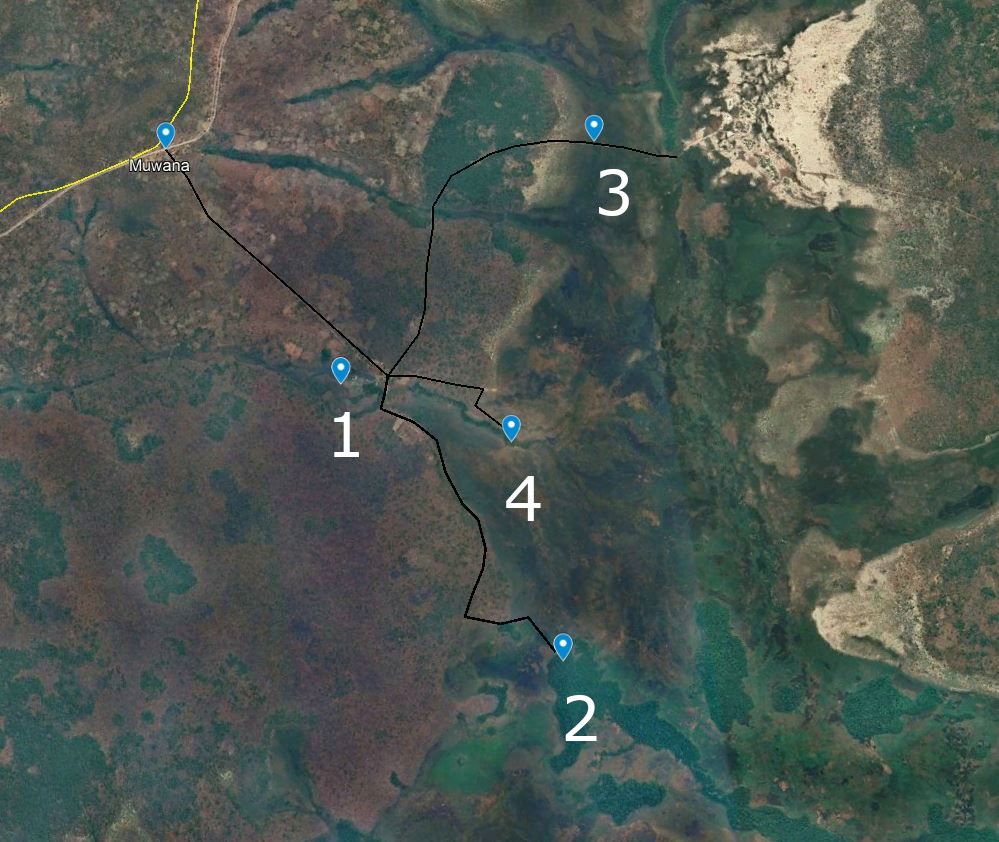 Map of the Kalwelwa area




The plains and delta can be explored widely. The interior of the main forest can only be birded easily along a short trail of less than 100m to the stream (owl, thrush-babbler and kingfisher). Birding Zambia is planning to make a more extensive trail system in the (near?) future. The area around the main forest (dambos) and around the camp (dambos and Miombo) can be explored extensively.

An elaborate site guide with practical descriptions and target birds for each site can be obtained with Birding zambia.

We spent 3 nights in the area during which we divided our birding time relatively evenly across the four sites. We felt that this was sufficient time to connect with all our targets. We lost one (early) morning searching for the owl and thrush-babblers due to rains. We focussed on specific target species and did not try hard enough for the Bamboo Warbler or the Spot-breasted Ibis as they remain a long shot in Kalwelwa.

The owls proved relatively easy. We heard them calling spontaneously at the stream (White-bellied Kingfisher spot) at around 07:40 AM on our first morning 'recon' walk. On day 3, we were able to tape them in at the stream (White-bellied Kingfisher spot) iat this same site around 5am. They responded quite rapidly and remained vocal and active until around 07:30 AM. The thrush-babblers were vocal for only a very short period in the morning (first half hour of daylight). We were clearly on the late side for Black-and-rufous Swallow, of which we only saw one individual in between large numbers of (mainly) Barn Swallows.

Highlights: Vermiculated Fishing Owl (a couple, in the main forest, right at the WB kingfisher spot), Spotted Thrush-Babbler (at the edge of the main forest, around 20m in along the main trail at -11.450460, 24.669971), Blue Quail (two separate individuals flushed at this spot, at the seepage zone around the wetter part of the dambo at -11.4487, 24.6622), Striped Crake (twice 1 ex flushed in the dambo next to the main forest), Grimwood's Longclaw, Angolan Lark, Black-and-Rufous Swallow (one bird only among many other swallows/martins), Dambo Cisticola, Great Bittern (African race which is rare and little known - 2 birds flying around at dusk near the delta, probably one of these was seen near the main forest as well), Compact Weaver (2 birds seen fling by at the edge of the main forest), Bates's sunbird (near the camp), Bannerman's Sunbird (at the parking site for the main forest), Laura's Woodland Warbler (one bird), White-bellied Kingfisher (at the kingfisher spot :-))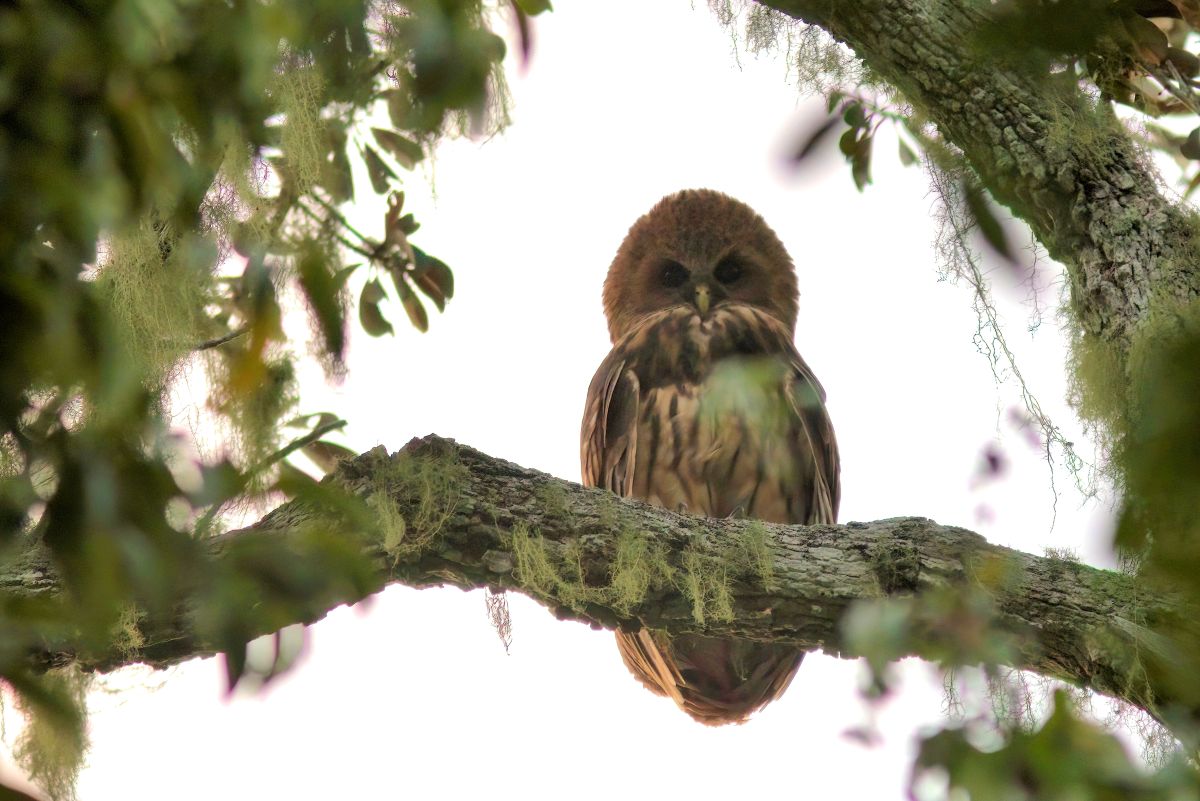 Vermiculated Fishing Owl - Kalwelwa Main Forest


MUTANDA FALLS
En route to/from Mwinilunga, this is a convenient stopover site. Having missed Bamboo Warbler in the Kalwelwa region, we opted to spend one night in the Mutanda Falls Lodge. The lodge compound is located next to the river and it offers some easy birding opportunities. It took some time to find Bamboo Warbler, our main target here, as the default bird near the lodge (upstream, at the far end of the maintained grass field in front of the chalets) didn't give home. Eventually we found an individual just outside of the property. The fence gate was locked and the key was nowhere to be found, so we had to climb over. Make sure to ask the staff beforehand for the key.

Highlights: Bamboo Warbler (eventually a very responsive bird was found outside the lodge grounds at -12.394949, 26.250552), Black-faced Canary, Cassin's Flycatcher (next to the rapids, as expected), Bocage's Akalat (at the footbridge -12.391748, 26.246067).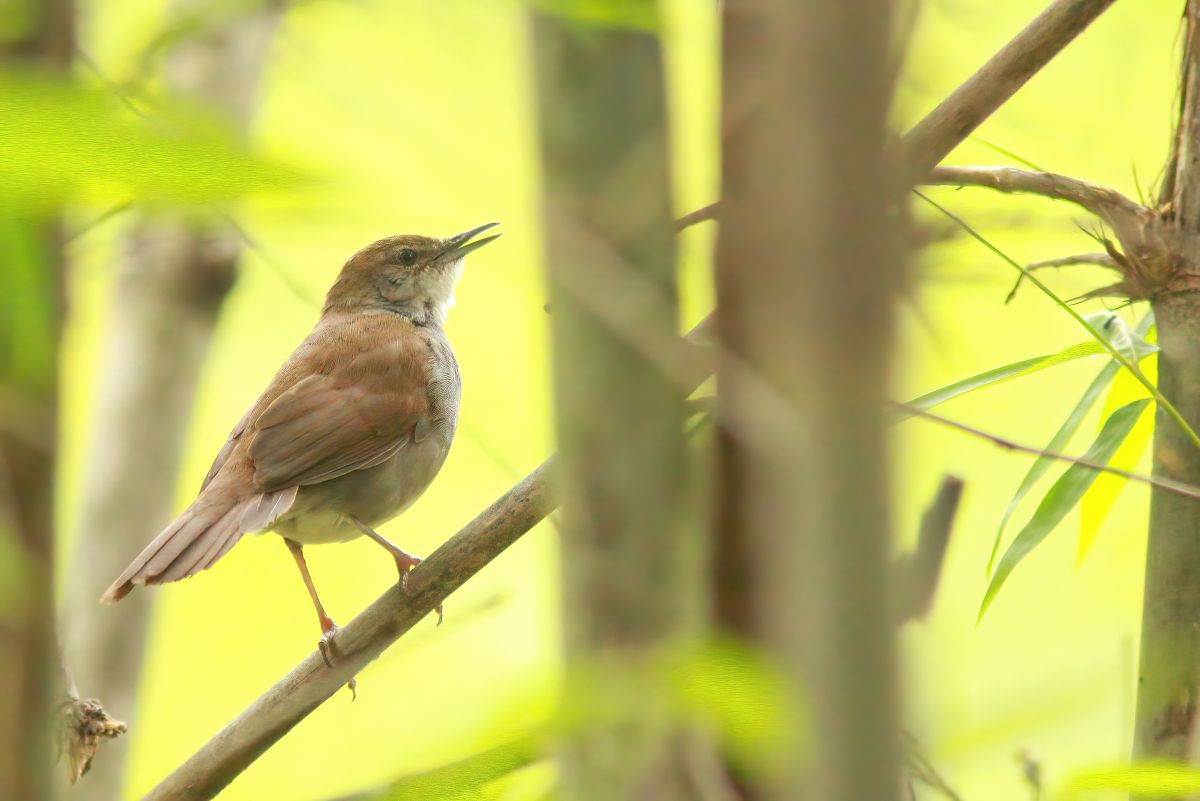 Bamboo Warbler - Mutanda Lodge


CHIMFUNSHI PARK
The Chimfunshi Park is known as an orphanage sanctuary for chimpanzees. It is located in some nice Miombo forest. The entrance roads starts at -12.443015, 27.420912. This site wasn't in our initial itinerary, but we just gave it a chance. We tried our luck on two occasions (passing by to/from Mwinilunga) along the entrance road and had some very good birding when we hit a mixed species flock. We never ventured further than a couple of kilometers away from the main tar road.

Highlights: Anchieta's Barbet (-12.436653, 27.428184), Böhm's Flycatcher (mixed species flock about the same place as the barbet), Black-eared Seedeater, Thick-billed Cuckoo (at a dambo -12.424867, 27.433974).




IMANDA FOREST
Although an identified IBA and known area for Margareth's batis, it is not frequently visited by (international) birders. As it was explored by Dries in the past, we used this site as an alternative for Margareth's Batis (normally at Mavunda). This is just a small detour en route from Kitwe to the Forest Inn. This way we saved almost a full day. The backside is that Perrin's Bushshrike does not occur here, but it should be reliable in Angola.

We entered the forest from an adjacent local farm, with the help of a local family. We parked our vehicle at their farm (-13.479189, 27.922417), and they guided us to the forest. To reach the farm from Mpongwe, turn right at -13.513613, 28.035066 to the St. Anthony's Mission. Just before reaching the mission and small settlements, turn left at -13.459166, 27.935002 and left again at -13.466471, 27.921459. Note that the road can be very muddy and challenging during the rainy season. We found a Batis pair after a short stroll inside the forest. Although they relatively quickly responded to tape, they were slow to approach and were extremely challenging to pinpoint and see as they remained high up in the canopy. The track in the forest can be very muddy.

Note that this is not a typical tourist site and visiting the forest requires passing through private farms. Be humble and respectful towards the local families. We gave the family k100 for guiding us to the forest.

We birded Imanda for a couple of hours en route from Kamfinsa (via Luanshya) to Forest inn.

There is a small Red-throated Cliff Swallow colony en route under the Masaiti bridge (-13.237189, 28.403913). Birds are present from at least August to November. During a brief stop now (mid-December), none were seen.

Highlights: Margareth's Batis (a pair at -13.489707, 27.933189), Cuckoo-finch (2 birds in the fields near the forest -13.485133, 27.928077), Laura's Woodland Warbler (at the batis site).




FOREST INN (MKUSHI)
Forest Inn is conveniently located along the Great North Road for an overnight stop en-route to more remote parts in the North of Zambia. The lodge (-13.721414, 29.156733) is situated in a small patch of (degraded) Miombo. Although you can still pick-up some Miombo specialists at the lodge (bird the woodland just west of the lodge's grounds parallel to the road), it is definitely not a prime birding destination (anymore?).

We birded the woodland for a few hours one afternoon, but did not encounter anything noteworthy and generally just not a lot of birds at all.




MKUSHI AREA
The area around Mkushi is in essence a farming area, with multiple large-scale private farms. The woodlands and dambos on - and in-between - these farms however still hold some good Miombo birds, as well as (button)quails and flufftails. As a side note: north of Mkushi and bordering DR Congo lies North Swaka Forest Reserve, which is a vast Miombo woodland. Unfortunately, as the area is surrounded by private farms, it is currently not straightforward to access.

While checking the water levels of some dambos in the vicinity of Forest Inn for flufftails, we bumped into a fairly nice patch of Miombo at -13.654267, 29.363984. The Miombo stretch bordered a rocky ridge and both looked promising, so we decided to spend the first hours of next day in that area. Unfortunately, all the dambos we were able to check were completely dry…

Note that a lot of dambos and forest patches in the Mkushi area are on private land and cannot be accessed freely.

Highlights: Miombo Rock Thrush (1 bird at -13.653903, 29.367992), Lazy Cisticola.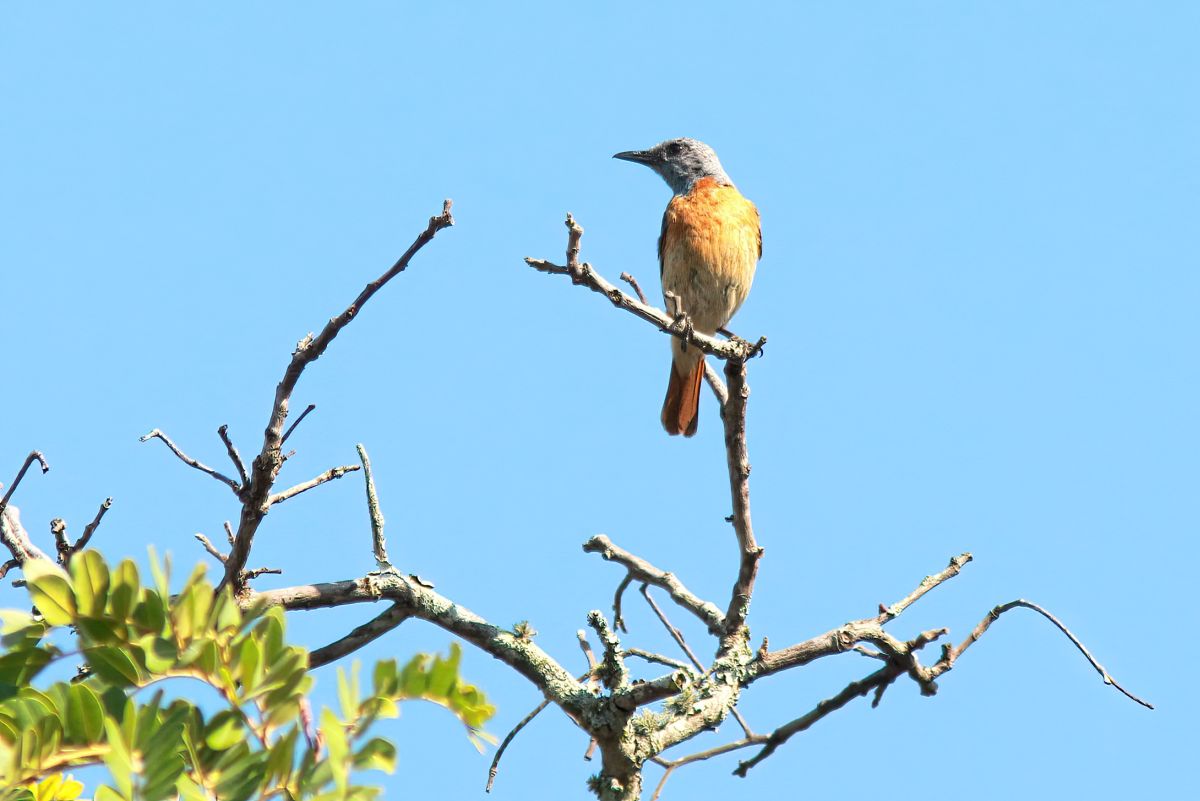 Miombo Rock Thrush - Mkushi


KASANKA NP
Kasanka National Park is with an area of 46.000ha, one of the smaller national parks in Zambia. The park is dominated by stands of Miombo woodland (>70% of the park's land cover) of varying structure and quality, and has several dambos scattered throughout. Two large rivers (Kasanka and Luwombwa rivers) drain the park from south to north, along which swamps, floodplains, riverine forests and Mushito exist.

The park is most famous for the annual congregation of millions of migrating fruit bats between October and December. Yet, it holds an impressive bird list as well that includes a good set of Miombo-restricted species as well as a number of rare or range-restricted species.

There is one fully catered lodge at the park's headquarters (Wasa), one self-catering lodge (Luwombwa) and several neat and well-equipped campsites inside the park (including pontoon campsite). The park is open throughout the year, but some parts of the park become inaccessible during the rainy season. The river Kasanka (at pontoon, splits the park in an eastern and western part) can become unpassable during very high water levels. It is prudent to always check accessibility in advance as water levels fluctuate during the rainy season. As it is a national park, you technically need to be accompanied by a game scout when exploring the woodlands on foot. Although numbers are low, there are elephants and buffalos around, so be aware!

This was the only National Park on our itinerary. As we picked up most Miombo species already, and still planned a visit to Mutinondo to pick up some of the remaining Miombo and wetland (flufftail, owl) species, we only birded one (late) afternoon and morning in the park.

Kasanka is a very nice place to visit and looking back, we should/could have added an extra day here. Birding the Miombo parts was rewarding. The lakeside view right from the balcony of the lodge (Wasa) added some extra species for the trip list. The pontoon area did hold the day roosting Pel's Fishing Owls. And witnessing the spectacular exodus of the 10.000.000 fruit bats was one of the best possible sundowners one could think of. The hide-out near the pontoon camping ground is also reliable for Sitatunga, which is hard to find in other parts of Africa.

There are a number of different habitats that all have a number of interesting species on offer. The map below gives an overview of some of the good birding areas. They are further described below.

Note that, at the time of writing, only Pontoon and Kabwe campsites are maintained. A self-catering tented camp is seasonally (bat season) set-up at Kapabi. Luwombwa is a self-catering lodge, Wasa is fully catered.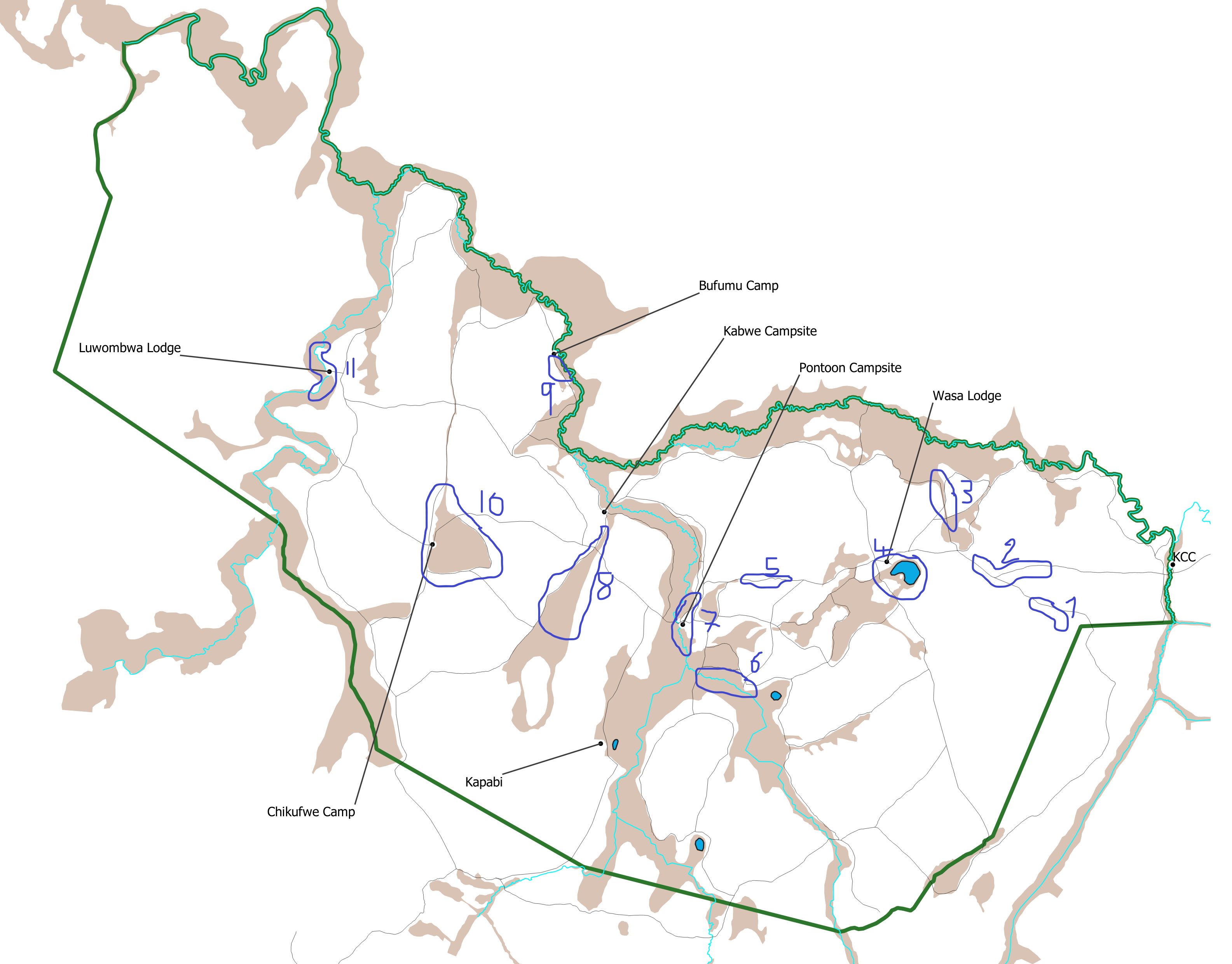 Map of Kasanka NP
1. Mpululwe Hill (-12.571509, 30.35336)
Mpululwe Hill is the highest area of the park. The Miombo woodland in this area has plenty of rocks. Good Miombo birding, particularly for species with affinities to rocky areas such as Striped Pipit, Familiar chat and Miombo Rock-Thrush. For the latter, it might even be the best site in the park.

Mpululwe Hill is dry and accessible throughout the year. The turnoff to the track along the main entrance road is subtle and can easily be missed (-12.558603, 30.325048). The track is not often used and can be obstructed by trees pushed over by elephants, so come prepared.

2. Main road around Mpululwe Hill junction (-12.558603, 30.325048)
This area is situated along the main entrance road between the gate and Wasa lodge and consists of Miombo woodland interspersed with several open areas. This makes the area structurally very diverse and productive, particularly in the morning hours when birds come to the edges to warm up. Good for typical Miombo species such as Black-eared Seedeater, Black-necked Eremomela, Long-tailed (Tabora) Cisticola, Anchieta's Sunbird, Miombo Tit, Böhm's Flycatcher etc.

3. Airstrip area (-12.536843, 30.309889)
The airstrip is cut through Miombo woodland and is surrounded by large, seasonally flooded plains at both ends. During the rainy season, the area attracts species associated with wet grasslands such as quails, buttonquails and Locustfinches. During the dry months, pipits, larks and other open-country species are common. The woodland edges are attractive for typical Miombo species as well.

Accessibility changes throughout the year. The center of the airstrip remains accessible year-round, but both ends flood completely during the wet season (but can still be explored on foot). During the dry season, both ends slowly dry up and are almost completely dry by June. The lowest parts in the north remain damp during the dry season.

4. Wasa Lodge area (-12.554627, 30.295770)
Wasa lodge is built at the edge of lake Wasa, a year-round open water lake. The lake is surrounded by Miombo woodland in the north, east and south, and gradually changes into open, seasonally flooded grasslands in the west. Water levels fluctuate greatly throughout the year. The lake holds a number of typical wetland species including White-backed Duck, Pygmy Goose and Lesser Jacana. Striped Crake has bred in the extensive, flooded grassland system just west of the lake.

The lake can easily be scanned from the lodge, although waterfowl may hide in the dense vegetation in the southern sector of the lake and become invisible. Depending on the water levels, it is possible to circumvent the lake and explore the adjacent grasslands on foot. Make sure to arrange a game scout as hippos and elephants do pay frequent visits to the lake!

5. Main road to pontoon (-12.560016, 30.258152)
The woodland in this area is high and has an open understory and is good for Souza's shrike and Arnot's chat. It is accessible throughout the year.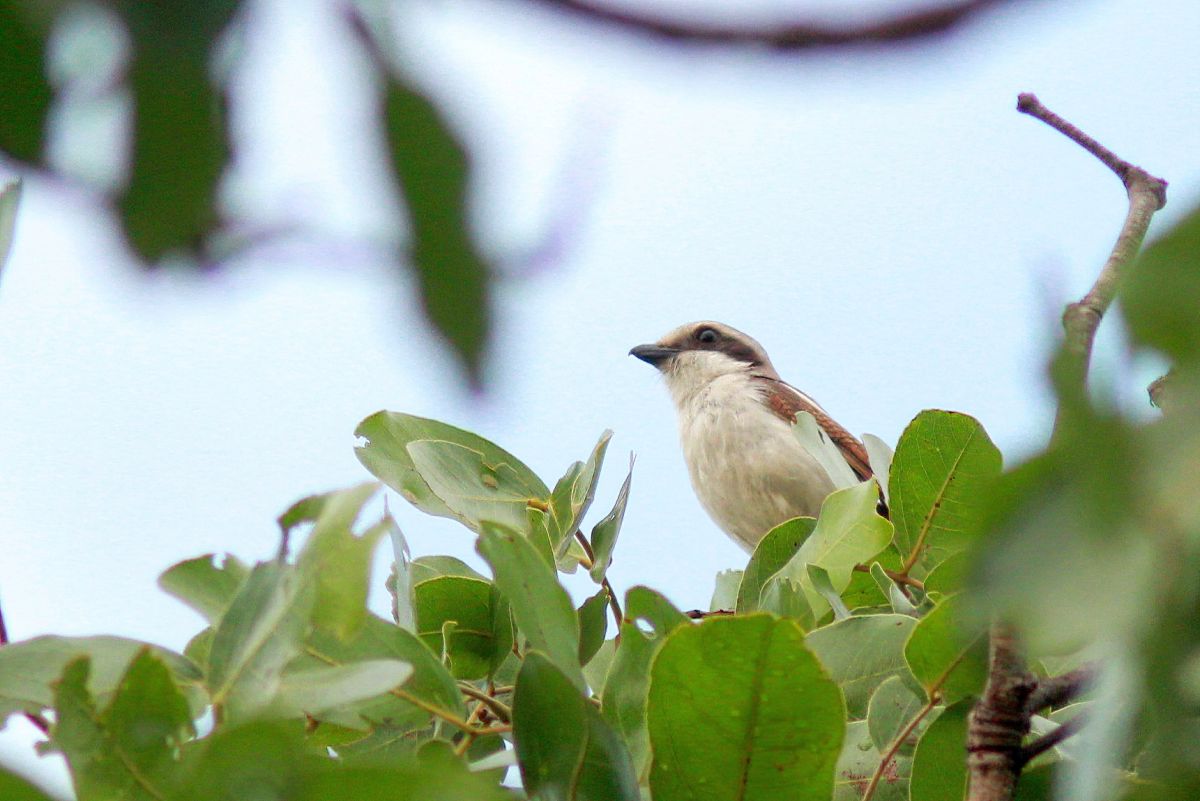 Souza's Shrike - Kasanka NP
6. Bat forest and swamp habitat & Fibwe Camp (-12.590233, 30.253269)
The bat forest is a large mushito (swamp forest) and the temporary home to millions of bats during the bat migration. The forest itself holds typical mushito species including Bocage's akalat (western hide) and purple-throated cuckooshrike. The edges of the forest have resident Bohm's bee-eaters. The forest is surrounded by large marshes and floodplains.

No trails go through the forest, but birding is rewarding around Fibwe camp and along the northern edge of the forest. The area floods almost completely during the rainy season, but remains accessible on foot. The Fibwe Camp is a scout camp, so no public camping here.

7. Riverine forest along Kasanka river and floodplain & Pontoon campsite (-12.573288, 30.234607)
The riverine forest bordering the Kasanka floodplain at pontoon (although still referred to as such, this is not a pontoon anymore but a bridge) is most interesting for the resident pair of Pel's Fishing Owl. They can be heard at night and seen on day roost (ask caretakers), although they only seem to be present during the dry season and the early wet season. Other interesting species known from the area are Grey Waxbill, Böhm's Bee-eater and Hartlaub's Babblers (try the Sitatunga hide).

Just across the pontoon you drive through the Kasanka floodplain. The floodplain attracts large numbers of stork, plovers and lapwing including Senegal Lapwing, of which the Kasanka floodplain is one of the best sites for this species in Zambia. Hartlaub's Babbler can also be found in the reeds.

The campsite and sitatunga hide at the eastern side of the river are accessible year round. The bridge and floodplain can be completely flooded and inaccessible during (large) parts of the wet season. A 4WD is, except during the driest months, needed when crossing the pontoon.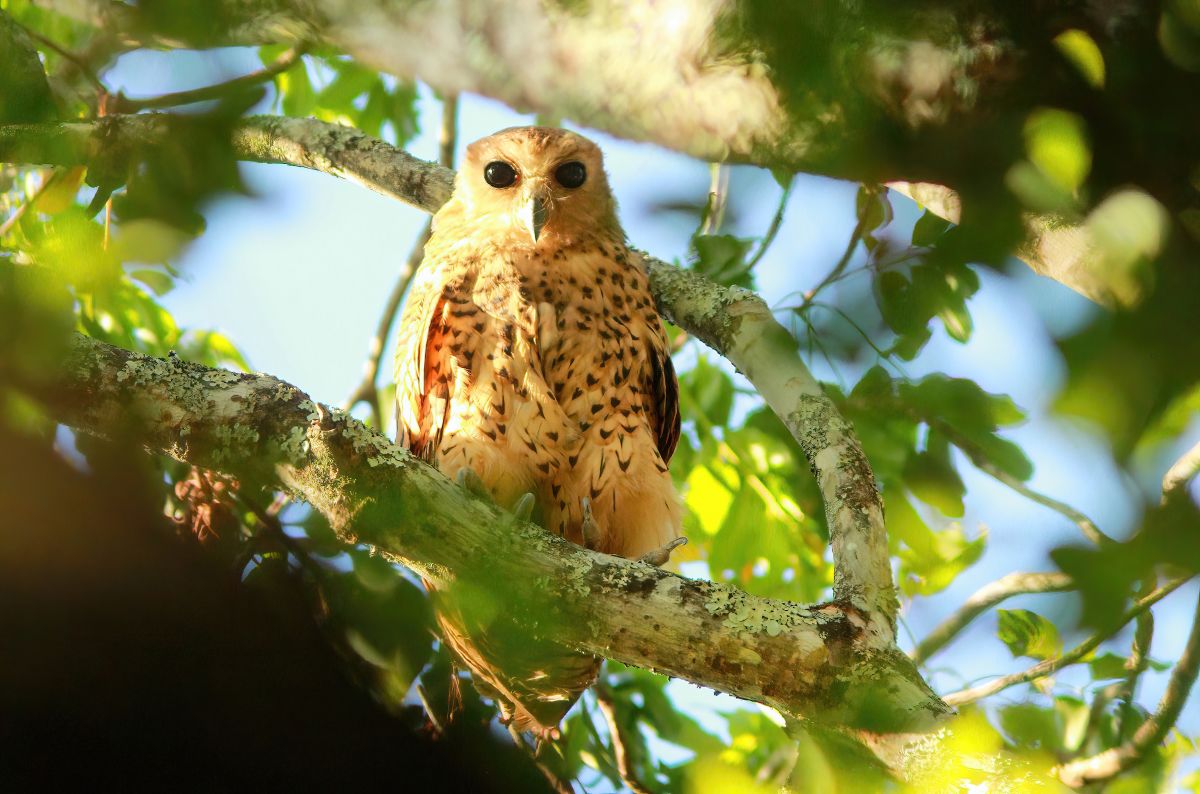 Pel's Fishing Owl - Kasanka NP
8. Kafubashi dambo (-12.580108, 30.195641)
Dambo that is crossed by the main road going to Luwombwa. Good for flufftails, with sightings of Chestnut-headed Flufftail.

9. Bufumu Forest (-12.497564, 30.196330)
A dry evergreen forest (or Mwateshi), characterized by a unique two-layered vegetation structure. Home to the 'big tree'. African Pitta has frequently been sighted here, although it is unclear whether these are merely passing individuals or whether they breed in the forest.

Bufumu can be reached using a track that diverts from the main road between pontoon and Luwombwa. It is accessible year round (Kasanka river crossing at pontoon permitting). It takes about 45 min to reach Bufumu from Wasa lodge.

10. Chikufwe Plain (-12.551136, 30.160804)
A large seasonally flooded plain in the western part of the park. Can be circumvented year-round (but ask advice before) and crossed during the driest months. The northern part of the plain is wet year-round. Good for (button)quails, fluttails (Streaky-breasted Flufftail late in the wet season) and African Grass Owl.

The small grassland corridor leaving the plain in the northern direction (-12.527343, 30.165778) cuts through some high Miombo. There seems to be a resident Racket-tailed Roller pair, although they can be seen throughout the park as well such as along the entrance road (sites 2 and 5).

The plain can be reached and circumvented year round (Kasanka river crossing at pontoon permitting), but the road cutting through the high Miombo at the northern end (Racket-tailed Roller) might be flooded. To reach the plain, drive straight at the main Luwombwa junction.

11. Riverine forest along Luwombwa River (-12.501554, 30.131120)
The self-catering Luwombwa lodge is situated at the bank of the Luwombwa river. Although the trees are far less impressive than along the Kasanka River, similar species can be seen including Pel's Fishing Owl and Böhm's Flycatcher. In addition, White-backed Night Heron nests along the Luwombwa river and might be found at day roost from a canoe.

Luwombwa lodge can be accessed year round (Kasanka river crossing at pontoon permitting).

Highlights: Pel's Fishing Owl (day roost pontoon at -12.572145, 30.234123), Böhm's Bee-eater (at Fish Owl site), Hartlaub's Babbler (floodplain Kasanka at -12.572349, 30.231203), Souza's Shrike (picked-up in a mixed species flock at site 5 near -12.559981, 30.261466), Lesser Jacana, White-backed Duck (the latter two from the lodge).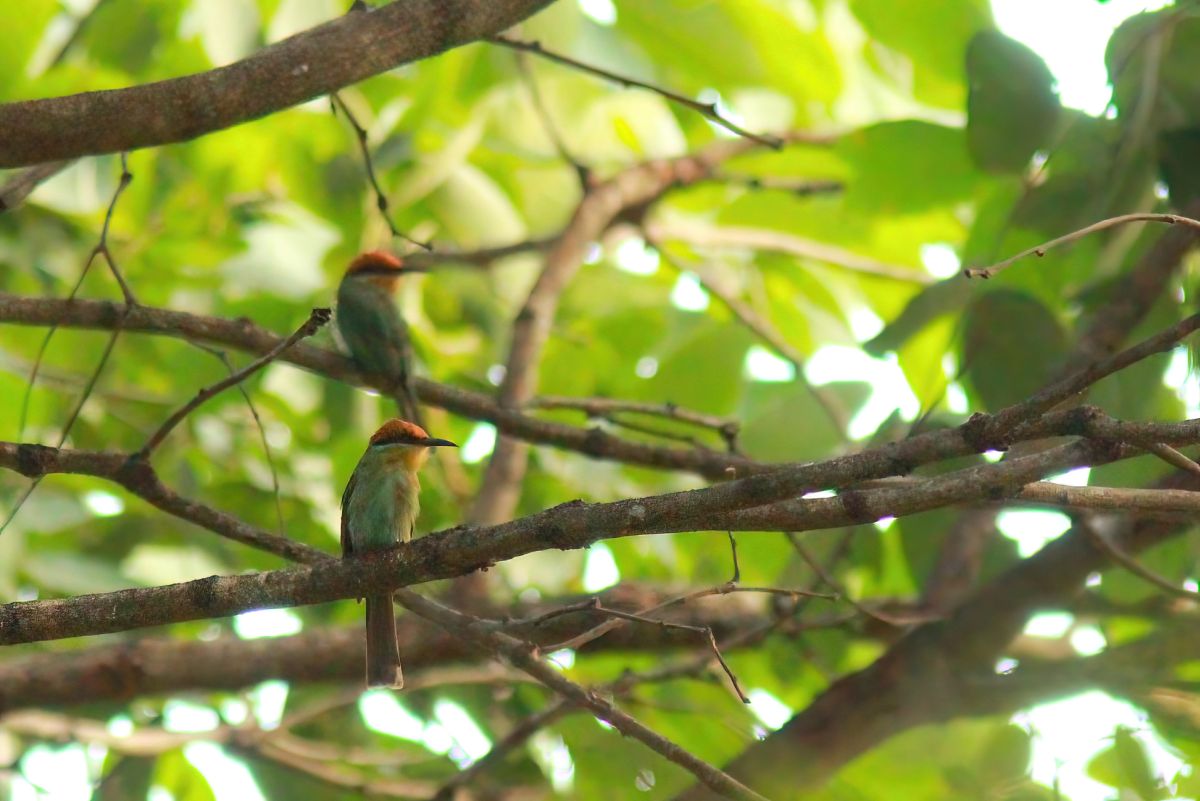 Böhm's Bee-eater - Kasanka NP


LUAPULU RIVER BRIDGE & PLAINS NORTH
The Luapulu River bridge is a perfect short stop en route towards Lake Mweru. Traffic was so sparse, we enjoyed birding from atop the bridge at -12.113283, 29.837875. A bit further north from the bridge, the road crosses some interesting plains. We stopped briefly to check-out the widowbirds and cisticolas at -12.072303, 29.701421.

Highlights: Katanga Masked Weaver and Luapula Cisticola (both at the bridge), Desert Cisticola and Long-tailed Widowbird (at the plains).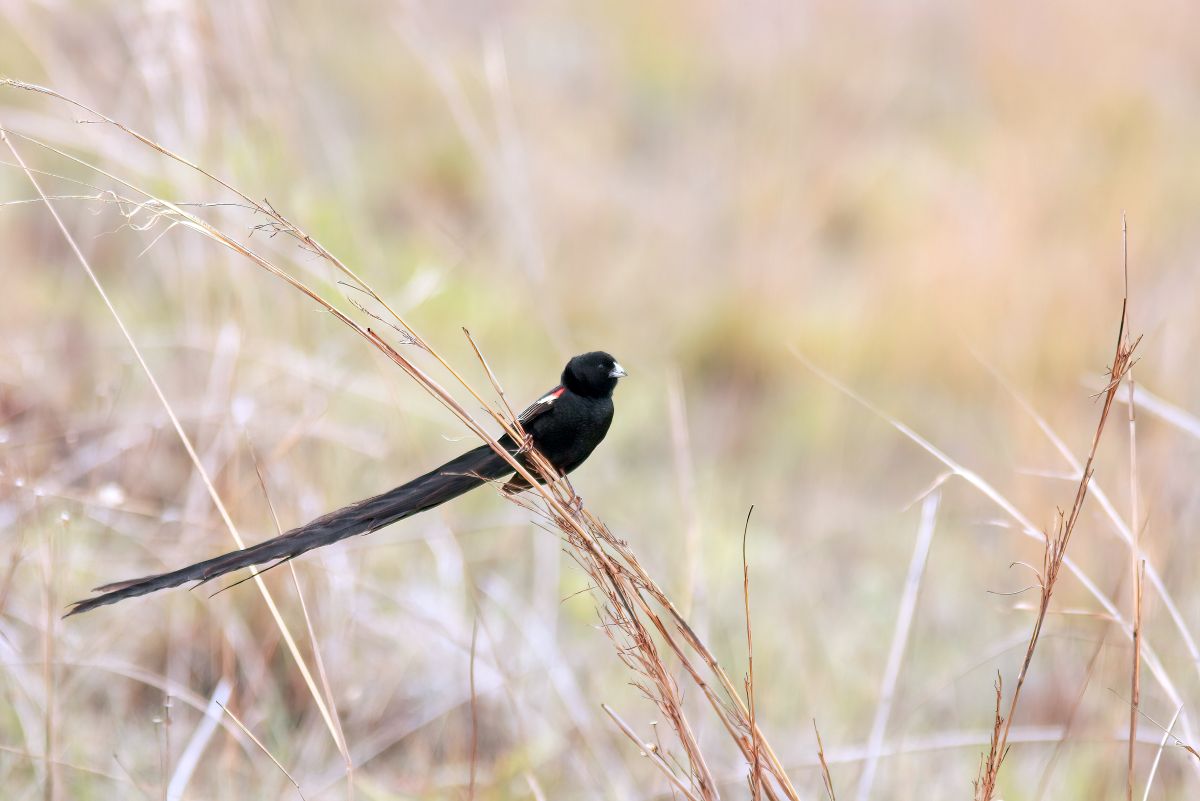 Long-tailed Widowbird - northern plains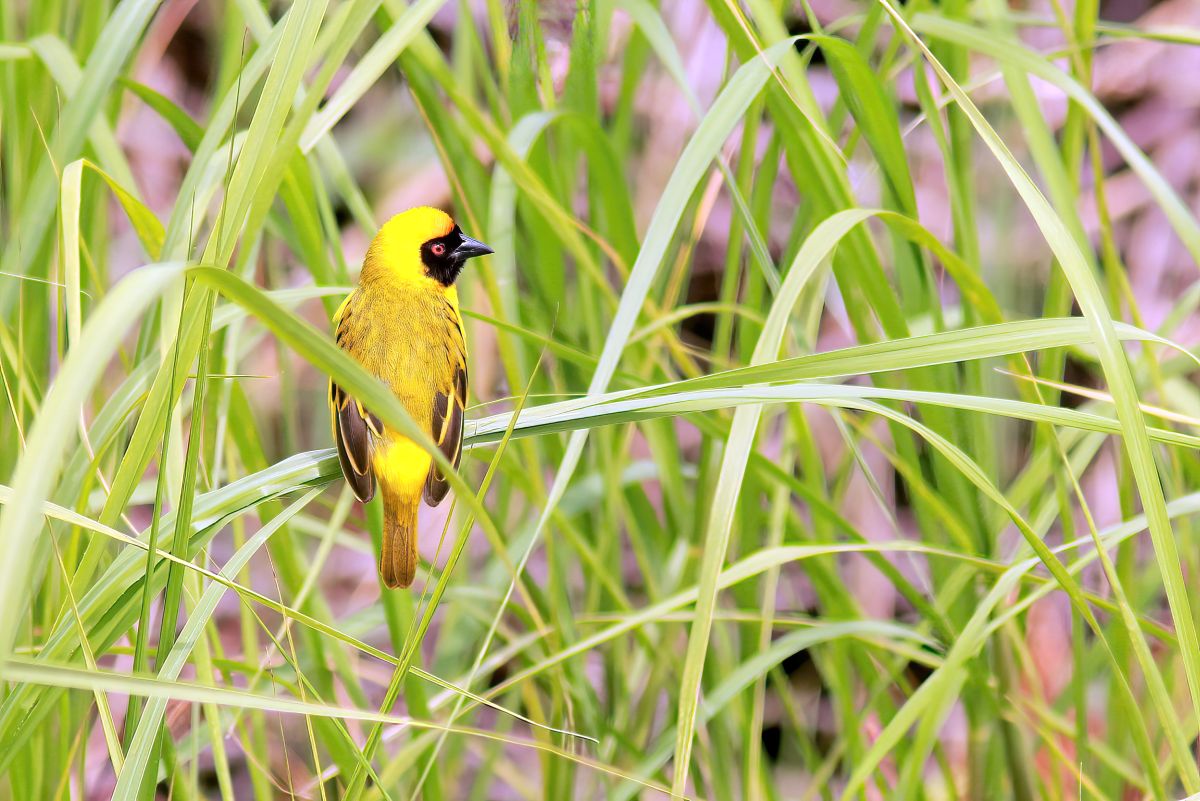 Katanga Masked Weaver - Luapula River bridge


NNCHELENGE PAPYRUS MARSH (LAKE MWERU)
The Papyrus swamps at the Luapulu River inlet into Lake Mweru hold a number of specials, of which a white-eyed race of Papyrus Yellow Warbler is the most interesting one (potential split - Zambia Papyrus Warbler, highly range restricted).

We birded one of the swamps 'arms' that is bisected by the road (causeway) to Nchelenge (-9.508714, 28.735561) for a brief evening and a couple of hours during the next morning. The Papyrus Yellow Warblers were seen very briefly (not vocal) and not cooperative in the evening. The next day, it took some time but several were eventually seen and heard.

Highlights: Papyrus Yellow Warbler, White-winged Warbler, Anchieta's (Marsh) Tchagra, Katanga Masked Weaver, African Rail, Great Swamp Warbler (all at the very same site).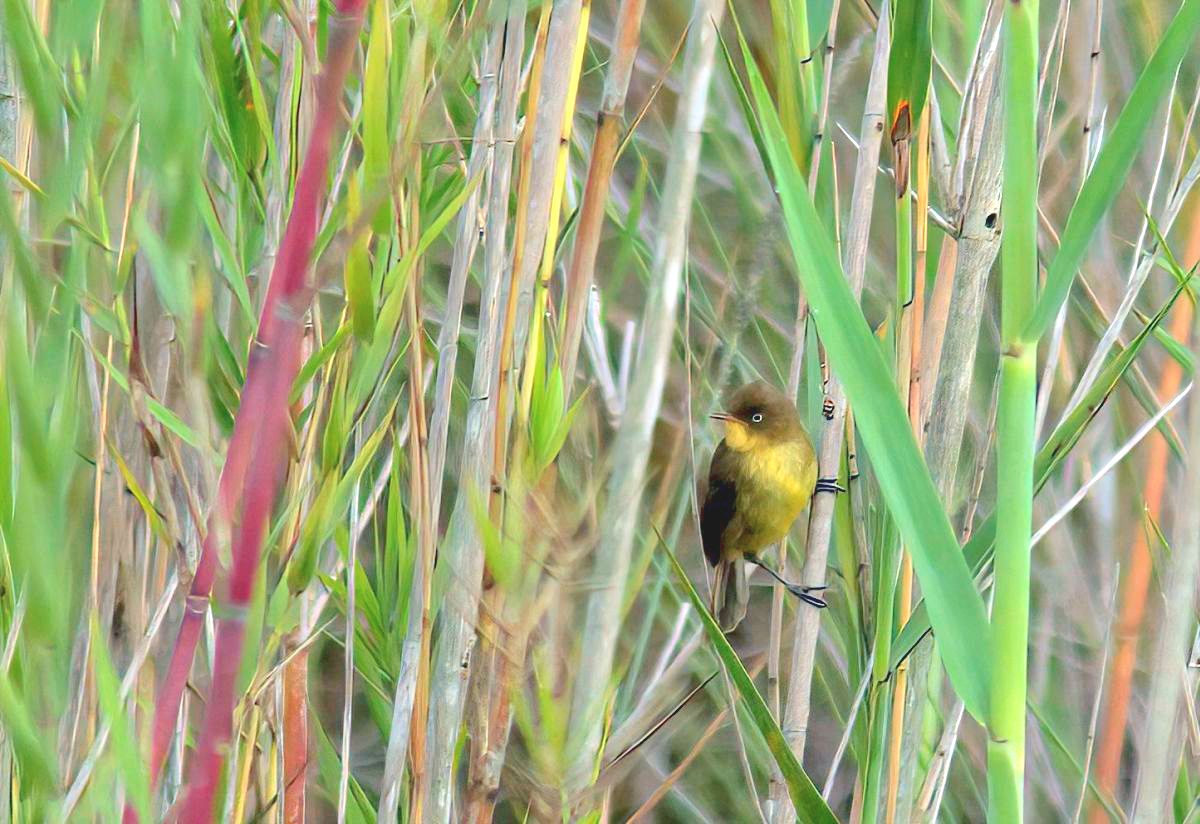 Papyrus Yellow Warbler - Nchelenge marsh


OUSTALET'S SUNBIRD SPOT
We made a few stops en route from Nchelenge to Kasama (Chisimba falls) to check for Oustalet's Sunbird. The sunbird likes degraded Miombo, so we stopped mainly at sites that contained a mixture of agricultural fields alongside degraded Miombo woodland patches that still contained some bigger trees. Eventually, we found it on one of our stops.

The road also meanders through a hilly area with nice Miombo woodland (e.g. along the Ntumbachushi falls -9.851108, 28.942394) that looked promising for Whyte's Barbet.

Highlights: Oustalet's Sunbird (1 male at -10.317311, 30.753320)




CHISHIMBA FALLS
The Chishimba (Chisimba) Falls site is a national monument that contains a number of waterfalls and cascades which are surrounded by patches of evergreen forest. Besides being a convenient overnight stop when traveling back from the North, Dries found a pair of Whyte's barbets here in August, so we wanted to try our luck again. The falls can be reached from the Kasama - Mpkorokoso road along a well maintained dirt track (junction -10.107650, 30.925964). They are about a 30 min drive away from Kasama.

We spent the night at the campsite and birded the area (entrance road + hiking tracks to the falls) for one morning.

Highlights: Whyte's Barbet (we had a group of these barbets literally during our morning coffee in a fruiting tree at the campsite at -10.108111, 30.917686, and observed probably the same group later that morning at other sites along the falls as well).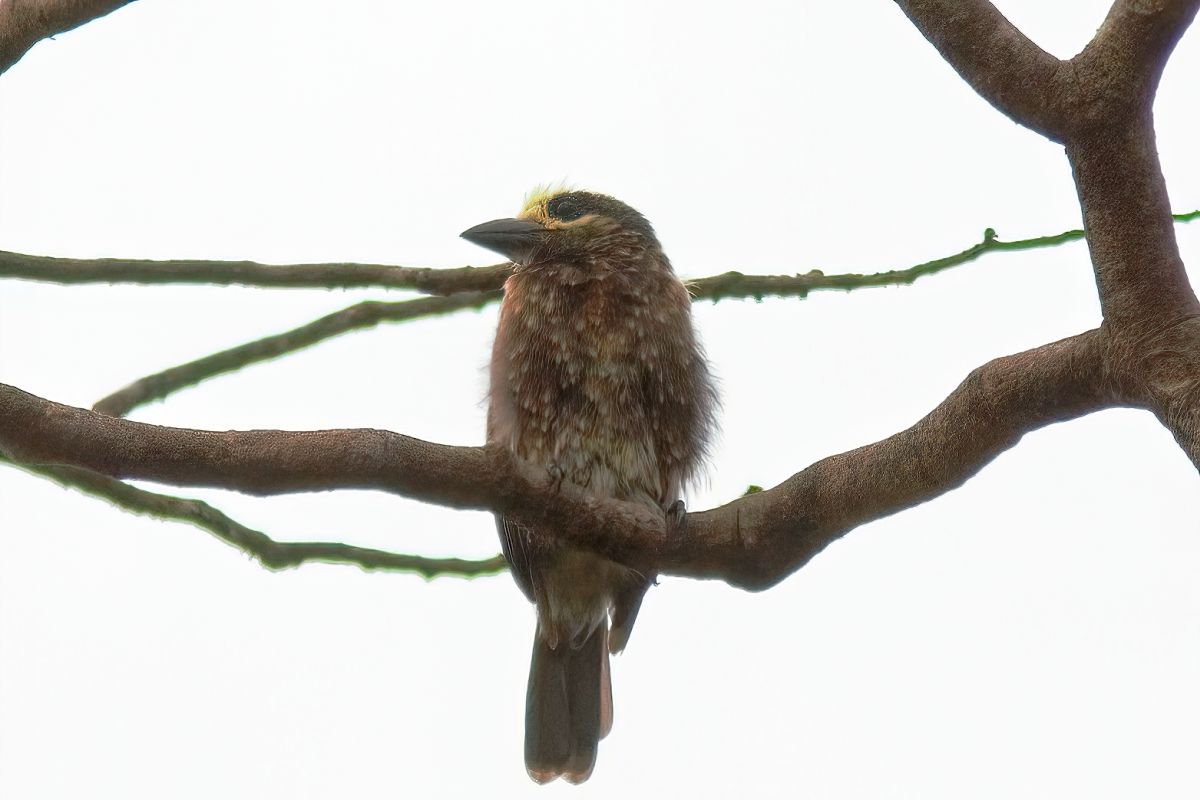 Whyte's Barbet - Chishimba Falls


MUTINONDO WILDERNESS
Mutinondo wilderness is a 10.000ha, privately owned conservancy and a scenic marvel. Large dambos alternate with mature, untouched miombo woodland and several evergreen elements along rivers and larger swamp forests at evergreen sites. The granite inselbergs ensure that the backdrop always has a dramatic touch. The area is fabulous to bird as well and a good site for a number of highly sought after species: Bar-winged Weaver, Chestnut-headed Flufftail and African Grass Owl. Pending the season, Anchieta's Barbet can readily be found in the fruiting fig tree just above the lodges dining and otherwise sporadically encountered in mixed species flocks. Other good birds include Locustfinch, Southern Hyliota, Eastern Miombo Sunbird and Shelley's (Whyte's) Francolin.

The area is easy to reach from the Great North Road along a 25km dirt track (turnoff at -12.379955, 31.098170). The area itself has well-maintained tracks that can be explored on foot independently due to the absence of any large, dangerous game. The main lodge is located in the center of the area and consists of several chalets (fully catered only) and a well designed campsite with shelters and one 'campsite room' (self/fully catered). There is a self-catering lodge/camp with basic facilities (Kankonde) about 10km away from the main lodge which is further away from the target birding areas.

The sites mentioned below are some of the highlights. They are convenient to reach and relatively close to the main lodge and campsite. Although all sites can be hiked to (max distance 5km), a short drive might make sense for more distant sites. Note that good birds can be found at more distant sites and along other trails as well and the selection below does not give an exhaustive overview.

We birded Mutinondo Wilderness one evening (Big Chipundu dambo + airstrip), one full day (Road along Kabasano dambo + main lodge + Big Chipundu) and one short morning (long drive to Chisamba). We were lucky and found our targets rapidly, whilst we did not need to look for Anchieta's Barbet. As Anchieta's Barbet and Bar-winged weaver can both be a hit-or-miss, an extra night at Mutinondo might be necessary.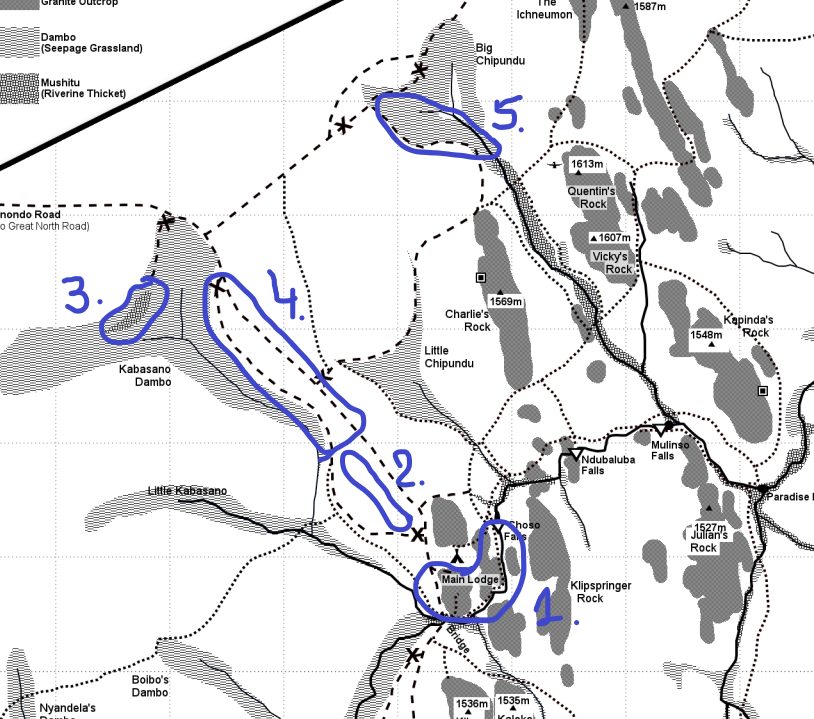 Map of Mutinondo Wilderness
1. Main lodge area + river (-12.454627, 31.292201)
The rocky outcrop at the main lodge and at the back end of the campsite (campers rock) is a good site for Eastern Miombo Sunbird. Check the area around the dining and in-between the chalets. Anchieta's Barbet is attracted by the fig tree above the dining when it is fruiting, but is not seen in this tree during the rest of the year. In 2021 the fig tree was in fruit (with almost daily sightings of Anchieta's Barbet) from early March until the end April. African Finfoot can be found on the river (Musamfushi) at the base of the rock between the bridge and Choso falls (river walk). The general area is also good for Shelley's (Whytes) Francolin (generally calling at dusk). Striped Pipit is another interesting bird.

2. (abandoned) Airstrip (-12.451196, 31.284546)
Reliable site for Pennant-winged Nightjar (September to December). Convenient to drive through en route back from Big Chipundu (using the track along Kabasano dambo) in the evening. The turnoff from the main road is at -12.450782, 31.289719.

3. Kabasano Mushito (-12.431443, 31.266472)
Kabasano is a big dambo with a large Mushito patch at the end. The mushito and surrounding area is an interesting site with good bird activity. Look for Anchieta's (and other) Barbets, Black-bellied Seedcracker, Hartlaub's Babbler, Reichard's Seedeater, Bar-throated and Brown-headed Apalis and White-tailed Blue Flycatcher. There is a track going to the mushito from the main entrance road, about 5km from the main lodge (junction -12.424613, 31.267649). There is a (not always well maintained) hiking trail around the mushito, from which you can go in. Very wet in some parts, even during the dry season.

4. Entrance road + road along Kabasano dambo (-12.436804, 31.272894)
The entrance road and the road along Kabasano dambo is good for Miombo birds, including Bar-winged Weaver, Böhm's Flycatcher, Southern Hyliota, Anchieta's & Western Miombo Sunbird & Miombo Tit. Look for mixed-species flocks. The stretch along the dambo between the end of the airstrip (-12.448372, 31.280888) and a small single track back to the entrance road (-12.442268, 31.28061) is a good site for Bar-winged Weaver, where they are known to nest from September to December (see exact coordinates below). Check the anthills with evergreen elements and fig trees along the dambo road for Anchieta's and other barbets.

The loop along the dambo starts at the end of the airstrip (see coordinates above) and connects back to the entrance road at -12.429553, 31.272191. Don't forget to check the dambo for Locustfinch, (button)quails and flufftails.

5. Big Chipundu dambo (-12.420189, 31.288629)
Big Chipundu is a reliable site for African Grass Owl (when the dambo has not been burnt recently) and Chestnut-headed Flufftail. For the owl, try taping at dusk from within the dambo. For the flufftail, try the area at the southeastern outlet. While Red-chested Flufftail likes really wet areas with ankle-deep (and deeper!) water, Chestnut-headed Flufftail can be found at less wet sites slightly higher up.

The dambo can be reached from two sides: from the top and from the outlet (reached using the track along Little Chipundu and Charlie's Rock). You can only drive between the top and the outlet during the late dry season, as the track goes along the dambo edge.

The stretch of evergreen riverine forest at the outlet of Big Chipundu has Bocage's Akalat and Laura's Woodland Warbler (-12.425554, 31.296992). This can be accessed on foot from the track passing Charlie's Rock (leave your car at -12.426449, 31.293199).

Highlights: Bar-winged Weaver (a pair at -12.444105, 31.280773), Chestnut-headed Flufftail (one bird flushed and seen well at Big Chipundu at -12.419514, 31.293291), African Grass Owl (Big Chipundu at -12.418611, 31.289432), Böhm's Flycatcher (right at Bar-winged Weaver site), Pennant-winged Nightjar (airstrip), Eastern Miombo Sunbird (a female around the main lodge - they prefer the edges around and on top of rocky outcrop areas, whereas Western will be found in the woodland, e.g. along the entrance road), Southern Hyliota (at Bar-winged Weaver site), White-tailed Crested Flycatcher (rare in Zambia at -12.448727, 31.294340).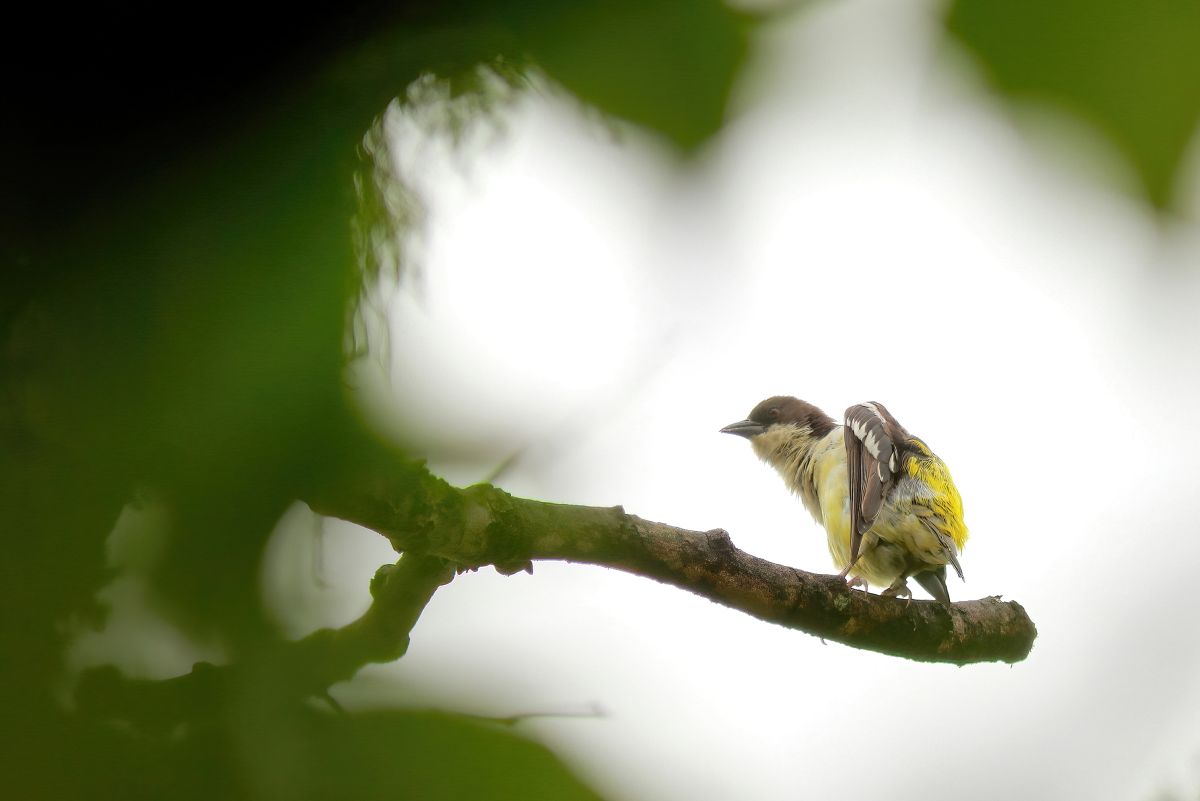 Bar-winged Weaver - Mutinondo Wilderness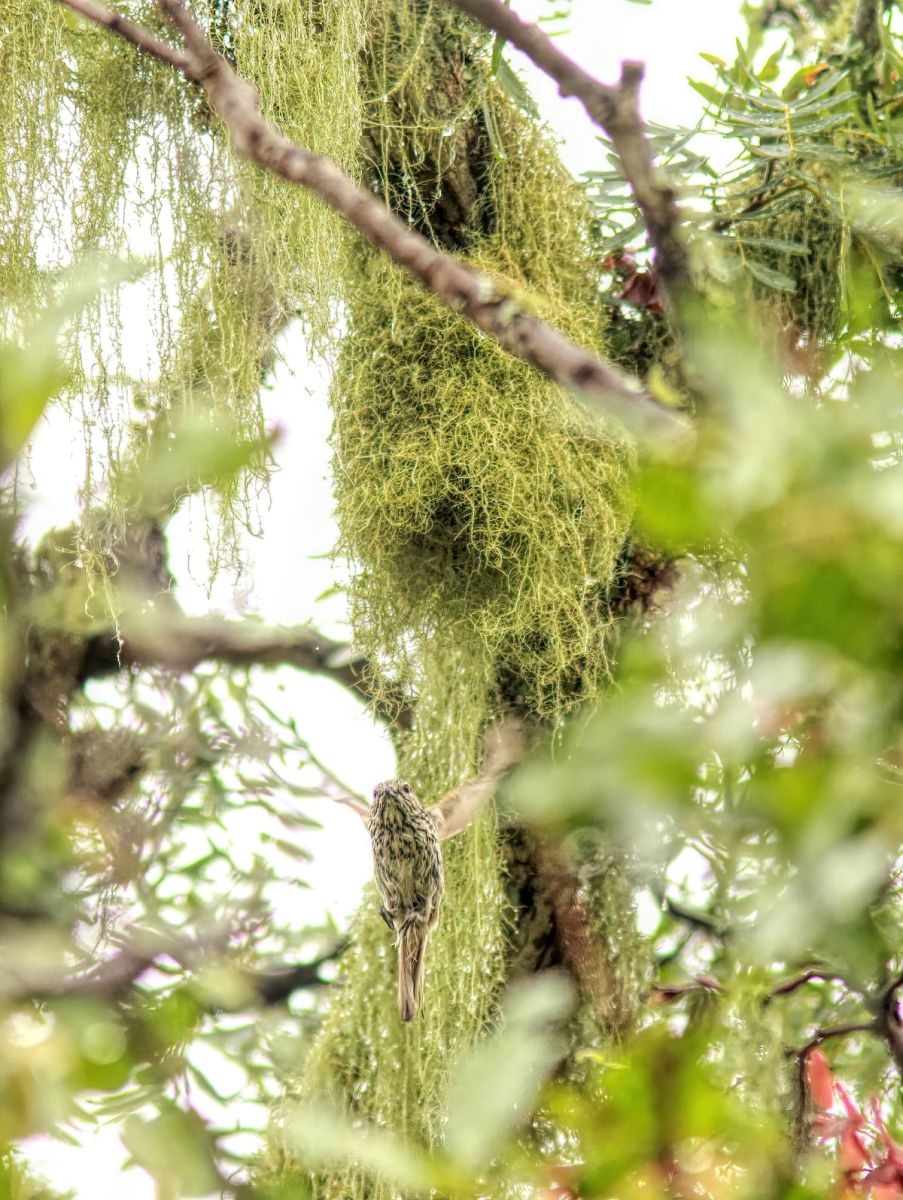 Böhm's Flycatcher - Mutinondo Wilderness
nesting in an old BW Weaver nest


CHISAMBA AREA
The Chisamba IBA is a stronghold for one of Zambia's two endemics: Chaplin's Barbet (the other: Black-cheeked Lovebird). The barbet seems restricted to the Sycamore Fig trees which grow abundantly in the grasslands of the area.

We birded the area one morning and surprisingly easily found a group of them along the main road. Later on we tried our luck in a nearby area where recently a Zambezi Indigobird had been reported. Alas, we only found some Purples...

We were based in the Fringilla Lodge (-15.006013, 28.154800) and did a bit of birding here as well. The scrubs yielded some extra tip list species (seedeaters and migrants). The slaughter waste (of the farm) is provided as a snack for the vultures which were attracted in good numbers.

Highlights: Chaplin's Barbet (a group of 5 very responsive birds at -14.979111, 28.307277).




GWABI RIVER LODGE (CHIRUNDU)
This lodge (-15.951527, 28.861282) is situated next to the Kafue River and is primarily a fishing lodge. Nevertheless, in the birding scene, it is well known as one of the easier and convenient sites to see African Pitta. Our initial plan was to find the pitta far North in the country at Mweru-Mwantipa, but due to the changed planning, we went for a safe bet so all of us could see the pitta (the main reason to be in Zambia in December).

The main birding is done in the thickets near the lodge, most notably just along the entrance road. A specialized bird guide can be hired and he/she will bring you to the breeding area of the pittas. However, at the time of our visit, pittas had been heard before, but there was no active 'lek' known and no hide was put up (yet). The charge for a 'pitta guide' is set to 50 USD per person. Eventually, 3 pittas were found by other birders we met and were successfully twitched (thanks guys!). One important remark: the lodge tried (unsuccessfully) to charge us the 50 USD per person just for birding on our own along the entrance road the following morning as well, which felt like a real rip off.

One afternoon, we enjoyed a laid back boat cruise on the Kafue and Zambezi River looping around Kanyemba Island (-15.94627, 28.92338). It was some relaxed birding, but no real highlights were seen even though the guide/boatmen was teasing us with some species...

The confluence of the Kafue and Zambezi Rivers was only shortly explored. Nothing noteworthy was encountered there.

Highlights: African Pitta (3 displaying birds along the entrance road at -15.958668, 28.856706), Livingstone Flycatcher (pitta site).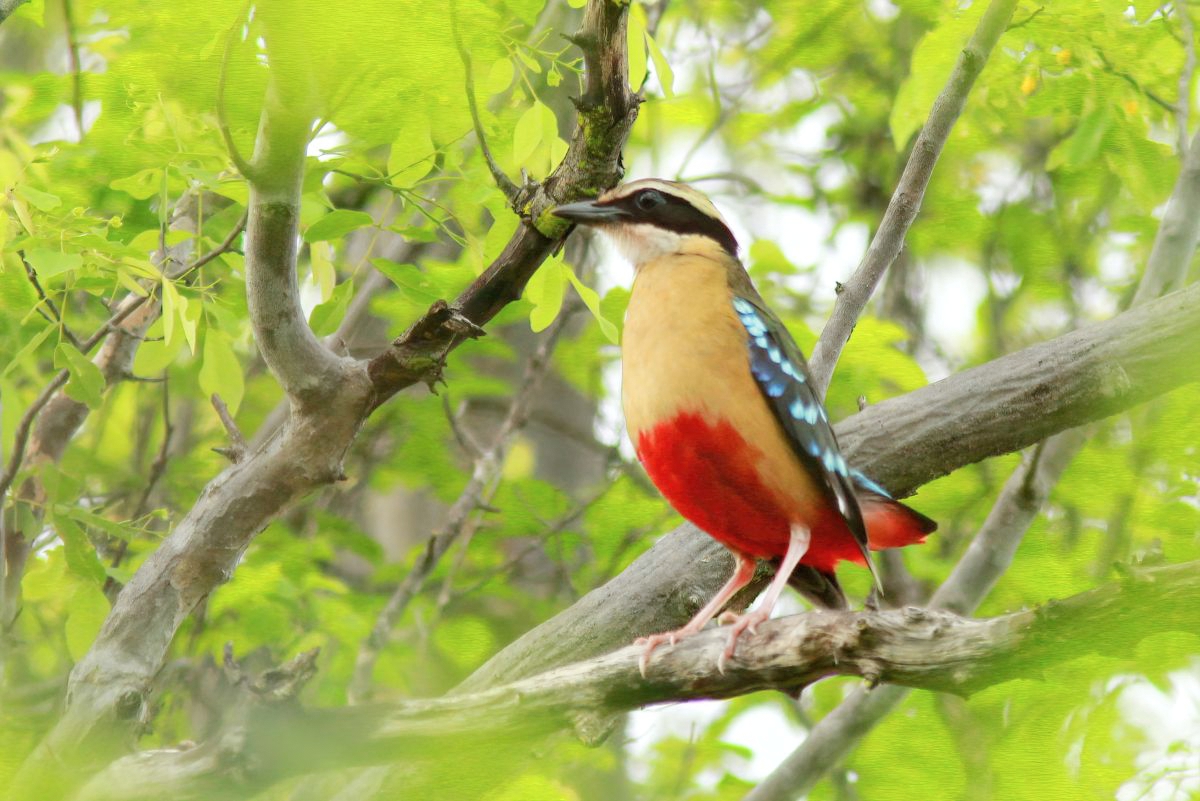 African Pitta - Gwabi River Lodge


KASISI MISSION
Kasisi mission is locally known as a good site for Zambezi Indigobird, which is backed-up with recent observations (eBird). The patch of forest seems pretty OK and can be explored along the main road and entered using some footpath. Alternatively, you can drive to the gate and ask to bird the area, as the main forest patch is private property. We found the Red-throated Twinspots (its host) and one male Indigobird. Unfortunately, it flew off and was never to be refound again before decent pictures or sound recordings could be taken…

We parked our vehicle at the gate (-15.263511, 28.474477) and birded the track eastwards along the fence. We also briefly checked out the dam (-15.260817, 28.469526) but not much was seen there.




CHAMBA VALLEY
On the way back to Lusaka from Kasisi mission, we drove through this area (entering at -15.322503, 28.370689) for a final desperate Indigobird quest. Again, no succes. The area is being cleared and burnt down for agricultural purposes, so not the best site.






KEY SITES NOT VISITED
This section lists some key sites that were not visited but were considered during the preparations of the trip. Note that we have not visited (most) of these sites ourselves. Information was absorbed from the internet and was shared generously by other birders, most notably Carl Beel and Frank Willems. Thanks again!

Mweru-Mwantipa, Nsama and Mbala were initially included in a 'great northern loop' after our visit to Lake Mweru. Due to less time available then initially planned, we needed to cut this loop short to maximize Pitta ops in the Zambezi valley.

MAVUNDA FOREST
Targets: Perrin's Bushshrike and Margeret's Batis

About 2hr south of Mwinilunga town lies Mavunda forest, which is a type of dry evergreen forest called Cryptosepalum. It holds two target birds namely Perrin's Bushshrike (Four-colored/Gorgeous split) and Margaret's Batis. The forest has been slowly cleared away from the road. Both birds can be seen at -12.436013, 24.187219, where good forest still reaches the main road. Not visited as it involved an extra day in our itinerary whilst we could (and have) see(n) the Batis in Imanda forest (almost en route) and Perrin's Bushshrike in Angola.




MWERU-MWANTIPA
Targets: African Pitta

African Pitta breeds in the gullies and thickets along the D817 towards Kaputa in this general area: -8.600376, 29.583550. After Lake Mweru, we wanted to continue and try the Pitta here first, with Zambezi Valley as back-up. Changed plans due to a shorter available timeframe and wanting more time in the valley to ensure Pitta was seen.




ESCARPMENT NORTH OF NSAMA
Targets: Babbling Starling

Babbling Starling can be found just north of Nsama along the road at -8.802428, 29.928863. This site could have been conveniently included in the Northern loop after Mweru Mwantipa. Not visited due to earlier mentioned shorter available timeframe.




MBALA AREA
Targets: Tanganyika Masked Weaver and Oustalet's Sunbird

The weaver occurs along the Saisse river at the border with Tanzania. A breeding colony south-east of Mbale at -8.928774, 31.730342. The area is generally also good for Oustalet's sunbird. Try for instance Umani pans just south of Mbala at -8.920419, 31.357664. This site could have conveniently been included in the Northern loop after Mweru Mwantipa and Nsama. Not visited due to earlier mentioned shorter available timeframe.




KAFUE NP - NANZHILA PLAINS
Targets: Black-cheeked Lovebird

Nanzhila plains, in the southern sector of the Kafue NP is the most northern place where Black-checked Lovebird can be seen. The floodplain at -16.206829, 25.997217, just north of the Nanzhila plains camp is a good site.

This was planned as a 3-day extension loop from Lusaka, with a return via Choma as follows: enter the park from Itezhi-Tezhi (Musa Gate), drive through the plains, exit south-east gate of the park (Dundumwezi Gate) to Choma for Shelley's sunbird and back to Lusaka. Overnights at Itzehi-Tezhi and Choma. Nanzhila's plains camp (-16.279055, 25.918035) accommodates campers at their campsite (adjacent lodge is high-end), but closes during the rainy season.




CHOMA AREA
Targets: Shelley's Sunbird

There are a couple of well-known birding sites in the larger Choma area such as the Bruce-Miller farm (-16.641971, 27.002008) where, besides Chisamba, Chaplin's Barbet can also be reliably spotted. For us, Choma was of interest for Shelley's Sunbird (-16.797348, 26.951896).




RUFUNSA GMA
Targets: Boulder Chat

About 3hrs drive east from Lusaka lies a good (the closests?) site for Boulder Chat. Although possible along the great east road (-15.066768, 29.749031), there is a conveniently located campsite called Chikwenya (at -15.110538, 29.765427) turnoff from the tar road at -15.060613, 29.728909). The campsite is situated within a gorge, with boulder chat just a short walking distance away at -15.106985, 29.765708. Check with Tulukani Adventures to stay at the campsite and for instructions. Interesting note is that African Pitta has also been seen at the campsite grounds.






OTHER MAJOR SITES
North and South Luangwa NP:
From a global birding perspective, most interesting for Lilian's Lovebird (both North & South parks) and Babbling starling (North park only). Not considered as these species can be seen elsewhere. Note also that accessibility of South Luangwa is limited (only at elevated roads), and North park closes (not accessible at all) during the rainy season.

Nyika NP:
Lots of interesting target species, but ideally needs to be accessed from Malawi as there is no (convenient) access road from Zambia.

Victoria Falls:
From a global birding perspective, mostly interesting for Bradfield's Hornbill (not easy) but this can be more easily seen in Botswana. Taita Falcon has been reported in the past, but there haven't been any confirmed observations for more than a decade.

Liuwa Plain NP:
No hard targets here except the occasional Slaty Egret.
FULL TRIP LIST
Taxonomy strictly follows IOC 11.2. The list only contains species positively identified by at least one of our group. Birds identified by guides or other people only are not included, presumed species neither...
[407 species]
White-faced Whistling Duck
Dendrocygna viduata
16/12/2021 - Kasanka NP - X
17/12/2021 - Kasanka NP - 10
21/12/2021 - Fringilla Lodge - 10
23/12/2021 - Kanyemba Island (Zambezi River/Kafue River Confluence) - X
24/12/2021 - Gwabi River Lodge - X
24/12/2021 - road to Zambezi/Kafue confluence - X
White-backed Duck
Thalassornis leuconotus
16/12/2021 - Kasanka NP - 2
Spur-winged Goose
Plectropterus gambensis
16/12/2021 - Kasanka NP - 1
17/12/2021 - Kasanka NP - 5
18/12/2021 - Nchelenge Papyrus marsh - X
18/12/2021 - Nchelenge Papyrus marsh - X
21/12/2021 - En route - X
23/12/2021 - Kanyemba Island (Zambezi River/Kafue River Confluence) - X
Knob-billed Duck
Sarkidiornis melanotos
22/12/2021 - Chisamba IBA - 20
22/12/2021 - Chisamba area - 2
23/12/2021 - Kanyemba Island (Zambezi River/Kafue River Confluence) - 20
24/12/2021 - road to Zambezi/Kafue confluence - X
Egyptian Goose
Alopochen aegyptiaca
23/12/2021 - Kanyemba Island (Zambezi River/Kafue River Confluence) - X
23/12/2021 - Zambezi River - 1
Yellow-billed Duck
Anas undulata
11/12/2021 - Klawelwa Main forest Area - 4
12/12/2021 - Klawelwa Main forest Area - 2
17/12/2021 - Kasanka NP - 2
18/12/2021 - Nchelenge Papyrus marsh - 2
Helmeted Guineafowl
Numida meleagris
08/12/2021 - Rainlands Timber (private) - X
09/12/2021 - Mwekera College Forest - X
14/12/2021 - Chimfunsi Entrance Road - 2
16/12/2021 - Mkushi Rocks and Miombo - 2
22/12/2021 - Fringilla Lodge - X
23/12/2021 - Kanyemba Island (Zambezi River/Kafue River Confluence) - X
Shelley's Francolin
Scleroptila shelleyi
18/12/2021 - En route - 1 (Whyte's)
20/12/2021 - Mutinondo Wilderness - HO - 1 heard
Blue Quail
Synoicus adansonii
11/12/2021 - Klawelwa Main forest Area - 1
13/12/2021 - Klawelwa Main forest Area - 1 female
Natal Spurfowl
Pternistis natalensis
26/12/2021 - Chamba Valley - 4
Swainson's Spurfowl
Pternistis swainsonii
22/12/2021 - Chisamba IBA - 30
22/12/2021 - Chisamba area - X
Red-necked Spurfowl
Pternistis afer
20/12/2021 - Mutinondo Wilderness - 1
21/12/2021 - Mutinondo Wilderness - 1
European Nightjar
Caprimulgus europaeus
19/12/2021 - Mutinondo Wilderness - 1 seen
Fiery-necked Nightjar
Caprimulgus pectoralis
10/12/2021 - Kalwelwa Bush Camp - 1
22/12/2021 - Gwabi River Lodge - 1
Swamp Nightjar
Caprimulgus natalensis
11/12/2021 - Klawelwa Main forest Area - 2
12/12/2021 - Klawelwa Main forest Area - 1
Freckled Nightjar
Caprimulgus tristigma
15/12/2021 - Mkushi Rocky Hill - 3
Square-tailed Nightjar
Caprimulgus fossii
19/12/2021 - Mutinondo Wilderness - 1 seen
Pennant-winged Nightjar
Caprimulgus vexillarius
19/12/2021 - Mutinondo Wilderness - 1 male
African Palm Swift
Cypsiurus parvus
08/12/2021 - Rainlands Timber (private) - X
19/12/2021 - Chisimba Falls - X
22/12/2021 - Chisamba area - X
22/12/2021 - Fringilla Lodge - X
22/12/2021 - Gwabi River Lodge - X
23/12/2021 - Gwabi River Lodge - X
23/12/2021 - Kanyemba Island (Zambezi River/Kafue River Confluence) - X
24/12/2021 - Gwabi River Lodge - X
25/12/2021 - Kasisi Mission - X
26/12/2021 - Kasisi Mission - X
26/12/2021 - Kasisi Dam - X
26/12/2021 - Chamba Valley - X
08/12/2021 - Rainlands Timber (private) - X
14/12/2021 - Chimfunsi Entrance Road - X
15/12/2021 - Flufftail Dambo - X
19/12/2021 - Chisimba Falls - X
23/12/2021 - Kanyemba Island (Zambezi River/Kafue River Confluence) - X
24/12/2021 - road to Zambezi/Kafue confluence - X
Little Swift
Apus affinis
09/12/2021 - Mwekera Dam - X
09/12/2021 - Kitwe bridge - X
13/12/2021 - Mutanda Falls - X
18/12/2021 - Nchelenge Papyrus marsh - X
19/12/2021 - Chisimba Falls - X
23/12/2021 - Kanyemba Island (Zambezi River/Kafue River Confluence) - X
24/12/2021 - road to Zambezi/Kafue confluence - X
White-rumped Swift
Apus caffer
13/12/2021 - En route - 20
18/12/2021 - Nchelenge Papyrus marsh - 1
19/12/2021 - Chisimba Falls - X
Grey Go-away-bird
Crinifer concolor
22/12/2021 - Fringilla Lodge - HO - 1 heard
23/12/2021 - Gwabi River Lodge - HO - 1 heard
Ross's Turaco
Tauraco rossae
10/12/2021 - Chimfunsi Entrance Road - X
11/12/2021 - Klawelwa Main forest Area - X
11/12/2021 - Kalwelwa Bush Camp - X
12/12/2021 - Klawelwa Main forest Area - X
13/12/2021 - Klawelwa Main forest Area - X
19/12/2021 - Chisimba Falls - HO - heard
Schalow's Turaco
Tauraco schalowi
08/12/2021 - Rainlands Timber (private) - 1
09/12/2021 - Mwekera College Forest - 2
10/12/2021 - Chimfunsi Entrance Road - X
11/12/2021 - Klawelwa Main forest Area - X
12/12/2021 - Klawelwa Main forest Area - X
13/12/2021 - Klawelwa Main forest Area - X
14/12/2021 - Chimfunsi Entrance Road - 1
15/12/2021 - Flufftail Dambo - HO - 1 heard
15/12/2021 - Imanda Forest - X
16/12/2021 - Mkushi Rocks and Miombo - HO - heard
20/12/2021 - Mutinondo Wilderness - HO - heard
21/12/2021 - Mutinondo Wilderness - HO - 1 heard
22/12/2021 - Chisamba area - HO - heard
25/12/2021 - Kasisi Mission - HO - heard
26/12/2021 - Chamba Valley - 1
Denham's Bustard
Neotis denhami
Near-threatened (NT)
12/12/2021 - Klawelwa Main forest Area - 1
Black-bellied Bustard
Lissotis melanogaster
11/12/2021 - Kalwelwa Plains - 1
Coppery-tailed Coucal
Centropus cupreicaudus
09/12/2021 - Mwekera Dam - 1
10/12/2021 - Chitunta Plain IBA - 1
11/12/2021 - Klawelwa Main forest Area - X
11/12/2021 - Kalwelwa Delta - X
12/12/2021 - Klawelwa Main forest Area - 2
12/12/2021 - Kalwelwa Delta - 1
12/12/2021 - Kalwelwa Transition Zone - X
13/12/2021 - Klawelwa Main forest Area - X
18/12/2021 - Nchelenge Papyrus marsh - 5
18/12/2021 - Mbereshi marsh - X
Black Coucal
Centropus grillii
11/12/2021 - Klawelwa Main forest Area - 1
Blue Malkoha
Ceuthmochares aereus
12/12/2021 - Klawelwa Main forest Area - 1
Levaillant's Cuckoo
Clamator levaillantii
21/12/2021 - Mutinondo Wilderness - 1
22/12/2021 - Chisamba area - 1
Thick-billed Cuckoo
Pachycoccyx audeberti
10/12/2021 - Chimfunsi Entrance Road - 1
Diederik Cuckoo
Chrysococcyx caprius
14/12/2021 - Mutanda Falls - HO - HO
21/12/2021 - Fringilla Lodge - 1
22/12/2021 - Chisamba IBA - 1 seen + more heard
24/12/2021 - Gwabi River Lodge - HO - 1 heard
Klaas's Cuckoo
Chrysococcyx klaas
09/12/2021 - Mwekera College Forest - 2
22/12/2021 - Fringilla Lodge - HO - 1 heard
23/12/2021 - Gwabi River Lodge - HO - 1 heard
26/12/2021 - Chamba Valley - 1
African Emerald Cuckoo
Chrysococcyx cupreus
22/12/2021 - Chisamba area - HO - 1 heard
23/12/2021 - Gwabi River Lodge - HO - 1 heard
24/12/2021 - Gwabi River Lodge - HO - 1 heard
25/12/2021 - Kasisi Mission - HO - 1 heard
Black Cuckoo
Cuculus clamosus
09/12/2021 - Mwekera College Forest - X
10/12/2021 - Chimfunsi Entrance Road - HO - 1 heard
14/12/2021 - Chimfunsi Entrance Road - HO - 1 heard
Red-chested Cuckoo
Cuculus solitarius
08/12/2021 - Rainlands Timber (private) - 2
10/12/2021 - Amano Christian School - 1
11/12/2021 - Klawelwa Main forest Area - X
11/12/2021 - Kalwelwa Bush Camp - 1
11/12/2021 - Kalwelwa Delta - 1
12/12/2021 - Klawelwa Main forest Area - 1
12/12/2021 - Kalwelwa Bush Camp - 1
12/12/2021 - Kalwelwa Transition Zone - HO - 1 heard
16/12/2021 - Mkushi Rocks and Miombo - HO - 1 heard
17/12/2021 - Kasanka NP - 1
19/12/2021 - En route - 1
22/12/2021 - Chisamba area - HO - 1 heard
23/12/2021 - Gwabi River Lodge - HO - 1 heard
Afep Pigeon
Columba unicincta
11/12/2021 - Kalwelwa Plains - 1
11/12/2021 - Klawelwa Main forest Area - 6
12/12/2021 - Klawelwa Main forest Area - X
13/12/2021 - Klawelwa Main forest Area - X
Western Bronze-naped Pigeon
Columba iriditorques
12/12/2021 - Klawelwa Main forest Area - 1
Red-eyed Dove
Streptopelia semitorquata
11/12/2021 - Kalwelwa Plains - 2
13/12/2021 - Mutanda Falls - X
17/12/2021 - Kasanka NP - X
22/12/2021 - Chisamba IBA - X
23/12/2021 - Gwabi River Lodge - X
24/12/2021 - Gwabi River Lodge - X
Ring-necked Dove
Streptopelia capicola
16/12/2021 - Mkushi Rocks and Miombo - 1
17/12/2021 - Kasanka NP - X
22/12/2021 - Chisamba area - X
22/12/2021 - Gwabi River Lodge - X
Emerald-spotted Wood Dove
Turtur chalcospilos
09/12/2021 - Mwekera College Forest - X
16/12/2021 - Kasanka NP - X
22/12/2021 - Chisamba area - X
22/12/2021 - Gwabi River Lodge - X
23/12/2021 - Gwabi River Lodge - X
24/12/2021 - Gwabi River Lodge - X
24/12/2021 - road to Zambezi/Kafue confluence - X
25/12/2021 - Kasisi Mission - X
26/12/2021 - Chamba Valley - X
Tambourine Dove
Turtur tympanistria
24/12/2021 - road to Zambezi/Kafue confluence - 1
African Green Pigeon
Treron calvus
08/12/2021 - Rainlands Timber (private) - X
16/12/2021 - Kasanka NP - 2
17/12/2021 - Kasanka NP - 3
21/12/2021 - Mutinondo Wilderness - 1
22/12/2021 - Chisamba IBA - 5
22/12/2021 - Chisamba area - X
24/12/2021 - Gwabi River Lodge - 2
Red-chested Flufftail
Sarothrura rufa
11/12/2021 - Klawelwa Main forest Area - HO - 1 heard
11/12/2021 - Kalwelwa Delta - HO - 2 heard
19/12/2021 - Mutinondo Wilderness - HO - 1 heard
Chestnut-headed Flufftail
Sarothrura lugens
19/12/2021 - Mutinondo Wilderness - 1 heard and seen
20/12/2021 - Mutinondo Wilderness - HO - 1 HO
African Rail
Rallus caerulescens
18/12/2021 - Nchelenge Papyrus marsh - 1 seen + 1 heard
Lesser Moorhen
Paragallinula angulata
17/12/2021 - Nchelenge Papyrus marsh - 1
Common Moorhen
Gallinula chloropus
09/12/2021 - Mwekera Dam - 10
23/12/2021 - Kanyemba Island (Zambezi River/Kafue River Confluence) - 1
Allen's Gallinule
Porphyrio alleni
23/12/2021 - Kanyemba Island (Zambezi River/Kafue River Confluence) - 1
Black Crake
Zapornia flavirostra
17/12/2021 - Nchelenge Papyrus marsh - 3
18/12/2021 - Nchelenge Papyrus marsh - 2 seen + more heard
23/12/2021 - Kanyemba Island (Zambezi River/Kafue River Confluence) - 5
Striped Crake
Aenigmatolimnas marginalis
11/12/2021 - Klawelwa Main forest Area - 1
13/12/2021 - Klawelwa Main forest Area - 1
Water Thick-knee
Burhinus vermiculatus
23/12/2021 - Kanyemba Island (Zambezi River/Kafue River Confluence) - 20
23/12/2021 - Zambezi River - 5
Black-winged Stilt
Himantopus himantopus
23/12/2021 - Kanyemba Island (Zambezi River/Kafue River Confluence) - X
Blacksmith Lapwing
Vanellus armatus
23/12/2021 - Kanyemba Island (Zambezi River/Kafue River Confluence) - X
23/12/2021 - Zambezi River - X
White-crowned Lapwing
Vanellus albiceps
23/12/2021 - Kanyemba Island (Zambezi River/Kafue River Confluence) - 20
African Wattled Lapwing
Vanellus senegallus
10/12/2021 - Chitunta Plain IBA - 2
11/12/2021 - Kalwelwa Plains - X
22/12/2021 - Chisamba IBA - X
Three-banded Plover
Charadrius tricollaris
23/12/2021 - Kanyemba Island (Zambezi River/Kafue River Confluence) - 1
Lesser Jacana
Microparra capensis
16/12/2021 - Kasanka NP - 2
17/12/2021 - Nchelenge Papyrus marsh - 1
18/12/2021 - Nchelenge Papyrus marsh - 1
African Jacana
Actophilornis africanus
09/12/2021 - Mwekera Dam - 10
16/12/2021 - Kasanka NP - X
17/12/2021 - Kasanka NP - X
18/12/2021 - Nchelenge Papyrus marsh - X
23/12/2021 - Kanyemba Island (Zambezi River/Kafue River Confluence) - X
11/12/2021 - Kalwelwa Plains - 1
Great Snipe
Gallinago media
Near-threatened (NT)
11/12/2021 - Klawelwa Main forest Area - 1
11/12/2021 - Kalwelwa Delta - 5
Common Sandpiper
Actitis hypoleucos
23/12/2021 - Kanyemba Island (Zambezi River/Kafue River Confluence) - 10
23/12/2021 - Zambezi River - X
26/12/2021 - Kasisi Dam - X
Green Sandpiper
Tringa ochropus
11/12/2021 - Kalwelwa Plains - 1
16/12/2021 - Kasanka NP - 1
17/12/2021 - Luapula River Bridge - 1
Wood Sandpiper
Tringa glareola
10/12/2021 - Chitunta Plain IBA - 3
11/12/2021 - Kalwelwa Plains - 2
12/12/2021 - Kalwelwa Delta - 1
23/12/2021 - Kanyemba Island (Zambezi River/Kafue River Confluence) - 2
Common Greenshank
Tringa nebularia
23/12/2021 - Kanyemba Island (Zambezi River/Kafue River Confluence) - 2
26/12/2021 - Kasisi Dam - 1
Collared Pratincole
Glareola pratincola
17/12/2021 - En route - 1 juv
17/12/2021 - Luapula River Bridge - 1
23/12/2021 - Kanyemba Island (Zambezi River/Kafue River Confluence) - 200
African Skimmer
Rynchops flavirostris
Near-threatened (NT)
23/12/2021 - Kanyemba Island (Zambezi River/Kafue River Confluence) - 2
Grey-headed Gull
Chroicocephalus cirrocephalus
23/12/2021 - Kanyemba Island (Zambezi River/Kafue River Confluence) - 1
Yellow-billed Stork
Mycteria ibis
22/12/2021 - Fringilla Lodge - 10
23/12/2021 - Kanyemba Island (Zambezi River/Kafue River Confluence) - 10
African Openbill
Anastomus lamelligerus
16/12/2021 - Kasanka NP - 1
17/12/2021 - Kasanka NP - 1
17/12/2021 - Nchelenge Papyrus marsh - X
18/12/2021 - Nchelenge Papyrus marsh - 20
23/12/2021 - Kanyemba Island (Zambezi River/Kafue River Confluence) - X
23/12/2021 - Zambezi River - X
Abdim's Stork
Ciconia abdimii
16/12/2021 - Mkushi Rocks and Miombo - 20
21/12/2021 - En route - X
22/12/2021 - Chisamba IBA - 3
Woolly-necked Stork
Ciconia episcopus
Vulnerable (VU)
13/12/2021 - En route - 1
23/12/2021 - Gwabi River Lodge - 1
Marabou Stork
Leptoptilos crumenifer
21/12/2021 - Fringilla Lodge - 100
22/12/2021 - Fringilla Lodge - X
African Darter
Anhinga rufa
16/12/2021 - Kasanka NP - X
17/12/2021 - Kasanka NP - X
Reed Cormorant
Microcarbo africanus
09/12/2021 - Mwekera Dam - 5
12/12/2021 - Kalwelwa Delta - 6
16/12/2021 - Kasanka NP - X
17/12/2021 - Kasanka NP - X
18/12/2021 - Nchelenge Papyrus marsh - X
22/12/2021 - Gwabi River Lodge - 2
23/12/2021 - Gwabi River Lodge - X
23/12/2021 - Kanyemba Island (Zambezi River/Kafue River Confluence) - X
24/12/2021 - Gwabi River Lodge - X
24/12/2021 - road to Zambezi/Kafue confluence - X
26/12/2021 - Kasisi Dam - X
White-breasted Cormorant
Phalacrocorax lucidus
26/12/2021 - Kasisi Dam - X
Hadada Ibis
Bostrychia hagedash
11/12/2021 - Kalwelwa Delta - 1
12/12/2021 - Kalwelwa Bush Camp - 1
12/12/2021 - Kalwelwa Delta - 1
15/12/2021 - Imanda Forest - 1
23/12/2021 - Kanyemba Island (Zambezi River/Kafue River Confluence) - 1
Glossy Ibis
Plegadis falcinellus
23/12/2021 - Kanyemba Island (Zambezi River/Kafue River Confluence) - 1
African Spoonbill
Platalea alba
23/12/2021 - Kanyemba Island (Zambezi River/Kafue River Confluence) - 10
Eurasian Bittern
Botaurus stellaris
11/12/2021 - Klawelwa Main forest Area - 1 flying around
Little Bittern
Ixobrychus minutus
18/12/2021 - Nchelenge Papyrus marsh - 1 male
23/12/2021 - Kanyemba Island (Zambezi River/Kafue River Confluence) - 2
Dwarf Bittern
Ixobrychus sturmii
14/12/2021 - Chimfunsi Entrance Road - 1
15/12/2021 - Imanda Forest - 1
22/12/2021 - Chisamba area - 1
23/12/2021 - Kanyemba Island (Zambezi River/Kafue River Confluence) - 1
Black-crowned Night Heron
Nycticorax nycticorax
23/12/2021 - Kanyemba Island (Zambezi River/Kafue River Confluence) - 1
Striated Heron
Butorides striata
23/12/2021 - Gwabi River Lodge - 1
23/12/2021 - Kanyemba Island (Zambezi River/Kafue River Confluence) - 10
Squacco Heron
Ardeola ralloides
17/12/2021 - Kasanka NP - 2
23/12/2021 - Kanyemba Island (Zambezi River/Kafue River Confluence) - 2
26/12/2021 - Kasisi Dam - 1
Rufous-bellied Heron
Ardeola rufiventris
11/12/2021 - Kalwelwa Delta - 1
23/12/2021 - Kanyemba Island (Zambezi River/Kafue River Confluence) - 1
Western Cattle Egret
Bubulcus ibis
08/12/2021 - Rainlands Timber (private) - X
10/12/2021 - Chitunta Plain IBA - X
11/12/2021 - Kalwelwa Plains - X
11/12/2021 - Klawelwa Main forest Area - X
12/12/2021 - Kalwelwa Delta - X
12/12/2021 - Kalwelwa Transition Zone - X
14/12/2021 - Mutanda Falls - X
16/12/2021 - Kasanka NP - X
17/12/2021 - Kasanka NP - X
22/12/2021 - Chisamba IBA - X
22/12/2021 - Chisamba area - X
23/12/2021 - Kanyemba Island (Zambezi River/Kafue River Confluence) - X
23/12/2021 - Zambezi River - X
24/12/2021 - Gwabi River Lodge - X
26/12/2021 - Kasisi Dam - X
08/12/2021 - Rainlands Timber (private) - 1
14/12/2021 - Mutanda Falls - 1
17/12/2021 - Luapula River Bridge - 4
Black-headed Heron
Ardea melanocephala
22/12/2021 - Chisamba IBA - 5
23/12/2021 - Kanyemba Island (Zambezi River/Kafue River Confluence) - 1
26/12/2021 - Kasisi Dam - 1
Purple Heron
Ardea purpurea
11/12/2021 - Kalwelwa Delta - 1
17/12/2021 - Kasanka NP - 1
17/12/2021 - Nchelenge Papyrus marsh - 10
17/12/2021 - Luapula River Bridge - 1
18/12/2021 - Nchelenge Papyrus marsh - X
23/12/2021 - Kanyemba Island (Zambezi River/Kafue River Confluence) - 15
16/12/2021 - Kasanka NP - X
18/12/2021 - Nchelenge Papyrus marsh - X
23/12/2021 - Kanyemba Island (Zambezi River/Kafue River Confluence) - X
23/12/2021 - Zambezi River - X
26/12/2021 - Kasisi Dam - X
Intermediate Egret
Ardea intermedia
17/12/2021 - Luapula River Bridge - 1
24/12/2021 - Gwabi River Lodge - 1
Black Heron
Egretta ardesiaca
23/12/2021 - Zambezi River - 1
Little Egret
Egretta garzetta
23/12/2021 - Kanyemba Island (Zambezi River/Kafue River Confluence) - 10
23/12/2021 - Zambezi River - X
26/12/2021 - Kasisi Dam - X
21/12/2021 - Mutinondo Wilderness - 2
22/12/2021 - Gwabi River Lodge - 1
23/12/2021 - Kanyemba Island (Zambezi River/Kafue River Confluence) - 2
24/12/2021 - Gwabi River Lodge - 2
26/12/2021 - Kasisi Dam - X
Western Osprey
Pandion haliaetus
09/12/2021 - Mwekera Dam - 1
26/12/2021 - Kasisi Dam - 1
Black-winged Kite
Elanus caeruleus
08/12/2021 - Rainlands Timber (private) - 1
11/12/2021 - Kalwelwa Delta - 1
15/12/2021 - Mkushi Dambo - 1
22/12/2021 - Chisamba IBA - 5
24/12/2021 - road to Zambezi/Kafue confluence - 1
African Harrier-Hawk
Polyboroides typus
17/12/2021 - En route - 1
18/12/2021 - Nchelenge Papyrus marsh - 2
Palm-nut Vulture
Gypohierax angolensis
17/12/2021 - Nchelenge Papyrus marsh - 1
European Honey Buzzard
Pernis apivorus
12/12/2021 - Klawelwa Main forest Area - 1
African Cuckoo-Hawk
Aviceda cuculoides
26/12/2021 - Kasisi Mission - 1
Hooded Vulture
Necrosyrtes monachus
Critically Endangered (CR)
15/12/2021 - Imanda Forest - 2
21/12/2021 - Fringilla Lodge - 10
22/12/2021 - Fringilla Lodge - X
White-backed Vulture
Gyps africanus
Critically Endangered (CR)
16/12/2021 - Kasanka NP - 4
21/12/2021 - Fringilla Lodge - 50
22/12/2021 - Fringilla Lodge - X
Black-chested Snake Eagle
Circaetus pectoralis
11/12/2021 - Klawelwa Main forest Area - 1
12/12/2021 - Kalwelwa Transition Zone - 1
13/12/2021 - Chitunta Plain IBA - 1
15/12/2021 - En route - 1
18/12/2021 - En route - 1
26/12/2021 - Kasisi Mission - 1
Bateleur
Terathopius ecaudatus
Near-threatened (NT)
10/12/2021 - En route - 1
11/12/2021 - En route - 1
Bat Hawk
Macheiramphus alcinus
11/12/2021 - Kalwelwa Delta - 1
Wahlberg's Eagle
Hieraaetus wahlbergi
09/12/2021 - Mwekera College Forest - 2
11/12/2021 - Klawelwa Main forest Area - 1
14/12/2021 - Chimfunsi Entrance Road - 1
16/12/2021 - Mkushi Rocks and Miombo - 1
Ayres's Hawk-Eagle
Hieraaetus ayresii
25/12/2021 - Kasisi Mission - 1
Lizard Buzzard
Kaupifalco monogrammicus
09/12/2021 - Mwekera College Forest - 3
12/12/2021 - Klawelwa Main forest Area - 1
15/12/2021 - Forest Inn - 2
22/12/2021 - Chisamba area - 1
24/12/2021 - road to Zambezi/Kafue confluence - 1
26/12/2021 - Kasisi Mission - 1
26/12/2021 - Chamba Valley - 1
African Goshawk
Accipiter tachiro
23/12/2021 - Gwabi River Lodge - 1
26/12/2021 - Kasisi Mission - 1
22/12/2021 - Chisamba area - 1
African Marsh Harrier
Circus ranivorus
10/12/2021 - Chitunta Plain IBA - 1
11/12/2021 - Klawelwa Main forest Area - 2
12/12/2021 - Klawelwa Main forest Area - 1
13/12/2021 - Klawelwa Main forest Area - 1
17/12/2021 - Nchelenge Papyrus marsh - 1
18/12/2021 - Nchelenge Papyrus marsh - 1
Yellow-billed Kite
Milvus aegyptius
08/12/2021 - Rainlands Timber (private) - 1
09/12/2021 - Kitwe bridge - 1
11/12/2021 - Klawelwa Main forest Area - X
15/12/2021 - Forest Inn - 1
17/12/2021 - Luapula River Bridge - X
19/12/2021 - En route - 1
24/12/2021 - road to Zambezi/Kafue confluence - 1
African Fish Eagle
Haliaeetus vocifer
23/12/2021 - Kanyemba Island (Zambezi River/Kafue River Confluence) - 1
26/12/2021 - Kasisi Dam - 1
Common Buzzard
Buteo buteo
09/12/2021 - Mwekera College Forest - 2
10/12/2021 - Amano Christian School - 1
19/12/2021 - En route - 1
24/12/2021 - road to Zambezi/Kafue confluence - 1
Western Barn Owl
Tyto alba
21/12/2021 - Fringilla Lodge - HO - 1 heard
African Grass Owl
Tyto capensis
19/12/2021 - Mutinondo Wilderness - 1
African Barred Owlet
Glaucidium capense
09/12/2021 - Mwekera College Forest - 1
16/12/2021 - Mkushi Rocks and Miombo - 1
Spotted Eagle-Owl
Bubo africanus
10/12/2021 - Kalwelwa Bush Camp - 4
11/12/2021 - Kalwelwa Bush Camp - 2
11/12/2021 - Kalwelwa Delta - 1
12/12/2021 - Kalwelwa Bush Camp - 1
Pel's Fishing Owl
Scotopelia peli
16/12/2021 - Kasanka NP - 2
Vermiculated Fishing Owl
Scotopelia bouvieri
11/12/2021 - Klawelwa Main forest Area - HO - 2 heard
13/12/2021 - Klawelwa Main forest Area - 2
African Wood Owl
Strix woodfordii
10/12/2021 - Kalwelwa Bush Camp - 1
11/12/2021 - Kalwelwa Bush Camp - 2
13/12/2021 - Klawelwa Main forest Area - HO - 1 heard
15/12/2021 - Flufftail Dambo - HO - 1 heard
Speckled Mousebird
Colius striatus
08/12/2021 - Rainlands Timber (private) - X
09/12/2021 - Mwekera Dam - 3
12/12/2021 - Klawelwa Main forest Area - X
14/12/2021 - Chimfunsi Entrance Road - X
Red-faced Mousebird
Urocolius indicus
22/12/2021 - Chisamba area - 3
24/12/2021 - road to Zambezi/Kafue confluence - 10
25/12/2021 - Kasisi Mission - X
Narina Trogon
Apaloderma narina
11/12/2021 - Kalwelwa Bush Camp - 1
13/12/2021 - En route - 1
15/12/2021 - Forest Inn - 1
Green Wood Hoopoe
Phoeniculus purpureus
09/12/2021 - Mwekera College Forest - X
26/12/2021 - Kasisi Mission - 3
Common Scimitarbill
Rhinopomastus cyanomelas
09/12/2021 - Mwekera College Forest - X
23/12/2021 - Gwabi River Lodge - 1
24/12/2021 - road to Zambezi/Kafue confluence - 1
Southern Ground Hornbill
Bucorvus leadbeateri
Vulnerable (VU)
21/12/2021 - Mutinondo Wilderness - HO - 1 heard
Southern Red-billed Hornbill
Tockus rufirostris
24/12/2021 - road to Zambezi/Kafue confluence - 3
Crowned Hornbill
Lophoceros alboterminatus
09/12/2021 - Mwekera College Forest - 2
11/12/2021 - Klawelwa Main forest Area - 2
12/12/2021 - Klawelwa Main forest Area - X
12/12/2021 - Kalwelwa Bush Camp - 1
14/12/2021 - Chimfunsi Entrance Road - X
15/12/2021 - Forest Inn - X
15/12/2021 - Imanda Forest - X
16/12/2021 - Kasanka NP - X
17/12/2021 - Kasanka NP - 5
19/12/2021 - Chisimba Falls - X
21/12/2021 - Mutinondo Wilderness - 2
22/12/2021 - Gwabi River Lodge - 1
23/12/2021 - Gwabi River Lodge - X
23/12/2021 - Kanyemba Island (Zambezi River/Kafue River Confluence) - X
Pale-billed Hornbill
Lophoceros pallidirostris
13/12/2021 - Kalwelwa Bush Camp - 2
14/12/2021 - Chimfunsi Entrance Road - HO - heard
16/12/2021 - Mkushi Rocks and Miombo - 10
19/12/2021 - En route - 3
20/12/2021 - Mutinondo Wilderness - X
Trumpeter Hornbill
Bycanistes bucinator
09/12/2021 - Mwekera College Forest - 1
16/12/2021 - Kasanka NP - 1
21/12/2021 - Fringilla Lodge - 1
22/12/2021 - Chisamba IBA - 5
22/12/2021 - Chisamba area - 10
23/12/2021 - Gwabi River Lodge - X
23/12/2021 - Kanyemba Island (Zambezi River/Kafue River Confluence) - 1
23/12/2021 - Zambezi River - 1
Purple Roller
Coracias naevius
09/12/2021 - Mwekera College Forest - 1
Lilac-breasted Roller
Coracias caudatus
10/12/2021 - En route - X
15/12/2021 - En route - 1
21/12/2021 - En route - X
22/12/2021 - Chisamba IBA - 1
European Roller
Coracias garrulus
17/12/2021 - En route - 1
21/12/2021 - En route - 2
22/12/2021 - Chisamba IBA - 1
24/12/2021 - road to Zambezi/Kafue confluence - 1
Broad-billed Roller
Eurystomus glaucurus
08/12/2021 - Rainlands Timber (private) - 1
09/12/2021 - Mwekera College Forest - X
14/12/2021 - Chimfunsi Entrance Road - 2
14/12/2021 - Mutanda Falls - 1
22/12/2021 - Gwabi River Lodge - 1
23/12/2021 - Gwabi River Lodge - 3
Grey-headed Kingfisher
Halcyon leucocephala
09/12/2021 - Mwekera College Forest - X
14/12/2021 - Chimfunsi Entrance Road - 1
17/12/2021 - Kasanka NP - 2
Brown-hooded Kingfisher
Halcyon albiventris
21/12/2021 - Mutinondo Wilderness - 1
22/12/2021 - Gwabi River Lodge - 2
23/12/2021 - Gwabi River Lodge - 2
24/12/2021 - Gwabi River Lodge - 1
Striped Kingfisher
Halcyon chelicuti
15/12/2021 - En route - 1
Blue-breasted Kingfisher
Halcyon malimbica
13/12/2021 - Klawelwa Main forest Area - HO - 1 heard
Woodland Kingfisher
Halcyon senegalensis
09/12/2021 - Mwekera College Forest - X
17/12/2021 - Kasanka NP - 1
White-bellied Kingfisher
Corythornis leucogaster
11/12/2021 - Klawelwa Main forest Area - 1
Malachite Kingfisher
Corythornis cristatus
18/12/2021 - Nchelenge Papyrus marsh - 1
23/12/2021 - Kanyemba Island (Zambezi River/Kafue River Confluence) - 5
Shining-blue Kingfisher
Alcedo quadribrachys
11/12/2021 - Klawelwa Main forest Area - 1
13/12/2021 - Klawelwa Main forest Area - 1
Giant Kingfisher
Megaceryle maxima
23/12/2021 - Kanyemba Island (Zambezi River/Kafue River Confluence) - 1
24/12/2021 - Gwabi River Lodge - 1
24/12/2021 - road to Zambezi/Kafue confluence - 1
Pied Kingfisher
Ceryle rudis
09/12/2021 - Mwekera Dam - 2
16/12/2021 - Kasanka NP - 1
23/12/2021 - Kanyemba Island (Zambezi River/Kafue River Confluence) - 5
Little Bee-eater
Merops pusillus
08/12/2021 - Rainlands Timber (private) - X
23/12/2021 - Kanyemba Island (Zambezi River/Kafue River Confluence) - X
Blue-breasted Bee-eater
Merops variegatus
11/12/2021 - Kalwelwa Plains - X
11/12/2021 - Klawelwa Main forest Area - X
11/12/2021 - Kalwelwa Delta - X
12/12/2021 - Klawelwa Main forest Area - X
13/12/2021 - Klawelwa Main forest Area - X
17/12/2021 - Nchelenge Papyrus marsh - 1
18/12/2021 - Nchelenge Papyrus marsh - X
White-fronted Bee-eater
Merops bullockoides
16/12/2021 - Kasanka NP - 1
23/12/2021 - Kanyemba Island (Zambezi River/Kafue River Confluence) - 10
Böhm's Bee-eater
Merops boehmi
08/12/2021 - Rainlands Timber (private) - 2
16/12/2021 - Kasanka NP - 4
Blue-cheeked Bee-eater
Merops persicus
17/12/2021 - En route - 1
23/12/2021 - Kanyemba Island (Zambezi River/Kafue River Confluence) - 5
European Bee-eater
Merops apiaster
15/12/2021 - En route - 1
17/12/2021 - Kasanka NP - X
23/12/2021 - Gwabi River Lodge - X
24/12/2021 - road to Zambezi/Kafue confluence - X
26/12/2021 - Kasisi Dam - X
26/12/2021 - Chamba Valley - X
Southern Carmine Bee-eater
Merops nubicoides
23/12/2021 - Kanyemba Island (Zambezi River/Kafue River Confluence) - 1
Whyte's Barbet
Stactolaema whytii
19/12/2021 - Chisimba Falls - 3
Anchieta's Barbet
Stactolaema anchietae
14/12/2021 - Chimfunsi Entrance Road - 1
Yellow-rumped Tinkerbird
Pogoniulus bilineatus
10/12/2021 - Chimfunsi Entrance Road - X
11/12/2021 - Klawelwa Main forest Area - 1
12/12/2021 - Klawelwa Main forest Area - 1
14/12/2021 - Chimfunsi Entrance Road - 2
15/12/2021 - Imanda Forest - HO - 2 heard
Yellow-fronted Tinkerbird
Pogoniulus chrysoconus
09/12/2021 - Mwekera College Forest - X
10/12/2021 - Chimfunsi Entrance Road - X
10/12/2021 - Amano Christian School - 1
11/12/2021 - Kalwelwa Bush Camp - 1
14/12/2021 - Chimfunsi Entrance Road - 1
16/12/2021 - Mkushi Rocks and Miombo - 2
19/12/2021 - Chisimba Falls - 1
20/12/2021 - Mutinondo Wilderness - 1
21/12/2021 - Mutinondo Wilderness - 1
26/12/2021 - Kasisi Mission - HO - 1 heard
Miombo Pied Barbet
Tricholaema frontata
09/12/2021 - Mwekera College Forest - 1
Chaplin's Barbet
Lybius chaplini
Vulnerable (VU)
Country endemic
22/12/2021 - Chisamba IBA - 5
Black-collared Barbet
Lybius torquatus
09/12/2021 - Mwekera College Forest - 2
09/12/2021 - Mwekera Dam - 1
10/12/2021 - Chimfunsi Entrance Road - 1
16/12/2021 - Kasanka NP - 1
22/12/2021 - Chisamba IBA - 1
22/12/2021 - Chisamba area - 1
25/12/2021 - Kasisi Mission - 2
26/12/2021 - Kasisi Mission - 1
26/12/2021 - Chamba Valley - 1
Black-backed Barbet
Lybius minor
11/12/2021 - Klawelwa Main forest Area - 2
14/12/2021 - Chimfunsi Entrance Road - 2
15/12/2021 - Imanda Forest - 1
19/12/2021 - Chisimba Falls - 2
19/12/2021 - En route - 1
20/12/2021 - Mutinondo Wilderness - 2
Green-backed Honeybird
Prodotiscus zambesiae
11/12/2021 - Klawelwa Main forest Area - 2
16/12/2021 - Mkushi Rocks and Miombo - 2
19/12/2021 - Chisimba Falls - 2
Brown-backed Honeybird
Prodotiscus regulus
11/12/2021 - Klawelwa Main forest Area - 1
26/12/2021 - Kasisi Mission - 1
Lesser Honeyguide
Indicator minor
09/12/2021 - Mwekera College Forest - X
15/12/2021 - Forest Inn - 1
26/12/2021 - Kasisi Mission - 1
Scaly-throated Honeyguide
Indicator variegatus
12/12/2021 - Kalwelwa Bush Camp - 1
Greater Honeyguide
Indicator indicator
09/12/2021 - Mwekera College Forest - 3
20/12/2021 - Mutinondo Wilderness - 1
Red-throated Wryneck
Jynx ruficollis
11/12/2021 - Kalwelwa Plains - 1
Bennett's Woodpecker
Campethera bennettii
09/12/2021 - Mwekera College Forest - 4
Golden-tailed Woodpecker
Campethera abingoni
09/12/2021 - Mwekera College Forest - X
Green-backed Woodpecker
Campethera cailliautii
09/12/2021 - Mwekera College Forest - X
19/12/2021 - Chisimba Falls - 2
22/12/2021 - Chisamba area - 1
Bearded Woodpecker
Chloropicus namaquus
22/12/2021 - Gwabi River Lodge - 1
Cardinal Woodpecker
Dendropicos fuscescens
09/12/2021 - Mwekera College Forest - X
14/12/2021 - Chimfunsi Entrance Road - X
17/12/2021 - Kasanka NP - X
25/12/2021 - Kasisi Mission - 1
Olive Woodpecker
Dendropicos griseocephalus
19/12/2021 - Chisimba Falls - 2
Dickinson's Kestrel
Falco dickinsoni
18/12/2021 - En route - 1
Red-footed Falcon
Falco vespertinus
Near-threatened (NT)
10/12/2021 - Chitunta Plain IBA - 3
Amur Falcon
Falco amurensis
10/12/2021 - Chitunta Plain IBA - 3
13/12/2021 - Chitunta Plain IBA - 2
13/12/2021 - En route - 1
24/12/2021 - road to Zambezi/Kafue confluence - 1
Eurasian Hobby
Falco subbuteo
13/12/2021 - Mutanda Falls - 4
13/12/2021 - En route - 1
14/12/2021 - Chimfunsi Entrance Road - 1
15/12/2021 - Mkushi Dambo - 2
19/12/2021 - En route - 2
Brown-necked Parrot
Poicephalus fuscicollis
23/12/2021 - Gwabi River Lodge - 1
Meyer's Parrot
Poicephalus meyeri
13/12/2021 - En route - 2
23/12/2021 - Kanyemba Island (Zambezi River/Kafue River Confluence) - 2
African Broadbill
Smithornis capensis
09/12/2021 - Mwekera College Forest - 1
12/12/2021 - Kalwelwa Bush Camp - 2
13/12/2021 - Klawelwa Main forest Area - HO - 1
21/12/2021 - Mutinondo Wilderness - HO - 1
23/12/2021 - Gwabi River Lodge - 1
25/12/2021 - Kasisi Mission - HO - 1 heard
African Pitta
Pitta angolensis
23/12/2021 - Gwabi River Lodge - 2 + 1 heard
24/12/2021 - Gwabi River Lodge - 2 seen + 1 heard
Margaret's Batis
Batis margaritae
15/12/2021 - Imanda Forest - 2
Chinspot Batis
Batis molitor
09/12/2021 - Mwekera College Forest - X
12/12/2021 - Kalwelwa Bush Camp - 2
14/12/2021 - Chimfunsi Entrance Road - 1
16/12/2021 - Mkushi Rocks and Miombo - 5
17/12/2021 - Kasanka NP - X
18/12/2021 - En route - 2
21/12/2021 - Mutinondo Wilderness - X
25/12/2021 - Kasisi Mission - 1
26/12/2021 - Kasisi Mission - 1
Black-throated Wattle-eye
Platysteira peltata
11/12/2021 - Klawelwa Main forest Area - 2
12/12/2021 - Klawelwa Main forest Area - 2
13/12/2021 - Mutanda Falls - 1
Grey-headed Bushshrike
Malaconotus blanchoti
18/12/2021 - En route - HO - 1
20/12/2021 - Mutinondo Wilderness - HO - 1 heard
21/12/2021 - Mutinondo Wilderness - HO - 1 heard
Orange-breasted Bushshrike
Chlorophoneus sulfureopectus
08/12/2021 - Rainlands Timber (private) - 1
10/12/2021 - Chimfunsi Entrance Road - 1
22/12/2021 - Chisamba area - 1
23/12/2021 - Gwabi River Lodge - 1 seen + 1 heard
Marsh Tchagra
Bocagia minuta
18/12/2021 - Nchelenge Papyrus marsh - 2
Brown-crowned Tchagra
Tchagra australis
09/12/2021 - Mwekera College Forest - 2
22/12/2021 - Chisamba area - 1
Black-crowned Tchagra
Tchagra senegalus
09/12/2021 - Mwekera College Forest - X
14/12/2021 - Chimfunsi Entrance Road - 2
16/12/2021 - Mkushi Rocks and Miombo - 1
26/12/2021 - Chamba Valley - 1
Black-backed Puffback
Dryoscopus cubla
09/12/2021 - Mwekera College Forest - X
11/12/2021 - Kalwelwa Bush Camp - X
12/12/2021 - Kalwelwa Bush Camp - X
14/12/2021 - Chimfunsi Entrance Road - 1
15/12/2021 - Forest Inn - X
16/12/2021 - Mkushi Rocks and Miombo - X
17/12/2021 - Kasanka NP - X
20/12/2021 - Mutinondo Wilderness - X
21/12/2021 - Mutinondo Wilderness - X
22/12/2021 - Chisamba area - X
23/12/2021 - Gwabi River Lodge - X
24/12/2021 - Gwabi River Lodge - X
26/12/2021 - Kasisi Mission - X
Tropical Boubou
Laniarius major
08/12/2021 - Rainlands Timber (private) - X
09/12/2021 - Mwekera College Forest - X
11/12/2021 - Kalwelwa Delta - 1
12/12/2021 - Klawelwa Main forest Area - 1
14/12/2021 - Chimfunsi Entrance Road - 1
14/12/2021 - Mutanda Falls - X
15/12/2021 - Forest Inn - 2
19/12/2021 - Chisimba Falls - HO - 1 heard
20/12/2021 - Mutinondo Wilderness - X
22/12/2021 - Chisamba area - X
22/12/2021 - Fringilla Lodge - 1
23/12/2021 - Gwabi River Lodge - X
24/12/2021 - Gwabi River Lodge - X
25/12/2021 - Kasisi Mission - X
26/12/2021 - Chamba Valley - X
14/12/2021 - Chimfunsi Entrance Road - 1
16/12/2021 - Mkushi Rocks and Miombo - 1
17/12/2021 - Kasanka NP - 1
White-crested Helmetshrike
Prionops plumatus
09/12/2021 - Mwekera College Forest - X
15/12/2021 - Forest Inn - 2
16/12/2021 - Mkushi Rocks and Miombo - 5
Retz's Helmetshrike
Prionops retzii
09/12/2021 - Mwekera College Forest - X
White-breasted Cuckooshrike
Ceblepyris pectoralis
09/12/2021 - Mwekera College Forest - X
15/12/2021 - Forest Inn - 1
17/12/2021 - Kasanka NP - 1
20/12/2021 - Mutinondo Wilderness - 2
Black Cuckooshrike
Campephaga flava
09/12/2021 - Mwekera College Forest - X
10/12/2021 - Chimfunsi Entrance Road - X
15/12/2021 - Forest Inn - 2
16/12/2021 - Mkushi Rocks and Miombo - X
22/12/2021 - Chisamba area - X
26/12/2021 - Chamba Valley - 1
Souza's Shrike
Lanius souzae
17/12/2021 - Kasanka NP - 2
Red-backed Shrike
Lanius collurio
13/12/2021 - Kalwelwa Bush Camp - 1
14/12/2021 - Chimfunsi Entrance Road - 1
16/12/2021 - Kasanka NP - 1
22/12/2021 - Chisamba IBA - 1
22/12/2021 - Chisamba area - 4
22/12/2021 - Fringilla Lodge - 1
24/12/2021 - road to Zambezi/Kafue confluence - 3
25/12/2021 - Kasisi Mission - 1
Northern Fiscal
Lanius humeralis
08/12/2021 - Rainlands Timber (private) - X
09/12/2021 - Mwekera College Forest - X
09/12/2021 - Mwekera Dam - X
10/12/2021 - Chitunta Plain IBA - X
14/12/2021 - Chimfunsi Entrance Road - 1
22/12/2021 - Chisamba IBA - X
22/12/2021 - Fringilla Lodge - X
Black-headed Oriole
Oriolus larvatus
09/12/2021 - Mwekera College Forest - X
10/12/2021 - Chimfunsi Entrance Road - X
12/12/2021 - Kalwelwa Bush Camp - 1
14/12/2021 - Chimfunsi Entrance Road - X
14/12/2021 - Mutanda Falls - 1
16/12/2021 - Mkushi Rocks and Miombo - X
16/12/2021 - Kasanka NP - 1
17/12/2021 - Kasanka NP - 2
20/12/2021 - Mutinondo Wilderness - X
21/12/2021 - Mutinondo Wilderness - X
African Golden Oriole
Oriolus auratus
09/12/2021 - Mwekera College Forest - 1
16/12/2021 - Kasanka NP - 1
17/12/2021 - Kasanka NP - 2
22/12/2021 - Chisamba IBA - 2
24/12/2021 - Gwabi River Lodge - 1
Eurasian Golden Oriole
Oriolus oriolus
09/12/2021 - Mwekera College Forest - X
14/12/2021 - Chimfunsi Entrance Road - 2
15/12/2021 - Forest Inn - 1
20/12/2021 - Mutinondo Wilderness - 1
Fork-tailed Drongo
Dicrurus adsimilis
09/12/2021 - Mwekera College Forest - X
14/12/2021 - Chimfunsi Entrance Road - X
15/12/2021 - Mkushi Dambo - X
16/12/2021 - Mkushi Rocks and Miombo - X
17/12/2021 - Kasanka NP - X
18/12/2021 - En route - X
25/12/2021 - Kasisi Mission - X
26/12/2021 - Kasisi Mission - X
Common Square-tailed Drongo
Dicrurus ludwigii
15/12/2021 - Imanda Forest - 1
Red-bellied Paradise Flycatcher
Terpsiphone rufiventer
11/12/2021 - Klawelwa Main forest Area - 1
African Paradise Flycatcher
Terpsiphone viridis
09/12/2021 - Mwekera College Forest - X
11/12/2021 - Klawelwa Main forest Area - X
11/12/2021 - Kalwelwa Bush Camp - 1
12/12/2021 - Kalwelwa Bush Camp - X
13/12/2021 - Klawelwa Main forest Area - X
13/12/2021 - Mutanda Falls - 1
14/12/2021 - Chimfunsi Entrance Road - X
14/12/2021 - Mutanda Falls - 1
15/12/2021 - Forest Inn - X
16/12/2021 - Kasanka NP - X
17/12/2021 - Kasanka NP - X
19/12/2021 - Chisimba Falls - X
20/12/2021 - Mutinondo Wilderness - X
21/12/2021 - Mutinondo Wilderness - X
22/12/2021 - Fringilla Lodge - X
24/12/2021 - Gwabi River Lodge - X
25/12/2021 - Kasisi Mission - X
26/12/2021 - Kasisi Mission - X
09/12/2021 - Kitwe bridge - X
16/12/2021 - Mkushi Rocks and Miombo - X
17/12/2021 - Luapula River Bridge - 2
25/12/2021 - Kasisi Mission - X
White-necked Raven
Corvus albicollis
21/12/2021 - Mutinondo Wilderness - 5
White-tailed Blue Flycatcher
Elminia albicauda
20/12/2021 - Mutinondo Wilderness - 1
White-tailed Crested Flycatcher
Elminia albonotata
20/12/2021 - Mutinondo Wilderness - 2
Southern Black Tit
Melaniparus niger
22/12/2021 - Chisamba area - 3
26/12/2021 - Kasisi Mission - 1
Rufous-bellied Tit
Melaniparus rufiventris
09/12/2021 - Mwekera College Forest - X
14/12/2021 - Chimfunsi Entrance Road - X
16/12/2021 - Mkushi Rocks and Miombo - 5
17/12/2021 - Kasanka NP - 2
Miombo Tit
Melaniparus griseiventris
09/12/2021 - Mwekera College Forest - 2
11/12/2021 - Kalwelwa Bush Camp - 1
16/12/2021 - Kasanka NP - 1
20/12/2021 - Mutinondo Wilderness - 1
Grey Penduline Tit
Anthoscopus caroli
09/12/2021 - Mwekera College Forest - 1
14/12/2021 - Chimfunsi Entrance Road - 1
16/12/2021 - Mkushi Rocks and Miombo - 4
Eastern Nicator
Nicator gularis
22/12/2021 - Gwabi River Lodge - 1
23/12/2021 - Gwabi River Lodge - 3
24/12/2021 - Gwabi River Lodge - 2
Rufous-naped Lark
Mirafra africana
10/12/2021 - Chitunta Plain IBA - 1
Flappet Lark
Mirafra rufocinnamomea
09/12/2021 - Mwekera College Forest - X
17/12/2021 - Kasanka NP - 1
19/12/2021 - En route - 1
22/12/2021 - Chisamba area - 1
Angolan Lark
Mirafra angolensis
11/12/2021 - Kalwelwa Plains - 2
12/12/2021 - Kalwelwa Delta - 1
12/12/2021 - Kalwelwa Transition Zone - 1
Black-collared Bulbul
Neolestes torquatus
11/12/2021 - Klawelwa Main forest Area - 1
13/12/2021 - Klawelwa Main forest Area - 1
Yellow-throated Leaflove
Atimastillas flavicollis
09/12/2021 - Mwekera Dam - 1
11/12/2021 - Klawelwa Main forest Area - X
12/12/2021 - Klawelwa Main forest Area - X
14/12/2021 - Mutanda Falls - X
19/12/2021 - Chisimba Falls - X
Yellow-bellied Greenbul
Chlorocichla flaviventris
08/12/2021 - Rainlands Timber (private) - X
22/12/2021 - Chisamba area - 2
22/12/2021 - Gwabi River Lodge - 1
23/12/2021 - Gwabi River Lodge - X
24/12/2021 - Gwabi River Lodge - 1
26/12/2021 - Kasisi Mission - 3
Honeyguide Greenbul
Baeopogon indicator
12/12/2021 - Kalwelwa Bush Camp - 1
Little Greenbul
Eurillas virens
11/12/2021 - Klawelwa Main forest Area - X
12/12/2021 - Klawelwa Main forest Area - X
12/12/2021 - Kalwelwa Bush Camp - X
13/12/2021 - Klawelwa Main forest Area - X
15/12/2021 - Imanda Forest - X
19/12/2021 - Chisimba Falls - X
Terrestrial Brownbul
Phyllastrephus terrestris
08/12/2021 - Rainlands Timber (private) - 5
15/12/2021 - Imanda Forest - HO - heard
22/12/2021 - Chisamba area - 4
23/12/2021 - Gwabi River Lodge - X
24/12/2021 - Gwabi River Lodge - X
Grey-olive Greenbul
Phyllastrephus cerviniventris
13/12/2021 - Mutanda Falls - X
20/12/2021 - Mutinondo Wilderness - 5
Cabanis's Greenbul
Phyllastrephus cabanisi
11/12/2021 - Klawelwa Main forest Area - X
12/12/2021 - Klawelwa Main forest Area - X
13/12/2021 - Klawelwa Main forest Area - X
15/12/2021 - Imanda Forest - X
Dark-capped Bulbul
Pycnonotus tricolor
08/12/2021 - Rainlands Timber (private) - X
09/12/2021 - Mwekera College Forest - X
09/12/2021 - Mwekera Dam - X
09/12/2021 - Kitwe bridge - X
11/12/2021 - Klawelwa Main forest Area - X
12/12/2021 - Klawelwa Main forest Area - X
12/12/2021 - Kalwelwa Bush Camp - X
13/12/2021 - Klawelwa Main forest Area - X
13/12/2021 - Mutanda Falls - X
14/12/2021 - Chimfunsi Entrance Road - X
14/12/2021 - Mutanda Falls - X
15/12/2021 - Flufftail Dambo - X
15/12/2021 - Imanda Forest - X
16/12/2021 - Mkushi Rocks and Miombo - X
17/12/2021 - Kasanka NP - X
17/12/2021 - Nchelenge Papyrus marsh - X
18/12/2021 - Nchelenge Papyrus marsh - 1
19/12/2021 - Chisimba Falls - X
19/12/2021 - En route - X
20/12/2021 - Mutinondo Wilderness - X
21/12/2021 - Mutinondo Wilderness - X
22/12/2021 - Chisamba IBA - X
22/12/2021 - Fringilla Lodge - X
23/12/2021 - Gwabi River Lodge - X
24/12/2021 - Gwabi River Lodge - X
24/12/2021 - road to Zambezi/Kafue confluence - X
25/12/2021 - Kasisi Mission - X
26/12/2021 - Kasisi Mission - X
26/12/2021 - Kasisi Dam - X
26/12/2021 - Chamba Valley - X
Black Saw-wing
Psalidoprocne pristoptera
10/12/2021 - Chitunta Plain IBA - 1
11/12/2021 - Klawelwa Main forest Area - 1
12/12/2021 - Klawelwa Main forest Area - 2
13/12/2021 - Klawelwa Main forest Area - 10
White-headed Saw-wing
Psalidoprocne albiceps
19/12/2021 - En route - 1
Banded Martin
Neophedina cincta
12/12/2021 - Klawelwa Main forest Area - 1
Sand Martin
Riparia riparia
09/12/2021 - Mwekera Dam - 1
11/12/2021 - Klawelwa Main forest Area - 1
12/12/2021 - Klawelwa Main forest Area - X
Black-and-rufous Swallow
Hirundo nigrorufa
11/12/2021 - Klawelwa Main forest Area - 1
White-throated Swallow
Hirundo albigularis
18/12/2021 - Nchelenge Papyrus marsh - 1 along the road
Wire-tailed Swallow
Hirundo smithii
09/12/2021 - Kitwe bridge - 1
17/12/2021 - Luapula River Bridge - 3
22/12/2021 - Gwabi River Lodge - 2
23/12/2021 - Kanyemba Island (Zambezi River/Kafue River Confluence) - X
24/12/2021 - road to Zambezi/Kafue confluence - X
Barn Swallow
Hirundo rustica
08/12/2021 - Rainlands Timber (private) - X
09/12/2021 - Mwekera Dam - X
09/12/2021 - Kitwe bridge - X
10/12/2021 - Chimfunsi Entrance Road - X
11/12/2021 - Kalwelwa Plains - X
11/12/2021 - Klawelwa Main forest Area - X
12/12/2021 - Klawelwa Main forest Area - X
13/12/2021 - Klawelwa Main forest Area - X
14/12/2021 - Chimfunsi Entrance Road - X
14/12/2021 - Mutanda Falls - X
15/12/2021 - Forest Inn - 1
16/12/2021 - Mkushi Rocks and Miombo - X
17/12/2021 - Nchelenge Papyrus marsh - X
17/12/2021 - Luapula River Bridge - X
18/12/2021 - Nchelenge Papyrus marsh - X
18/12/2021 - Mbereshi marsh - X
19/12/2021 - Chisimba Falls - X
23/12/2021 - Kanyemba Island (Zambezi River/Kafue River Confluence) - X
23/12/2021 - Zambezi River - X
24/12/2021 - road to Zambezi/Kafue confluence - X
25/12/2021 - Kasisi Mission - X
Angolan Swallow
Hirundo angolensis
09/12/2021 - Mwekera Dam - 1
18/12/2021 - Nchelenge Papyrus marsh - 1
19/12/2021 - Chisimba Falls - 5
Red-breasted Swallow
Cecropis semirufa
11/12/2021 - Kalwelwa Plains - 3
12/12/2021 - Klawelwa Main forest Area - 2
22/12/2021 - Chisamba IBA - 1
Mosque Swallow
Cecropis senegalensis
08/12/2021 - Rainlands Timber (private) - X
10/12/2021 - Amano Christian School - X
17/12/2021 - Luapula River Bridge - 1
18/12/2021 - Nchelenge Papyrus marsh - 1
22/12/2021 - Chisamba IBA - X
25/12/2021 - Kasisi Mission - 2
26/12/2021 - Kasisi Dam - X
Lesser Striped Swallow
Cecropis abyssinica
09/12/2021 - Mwekera College Forest - 1
13/12/2021 - Mutanda Falls - X
13/12/2021 - En route - 1
19/12/2021 - Chisimba Falls - X
19/12/2021 - En route - X
22/12/2021 - Chisamba IBA - X
Red-throated Cliff Swallow
Petrochelidon rufigula
10/12/2021 - Kitwe bridge - 3
Moustached Grass Warbler
Melocichla mentalis
08/12/2021 - Rainlands Timber (private) - 1
15/12/2021 - Flufftail Dambo - 2
Red-capped Crombec
Sylvietta ruficapilla
12/12/2021 - Klawelwa Main forest Area - 1
14/12/2021 - Chimfunsi Entrance Road - 1
16/12/2021 - Mkushi Rocks and Miombo - 4
21/12/2021 - Mutinondo Wilderness - 1
Livingstone's Flycatcher
Erythrocercus livingstonei
23/12/2021 - Gwabi River Lodge - 3
24/12/2021 - Gwabi River Lodge - 3
Willow Warbler
Phylloscopus trochilus
09/12/2021 - Mwekera College Forest - 1
15/12/2021 - Forest Inn - 4
15/12/2021 - Imanda Forest - 1
16/12/2021 - Mkushi Rocks and Miombo - 4
17/12/2021 - Kasanka NP - 1
20/12/2021 - Mutinondo Wilderness - 1
21/12/2021 - Mutinondo Wilderness - 1
23/12/2021 - Gwabi River Lodge - 2
25/12/2021 - Kasisi Mission - 1
26/12/2021 - Kasisi Mission - 1
Laura's Woodland Warbler
Phylloscopus laurae
11/12/2021 - Klawelwa Main forest Area - 1
13/12/2021 - Klawelwa Main forest Area - 2
15/12/2021 - Imanda Forest - HO - 1 heard
Greater Swamp Warbler
Acrocephalus rufescens
18/12/2021 - Nchelenge Papyrus marsh - 2 seen + more heard
Lesser Swamp Warbler
Acrocephalus gracilirostris
18/12/2021 - Nchelenge Papyrus marsh - 1 seen + more heard
Great Reed Warbler
Acrocephalus arundinaceus
22/12/2021 - Chisamba area - 1
Sedge Warbler
Acrocephalus schoenobaenus
10/12/2021 - Chitunta Plain IBA - 1
12/12/2021 - Kalwelwa Delta - 1
17/12/2021 - Nchelenge Papyrus marsh - 1
18/12/2021 - Nchelenge Papyrus marsh - 5
22/12/2021 - Fringilla Lodge - 2
Eurasian Reed Warbler
Acrocephalus scirpaceus
15/12/2021 - Imanda Forest - 1
22/12/2021 - Chisamba area - 1
22/12/2021 - Fringilla Lodge - 1
23/12/2021 - Gwabi River Lodge - 1
Marsh Warbler
Acrocephalus palustris
26/12/2021 - Kasisi Mission - 1
African Yellow Warbler
Iduna natalensis
08/12/2021 - Rainlands Timber (private) - 1
14/12/2021 - Mutanda Falls - 1
Papyrus Yellow Warbler
Calamonastides gracilirostris
Vulnerable (VU)
17/12/2021 - Nchelenge Papyrus marsh - 1
18/12/2021 - Nchelenge Papyrus marsh - 5
Icterine Warbler
Hippolais icterina
16/12/2021 - Mkushi Rocks and Miombo - 1
Bamboo Warbler
Locustella alfredi
14/12/2021 - Mutanda Falls - 1
Fan-tailed Grassbird
Catriscus brevirostris
11/12/2021 - Klawelwa Main forest Area - X
12/12/2021 - Klawelwa Main forest Area - X
13/12/2021 - Klawelwa Main forest Area - X
20/12/2021 - Mutinondo Wilderness - 3
Little Rush Warbler
Bradypterus baboecala
09/12/2021 - Mwekera Dam - 1
White-winged Swamp Warbler
Bradypterus carpalis
17/12/2021 - Nchelenge Papyrus marsh - 1
18/12/2021 - Nchelenge Papyrus marsh - 2 seen + 1 heard
Red-faced Cisticola
Cisticola erythrops
08/12/2021 - Rainlands Timber (private) - X
14/12/2021 - Mutanda Falls - X
22/12/2021 - Chisamba IBA - 2
22/12/2021 - Chisamba area - 2
25/12/2021 - Kasisi Mission - X
26/12/2021 - Kasisi Mission - X
26/12/2021 - Chamba Valley - X
Trilling Cisticola
Cisticola woosnami
09/12/2021 - Mwekera College Forest - X
16/12/2021 - Mkushi Rocks and Miombo - X
20/12/2021 - Mutinondo Wilderness - HO - heard
21/12/2021 - Mutinondo Wilderness - X
Lazy Cisticola
Cisticola aberrans
16/12/2021 - Mkushi Rocks and Miombo - 2
Rattling Cisticola
Cisticola chiniana
22/12/2021 - Chisamba IBA - 2
22/12/2021 - Fringilla Lodge - 1
23/12/2021 - Gwabi River Lodge - 1
26/12/2021 - Chamba Valley - X
Tinkling Cisticola
Cisticola rufilatus
12/12/2021 - Kalwelwa Transition Zone - 2
Luapula Cisticola
Cisticola luapula
17/12/2021 - Luapula River Bridge - 2
Chirping Cisticola
Cisticola pipiens
10/12/2021 - Chitunta Plain IBA - X
11/12/2021 - Klawelwa Main forest Area - X
11/12/2021 - Kalwelwa Delta - X
12/12/2021 - Kalwelwa Delta - 2
17/12/2021 - Nchelenge Papyrus marsh - X
17/12/2021 - Luapula River Bridge - X
18/12/2021 - Nchelenge Papyrus marsh - X
18/12/2021 - Mbereshi marsh - X
Levaillant's Cisticola
Cisticola tinniens
12/12/2021 - Klawelwa Main forest Area - 5
12/12/2021 - Kalwelwa Delta - 2
13/12/2021 - Klawelwa Main forest Area - 3
Stout Cisticola
Cisticola robustus
11/12/2021 - Klawelwa Main forest Area - X
12/12/2021 - Klawelwa Main forest Area - X
Croaking Cisticola
Cisticola natalensis
08/12/2021 - Rainlands Timber (private) - X
10/12/2021 - Chimfunsi Entrance Road - X
11/12/2021 - Klawelwa Main forest Area - X
13/12/2021 - Klawelwa Main forest Area - X
15/12/2021 - Imanda Forest - X
Short-winged Cisticola
Cisticola brachypterus
09/12/2021 - Mwekera College Forest - X
10/12/2021 - Chitunta Plain IBA - X
11/12/2021 - Klawelwa Main forest Area - X
12/12/2021 - Klawelwa Main forest Area - X
18/12/2021 - En route - 1
19/12/2021 - En route - 1
Neddicky
Cisticola fulvicapilla
11/12/2021 - Kalwelwa Bush Camp - 1
26/12/2021 - Kasisi Mission - 2
Zitting Cisticola
Cisticola juncidis
08/12/2021 - Rainlands Timber (private) - X
20/12/2021 - Mutinondo Wilderness - 1
22/12/2021 - Chisamba IBA - X
Desert Cisticola
Cisticola aridulus
17/12/2021 - En route - 1
Dambo Cisticola
Cisticola dambo
10/12/2021 - Chitunta Plain IBA - 1
11/12/2021 - Kalwelwa Plains - X
11/12/2021 - Kalwelwa Delta - X
12/12/2021 - Kalwelwa Transition Zone - X
Pale-crowned Cisticola
Cisticola cinnamomeus
10/12/2021 - Chitunta Plain IBA - X
11/12/2021 - Kalwelwa Plains - X
11/12/2021 - Klawelwa Main forest Area - X
11/12/2021 - Kalwelwa Delta - X
12/12/2021 - Klawelwa Main forest Area - X
12/12/2021 - Kalwelwa Delta - X
20/12/2021 - Mutinondo Wilderness - 1
Wing-snapping Cisticola
Cisticola ayresii
10/12/2021 - Chitunta Plain IBA - X
11/12/2021 - Kalwelwa Plains - X
11/12/2021 - Klawelwa Main forest Area - X
12/12/2021 - Kalwelwa Transition Zone - X
13/12/2021 - Chitunta Plain IBA - X
Tawny-flanked Prinia
Prinia subflava
08/12/2021 - Rainlands Timber (private) - X
12/12/2021 - Klawelwa Main forest Area - 1
14/12/2021 - Mutanda Falls - 1
16/12/2021 - Mkushi Rocks and Miombo - X
22/12/2021 - Chisamba area - X
22/12/2021 - Fringilla Lodge - X
25/12/2021 - Kasisi Mission - X
26/12/2021 - Kasisi Mission - X
White-chinned Prinia
Schistolais leucopogon
11/12/2021 - Klawelwa Main forest Area - 3
14/12/2021 - Mutanda Falls - 1
Yellow-breasted Apalis
Apalis flavida
09/12/2021 - Mwekera College Forest - 3
12/12/2021 - Kalwelwa Bush Camp - 2
22/12/2021 - Chisamba area - 1
23/12/2021 - Gwabi River Lodge - 1
24/12/2021 - Gwabi River Lodge - 2
Brown-headed Apalis
Apalis alticola
10/12/2021 - Chimfunsi Entrance Road - 1
11/12/2021 - Klawelwa Main forest Area - 1
14/12/2021 - Mutanda Falls - 2
Grey-backed Camaroptera
Camaroptera brevicaudata
09/12/2021 - Mwekera College Forest - X
15/12/2021 - Forest Inn - 1
22/12/2021 - Chisamba area - X
23/12/2021 - Gwabi River Lodge - X
24/12/2021 - Gwabi River Lodge - X
24/12/2021 - road to Zambezi/Kafue confluence - X
26/12/2021 - Kasisi Mission - X
Miombo Wren-Warbler
Calamonastes undosus
09/12/2021 - Mwekera College Forest - 10
Stierling's Wren-Warbler
Calamonastes stierlingi
16/12/2021 - Mkushi Rocks and Miombo - 2
21/12/2021 - Mutinondo Wilderness - 1
Yellow-bellied Eremomela
Eremomela icteropygialis
16/12/2021 - Mkushi Rocks and Miombo - 2
Green-capped Eremomela
Eremomela scotops
10/12/2021 - Chimfunsi Entrance Road - 1
11/12/2021 - Kalwelwa Bush Camp - 3
16/12/2021 - Mkushi Rocks and Miombo - 3
Black-necked Eremomela
Eremomela atricollis
Country endemic
09/12/2021 - Mwekera College Forest - 10
16/12/2021 - Mkushi Rocks and Miombo - 2
17/12/2021 - Kasanka NP - 2
Garden Warbler
Sylvia borin
08/12/2021 - Rainlands Timber (private) - 1
14/12/2021 - Mutanda Falls - 4
16/12/2021 - Mkushi Rocks and Miombo - 2
19/12/2021 - Chisimba Falls - 1
20/12/2021 - Mutinondo Wilderness - 4
21/12/2021 - Mutinondo Wilderness - 1
26/12/2021 - Kasisi Mission - 1
Common Whitethroat
Curruca communis
08/12/2021 - Rainlands Timber (private) - 1
09/12/2021 - Mwekera College Forest - 1
12/12/2021 - Klawelwa Main forest Area - 1
25/12/2021 - Kasisi Mission - 1
26/12/2021 - Kasisi Mission - 1
26/12/2021 - Chamba Valley - 1
Southern Yellow White-eye
Zosterops anderssoni
08/12/2021 - Rainlands Timber (private) - X
09/12/2021 - Mwekera College Forest - X
11/12/2021 - Klawelwa Main forest Area - X
11/12/2021 - Kalwelwa Bush Camp - X
12/12/2021 - Klawelwa Main forest Area - X
12/12/2021 - Kalwelwa Bush Camp - X
16/12/2021 - Mkushi Rocks and Miombo - 2
19/12/2021 - Chisimba Falls - 5
20/12/2021 - Mutinondo Wilderness - X
21/12/2021 - Mutinondo Wilderness - X
22/12/2021 - Fringilla Lodge - 2
26/12/2021 - Chamba Valley - X
Spotted Thrush-Babbler
Illadopsis turdina
11/12/2021 - Klawelwa Main forest Area - HO - 3 heard
12/12/2021 - Klawelwa Main forest Area - HO - 1 heard
13/12/2021 - Klawelwa Main forest Area - 2
Arrow-marked Babbler
Turdoides jardineii
21/12/2021 - Fringilla Lodge - X
22/12/2021 - Chisamba area - X
24/12/2021 - Gwabi River Lodge - 1
Hartlaub's Babbler
Turdoides hartlaubii
16/12/2021 - Kasanka NP - 10
Yellow-bellied Hyliota
Hyliota flavigaster
09/12/2021 - Mwekera College Forest - X
14/12/2021 - Chimfunsi Entrance Road - 1
16/12/2021 - Mkushi Rocks and Miombo - 1
Southern Hyliota
Hyliota australis
20/12/2021 - Mutinondo Wilderness - 1
African Spotted Creeper
Salpornis salvadori
09/12/2021 - Mwekera College Forest - 5
Wattled Starling
Creatophora cinerea
22/12/2021 - Chisamba area - 2
24/12/2021 - road to Zambezi/Kafue confluence - 3
Miombo Blue-eared Starling
Lamprotornis elisabeth
13/12/2021 - En route - 20
14/12/2021 - Mutanda Falls - 20
17/12/2021 - Kasanka NP - 10
22/12/2021 - Chisamba area - X
Splendid Starling
Lamprotornis splendidus
15/12/2021 - Imanda Forest - X
Meves's Starling
Lamprotornis mevesii
23/12/2021 - Zambezi River - 1
24/12/2021 - road to Zambezi/Kafue confluence - 1
Sharp-tailed Starling
Lamprotornis acuticaudus
11/12/2021 - Klawelwa Main forest Area - 1
12/12/2021 - Kalwelwa Bush Camp - 20
14/12/2021 - Chimfunsi Entrance Road - 2
Violet-backed Starling
Cinnyricinclus leucogaster
08/12/2021 - Rainlands Timber (private) - X
09/12/2021 - Mwekera College Forest - X
10/12/2021 - Chimfunsi Entrance Road - X
14/12/2021 - Chimfunsi Entrance Road - X
16/12/2021 - Mkushi Rocks and Miombo - X
17/12/2021 - Kasanka NP - X
19/12/2021 - Chisimba Falls - X
20/12/2021 - Mutinondo Wilderness - X
22/12/2021 - Chisamba area - X
24/12/2021 - Gwabi River Lodge - X
24/12/2021 - road to Zambezi/Kafue confluence - X
26/12/2021 - Kasisi Mission - X
Fraser's Rufous Thrush
Stizorhina fraseri
11/12/2021 - Klawelwa Main forest Area - 3
Kurrichane Thrush
Turdus libonyana
08/12/2021 - Rainlands Timber (private) - X
09/12/2021 - Mwekera College Forest - X
11/12/2021 - Klawelwa Main forest Area - 1
14/12/2021 - Chimfunsi Entrance Road - X
15/12/2021 - Forest Inn - X
16/12/2021 - Mkushi Rocks and Miombo - X
Bearded Scrub Robin
Cercotrichas quadrivirgata
23/12/2021 - Gwabi River Lodge - 1
24/12/2021 - Gwabi River Lodge - HO - 1 heard
Miombo Scrub Robin
Cercotrichas barbata
09/12/2021 - Mwekera College Forest - 5
12/12/2021 - Kalwelwa Bush Camp - 2
14/12/2021 - Chimfunsi Entrance Road - 1
16/12/2021 - Mkushi Rocks and Miombo - HO - 1 heard
21/12/2021 - Mutinondo Wilderness - 1
White-browed Scrub Robin
Cercotrichas leucophrys
08/12/2021 - Rainlands Timber (private) - X
09/12/2021 - Mwekera College Forest - 1
21/12/2021 - Mutinondo Wilderness - 1
22/12/2021 - Chisamba area - 3
23/12/2021 - Gwabi River Lodge - X
Southern Black Flycatcher
Melaenornis pammelaina
08/12/2021 - Rainlands Timber (private) - X
09/12/2021 - Mwekera College Forest - X
16/12/2021 - Mkushi Rocks and Miombo - X
17/12/2021 - Kasanka NP - 1
18/12/2021 - En route - 2
21/12/2021 - Mutinondo Wilderness - 1
22/12/2021 - Chisamba area - 1
22/12/2021 - Fringilla Lodge - 2
23/12/2021 - Gwabi River Lodge - 2
25/12/2021 - Kasisi Mission - 2
Pale Flycatcher
Melaenornis pallidus
09/12/2021 - Mwekera College Forest - X
Spotted Flycatcher
Muscicapa striata
08/12/2021 - Rainlands Timber (private) - 1
13/12/2021 - Mutanda Falls - 1
14/12/2021 - Mutanda Falls - 1
15/12/2021 - Forest Inn - 2
15/12/2021 - Imanda Forest - 1
19/12/2021 - Chisimba Falls - 2
20/12/2021 - Mutinondo Wilderness - 1
21/12/2021 - Mutinondo Wilderness - 1
22/12/2021 - Chisamba area - 1
26/12/2021 - Kasisi Mission - 1
Ashy Flycatcher
Muscicapa caerulescens
09/12/2021 - Mwekera College Forest - 1
12/12/2021 - Kalwelwa Bush Camp - 1
14/12/2021 - Chimfunsi Entrance Road - 1
15/12/2021 - Imanda Forest - 1
16/12/2021 - Mkushi Rocks and Miombo - 2
21/12/2021 - Mutinondo Wilderness - 1
Swamp Flycatcher
Muscicapa aquatica
17/12/2021 - Nchelenge Papyrus marsh - 3
18/12/2021 - Nchelenge Papyrus marsh - 10
Cassin's Flycatcher
Muscicapa cassini
14/12/2021 - Mutanda Falls - 1 near the rapids
African Dusky Flycatcher
Muscicapa adusta
09/12/2021 - Mwekera College Forest - 1
14/12/2021 - Chimfunsi Entrance Road - 1
21/12/2021 - Mutinondo Wilderness - 1
Böhm's Flycatcher
Muscicapa boehmi
14/12/2021 - Chimfunsi Entrance Road - 2
20/12/2021 - Mutinondo Wilderness - 2
Grey-winged Robin-Chat
Cossypha polioptera
11/12/2021 - Klawelwa Main forest Area - 2
White-browed Robin-Chat
Cossypha heuglini
08/12/2021 - Rainlands Timber (private) - X
13/12/2021 - Mutanda Falls - 1
14/12/2021 - Mutanda Falls - 1
15/12/2021 - Imanda Forest - X
19/12/2021 - Chisimba Falls - X
19/12/2021 - En route - 1
21/12/2021 - Mutinondo Wilderness - 1
22/12/2021 - Chisamba area - 2
22/12/2021 - Fringilla Lodge - X
23/12/2021 - Gwabi River Lodge - X
Red-capped Robin-Chat
Cossypha natalensis
22/12/2021 - Gwabi River Lodge - 1
23/12/2021 - Gwabi River Lodge - 2
Bocage's Akalat
Sheppardia bocagei
13/12/2021 - Mutanda Falls - 1
14/12/2021 - Mutanda Falls - 1
19/12/2021 - Chisimba Falls - HO - 1 heard
21/12/2021 - Mutinondo Wilderness - 1
Collared Palm Thrush
Cichladusa arquata
22/12/2021 - Fringilla Lodge - 3
25/12/2021 - Kasisi Mission - 1
Thrush Nightingale
Luscinia luscinia
22/12/2021 - Fringilla Lodge - 1
23/12/2021 - Gwabi River Lodge - HO - 3 heard
24/12/2021 - Gwabi River Lodge - 3
25/12/2021 - Kasisi Mission - HO - 2 heard
26/12/2021 - Kasisi Mission - HO - 1 heard
26/12/2021 - Chamba Valley - 1
Collared Flycatcher
Ficedula albicollis
14/12/2021 - Chimfunsi Entrance Road - 1
20/12/2021 - Mutinondo Wilderness - 1
21/12/2021 - Mutinondo Wilderness - 1
Miombo Rock Thrush
Monticola angolensis
16/12/2021 - Mkushi Rocks and Miombo - 1
African Stonechat
Saxicola torquatus
09/12/2021 - Kitwe bridge - 1
10/12/2021 - Chitunta Plain IBA - X
11/12/2021 - Klawelwa Main forest Area - X
12/12/2021 - Klawelwa Main forest Area - X
12/12/2021 - Kalwelwa Delta - X
12/12/2021 - Kalwelwa Transition Zone - X
13/12/2021 - Klawelwa Main forest Area - X
17/12/2021 - Nchelenge Papyrus marsh - X
17/12/2021 - Luapula River Bridge - X
18/12/2021 - Nchelenge Papyrus marsh - X
20/12/2021 - Mutinondo Wilderness - X
Sooty Chat
Myrmecocichla nigra
11/12/2021 - Kalwelwa Plains - 1
12/12/2021 - Kalwelwa Transition Zone - 2
13/12/2021 - Klawelwa Main forest Area - 2
Arnot's Chat
Myrmecocichla arnotti
09/12/2021 - Mwekera College Forest - X
Capped Wheatear
Oenanthe pileata
17/12/2021 - En route - 1
Familiar Chat
Oenanthe familiaris
20/12/2021 - Mutinondo Wilderness - 1
Anchieta's Sunbird
Anthreptes anchietae
18/12/2021 - En route - 2
Western Violet-backed Sunbird
Anthreptes longuemarei
09/12/2021 - Mwekera College Forest - 1
16/12/2021 - Mkushi Rocks and Miombo - 3
17/12/2021 - Kasanka NP - 2
18/12/2021 - En route - 2
20/12/2021 - Mutinondo Wilderness - 2
21/12/2021 - Mutinondo Wilderness - 1
Collared Sunbird
Hedydipna collaris
08/12/2021 - Rainlands Timber (private) - X
09/12/2021 - Mwekera College Forest - X
12/12/2021 - Klawelwa Main forest Area - 1
14/12/2021 - Mutanda Falls - 1
15/12/2021 - Imanda Forest - 2
18/12/2021 - En route - 1
19/12/2021 - Chisimba Falls - 2
19/12/2021 - En route - 1
20/12/2021 - Mutinondo Wilderness - 2
22/12/2021 - Chisamba area - 2
23/12/2021 - Gwabi River Lodge - 5
25/12/2021 - Kasisi Mission - 5
26/12/2021 - Kasisi Mission - 2
26/12/2021 - Chamba Valley - X
Green-headed Sunbird
Cyanomitra verticalis
19/12/2021 - Chisimba Falls - 5
Bannerman's Sunbird
Cyanomitra bannermani
11/12/2021 - Klawelwa Main forest Area - 1
12/12/2021 - Klawelwa Main forest Area - 1
Olive Sunbird
Cyanomitra olivacea
11/12/2021 - Klawelwa Main forest Area - 1
20/12/2021 - Mutinondo Wilderness - 1
Amethyst Sunbird
Chalcomitra amethystina
08/12/2021 - Rainlands Timber (private) - X
09/12/2021 - Mwekera College Forest - X
11/12/2021 - Klawelwa Main forest Area - X
11/12/2021 - Kalwelwa Bush Camp - 1
16/12/2021 - Mkushi Rocks and Miombo - X
20/12/2021 - Mutinondo Wilderness - 2
21/12/2021 - Mutinondo Wilderness - X
Scarlet-chested Sunbird
Chalcomitra senegalensis
09/12/2021 - Mwekera College Forest - X
22/12/2021 - Chisamba IBA - 1
22/12/2021 - Fringilla Lodge - 1
Eastern Miombo Sunbird
Cinnyris manoensis
16/12/2021 - Kasanka NP - 1
Western Miombo Sunbird
Cinnyris gertrudis
16/12/2021 - Mkushi Rocks and Miombo - 2
20/12/2021 - Mutinondo Wilderness - 1
Oustalet's Sunbird
Cinnyris oustaleti
18/12/2021 - En route - 2
White-bellied Sunbird
Cinnyris talatala
23/12/2021 - Gwabi River Lodge - 2
Bates's Sunbird
Cinnyris batesi
12/12/2021 - Kalwelwa Bush Camp - 2
Copper Sunbird
Cinnyris cupreus
13/12/2021 - Mutanda Falls - 1
Yellow-throated Bush Sparrow
Gymnoris superciliaris
09/12/2021 - Mwekera College Forest - X
14/12/2021 - Chimfunsi Entrance Road - X
16/12/2021 - Mkushi Rocks and Miombo - X
17/12/2021 - Kasanka NP - X
22/12/2021 - Chisamba area - 3
Northern Grey-headed Sparrow
Passer griseus
08/12/2021 - Rainlands Timber (private) - X
18/12/2021 - Nchelenge Papyrus marsh - 1
Southern Grey-headed Sparrow
Passer diffusus
22/12/2021 - Fringilla Lodge - X
25/12/2021 - Kasisi Mission - X
House Sparrow
Passer domesticus
10/12/2021 - En route - X
22/12/2021 - Fringilla Lodge - X
Red-billed Buffalo Weaver
Bubalornis niger
22/12/2021 - Gwabi River Lodge - 1
White-browed Sparrow-Weaver
Plocepasser mahali
22/12/2021 - Gwabi River Lodge - 10
23/12/2021 - Gwabi River Lodge - a few
24/12/2021 - road to Zambezi/Kafue confluence - 5
Chestnut-backed Sparrow-Weaver
Plocepasser rufoscapulatus
09/12/2021 - Mwekera College Forest - X
Thick-billed Weaver
Amblyospiza albifrons
22/12/2021 - Gwabi River Lodge - 1
23/12/2021 - Kanyemba Island (Zambezi River/Kafue River Confluence) - 5
Spectacled Weaver
Ploceus ocularis
08/12/2021 - Rainlands Timber (private) - 1
09/12/2021 - Mwekera Dam - 5
15/12/2021 - Flufftail Dambo - X
21/12/2021 - Mutinondo Wilderness - 1
22/12/2021 - Chisamba area - 5
25/12/2021 - Kasisi Mission - 5
Bocage's Weaver
Ploceus temporalis
10/12/2021 - Chitunta Plain IBA - 2
Holub's Golden Weaver
Ploceus xanthops
08/12/2021 - Rainlands Timber (private) - X
09/12/2021 - Mwekera Dam - X
10/12/2021 - Chitunta Plain IBA - 3
11/12/2021 - Klawelwa Main forest Area - X
13/12/2021 - Mutanda Falls - 1
14/12/2021 - Chimfunsi Entrance Road - X
14/12/2021 - Mutanda Falls - X
18/12/2021 - Nchelenge Papyrus marsh - 2
22/12/2021 - Chisamba area - 2
26/12/2021 - Chamba Valley - 2
Lesser Masked Weaver
Ploceus intermedius
22/12/2021 - Chisamba area - 1
22/12/2021 - Fringilla Lodge - 2
23/12/2021 - Kanyemba Island (Zambezi River/Kafue River Confluence) - X
Southern Masked Weaver
Ploceus velatus
22/12/2021 - Chisamba area - X
22/12/2021 - Fringilla Lodge - X
23/12/2021 - Gwabi River Lodge - 1
25/12/2021 - Kasisi Mission - X
26/12/2021 - Chamba Valley - X
Katanga Masked Weaver
Ploceus katangae
17/12/2021 - Nchelenge Papyrus marsh - 50
17/12/2021 - Luapula River Bridge - 10
Village Weaver
Ploceus cucullatus
15/12/2021 - Forest Inn - 10
22/12/2021 - Chisamba area - X
23/12/2021 - Kanyemba Island (Zambezi River/Kafue River Confluence) - X
24/12/2021 - road to Zambezi/Kafue confluence - X
26/12/2021 - Chamba Valley - X
Compact Weaver
Ploceus superciliosus
12/12/2021 - Klawelwa Main forest Area - 3
Dark-backed Weaver
Ploceus bicolor
08/12/2021 - Rainlands Timber (private) - 2
10/12/2021 - Chimfunsi Entrance Road - X
11/12/2021 - Kalwelwa Bush Camp - 1
12/12/2021 - Klawelwa Main forest Area - X
14/12/2021 - Chimfunsi Entrance Road - 1
Bar-winged Weaver
Ploceus angolensis
20/12/2021 - Mutinondo Wilderness - 2
Red-headed Weaver
Anaplectes rubriceps
09/12/2021 - Mwekera College Forest - X
15/12/2021 - Forest Inn - 2
16/12/2021 - Mkushi Rocks and Miombo - X
24/12/2021 - road to Zambezi/Kafue confluence - 1
Red-headed Quelea
Quelea erythrops
11/12/2021 - Klawelwa Main forest Area - 3
Red-billed Quelea
Quelea quelea
22/12/2021 - Fringilla Lodge - 5
Black-winged Red Bishop
Euplectes hordeaceus
17/12/2021 - En route - 2
Yellow Bishop
Euplectes capensis
11/12/2021 - Klawelwa Main forest Area - X
22/12/2021 - Chisamba area - 5
25/12/2021 - Kasisi Mission - X
26/12/2021 - Kasisi Mission - X
26/12/2021 - Chamba Valley - X
Fan-tailed Widowbird
Euplectes axillaris
11/12/2021 - Klawelwa Main forest Area - X
11/12/2021 - Kalwelwa Delta - X
12/12/2021 - Klawelwa Main forest Area - X
17/12/2021 - Luapula River Bridge - 1
18/12/2021 - Nchelenge Papyrus marsh - X
18/12/2021 - Mbereshi marsh - X
Marsh Widowbird
Euplectes hartlaubi
08/12/2021 - Rainlands Timber (private) - 1
10/12/2021 - Chitunta Plain IBA - X
11/12/2021 - Kalwelwa Plains - X
11/12/2021 - Klawelwa Main forest Area - X
12/12/2021 - Klawelwa Main forest Area - X
12/12/2021 - Kalwelwa Transition Zone - X
13/12/2021 - Klawelwa Main forest Area - X
20/12/2021 - Mutinondo Wilderness - X
Red-collared Widowbird
Euplectes ardens
08/12/2021 - Rainlands Timber (private) - X
09/12/2021 - Mwekera Dam - 1
09/12/2021 - Kitwe bridge - 1
15/12/2021 - Flufftail Dambo - X
15/12/2021 - Imanda Forest - 2
25/12/2021 - Kasisi Mission - 4
Long-tailed Widowbird
Euplectes progne
17/12/2021 - En route - 10 along the road
17/12/2021 - En route - 10 along the road
17/12/2021 - Luapula River Bridge - 1 along the road
Bronze Mannikin
Spermestes cucullata
08/12/2021 - Rainlands Timber (private) - X
09/12/2021 - Mwekera College Forest - X
16/12/2021 - Mkushi Rocks and Miombo - X
22/12/2021 - Fringilla Lodge - X
25/12/2021 - Kasisi Mission - X
26/12/2021 - Kasisi Dam - X
Red-backed Mannikin
Spermestes nigriceps
09/12/2021 - Mwekera Dam - X
11/12/2021 - Klawelwa Main forest Area - X
Grey Waxbill
Glaucestrilda perreini
14/12/2021 - Chimfunsi Entrance Road - 1
14/12/2021 - Mutanda Falls - 2
15/12/2021 - Imanda Forest - 1
Fawn-breasted Waxbill
Estrilda paludicola
10/12/2021 - Chitunta Plain IBA - X
11/12/2021 - Klawelwa Main forest Area - X
12/12/2021 - Klawelwa Main forest Area - X
Common Waxbill
Estrilda astrild
08/12/2021 - Rainlands Timber (private) - X
11/12/2021 - Klawelwa Main forest Area - X
12/12/2021 - Klawelwa Main forest Area - X
13/12/2021 - Klawelwa Main forest Area - X
14/12/2021 - Chimfunsi Entrance Road - X
15/12/2021 - Flufftail Dambo - X
17/12/2021 - Nchelenge Papyrus marsh - X
18/12/2021 - Nchelenge Papyrus marsh - X
18/12/2021 - En route - X
26/12/2021 - Chamba Valley - X
Quailfinch
Ortygospiza atricollis
12/12/2021 - Kalwelwa Transition Zone - 2
Locust Finch
Paludipasser locustella
12/12/2021 - Klawelwa Main forest Area - 3
13/12/2021 - Klawelwa Main forest Area - 2
20/12/2021 - Mutinondo Wilderness - 5
Cut-throat Finch
Amadina fasciata
22/12/2021 - Fringilla Lodge - 2
22/12/2021 - Chirundu National Fossil Petrified Forest Monument - 1
Blue Waxbill
Uraeginthus angolensis
09/12/2021 - Mwekera College Forest - 3
15/12/2021 - Forest Inn - 1
15/12/2021 - Flufftail Dambo - 1
19/12/2021 - En route - 1
19/12/2021 - En route - 1
22/12/2021 - Chisamba area - X
22/12/2021 - Fringilla Lodge - X
23/12/2021 - Gwabi River Lodge - 2
25/12/2021 - Kasisi Mission - X
26/12/2021 - Kasisi Mission - X
Green-winged Pytilia
Pytilia melba
22/12/2021 - Chisamba IBA - 1
22/12/2021 - Chisamba area - 2
22/12/2021 - Fringilla Lodge - 10
23/12/2021 - Gwabi River Lodge - 2
26/12/2021 - Kasisi Mission - 2
Orange-winged Pytilia
Pytilia afra
22/12/2021 - Fringilla Lodge - 1
25/12/2021 - Kasisi Mission - 2
26/12/2021 - Kasisi Mission - 1
Red-throated Twinspot
Hypargos niveoguttatus
14/12/2021 - Mutanda Falls - 1
23/12/2021 - Gwabi River Lodge - 1
25/12/2021 - Kasisi Mission - 2
26/12/2021 - Kasisi Mission - 1
26/12/2021 - Chamba Valley - 1
Red-billed Firefinch
Lagonosticta senegala
22/12/2021 - Fringilla Lodge - 5
African Firefinch
Lagonosticta rubricata
14/12/2021 - Mutanda Falls - 1
22/12/2021 - Fringilla Lodge - X
Jameson's Firefinch
Lagonosticta rhodopareia
19/12/2021 - En route - X
22/12/2021 - Chisamba area - 5
25/12/2021 - Kasisi Mission - 2
Brown Firefinch
Lagonosticta nitidula
08/12/2021 - Rainlands Timber (private) - X
09/12/2021 - Kitwe bridge - X
15/12/2021 - Imanda Forest - 2
Purple Indigobird
Vidua purpurascens
22/12/2021 - Chisamba area - 5
Pin-tailed Whydah
Vidua macroura
10/12/2021 - Amano Christian School - X
11/12/2021 - Kalwelwa Delta - X
13/12/2021 - Mutanda Falls - X
23/12/2021 - Kanyemba Island (Zambezi River/Kafue River Confluence) - 1
Long-tailed Paradise Whydah
Vidua paradisaea
22/12/2021 - Chirundu National Fossil Petrified Forest Monument - 5
Cuckoo-finch
Anomalospiza imberbis
15/12/2021 - Imanda Forest - 2
Western Yellow Wagtail
Motacilla flava
13/12/2021 - Chitunta Plain IBA - 1
Cape Wagtail
Motacilla capensis
11/12/2021 - Kalwelwa Plains - 2
11/12/2021 - Kalwelwa Delta - 4
12/12/2021 - Kalwelwa Transition Zone - 1
17/12/2021 - Luapula River Bridge - 2
18/12/2021 - Nchelenge Papyrus marsh - X
African Pied Wagtail
Motacilla aguimp
08/12/2021 - Rainlands Timber (private) - X
09/12/2021 - Kitwe bridge - X
15/12/2021 - Forest Inn - 3
19/12/2021 - Chisimba Falls - 1
22/12/2021 - Chisamba area - 2
22/12/2021 - Fringilla Lodge - 2
23/12/2021 - Kanyemba Island (Zambezi River/Kafue River Confluence) - X
25/12/2021 - Kasisi Mission - 1
Fülleborn's Longclaw
Macronyx fuelleborni
10/12/2021 - Chitunta Plain IBA - X
11/12/2021 - Kalwelwa Plains - X
12/12/2021 - Klawelwa Main forest Area - 1
12/12/2021 - Kalwelwa Delta - 1
13/12/2021 - Chitunta Plain IBA - X
20/12/2021 - Mutinondo Wilderness - 1
Rosy-throated Longclaw
Macronyx ameliae
10/12/2021 - Chitunta Plain IBA - 1
11/12/2021 - Kalwelwa Plains - X
12/12/2021 - Kalwelwa Transition Zone - 1
Grimwood's Longclaw
Macronyx grimwoodi
Data Deficient (DD)
11/12/2021 - Kalwelwa Delta - 3
12/12/2021 - Kalwelwa Delta - 1
13/12/2021 - Klawelwa Main forest Area - 1
African Pipit
Anthus cinnamomeus
11/12/2021 - Kalwelwa Plains - X
17/12/2021 - En route - X
Wood Pipit
Anthus nyassae
09/12/2021 - Mwekera College Forest - 5
13/12/2021 - En route - 1
14/12/2021 - Chimfunsi Entrance Road - 5
16/12/2021 - Mkushi Rocks and Miombo - 1
17/12/2021 - Kasanka NP - 2
Buffy Pipit
Anthus vaalensis
11/12/2021 - Kalwelwa Plains - 5 (Mwini Pipit)
Tree Pipit
Anthus trivialis
09/12/2021 - Mwekera College Forest - 2
Striped Pipit
Anthus lineiventris
16/12/2021 - Mkushi Rocks and Miombo - 1
21/12/2021 - Mutinondo Wilderness - 1
Short-tailed Pipit
Anthus brachyurus
13/12/2021 - Chitunta Plain IBA - 2
Black-faced Canary
Crithagra capistrata
14/12/2021 - Mutanda Falls - 2
Yellow-fronted Canary
Crithagra mozambica
08/12/2021 - Rainlands Timber (private) - X
09/12/2021 - Kitwe bridge - X
10/12/2021 - Amano Christian School - X
14/12/2021 - Chimfunsi Entrance Road - 1
16/12/2021 - Mkushi Rocks and Miombo - X
18/12/2021 - En route - X
19/12/2021 - Chisimba Falls - X
19/12/2021 - En route - 3
22/12/2021 - Chisamba IBA - X
22/12/2021 - Fringilla Lodge - X
25/12/2021 - Kasisi Mission - X
26/12/2021 - Kasisi Mission - X
26/12/2021 - Chamba Valley - X
Brimstone Canary
Crithagra sulphurata
08/12/2021 - Rainlands Timber (private) - 1
13/12/2021 - Mutanda Falls - 1
14/12/2021 - Mutanda Falls - 3
Reichard's Seedeater
Crithagra reichardi
14/12/2021 - Chimfunsi Entrance Road - 3
16/12/2021 - Mkushi Rocks and Miombo - 5
Black-eared Seedeater
Crithagra mennelli
14/12/2021 - Chimfunsi Entrance Road - 1
16/12/2021 - Mkushi Rocks and Miombo - 3
Golden-breasted Bunting
Emberiza flaviventris
09/12/2021 - Mwekera College Forest - X
16/12/2021 - Kasanka NP - 1
17/12/2021 - Kasanka NP - X
18/12/2021 - En route - 2
20/12/2021 - Mutinondo Wilderness - 3
25/12/2021 - Kasisi Mission - 1
Cabanis's Bunting
Emberiza cabanisi
09/12/2021 - Mwekera College Forest - X
14/12/2021 - Chimfunsi Entrance Road - 1