PENINSULAR MALAYSIA
27/08 - 06/09/2018
Hans Matheve & Lieven De Temmerman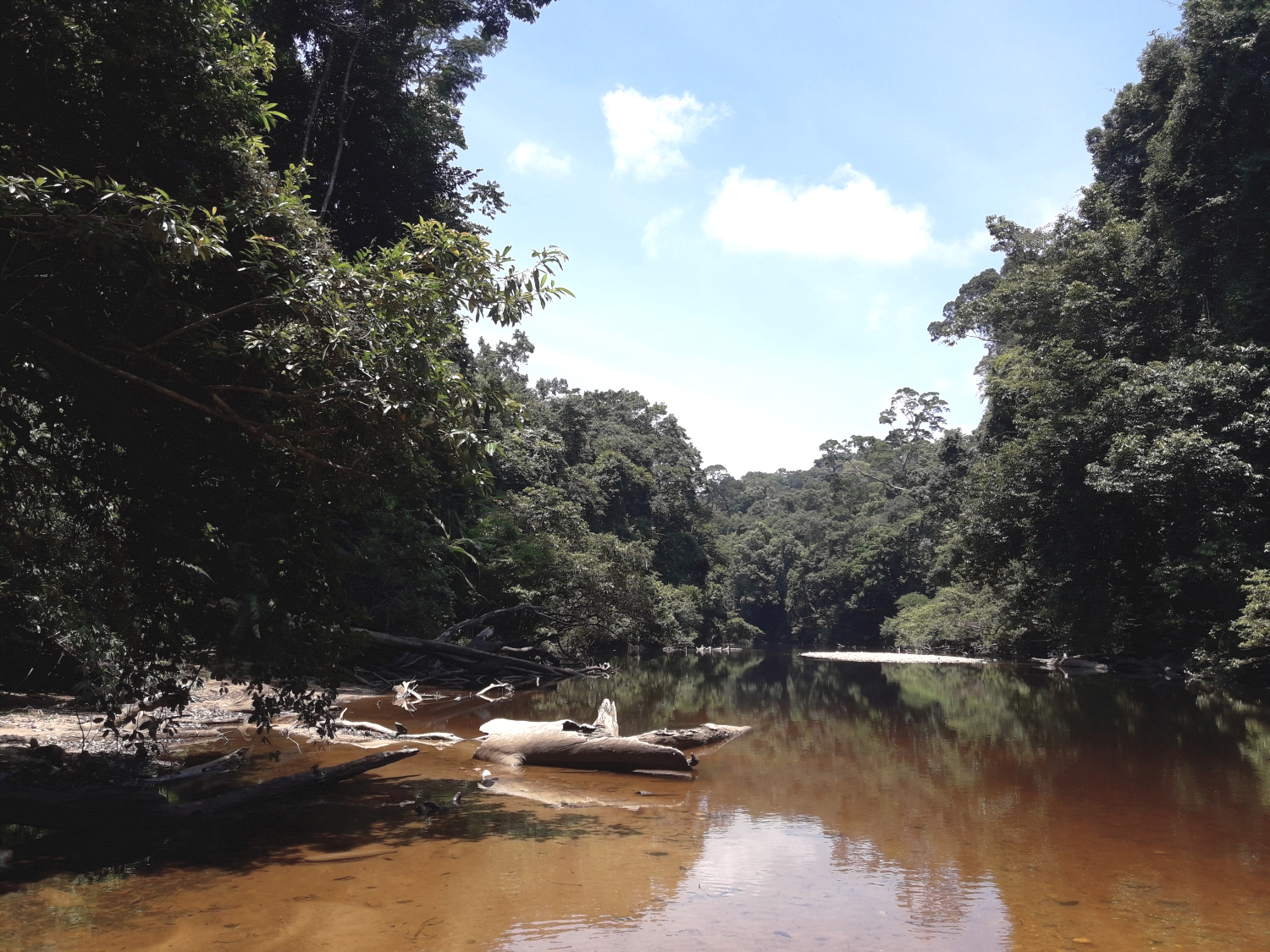 INTRODUCTION
With only limited traveling/birding time available, Peninsular Malaysia came into our mind. Clearly, it wasn't sufficient to cover all areas and see all specialties. Luckiliy, it is an easy stopover option when coming from further East.

ITINERARY
| | |
| --- | --- |
| 27 aug | Departure from Brussels Airport. |
| 28 aug | Arrival at Kuala Lumpur Airport Airport + drive to Bukit Tinggi (1u40). Night in Colmar Tropicale Hotel, Bukit Tinggi. |
| 29 aug | Birding Bukit Tinggi + drive to Bukit Fraser (2u20) + birding Fraser's Hill. Night in Fraser's Hill. |
| 30 aug | Birding Fraser's Hill. Night in Fraser's Hill. |
| 31 aug | Birding Fraser's Hill. Night in Fraser's Hill. |
| 1 sep | Birding Fraser's Hill + drive to Taman Negara (4u) + birding Taman Negara. Night in Taman Negara. |
| 2 sep | Birding Taman Negara. Night in Taman Negara. |
| 3 sep | Birding Taman Negara. Night in Taman Negara. |
| 4 sep | Birding Taman Negara. Night in Taman Negara. |
| 5 sep | Birding Taman Negara + drive to Kuala Lumpur Airport (4u30). |
| 6 sep | Departure from Kuala Lumpur Airport + arrival at Brussels Airport. |
Download kml file with all gps coordinates
PRACTICALITIES

Transport
We rented a reliable Proton Saga from Paradise Cars for 170 euro / 8 days, unlimited kilometers, 2 drivers and full-full, all through rentalcars.com. Driving is on the left. Most drivers respect traffic rules but expect some speeding vehicles on the highways. Roads are generally in good condition but beware for blind curves + overtaking vehicles. Petrol is cheap. Important to know is that you need to buy a Touch'nGo card to pay toll on the highways as soon as you hit the road. You can buy them in petrol stations. You load some money on the card and scan them at the checkpoints. Mostly the amount is around 1-5 MYR. We did not spend more than 70-80 MYR in total so do not put too much money on the card.

Accommodation & food
Bukit Tinggi: Colmar Tropicale - the only hotel around. A bit expensive but good value. 24hr reception and food available through room service). We didn't try to find beer and didn't use the breakfast voucher...

Bukit Fraser: Shahzan Inn - many options but the Shahzan is centrally located for birding, and has a buffet breakfast. Dinner options are, surprisingly, not as good. Beer can be found in Scott's pub and restaurant, in the little shop on the right side when coming up on the old road just before the clock tower, and in some restaurants near Arzed (number 3 or 4?). Probably the better places to eat are around Arzed, but maybe Scott's pub should be OK, too.

Kuala Tahan: Tebing Guest House - many lodging options as many Malay and foreign people stay here. The only beer in town can be had at the Wild lodge for 12 MYR.

Taman Negara: Mutiara Taman Negara Resort - only hotel / lodge across the river. It is possible to stay in cheaper places on the other side of the river as well and make day trips. We stayed at the resort to be more flexible at night birding as river crossings only start at around 7 AM and go until 22 PM. The Mutiara serves beer for 15 MYR (ordering 5 at the same time)

Money
The official currency of Malaysia is the Malaysian Ringgit. ATM's were easily found throughout the country. Paying with credit cards is commonly used.

Weather
We experienced dry weather at Bukit Tinggi and Fraser's Hill. Sometimes, it was a bit cloudy / misty at Fraser's hill (especially at night). At Taman Negara, we had a thunderstorm every night starting around dusk for at least 3-4 hours. Mornings and daytime in TN were without rain but very humid. Read more at the Climates to Travel website.


Health, safety and annoyances
Leeches. They were abundant in Taman Negara, especially when going off trail. Boardwalks were pretty leech-free but can be unstable / broken and are annoying to walk on (especially at dark). There is no real malaria risk on this tour, so no profylaxis needed. Read more at the site of Institute of Tropical Medecine.


Visa
We obtained our tourist visa upon arrival in the airport. Read more at the Embassey of Malaysia website.

Electricity
240V, 50Hz, type G plug. Read more at the Worldstandards website.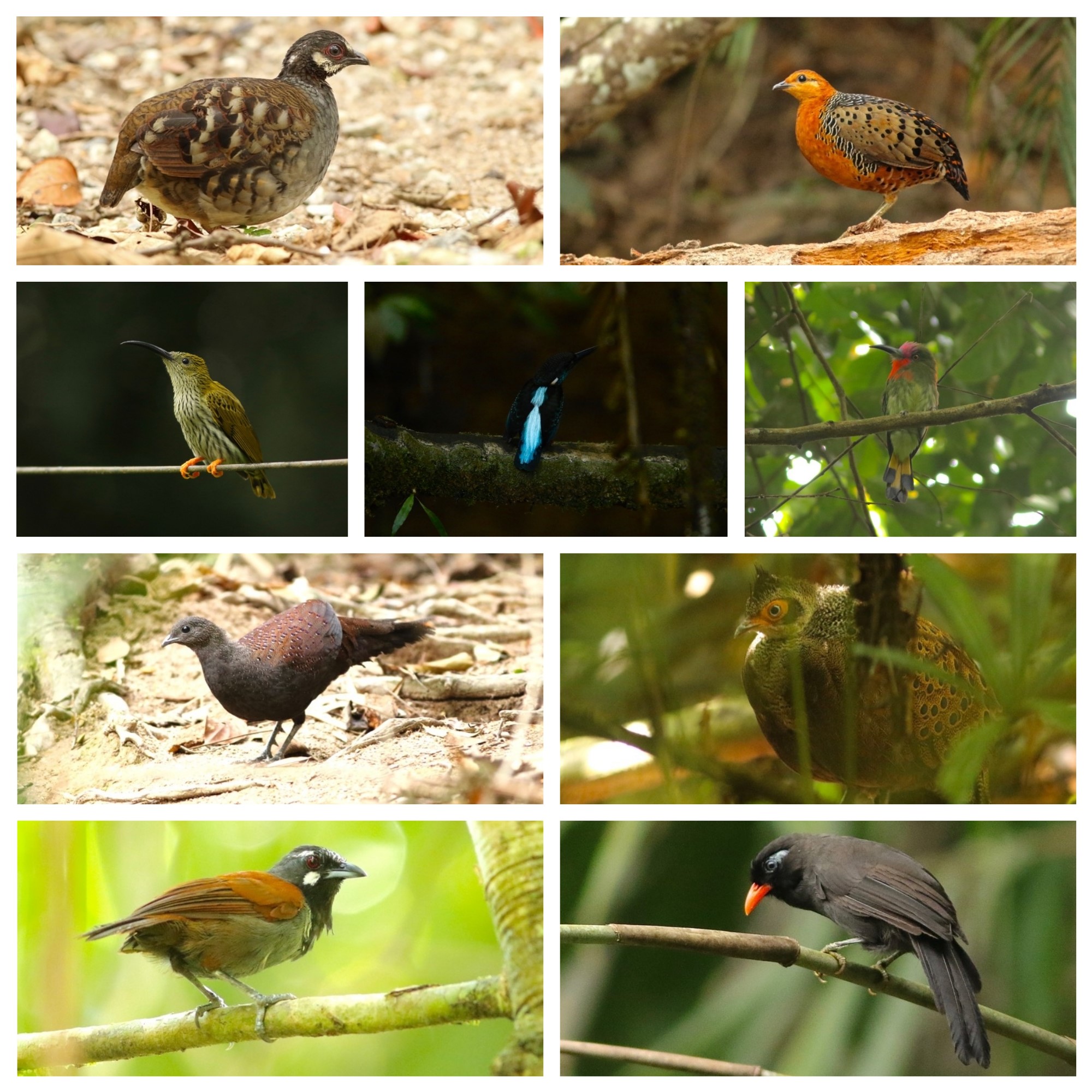 © Lieven De Temmerman
VISITED SITES

(mainly written by Lieven De Temmerman)
Below is a list of the sites we birded. Observado and eBird were scrutinized thoroughly. More up-to-date logistical information came from various trip reports on www.cloudbirders.com. These were the most useful reports:

Bukit Tinggi
Bukit Tinggi is, ignoring rush hour delays, less than 2 hrs drive from KLIAS airport. We got into contact with Adrian Lim through Whatsapp before visiting the place, as we wanted to be sure about the exact location and found it customary to let Adrian know we were visiting. Adrian was quick and very generous with information, and even though he could not be present, his help and advice was greatly appreciated.

Shortly after the turn off from the main highway, there is a road barrier at 3.372132, 101.854247. We could only pass the barrier late night when we told we had a reservation in Colmar Tropicale hotel. Without reservation, it seems impossible to be allowed to pass the barrier. There is a second barrier just before the Colmar Tropicale at 3.406501, 101.838419. That barrier was also only opened late night by showing our reservation for Colmar Tropicale hotel.

The third barrier is between the Hotel and the Japanese tea garden at 3.408728, 101.839108. This barrier will be opened by someone early in the morning if you let the reception desk of Colmar know you want to go up early (6AM in our case). If there is no one, the barrier can be opened as there should not be be a lock. We parked at the obvious parking lot on the right: 3.417729, 101.843104. We won't give the exact details for the feeding area, as it is requested by the local birders. Adrian Lim is a local birder/photographer and can be contacted in order to pay a visit to the feeder: +60 12-339 9980. He is happy to show you around or give details on how to get there.

Until early light (7.15AM), we birded between the parking lot and the way down (only some 2-300m) and got calling Mountain Scops owl and Blyth's Frogmouth.

Highlights: Mountain Peacock-Pheasant, Ferruginous Partridge (both at the Peacock feeding area), Blyth's Frogmouth (just below the large parking lot). We didn't hear / see Rail-babbler (probably seasonal).



Bukit Fraser (Fraser's Hill) and The Gap
Bukit Fraser is a well-known hill resort with pristine forest and good trails, and a convenient stop to or from Taman Negara. There is plenty of accomodation at Fraser, but during our stay the weekend was fully booked as it was a national holiday.

The Gap is located down the mountain at around 1000 MASL at 3.6928863, 101.74846. The bird composition is different here, with some birds shared with Taman Negara (e.g. some malkohas, broadbills, bee-eater, barbets, hornbills,...). From the Gap it's about 8 kms up to Fraser's hill along the Old road (uphill only). The New road can only be used for going down (both roads are one-way).

Almost within the village, there are some well-known trails cutting through very good forest. Down near the mosque, the Hemmant Trail (3.71394920244, 101.735272064) is fairly flat and easy to walk. At the end, one can continue down the Bishop's trail (start at 3.71680037375, 101.737667854) and further on to the Maxwell trail. Some smaller trails like Richmond can be handy shortcuts while walking in between birding areas. We mainly birded the Bishop's trail, the Pine trail (starts at 3.7117969, 101.72754), the Whistling Thrush stake-out on top of the Old road (3.7097828, 101.7359) and the Richmond road stake-out for the partridges (3.7117277, 101.74144). At the time of writing, there were no known worm-fed Whistling-thrush stake-outs, and the only reliable spot seemed to be on top of the Old road (but there must be other places). We shortly visited the Hemmant trail, the road down to the Jeriau waterfall and the Telekom loop (at night) but we found these places less productive. We also spent considerable time near the Gap and on the Old road going up, in search for some birds of lower elevation.

We birded the Pine trail (start at 3.7117969, 101.72754) as far as there were sightings of Cutia but didn't find one, and we also didn't hear any Long-billed Partridges during our afternoon visit.

Highlights: Malayan Whistling-thrush (stake-out at the top of the old road), Malaysian Partridge (at the stake-out), Malayan Laughingthrush (at the same partridge stake-out on the Richmond road), Rusty-naped Pitta (several heard and briefly seen along Bishop's trail + a very cooperative bird on the Pine trail at 3.7079621, 101.71877), Marbled Wren-Babbler (in a gully along the Old Road at 3.6955653, 101.73859), Rufous-bellied Swallow, Black Laughingthrush, Bamboo Woodpecker (all down at the gap or on the way up the old road). Night birds were not very active.



Taman Negara
There are two entrances for the national park. The main one at Kuala Tahan (4.38514444038, 102.401708877) and a secondary one at Merapoh (4.67964, 102.0571). The Kuala Tahan entrance is closer to Kuala Lumpur, but of course also busier. It seems that lots of birds (especially ground birds) are shy / taped out / pushed further from the trails as there is more disturbance. The trails close to the HQ are turned into boardwalks. Walking on these is a bit noisy and due to bad maintenance, some parts are are getting a bit tricky. Still, the birding can be rewarding.

Practical info: There is only one shop/bar selling beer in Kuala Tahan (Wild Lodge). The Mutiara resort also sells beer but it's a bit more expensive. There is a shop selling some food (fruits, water, cookies, ice coffee, ...) near the Mutiara. We stayed at the Kuala Tahan side for one night as the Mutiara was fully booked on our first night (a saturday night during national holidays), after that first night we spent 3 more nights at the Mutiara. The advantages staying at the Mutiara are no time constraints while night (or early morning) birding. In hindsight, the night birding was not very productive and we probably wouldn't have missed any species if we commuted with the boats from Kuala Tahan every day. First boat leaves at 7.00AM, last boat around 10.30PM (1 ringgit/person, 2 minutes).

Trails: There are only 2 trails starting at the HQ / Mutiara: the Tahan River Trail and the trail towards the canopy tower (). The first trail connects with the second through the Jenut Muda trail about here 4.3916, 102.3997. Starting either clockwise or counterclockwise, it takes a full day just walking the river trail + Jenut Muda trail + back to the Mutiara at birding pace. We never reached the Tabing Hide (4.4090816, 102.40384) further along the River Trail. The Kumbang trail and other trails are at least 2-3 hrs walking at birding pace, or one should take a boat (e.g. for the Kumbang hide at 4.4471997, 102.43694, the Bunbun Blau trail). One can also bird around the Mutiara + the Tahan hide (4.3868287, 102.40396) and the Swamp Loop trail (4.38688, 102.40248).

We birded the Jenut Muda trail, the Tahan River trail, the Bumbun Blau trail (only for one hour until a treefall blocked our path, we were droppe at the jetty 4.38475998755, 102.399402217), the Swamp loop, the Tahan Hide and the Lubok Simpon beach (4.3913416, 102.3993) at the river trail. Besides the official trails, we found two smaller trails branching off the Jenut Muda trail: the first one follows a ridge and ends at a small (research?) house. It almost connects with the Swamp Loop but one needs to do a little bit of bush whacking. The best (and one of the only) birds found was a (young?) male Malayan Peacock pheasant. The second one branches off to the canopy trail. Along this trail, we found Rail Babbler and Rufous-collared Kingfisher. Birding was slow but activity was OK throughout the day. Dusk and dawn were less productive than hoped / expected. Night birding was hampered by daily rain in the evenings.

Highlights: Rail-Babbler (4.3901005, 102.4063566), Garnet Pitta (at 4.395189, 102.40235), Rufous-collared Kingfisher (both at the shortcut between the canopy trail and the Jenut Muda trail), Large Wren-Babbler (at a gully on the river trail near 4.3962001, 102.4030014), Malayan Crested Fireback (Canopy trail), Large Frogmouth (Tahan hide), Gould's Frogmouth, Straw-headed Bulbul, Blue-banded Kingfisher (Lubok Simpon beach), White-crowned Hornbill (Swamp loop). We saw a Malayan Peacock-pheasant, a male that has been released approx. 5 years ago but refuses to moult into adult plumage. We didn't hear any Reddish Scops-owls.


FULL TRIP LIST
Taxonomy strictly follows the IOC checklist version 8.2.
[196 species]
Malaysian Partridge
Arborophila campbelli
Country endemic
29/08/2018 - Fraser's Hill - 6
Ferruginous Partridge
Caloperdix oculeus
Near-threatened (NT)
29/08/2018 - Bukit Tinggi - 1
Crested Fireback
Lophura ignita
Near-threatened (NT)
02/09/2018 - Taman Negara - 3
Mountain Peacock-Pheasant
Polyplectron inopinatum
Vulnerable (VU)
Country endemic
29/08/2018 - Bukit Tinggi - 2
Malayan Peacock-Pheasant
Polyplectron malacense
Vulnerable (VU)
02/09/2018 - Taman Negara - HO - 2 heard
03/09/2018 - Taman Negara - HO - 2 heard
04/09/2018 - Taman Negara - 1 seen + 2 heard
Great Argus
Argusianus argus
Near-threatened (NT)
02/09/2018 - Taman Negara - HO - 1 heard
03/09/2018 - Taman Negara - HO - 1 heard
Purple Heron
Ardea purpurea
05/09/2018 - En route - 1
Black-winged Kite
Elanus caeruleus
05/09/2018 - En route - 1
Crested Honey Buzzard
Pernis ptilorhynchus
01/09/2018 - Fraser's Hill - 1
Crested Serpent Eagle
Spilornis cheela
01/09/2018 - Fraser's Hill - 3
02/09/2018 - Taman Negara - 1
05/09/2018 - Taman Negara - HO - 1 heard
Blyth's Hawk-Eagle
Nisaetus alboniger
29/08/2018 - Bukit Tinggi - 1
Black Eagle
Ictinaetus malaiensis
30/08/2018 - Fraser's Hill - 1
Little Cuckoo-Dove
Macropygia ruficeps
29/08/2018 - Bukit Tinggi - 3
29/08/2018 - Fraser's Hill - 2
30/08/2018 - Fraser's Hill - 4
31/08/2018 - Fraser's Hill - 5+ seen + more heard
01/09/2018 - Fraser's Hill - 5+ seen + more heard
Common Emerald Dove
Chalcophaps indica
31/08/2018 - Fraser's Hill - 1
03/09/2018 - Taman Negara - 1
04/09/2018 - Taman Negara - 1
05/09/2018 - Taman Negara - 1
Zebra Dove
Geopelia striata
01/09/2018 - En route - a few
Little Green Pigeon
Treron olax
04/09/2018 - Taman Negara - 1
Mountain Imperial Pigeon
Ducula badia
29/08/2018 - Bukit Tinggi - 4
30/08/2018 - Fraser's Hill - 3 seen + a few heard
31/08/2018 - Fraser's Hill - 1
01/09/2018 - Fraser's Hill - 5+ seen + more heard
Greater Coucal
Centropus sinensis
02/09/2018 - Taman Negara - 1
05/09/2018 - Taman Negara - HO - 1 heard
Raffles's Malkoha
Rhinortha chlorophaea
02/09/2018 - Taman Negara - 1
03/09/2018 - Taman Negara - 4
04/09/2018 - Taman Negara - 1
Chestnut-breasted Malkoha
Phaenicophaeus curvirostris
31/08/2018 - Fraser's Hill - 1
02/09/2018 - Taman Negara - 1
03/09/2018 - Taman Negara - 1
05/09/2018 - Taman Negara - 1
Black-bellied Malkoha
Phaenicophaeus diardi
Near-threatened (NT)
04/09/2018 - Taman Negara - 1
Green-billed Malkoha
Phaenicophaeus tristis
03/09/2018 - Taman Negara - 1
Violet Cuckoo
Chrysococcyx xanthorhynchus
03/09/2018 - Taman Negara - HO - 1 heard
Banded Bay Cuckoo
Cacomantis sonneratii
01/09/2018 - Taman Negara - 1
02/09/2018 - Taman Negara - HO - 1 heard
03/09/2018 - Taman Negara - HO - 2 heard
04/09/2018 - Taman Negara - 1 seen + 1 heard
05/09/2018 - Taman Negara - HO - 2 heard
Square-tailed Drongo-Cuckoo
Surniculus lugubris
02/09/2018 - Taman Negara - 1
03/09/2018 - Taman Negara - 1
Mountain Scops Owl
Otus spilocephalus
29/08/2018 - Bukit Tinggi - HO - 1 heard
30/08/2018 - Fraser's Hill - HO - 1 heard
31/08/2018 - Fraser's Hill - HO - 1 heard
Collared Scops Owl
Otus lettia
29/08/2018 - Bukit Tinggi - HO - 1 heard
Sunda Scops Owl
Otus lempiji
02/09/2018 - Taman Negara - HO - 1 heard
Collared Owlet
Glaucidium brodiei
30/08/2018 - Fraser's Hill - HO - 1 heard
31/08/2018 - Fraser's Hill - HO - 2 heard
Large Frogmouth
Batrachostomus auritus
Near-threatened (NT)
02/09/2018 - Taman Negara - 1
Gould's Frogmouth
Batrachostomus stellatus
Near-threatened (NT)
04/09/2018 - Taman Negara - HO - 1 heard
05/09/2018 - Taman Negara - 1 seen + 1 heard
Blyth's Frogmouth
Batrachostomus affinis
29/08/2018 - Bukit Tinggi - 1
Grey-rumped Treeswift
Hemiprocne longipennis
29/08/2018 - Bukit Tinggi - 10+
02/09/2018 - Taman Negara - 5+
03/09/2018 - Taman Negara - 5+
04/09/2018 - Taman Negara - a few
05/09/2018 - Taman Negara - a few
Plume-toed Swiftlet
Collocalia affinis
29/08/2018 - Bukit Tinggi - fairly common
30/08/2018 - Fraser's Hill - a few
31/08/2018 - Fraser's Hill - a few
01/09/2018 - Fraser's Hill - a few
Edible-nest Swiftlet
Aerodramus fuciphagus
01/09/2018 - En route - fairly common
Germain's Swiftlet
Aerodramus germani
02/09/2018 - Taman Negara - a few
05/09/2018 - Taman Negara - a few
Silver-rumped Spinetail
Rhaphidura leucopygialis
29/08/2018 - Bukit Tinggi - 5+
01/09/2018 - Fraser's Hill - a few
02/09/2018 - Taman Negara - 20+
03/09/2018 - Taman Negara - 10+
05/09/2018 - Taman Negara - a few
Brown-backed Needletail
Hirundapus giganteus
30/08/2018 - Fraser's Hill - 1
House Swift
Apus nipalensis
04/09/2018 - Taman Negara - a few
Red-naped Trogon
Harpactes kasumba
Near-threatened (NT)
02/09/2018 - Taman Negara - HO - 2 heard
03/09/2018 - Taman Negara - HO - 2 heard
04/09/2018 - Taman Negara - HO - 1 heard
05/09/2018 - Taman Negara - HO - 2 heard
Scarlet-rumped Trogon
Harpactes duvaucelii
Near-threatened (NT)
05/09/2018 - Taman Negara - 2
Orange-breasted Trogon
Harpactes oreskios
01/09/2018 - Fraser's Hill - 1
Red-headed Trogon
Harpactes erythrocephalus
30/08/2018 - Fraser's Hill - 1
Rufous-collared Kingfisher
Actenoides concretus
Near-threatened (NT)
02/09/2018 - Taman Negara - 1
04/09/2018 - Taman Negara - 1
Banded Kingfisher
Lacedo pulchella
02/09/2018 - Taman Negara - HO - 1 heard
Stork-billed Kingfisher
Pelargopsis capensis
02/09/2018 - Taman Negara - 1
03/09/2018 - Taman Negara - 1
White-throated Kingfisher
Halcyon smyrnensis
29/08/2018 - En route - a few
01/09/2018 - En route - a few
05/09/2018 - En route - a few
Blue-banded Kingfisher
Alcedo euryzona
Critically Endangered (CR)
02/09/2018 - Taman Negara - 1
05/09/2018 - Taman Negara - 1
Oriental Dwarf Kingfisher
Ceyx erithaca
01/09/2018 - Taman Negara - 1
02/09/2018 - Taman Negara - 1
03/09/2018 - Taman Negara - 2
05/09/2018 - Taman Negara - 1
Red-bearded Bee-eater
Nyctyornis amictus
29/08/2018 - Bukit Tinggi - HO - 1 heard
05/09/2018 - Taman Negara - 1
Blue-throated Bee-eater
Merops viridis
31/08/2018 - Fraser's Hill - 10+
White-crowned Hornbill
Berenicornis comatus
Near-threatened (NT)
04/09/2018 - Taman Negara - 4
Rhinoceros Hornbill
Buceros rhinoceros
Near-threatened (NT)
01/09/2018 - Taman Negara - 5+
Helmeted Hornbill
Rhinoplax vigil
Critically Endangered (CR)
03/09/2018 - Taman Negara - HO - 1 heard
04/09/2018 - Taman Negara - 2
05/09/2018 - Taman Negara - HO - 1 heard
Black Hornbill
Anthracoceros malayanus
Near-threatened (NT)
29/08/2018 - Bukit Tinggi - 1
Wreathed Hornbill
Rhyticeros undulatus
02/09/2018 - Taman Negara - 3
04/09/2018 - Taman Negara - 6
05/09/2018 - Taman Negara - HO - a few heard
Fire-tufted Barbet
Psilopogon pyrolophus
29/08/2018 - Fraser's Hill - 2 seen + a few heard
30/08/2018 - Fraser's Hill - 4 seen + more heard
31/08/2018 - Fraser's Hill - 3 seen + more heard
01/09/2018 - Fraser's Hill - 1 seen + a few heard
Golden-whiskered Barbet
Psilopogon chrysopogon
29/08/2018 - Bukit Tinggi - 1 seen + more heard
29/08/2018 - Fraser's Hill - HO - 1 heard
30/08/2018 - Fraser's Hill - HO - a few heard
31/08/2018 - Fraser's Hill - HO - a few heard
01/09/2018 - Fraser's Hill - HO - a few heard
02/09/2018 - Taman Negara - HO - a few heard
03/09/2018 - Taman Negara - HO - a few heard
04/09/2018 - Taman Negara - HO - a few heard
05/09/2018 - Taman Negara - 1 seen + more heard
Red-throated Barbet
Psilopogon mystacophanos
Near-threatened (NT)
30/08/2018 - Fraser's Hill - 1
31/08/2018 - Fraser's Hill - 1
05/09/2018 - Taman Negara - 2 seen + a few heard
Black-browed Barbet
Psilopogon oorti
29/08/2018 - Bukit Tinggi - 1 seen + more heard
29/08/2018 - Fraser's Hill - HO - a few heard
30/08/2018 - Fraser's Hill - a few seen + more heard
31/08/2018 - Fraser's Hill - HO - fairly common heard
01/09/2018 - Fraser's Hill - HO - fairly common heard
Yellow-crowned Barbet
Psilopogon henricii
Near-threatened (NT)
01/09/2018 - Taman Negara - HO - 1 heard
Blue-eared Barbet
Psilopogon duvaucelii
29/08/2018 - Bukit Tinggi - HO - a few heard
01/09/2018 - Taman Negara - HO - a few heard
02/09/2018 - Taman Negara - HO - a few heard
03/09/2018 - Taman Negara - HO - a few heard
04/09/2018 - Taman Negara - HO - a few heard
Sooty Barbet
Caloramphus hayii
Near-threatened (NT)
29/08/2018 - Bukit Tinggi - 3
30/08/2018 - Fraser's Hill - 1
31/08/2018 - Fraser's Hill - 5+
03/09/2018 - Taman Negara - 1
Banded Woodpecker
Chrysophlegma miniaceum
02/09/2018 - Taman Negara - 2
03/09/2018 - Taman Negara - HO - 1 heard
Greater Yellownape
Chrysophlegma flavinucha
31/08/2018 - Fraser's Hill - 1
Lesser Yellownape
Picus chlorolophus
29/08/2018 - Bukit Tinggi - 1
30/08/2018 - Fraser's Hill - 1
31/08/2018 - Fraser's Hill - 2
01/09/2018 - Fraser's Hill - 1
Crimson-winged Woodpecker
Picus puniceus
31/08/2018 - Fraser's Hill - HO - 1 heard
04/09/2018 - Taman Negara - 1
Bamboo Woodpecker
Gecinulus viridis
31/08/2018 - Fraser's Hill - 2
01/09/2018 - Fraser's Hill - 2
Maroon Woodpecker
Blythipicus rubiginosus
02/09/2018 - Taman Negara - 1
Orange-backed Woodpecker
Reinwardtipicus validus
02/09/2018 - Taman Negara - 2
Rufous Woodpecker
Micropternus brachyurus
31/08/2018 - Fraser's Hill - 1
05/09/2018 - Taman Negara - 2
Buff-rumped Woodpecker
Meiglyptes tristis
04/09/2018 - Taman Negara - 2
05/09/2018 - Taman Negara - 2
Buff-necked Woodpecker
Meiglyptes tukki
Near-threatened (NT)
02/09/2018 - Taman Negara - 2
03/09/2018 - Taman Negara - 2
04/09/2018 - Taman Negara - 2
05/09/2018 - Taman Negara - 2
Black-thighed Falconet
Microhierax fringillarius
31/08/2018 - Fraser's Hill - 1
Peregrine Falcon
Falco peregrinus
30/08/2018 - Fraser's Hill - 1
Blue-rumped Parrot
Psittinus cyanurus
Near-threatened (NT)
02/09/2018 - Taman Negara - 1
Blue-crowned Hanging Parrot
Loriculus galgulus
04/09/2018 - Taman Negara - 5+
05/09/2018 - Taman Negara - 5+
Green Broadbill
Calyptomena viridis
Near-threatened (NT)
03/09/2018 - Taman Negara - 6
04/09/2018 - Taman Negara - 1
05/09/2018 - Taman Negara - 3
Black-and-red Broadbill
Cymbirhynchus macrorhynchos
05/09/2018 - Taman Negara - 2
Banded Broadbill
Eurylaimus javanicus
29/08/2018 - Bukit Tinggi - HO - 1 heard
02/09/2018 - Taman Negara - HO - 1 heard
03/09/2018 - Taman Negara - HO - 2 heard
04/09/2018 - Taman Negara - HO - 1 heard
05/09/2018 - Taman Negara - HO - 2 heard
Black-and-yellow Broadbill
Eurylaimus ochromalus
Near-threatened (NT)
01/09/2018 - Taman Negara - HO - 2 heard
02/09/2018 - Taman Negara - 2 seen + more heard
03/09/2018 - Taman Negara - HO - a few heard
04/09/2018 - Taman Negara - HO - a few heard
05/09/2018 - Taman Negara - HO - a few heard
Dusky Broadbill
Corydon sumatranus
03/09/2018 - Taman Negara - 4
04/09/2018 - Taman Negara - 2 seen + a few heard
Rusty-naped Pitta
Hydrornis oatesi
30/08/2018 - Fraser's Hill - HO - 1 heard
31/08/2018 - Fraser's Hill - 2 seen + 1 heard
Garnet Pitta
Erythropitta granatina
Near-threatened (NT)
01/09/2018 - Taman Negara - 1 seen + 1 heard
05/09/2018 - Taman Negara - 1 seen + 1 heard
Blue-winged Pitta
Pitta moluccensis
03/09/2018 - Taman Negara - 1
04/09/2018 - Taman Negara - 1
Bar-winged Flycatcher-shrike
Hemipus picatus
29/08/2018 - Fraser's Hill - 1
30/08/2018 - Fraser's Hill - 1
01/09/2018 - Fraser's Hill - 3
Rufous-winged Philentoma
Philentoma pyrhoptera
04/09/2018 - Taman Negara - 2
05/09/2018 - Taman Negara - 1
Green Iora
Aegithina viridissima
Near-threatened (NT)
02/09/2018 - Taman Negara - 2
Fiery Minivet
Pericrocotus igneus
Near-threatened (NT)
03/09/2018 - Taman Negara - 2
Grey-chinned Minivet
Pericrocotus solaris
29/08/2018 - Fraser's Hill - 5+
30/08/2018 - Fraser's Hill - 5+
31/08/2018 - Fraser's Hill - 5+
01/09/2018 - Fraser's Hill - 5+
Large Cuckooshrike
Coracina macei
29/08/2018 - Fraser's Hill - 3
30/08/2018 - Fraser's Hill - 2
31/08/2018 - Fraser's Hill - 1
White-bellied Erpornis
Erpornis zantholeuca
29/08/2018 - Fraser's Hill - 3
30/08/2018 - Fraser's Hill - 2
31/08/2018 - Fraser's Hill - 4
03/09/2018 - Taman Negara - 2
Blyth's Shrike-babbler
Pteruthius aeralatus
31/08/2018 - Fraser's Hill - 1
01/09/2018 - Fraser's Hill - 1
Black-eared Shrike-babbler
Pteruthius melanotis
30/08/2018 - Fraser's Hill - 4
31/08/2018 - Fraser's Hill - 3
Dark-throated Oriole
Oriolus xanthonotus
Near-threatened (NT)
05/09/2018 - Taman Negara - HO - 1 heard
Black-and-crimson Oriole
Oriolus cruentus
30/08/2018 - Fraser's Hill - 2
31/08/2018 - Fraser's Hill - 1
01/09/2018 - Fraser's Hill - 2
Bronzed Drongo
Dicrurus aeneus
30/08/2018 - Fraser's Hill - 1
31/08/2018 - Fraser's Hill - 1
01/09/2018 - Fraser's Hill - 1
02/09/2018 - Taman Negara - 2
Lesser Racket-tailed Drongo
Dicrurus remifer
29/08/2018 - Bukit Tinggi - 1
30/08/2018 - Fraser's Hill - 5+
31/08/2018 - Fraser's Hill - 5+
01/09/2018 - Fraser's Hill - 5+
Greater Racket-tailed Drongo
Dicrurus paradiseus
04/09/2018 - Taman Negara - 2
05/09/2018 - Taman Negara - a few
White-throated Fantail
Rhipidura albicollis
29/08/2018 - Bukit Tinggi - 2
29/08/2018 - Fraser's Hill - 2
30/08/2018 - Fraser's Hill - 10+ + more heard
31/08/2018 - Fraser's Hill - 5+
01/09/2018 - Fraser's Hill - 5+
Black-naped Monarch
Hypothymis azurea
02/09/2018 - Taman Negara - HO - heard
05/09/2018 - Taman Negara - 1
Crested Jay
Platylophus galericulatus
Near-threatened (NT)
05/09/2018 - Taman Negara - 1
Common Green Magpie
Cissa chinensis
31/08/2018 - Fraser's Hill - 3
Large-billed Crow
Corvus macrorhynchos
05/09/2018 - En route - a few
Rail-babbler
Eupetes macrocerus
Near-threatened (NT)
02/09/2018 - Taman Negara - HO - 1 heard
03/09/2018 - Taman Negara - 1
Grey-headed Canary-flycatcher
Culicicapa ceylonensis
29/08/2018 - Fraser's Hill - 2
30/08/2018 - Fraser's Hill - 1
01/09/2018 - Fraser's Hill - 1
Sultan Tit
Melanochlora sultanea
01/09/2018 - Fraser's Hill - 1
Straw-headed Bulbul
Pycnonotus zeylanicus
Endangered (EN)
02/09/2018 - Taman Negara - 2
03/09/2018 - Taman Negara - 3 seen + a few heard
05/09/2018 - Taman Negara - HO - 1 heard
Black-crested Bulbul
Pycnonotus flaviventris
29/08/2018 - Bukit Tinggi - 2
Grey-bellied Bulbul
Pycnonotus cyaniventris
Near-threatened (NT)
02/09/2018 - Taman Negara - 1
Stripe-throated Bulbul
Pycnonotus finlaysoni
31/08/2018 - Fraser's Hill - 2
02/09/2018 - Taman Negara - 1
05/09/2018 - Taman Negara - 3
Yellow-vented Bulbul
Pycnonotus goiavier
29/08/2018 - Fraser's Hill - 1
01/09/2018 - Taman Negara - a few
02/09/2018 - Taman Negara - 5+
03/09/2018 - Taman Negara - a few
Olive-winged Bulbul
Pycnonotus plumosus
02/09/2018 - Taman Negara - 2
Cream-vented Bulbul
Pycnonotus simplex
02/09/2018 - Taman Negara - a few
Asian Red-eyed Bulbul
Pycnonotus brunneus
01/09/2018 - Taman Negara - a few
02/09/2018 - Taman Negara - a few
03/09/2018 - Taman Negara - a few
04/09/2018 - Taman Negara - a few
05/09/2018 - Taman Negara - a few
Finsch's Bulbul
Alophoixus finschii
Near-threatened (NT)
05/09/2018 - Taman Negara - 1
Ochraceous Bulbul
Alophoixus ochraceus
29/08/2018 - Bukit Tinggi - 4
30/08/2018 - Fraser's Hill - 1
31/08/2018 - Fraser's Hill - 5+
01/09/2018 - Fraser's Hill - 1
05/09/2018 - Taman Negara - 3
Grey-cheeked Bulbul
Alophoixus bres
03/09/2018 - Taman Negara - a few
04/09/2018 - Taman Negara - a few
05/09/2018 - Taman Negara - 3
Yellow-bellied Bulbul
Alophoixus phaeocephalus
02/09/2018 - Taman Negara - 3
03/09/2018 - Taman Negara - 1
04/09/2018 - Taman Negara - 1
Hairy-backed Bulbul
Tricholestes criniger
02/09/2018 - Taman Negara - 1
03/09/2018 - Taman Negara - 1
Mountain Bulbul
Ixos mcclellandii
29/08/2018 - Bukit Tinggi - 5+
29/08/2018 - Fraser's Hill - 2
30/08/2018 - Fraser's Hill - 5+
Streaked Bulbul
Ixos malaccensis
Near-threatened (NT)
04/09/2018 - Taman Negara - 2
Pacific Swallow
Hirundo tahitica
29/08/2018 - Bukit Tinggi - fairly common
29/08/2018 - Fraser's Hill - a few
30/08/2018 - Fraser's Hill - a few
31/08/2018 - Fraser's Hill - a few
01/09/2018 - Fraser's Hill - a few
04/09/2018 - Taman Negara - a few
05/09/2018 - Taman Negara - a few
05/09/2018 - En route - a few
Asian House Martin
Delichon dasypus
29/08/2018 - En route - 1
Rufous-bellied Swallow
Cecropis badia
29/08/2018 - Bukit Tinggi - 1
29/08/2018 - Fraser's Hill - 2
01/09/2018 - Fraser's Hill - 1
Pygmy Cupwing
Pnoepyga pusilla
30/08/2018 - Fraser's Hill - HO - 1 heard
31/08/2018 - Fraser's Hill - 2 seen + a few heard
Yellow-bellied Warbler
Abroscopus superciliaris
29/08/2018 - Bukit Tinggi - 2
29/08/2018 - Fraser's Hill - 1
30/08/2018 - Fraser's Hill - 1
01/09/2018 - Fraser's Hill - 2
Mountain Tailorbird
Phyllergates cucullatus
30/08/2018 - Fraser's Hill - HO - a few heard
31/08/2018 - Fraser's Hill - a few seen + more heard
01/09/2018 - Fraser's Hill - a few
Chestnut-crowned Warbler
Phylloscopus castaniceps
30/08/2018 - Fraser's Hill - 1
31/08/2018 - Fraser's Hill - 3+
Yellow-bellied Prinia
Prinia flaviventris
31/08/2018 - Fraser's Hill - HO - 1 heard
01/09/2018 - Fraser's Hill - 1
Common Tailorbird
Orthotomus sutorius
29/08/2018 - Bukit Tinggi - 2
04/09/2018 - Taman Negara - 2
05/09/2018 - Taman Negara - 1
Dark-necked Tailorbird
Orthotomus atrogularis
02/09/2018 - Taman Negara - 1
03/09/2018 - Taman Negara - 1
Rufous-tailed Tailorbird
Orthotomus sericeus
02/09/2018 - Taman Negara - 1
05/09/2018 - Taman Negara - 2
Chestnut-backed Scimitar Babbler
Pomatorhinus montanus
29/08/2018 - Bukit Tinggi - 2
Grey-throated Babbler
Stachyris nigriceps
30/08/2018 - Fraser's Hill - 5+
31/08/2018 - Fraser's Hill - 3+
01/09/2018 - Fraser's Hill - 2
Grey-headed Babbler
Stachyris poliocephala
05/09/2018 - Taman Negara - 2
Chestnut-rumped Babbler
Stachyris maculata
Near-threatened (NT)
01/09/2018 - Taman Negara - 1
02/09/2018 - Taman Negara - 5+
04/09/2018 - Taman Negara - 2
05/09/2018 - Taman Negara - 3+
Black-throated Babbler
Stachyris nigricollis
Near-threatened (NT)
02/09/2018 - Taman Negara - 5+
03/09/2018 - Taman Negara - 5+
04/09/2018 - Taman Negara - 3
05/09/2018 - Taman Negara - HO - 1 heard
Chestnut-winged Babbler
Stachyris erythroptera
02/09/2018 - Taman Negara - 5+
03/09/2018 - Taman Negara - 5+
04/09/2018 - Taman Negara - 5+
05/09/2018 - Taman Negara - 3 seen + a rew heard
Golden Babbler
Stachyridopsis chrysaea
30/08/2018 - Fraser's Hill - 10+
31/08/2018 - Fraser's Hill - 10+
01/09/2018 - Fraser's Hill - 5+
Pin-striped Tit-Babbler
Macronus gularis
29/08/2018 - Bukit Tinggi - fairly common
29/08/2018 - Fraser's Hill - 15+
30/08/2018 - Fraser's Hill - 10+
31/08/2018 - Fraser's Hill - 5+
02/09/2018 - Taman Negara - 5+
03/09/2018 - Taman Negara - a few
Fluffy-backed Tit-Babbler
Macronus ptilosus
Near-threatened (NT)
29/08/2018 - Bukit Tinggi - 2
Brown Fulvetta
Alcippe brunneicauda
Near-threatened (NT)
05/09/2018 - Taman Negara - 2
Mountain Fulvetta
Alcippe peracensis
29/08/2018 - Fraser's Hill - 10+
30/08/2018 - Fraser's Hill - 20+ seen + more heard
31/08/2018 - Fraser's Hill - fairly common
01/09/2018 - Fraser's Hill - fairly common
Large Wren-Babbler
Napothera macrodactyla
Near-threatened (NT)
03/09/2018 - Taman Negara - 1 seen + 1 heard
Marbled Wren-Babbler
Napothera marmorata
30/08/2018 - Fraser's Hill - HO - 1 heard briefly
31/08/2018 - Fraser's Hill - 1
Streaked Wren-Babbler
Napothera brevicaudata
30/08/2018 - Fraser's Hill - 2 seen
Abbott's Babbler
Malacocincla abbotti
03/09/2018 - Taman Negara - 1
Short-tailed Babbler
Malacocincla malaccensis
Near-threatened (NT)
01/09/2018 - Taman Negara - 1
Moustached Babbler
Malacopteron magnirostre
02/09/2018 - Taman Negara - 2
03/09/2018 - Taman Negara - 2
04/09/2018 - Taman Negara - 1
Sooty-capped Babbler
Malacopteron affine
Near-threatened (NT)
02/09/2018 - Taman Negara - 3
03/09/2018 - Taman Negara - 2
04/09/2018 - Taman Negara - 1
05/09/2018 - Taman Negara - 2
Scaly-crowned Babbler
Malacopteron cinereum
02/09/2018 - Taman Negara - 3
03/09/2018 - Taman Negara - 2
04/09/2018 - Taman Negara - 1
05/09/2018 - Taman Negara - 5+
White-chested Babbler
Trichastoma rostratum
Near-threatened (NT)
03/09/2018 - Taman Negara - 2
Ferruginous Babbler
Trichastoma bicolor
02/09/2018 - Taman Negara - 2
05/09/2018 - Taman Negara - 1
Buff-breasted Babbler
Pellorneum tickelli
29/08/2018 - Bukit Tinggi - 1
30/08/2018 - Fraser's Hill - 2
Chestnut-capped Laughingthrush
Garrulax mitratus
29/08/2018 - Fraser's Hill - 3
30/08/2018 - Fraser's Hill - 5+
31/08/2018 - Fraser's Hill - 10+
01/09/2018 - Fraser's Hill - 10+
Black Laughingthrush
Garrulax lugubris
29/08/2018 - Fraser's Hill - 4
31/08/2018 - Fraser's Hill - 4
Malayan Laughingthrush
Trochalopteron peninsulae
29/08/2018 - Fraser's Hill - 2
01/09/2018 - Taman Negara - 2
Silver-eared Mesia
Leiothrix argentauris
29/08/2018 - Fraser's Hill - 3
31/08/2018 - Fraser's Hill - 2
Long-tailed Sibia
Heterophasia picaoides
29/08/2018 - Fraser's Hill - 5+
30/08/2018 - Fraser's Hill - 5+
31/08/2018 - Fraser's Hill - 5+
01/09/2018 - Fraser's Hill - 10+
Everett's White-eye
Zosterops everetti
29/08/2018 - Bukit Tinggi - 3
29/08/2018 - Fraser's Hill - 2
Asian Fairy-bluebird
Irena puella
01/09/2018 - Taman Negara - 1
02/09/2018 - Taman Negara - 1
Blue Nuthatch
Sitta azurea
30/08/2018 - Fraser's Hill - 1
Asian Glossy Starling
Aplonis panayensis
01/09/2018 - En route - a few
02/09/2018 - Taman Negara - 2
05/09/2018 - Taman Negara - 10+
Crested Myna
Acridotheres cristatellus
04/09/2018 - Taman Negara - 2
05/09/2018 - En route - a few
Common Myna
Acridotheres tristis
01/09/2018 - Taman Negara - 1
02/09/2018 - Taman Negara - 1
04/09/2018 - Taman Negara - 5+
05/09/2018 - En route - a few
Oriental Magpie-Robin
Copsychus saularis
29/08/2018 - Bukit Tinggi - 10+
29/08/2018 - Fraser's Hill - 2
30/08/2018 - Fraser's Hill - 3
31/08/2018 - Fraser's Hill - 1
01/09/2018 - Fraser's Hill - 2
01/09/2018 - Taman Negara - 3
02/09/2018 - Taman Negara - a few
03/09/2018 - Taman Negara - a few
04/09/2018 - Taman Negara - a few
05/09/2018 - Taman Negara - a few
White-rumped Shama
Copsychus malabaricus
29/08/2018 - Bukit Tinggi - 1
02/09/2018 - Taman Negara - 5+
03/09/2018 - Taman Negara - a few
04/09/2018 - Taman Negara - a few
05/09/2018 - Taman Negara - 1
Rufous-browed Flycatcher
Anthipes solitaris
29/08/2018 - Fraser's Hill - 2
30/08/2018 - Fraser's Hill - 5+
31/08/2018 - Fraser's Hill - 3
01/09/2018 - Fraser's Hill - 2
Hill Blue Flycatcher
Cyornis banyumas
30/08/2018 - Fraser's Hill - 2
31/08/2018 - Fraser's Hill - 1
Tickell's Blue Flycatcher
Cyornis tickelliae
04/09/2018 - Taman Negara - 1
Malaysian Blue Flycatcher
Cyornis turcosus
Near-threatened (NT)
03/09/2018 - Taman Negara - 1
White-tailed Flycatcher
Cyornis concretus
02/09/2018 - Taman Negara - 1
Large Niltava
Niltava grandis
30/08/2018 - Fraser's Hill - 1
31/08/2018 - Fraser's Hill - 1
01/09/2018 - Fraser's Hill - 1
Verditer Flycatcher
Eumyias thalassinus
29/08/2018 - Bukit Tinggi - 1
Lesser Shortwing
Brachypteryx leucophris
30/08/2018 - Fraser's Hill - 2 seen + a few heard
31/08/2018 - Fraser's Hill - 2 seen + a few heard
01/09/2018 - Fraser's Hill - HO - 1 heard
White-tailed Robin
Myiomela leucura
01/09/2018 - Fraser's Hill - 2
Chestnut-naped Forktail
Enicurus ruficapillus
Near-threatened (NT)
03/09/2018 - Taman Negara - 1
Slaty-backed Forktail
Enicurus schistaceus
29/08/2018 - Fraser's Hill - 1
30/08/2018 - Fraser's Hill - 3
Malayan Whistling Thrush
Myophonus robinsoni
Near-threatened (NT)
Country endemic
29/08/2018 - Fraser's Hill - 1 seen
Blue-winged Leafbird
Chloropsis cochinchinensis
29/08/2018 - Fraser's Hill - 2
30/08/2018 - Fraser's Hill - 5+
02/09/2018 - Taman Negara - 4
03/09/2018 - Taman Negara - a few
Orange-bellied Leafbird
Chloropsis hardwickii
29/08/2018 - Fraser's Hill - 2
Yellow-breasted Flowerpecker
Prionochilus maculatus
05/09/2018 - Taman Negara - 1
Orange-bellied Flowerpecker
Dicaeum trigonostigma
03/09/2018 - Taman Negara - 1
Fire-breasted Flowerpecker
Dicaeum ignipectus
31/08/2018 - Fraser's Hill - 1
01/09/2018 - Fraser's Hill - 2
Brown-throated Sunbird
Anthreptes malacensis
29/08/2018 - Fraser's Hill - 3
05/09/2018 - Taman Negara - 2
Purple-naped Sunbird
Hypogramma hypogrammicum
02/09/2018 - Taman Negara - 1
03/09/2018 - Taman Negara - 1
05/09/2018 - Taman Negara - 1
Black-throated Sunbird
Aethopyga saturata
30/08/2018 - Fraser's Hill - 2
31/08/2018 - Fraser's Hill - 2
01/09/2018 - Fraser's Hill - 3
Little Spiderhunter
Arachnothera longirostra
29/08/2018 - Bukit Tinggi - 1
Spectacled Spiderhunter
Arachnothera flavigaster
31/08/2018 - Fraser's Hill - 1
Grey-breasted Spiderhunter
Arachnothera modesta
03/09/2018 - Taman Negara - 1
Streaked Spiderhunter
Arachnothera magna
29/08/2018 - Fraser's Hill - 2
31/08/2018 - Fraser's Hill - 1
01/09/2018 - Fraser's Hill - 2
Eurasian Tree Sparrow
Passer montanus
29/08/2018 - En route - a few
01/09/2018 - En route - a few
02/09/2018 - Taman Negara - a few
03/09/2018 - Taman Negara - a few
05/09/2018 - Taman Negara - a few
Scaly-breasted Munia
Lonchura punctulata
01/09/2018 - En route - a few
Grey Wagtail
Motacilla cinerea
29/08/2018 - Fraser's Hill - 1
30/08/2018 - Fraser's Hill - 2
31/08/2018 - Fraser's Hill - 1
01/09/2018 - Fraser's Hill - 1
05/09/2018 - Taman Negara - 1
Paddyfield Pipit
Anthus rufulus
01/09/2018 - En route - 1