MADAGASCAR
14/10 - 18/11/2012
Hans Matheve, Toon Spanhove, Jurgen Dewolf, Geert Beckers, Kevin Lambeets, Nicolas Vanermen, Stijn Cooleman & Lieven De Temmerman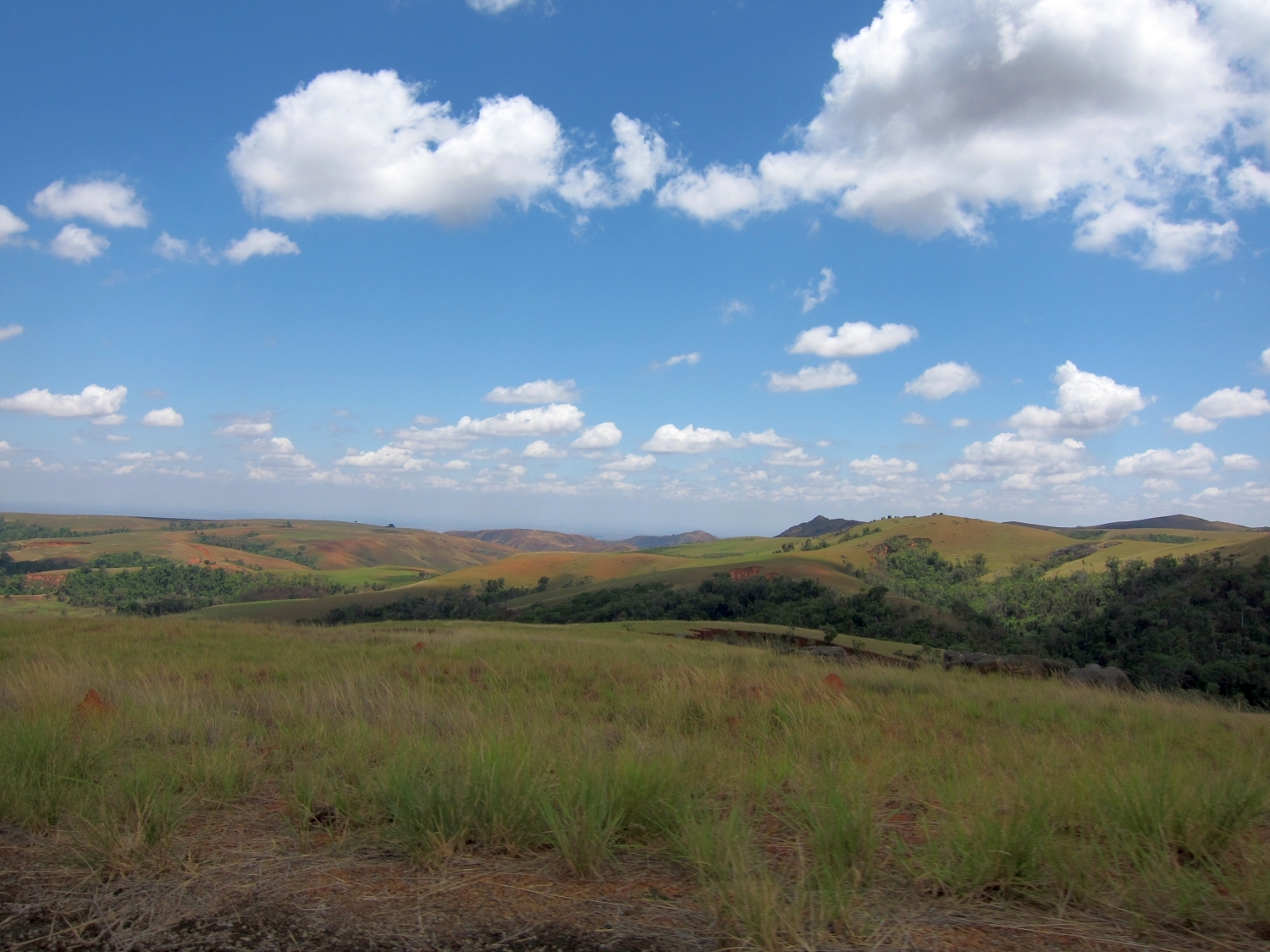 INTRODUCTION
Often claimed to be the "eight continent", Madagascar is really a world apart hosting thousands of endemic plant and animal species, including several endemic families or orders The uniqueness of other wildlife (Lemurs, Sifakas, Cameleons) makes up for the relative low number (280, 111 end) of bird species. Unfortunately massive logging, slashing and burning has take place in the past throughout the country and many marshes have been turned into rice paddies. The national parks are about the only places where nature is still preserved...

Many thanks go out to Réné de Roland Lily Arison (or Lily) of the Peregrine Fund Madagascar for organizing the firt leg of the trip. Without it would have taken more time to visit all birding sites. He was a guarantee to have access at the Peregrine Fund camps and logistics. We also like to thank Steve Goodman, Nick Athanas, Dubi Shapiro, Kris De Keersmaecker, the local staff of Madagascar National Parks and many more for their invaluable pre trip information.

ITINERARY
| | |
| --- | --- |
| 13 oct | Departure from Paris Orly Airport + arrival at Antananarivo Airport. Night in Antananarivo. |
| 14 oct | Flight Antananarivo to Antsiranana (aka Diego-Suarez) via Mahajunga (3hr) + drive to Montane d'Ambre NP (40') + birding Montange d'Ambre NP. Night camping inside park. |
| 15 oct | Drive to Antsohihy (10hr) with some birding stops en route. Night in Antsohihy. |
| 16 oct | Drive to Bemenavika (7hr) + birding Bemenavika (pochard site). Night camping at Peregrine Fund site. |
| 17 oct | Birding Bemenavika. Night camping at Peregrine Fund site. |
| 18 oct | Drive to Ankarafantsika NP (11hr). Night camping inside park. |
| 19 oct | Birding Ankarafantsika NP + drive to Mahajunga (1,5hr). Night in Mahajunga. |
| 20 oct | Birding Betsikboka delta + drive to Antananarivo (9hr). Night in Antananarivo. |
| 21 oct | Relax/car repair + drive to Tsiroanomandidi (4hr). Night in Tsiroanomandidi. |
| 22 oct | Drive to Mainterano (14hr). Night in Mainterano. |
| 23 oct | Drive to Lac Mandrozo (2hr). Night camping at Peregrine Fund site. |
| 24 oct | Birding Lac Mandrozo (Sakalava Rail site) + drive to Mainterano with roadside stop. Night in Mainterano. |
| 25 oct | Drive to Tsingy de Beanka NP (3hr) + birding Tsingy de Beanka NP + drive to Tsiroanomandidi (12hr). Night in Tsiroanomandidi. |
| 26 oct | Drive to Antananarivo (4hr) + relax. Night in Antananarivo. Arrival of GB, KL and NV. |
| 27 oct | Flight to Maroantsetra (2hr) + boat to Arrol Lodge (1,5hr) + birding Masoala NP. Night camping at Arrol Lodge. |
| 28 oct | Birding Masoala NP. Night camping at Arrol Lodge. |
| 29 oct | Birding Masoala NP. Night camping at Arrol Lodge. |
| 30 oct | Birding Masoala NP. Night camping at Arrol Lodge. |
| 31 oct | Birding Masoala NP. Night camping at Arrol Lodge. |
| 1 nov | Boat to Maroantsetra (1,5hr) + flight to Antananarivo. Night in Antananarivo. - Departure of LDT and SC. |
| 2 nov | Flight to Tolagnaro (aka Fort Dauphin) (1,5hr) + arrange transport and guides + seawatch from Tolagnaro. Night in Fort Dauphin. |
| 3 nov | Drive to Andohahela NP (2,5hr) + birding Andohahela NP (Manangotsy area). Night camping in local village. |
| 4 nov | Birding Andohahela NP (Mangatsiaka area) + drive to Tolagnaro (2,5hr). Night in Tolagnaro. |
| 5 nov | Drive to Berenty (3,5hr) + birding Berenty. Night in Berenty PR. |
| 6 nov | Birding Berenty + drive to Tolagnaro (3,5hr). Night in Tolagnaro. |
| 7 nov | Relax + seawatch from Tolagnaro + flight to Toliara (45') + drive to Ifaty (1hr). Night in Ifaty. |
| 8 nov | Birding Ifaty + drive to Tuelar with roadside stops (1,5hr) + birding La Table NP. Night in Toliara. |
| 9 nov | Boat to Anakoa (1hr) + birding Nosy Ve Island and Anakao + snorkeling. Night in Anakao. |
| 10 nov | Boat to Toliara (1hr) + drive to Zombitse NP (3hr) + birding Zombitse NP + drive to Ranohira (2,5hr). Night in Ranohira. |
| 11 nov | Birding Isalo NP + drive to Ranomafana (6,5hr). Night in Ranomafana. |
| 12 nov | Birding Ranomafana NP. Night in Ranomafana. |
| 13 nov | Birding Ranomafana NP. Night in Ranomafana. |
| 14 nov | Birding Ranomafana NP + drive to Antananarivo (8hr). Night in Antananarivo. |
| 15 nov | Arrange flights + drive to Anjozorobe (2hr) + birding Anjozorobe NP. Night in Mananara Lodge. |
| 16 nov | Birding Anjozorobe NP. Night in Mananara Lodge. |
| 17 nov | Birding Anjozorobe NP + travel to Antananarivo (2,5hr). Night in Antananarivo. |
| 18 nov | Relax + flight to Mauritius. |
| 19-25 nov | Mascarene Islands (see report), 2nd group visited earlier sites. |
| 26 nov | Departure from Antananarivo Airport + arrival at Paris Orly Airport. |
Note: As independent birding trip reports are very scarce on the internet we overestimated the time needed to cover the whole country. We gained about one week on our initial schedule. Hence we kept on moving on good pace and included both Mauritius and Réunion in our trip! You can read the report here

Meanwhile the 'second group' (GB, KL & NV) re-visited some of the first as well as some extra sites: Betsiboka - Kinkonty - Ankarafantsika - Mantadia.
.
Download kml file with all gps coordinates
PRACTICALITIES
Transport
International

All of us booked a Paris (Orly) - Antananarivo direct flight through Corsair for approx. 950 EUR. Other options are with Air Madagascar or Air France, all through Paris. The latter includes a stopover on the way in or back in Mauritius, possibly enabling some birding there. The flight to Tana was straightforward and uneventful. On the flight of LDT back to Paris, strong headwinds forced the pilot to refuel in Mombasa, Kenya.

In Antananarivo we booked our flights to Mauritius and Réunion with Air Mauritius as it was the cheapest option (about 200 EUR per flight, no extra cost for a stop-over). Other airlines serve the Mascarene islands as well, for e.g. Air Austral and Air Madagascar. The local office of Air Mauritius charged an extra administrative fee, so better book directly via the internet. As this leg of the trip was not planned on beforehand we only made our flight reservations a couple of days in advance. Unfortunately all the flights back and forth to the small island of Rodrigues were completely full...


Madagascar

Madagascar is roughly the size of France. In theory, one could get anywhere with Taxi-brousse and other types of public transport. However, some birding sites (especially in the North) are way off the beaten track and transport can be very scarce and irregular (e.g. to Bemenavika). As there was a shortage of decent independent trip reports on the net, we had no good idea of what to expect (cost, time, availability) of the transport and opted for the more secure option of hiring vehicle and driver. All the time we were with a group of at at least 5 persons in order to share costs.

The second group covered the Antananarivo - Mahajanga - Betsiboka - Kinkony - Ankarafantsika trip using public transport. See the visited sites section for more details.


Internal flights with Air Madagascar (HYPERLINK) were taken between:
Antananarivo to Diego in the far North (approx. 200 EUR one way - on time)
Antananarivo to Maroantsetra to visit Masoala (approx. 400 EUR back and forth - on time)
Antananarivo to Tolagnaro in the far south (approx. 250 EUR - flight cancelled withouth notice, but we were booked on another flight the same day - delay of 5 hrs)
Tolagnaro to Toliara (approx. 150 EUR - delay of 5hrs)
Most Air Madagascar flights can only be booked 4-5 months beforehand at max. The baggage allowance limit is 15kgs for check-in.


For the largest part of the trip we rented a vehicle + driver.
The first 2 weeks (Montagne d'ambre - Bemenavika - Ankarafantsika - Betsiboka - Mandrozo - Tsingy de Beanka), a 4WD vehicle and driver was chartered through Lily. The car was a recent Nissan Patrol. It could fit all luggage on the roof and 5 people in the back (3 on one row and 2 at the back with reduced leg space), while our guide and the driver were occupying the front seats. The 4WD was only strictly necessary for the drive between Bealanana and Bemenavika (but there it was a must), and West of Tsiroanomandidy, all the way to Maintirano (especially so with rain). The car had some problems (suspension/axle stabilisation) but in general, those issues did not delay our travel scheme. In fact, the driver more than made up for the time lost due to repairs, often driving 16+ hrs on some days, non-stop! His name is Andrej and he is absolutely always happy and surely recommended.
In hindsight one could travel most part of these 2 weeks with a much cheaper regular van and rent an expensive 4WD car for specific trajects: (i) from Bealanana to the pochard site and back and (ii) from Antanarivo towards the Tsingy in Beanka and back. Doing this probably saves several hundreds of euros...
On one occasion we used motorcycles to reach Lake Mandrozo from an impassable river crossing 1 hr north of Maintirano. The ride was rather dusty and exhausting (4 hrs on a potholed dirt road).
Lily / Peregrine Fund can be contacted lilyarison@yahoo.fr or +261328378103.


In the SE part we rented a 4WD + driver to get to Andohahela NP. We didn't feel it was necessary to have a 4WD in dry conditions.
The arrangement for Berenty Private Park includes the (expensive) transport to there (see below).


The stretch from Toliaro to Antananarivo was covered by a rental van + driver. This was a very convenient and not too expensive way of travelling around. It saved us quite some travel time and gave full flexibility for our schedule. Our driver Léon was happy to show us clean and cheap accommodation and restaurants, and didn't bother when we - constantly - changed plans. He was not used to birders before, but he never complained when we wanted to leave very early morning...
Benjamin Raveloarimanana can be conacted at visitmadatours@gmail.com.


To make a last minute visit to Andasibe-Mantadia NP a rental car and driver was charetered through Visit Mada Tours (see above).
Two fast
boats
were arranged through Olivier Fournajoux from
Arrol Lodge
to make the crossing between Maroantsetra and the Masoala Peninsula (2 hrs, best in the morning as the sea can get rough especially in the afternoon). The cost was included in the package (4 nights Arrollodge + transport), see under accommodation.
In Antananarivo,
taxis
to/from the airport were 5000 MGA to hotel Manoir Rouge in the Ivato area, very close to the airport. The transport from the airport to Manoir Rouge is free for guests as long as they are informed about your arrival time.
Taxis between Manoir Rouge, or anywhere in the Ivato area, and the city centre (Haute Ville) were 20.000 MGA.
Accommodation
| | |
| --- | --- |
| Antananarivo | various hotels in all prices ranges available; we tried Manoir Rouge (close to the airport) and Tropic Asia,... |
| Montagne d'Ambre NP | campsite next to the reserve accommodation. The park seems to be popular during weekends as we saw many tourists leaving on Sunday afternoon. |
| Antsohihy | Hotel la Plaisance |
| Bemenavika (Pochard site) | camped at the research site. |
| Ankarafantsika NP | camped at the reserve center |
| Mahajunga | Hotel 5/5 |
| Tsiroanomandidi | very basic hotel (forgot the name) |
| Maintirano | |
| Lac Mandrozo (Sakalava site) | camped on the research camp site. |
| Masoala peninsula | camped on the Arrol Lodge grounds. We were upgraded for free to some bungalow-style huts for the last 3 nights |
| Tolagnaro (Fort Dauphin) | Hotel Gina Village (ginavillage@yahoo.fr) |
| Andohahela NP | camped in the village of Ishaka |
| Berenty reserve | |
| Ifaty | |
| Toliaro | |
| Anakao | |
| Isalo NP | Hotel l'Orchidee, Ranohira |
| Ranomafana NP | Hotel Le Grenat |
| Anjozorobe NP | |
Money
2800 MGA (Ariary) = ± 1 EUR. Only VISA (no Mastercard) is accepted at ATM's! ATM's (mostly the French Credit Agricole) were found at the airport (international arrival), in the centre of Antananarivio (e.g. near the presidential palace), and in other big cities (e.g. Mahajunga). We could withdraw no more than 400.000 ariary/transaction. We also exchanged some euros.
Weather
In the north, we experienced sunny and dry weather except for a heavy thunderstorm on the way from Ampijoroa to Antananarivo, and some more rain on the way to Maintirano. Due to this rain, we could not make a normally passable river crossing with our 4-wheel drive vehicle north of Maintirano towards Lake Mandrozo.

The Masoala Peninsula was hot and very humid but no rain.

The south was very hot and dry, every day.

In Ranomafana we had one day with some drizzle, but never too hard to make birding impossible. All other days were dry and sunny.
Health and safety
It is recommended to take Malaria prophylaxis (Lariam or Malarone) throughout a stay in Madagascar. Most health complaints have to do with food hygiene and the effects on digestion. In general, it is recommended to drink bottled water or have some purification ready if bottled water is not available/expensive (e.g. Bemenavika, Lake Mandrozo, Masoala). Madagascar is not particularly unsafe, but it is best not to walk through certain parts of Tana at night. Poverty is very much present everywhere, so it is recommended not to show off your expensive belongings or money while on the streets.
Parks & guides
While preparing the trip we suffered a lack of useful information, but after all it ended up fairly easy as all local travel agents and the drivers seem to know how to reach the National Parks and other birding sites. We were also lucky to have Lily showing us around.

In about every park hiring local guides is obligatory. Often (specialized) guiding fees are quite pricy. Most birding guides used were very good in their birding skills, finding stake-outs and languages (EN and FR). Furthermore one needs to pay entrance fees, touristic fees and for the different circuits you want to visit. At times the total fee was rather high and we had the feeling that sometimes they just tried to add some more, which we tried to talk down. On the other hand we were happy to see that at least there are some parks protecting the very last patches of forest. Most of the country has been drastically ruined...

When visiting Madagascar independently, make sure to check the sites of the major bird tour companies in order to avoid too much overlap. They'll defenitely have the best birding guides and accommodation. We did this as well and never had this problem.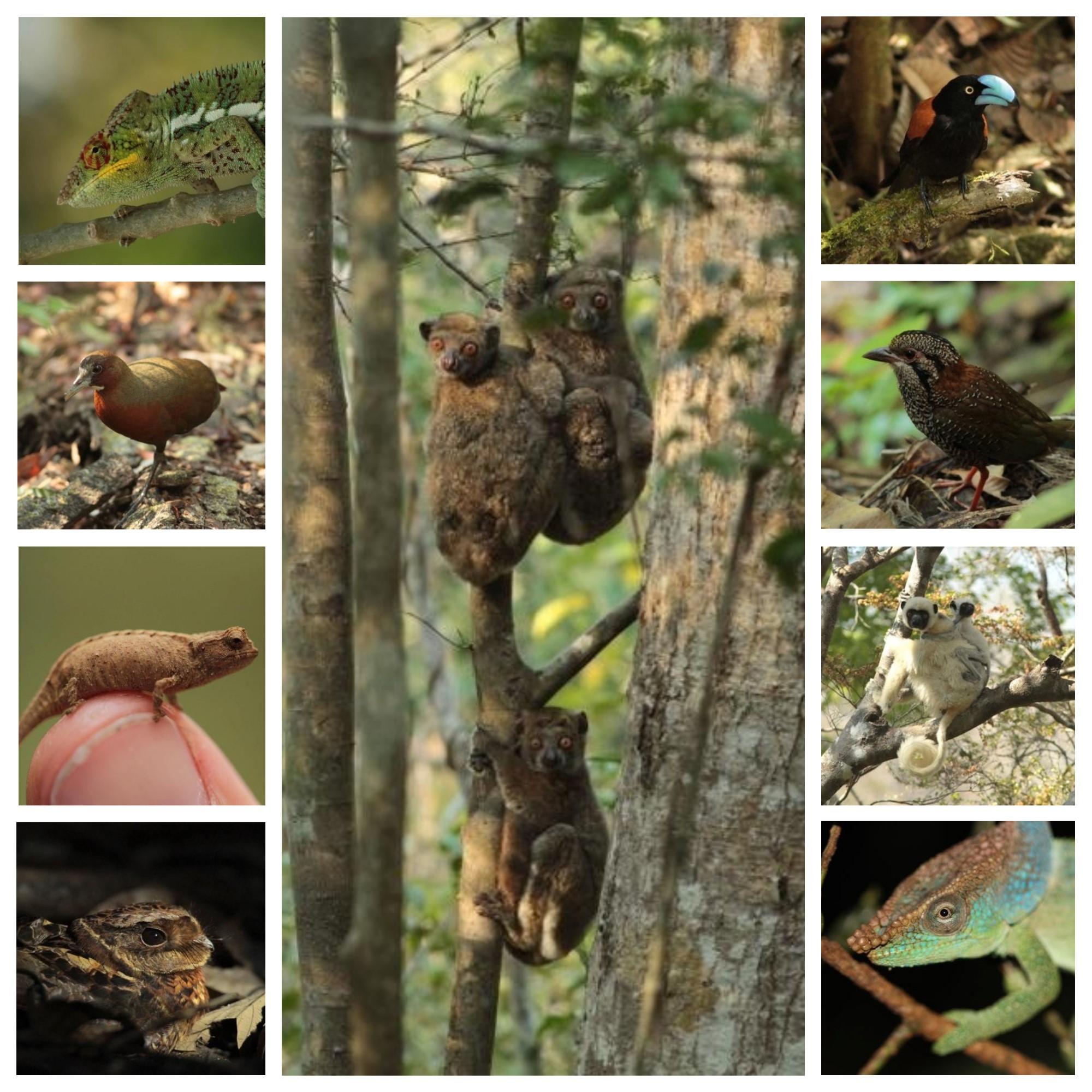 © Lieven De Temmerman
VISITED SITES

Below is a list of the sites we birded. We mainly used the sparse independent trip reports and searched the whole internet for any advice, tips and tricks. We also bought some older trip reports of Jem Babbington (1995) and Brian Gee (1998) through the African Bird Club website, which includes maps of most areas, but these reports do not mention the more recently discovered birding sites such as the lakes near Bemenavika for the Madagascar Pochard, the Anjozorobe forest and marshed or the Andohahela forest for Red-tailed Newtonia The information in the Madagascar section of the Southern African Birdfinder by Cohen et. al. added little extra information to these older reports.
Montagne d'Ambre NP

Amber mountain is the only site where one can see the Amber Mountain Rock-thrush (recently lumped by Clements). Many more non-restricted endemics were found during the one afternoon we birded here, making this site an excellent introduction to Madagascar endemics. The reserve accommodation is about 1hr from Diego with private transport.

We first birded the last few kilometers of the entrance road towards the campsite. Later on we birded the trail leading to the waterfall. The Rock-thrush should be sought along the stream just before and after the camp site.

Guide: No guide needed to walk along the entrance road and near the camp site. Later on some of the present guides were happy to show us some chameleons and lizards.

Highlights: (Ambre) Forest Rock-Thrush (one obliging bird near the campsite towards the waterfall -12.532047, 49.169955 and another along the ... trail), Pitta-like Ground-Roller (1 bird taped in along the entrance road and bumped into 2 others), Madagascar Ibis (2 birds on the trails near the campsite).
Bemenavika (Pochard site)

Only very recently the once thought to be extinct Madagascar Pochard had been rediscovered. At the moment of our visit there were 29 known wild birds. A breeding program has been set up already and the first captive hatchlings are being raised. There are plans to release them in the near future!
From the coastal city of Antsohihy we followed the road towards Bealanana. From there, a rough road, only passable with high clearance 4WD, took us in 2hrs to the village of Bememavika. In the wet season, it can take 1-2hrs more, or the road can even become impassable.

The campsite of the Peregrine fund (-14.348303, 48.579703) is located at a small stream, about 20 minutes walking from the Pochard site. A large grassy area with Reunion Harrier and lots of Madagascar Cisticola has to be crossed to reach any good forest or one of the lakes. We arrived in the late afternoon and quickly walked to the day roost of Red Owl, Long-eared Owl and the Pochard lake.

The second full day, we some excellent forest holding a lot of vanga species, 2 species of Asity (Yellow-bellied should also be possible) and dozens of Spectacled Greenbuls. At night we heard both Malagasy and Torotoroka Scops-Owl. Unfortunately, the radio-tagged Madagascar Serpent-eagle was not found during our stay. Most probably the battery of the transmitter died as it the bird was tagged about 2 years ago. The Peregrine fund is planning to tag another Serpent-eagle as soon as they find an active nest.

Guide: As this area is home to some very endangered animals, the people of the Peregrine Fund do their very best to protect the area. It is defenitely the best not to show up there on yourself but seek contact with the fund! It should be possible to aarrange a stay at the research camp and local assistants taking you around and show you the birds.

Highlights: Madagascar Pochard (4 on the pochard lake -14.33274, 48.589386), Madagascar Red Owl (1 radio-tagged bird on its day roost, near -14.329224, 48.581161), Reunion Harrier (1 hunting bird in the grassy areas - by some authors split as Malagasy Harrier), Meller's Duck (daily small numbers), Madagascar Long-eared Owl (1 adult and 1 chick on a nest), Henst's Goshawk (1 adult on a nest), Velvet Asity (1 female), Sunbird Asity (3 single birds), Madagascar Grebe (good numbers at the pochard lake), Madagascar Rail (an very tape respionsive pair at -14.331674, 48.588098), Nuthatch-Vanga (1 single bird, apparently never observed before at this site).
Ankarafantsika NP (near Ampijoroa)

We arrived around midnight from Bemenavika at the headquarters (GPS) of the Ankarafantsika reserve and put our tents at the camping area. We were determined to only spend one day at the site in order to save some time. So early next day, we secured one of the best local bird guides and found most of the target birds easy. Only Schlegel's Asity took some more time and work.

The nearby Lac Ravelobe is a good place to scan for some waterbirds and the ever present Fish-Eagles. The best viewpoint is right opposite the foodstalls next to the HQ (GPS).
Behind the lake there is a grid-like trail system leading through some lush forest. It starts about here (-16.30148, 46.812920) with a short boardwalk section. This is were the Asity holds several territories.

Right behind the HQ, a trail goes up the plateau. The forest is drier and is a better place for finding couas and the vanga.

Guide: We had Jacky as our guide. He knew the birds very well as well as the sites for to find them. He wanted us to pay for 3 circuits on one morning though ...

Highlights: Schlegel's Asity (a pair in a fruiting tree at the trail system accross the HQ at -16.295586, 46.814396), White-breasted Mesite (a party of at least 3 birds was seen on the trail system not too far from the Schlegel's), Van Dam's Vanga (3 birds at the plateau grid at -16.317958, 46.811102), Red-capped Coua (only 1 silent bird encountered on the plateau grid), Coquerel's Coua (4 birds, all on the plateau grid), Madagascar Fish-Eagle (both days present at the Lac Ravelobe, max 2 birds), Madagascar Jacana (2 birds between the vegetation at Lac Ravelobe), Humblot's Heron (1 bird on both days at Lac Ravelobe), Madagascar Pygmy-Kingfisher (a single tame bird perched inside the forest close to the HQ).
Betsiboka delta (near Mahajunga)

Lily arranged a boat for 100.000 MGA + gasoline from the Mahajanga port (-15.725685, 46.306381) which was a very good deal. We left around 7AM, and the tide was high. This gave some initial trouble where to look for the Bernier's Teal. We saw one fly-by soon, but fortunately had better views of 2 males fighting for a female further upstream. It took some time to find the Ibis |exposed mudflats, as they tend to sit out of sight in the mangroves during high tide.

The second group went out with low tide (on our advice) and had much higher numbers and some extra species.

Guide: At least you need a boatman tot take you around. Clearly, all the local boatmen know the tide very well. You might show your bird guide to ask specifically to see the teal and the ibis.

Highlights: Bernier's Teal (several small groups were seen close to the muddy islands in the river, mainly near -15.902457,46.336006), (Madagascar) Sacred Ibis (2 birds in the same area), Crab Plover (a flock of 16 birds on the shores of the river).
Tsingy de Bemaraha (near Beanka)

The main (dirt) road between Antananarivo and Maintirano runs through vast areas of dry grassland with a few large tracks of semi-dry forest along the road (probably parts of the Ambohijanahari Reserve). At Beanka, it cuts through the Tsingy de Bemaraha , which is the type location of a newly described Wood-Rail. The weather was still fine during our visit only with a few showers. Hence it was relatively easy to pass with a 4WD, but it took up to 11 hours from Tsiroanomandidi. Later in the year, when the rain comes, it might become very hard to pass and probably not unlikely to become impassable... People in the small village of Ambinda (-18.030071, 44.494139) can act as trail guides in order to get a better chance finding the bird.

Guide: As this is also part of a national park, it is probably obligatory to have a local guide. We found a young guy in the nearby village to show us all the small trails. Birding along the main road is probably possible on your own. We gave him a tip but it didn't seem very official.

Highlights: Tsingy Wood-rail (a couple after playback allowing very good views at -18.063053, 44.530401), Madagascar Harrier (en route along the dirt road between Tsiroanomandidi and Maintirano at -18.309787, 45.567959 and -18.453959, 45.891437), Madagascar Sparrowhawk (en route at -18.264351, 45.453977), Madagascar Sandgrouse (en route at -18.135406, 44.978510), Madagascar Partridge (en route at -17.940363, 44.789612).
Lac Mandrozo (Sakalava rail site near Maintirano)

When making plans to include Beanka for Tsingy Wood-Rail, Lily mentioned a 'nearby' lake where Sakalava Rail is present. So we decided to skip the expensive crossing of the Betsiboka Delta near Mahajunga to get to lake Kinkony (see below), and used that time to search for the Sakalava Rail on Lac Mandrozo (aka Mandrouche), north of Maintirano. In the end, reaching Lake Mandrozo took more time and effort than we had expected, but we made it nevertheless. Reaching the lake from Maintirano involved 2 river crossings (1 on foot and 1 in wobbly wooden canoes) and 4 hrs on the back of an off-road motorcycle.

As far as we understood the local chief, women are not allowed to go on the lake because of some kind of fady (prohibition) from the nearby villagers, who have to be asked permission. We camped at the Peregrine Fund research camp (-17.562932, 44.069893).

Guide: The same remark as at the Bemenavika site. Please contact people of the Peregrine Fund prior to your visit. The friendly staff took us on a canoe trip early morning.

Highlights: Sakalava Rail (one seen at very close range from the canoe on an island at -17.560673, 44.089257), Madagascar Fish-Eagle (one calling and seen perched), Madagascar Jacana (some), Madagascar Grebe (only 2 birds seen).
Lake near Maintirano

On the road between Maintirano and Lac Mandrozo, we saw a nice (but maybe seasonal) lake with a lot of waterlilies (-18.011855, 44.0347). We decided to check the waterfowl on the way back coming from Lac Mandrozo. Unfortunately there were a handful of well organized hunters. We might have prevented them from shooting by our presence. At least for that day...

Guide: No guide needed here.

Highlights: African Pygmy-Goose (common), White-backed Duck (some pairs), Madagascar Jacana (fairly common)
Masoala peninsula (Arrol Lodge, south of Ambanizana)

We stayed at the Arrol Lodge, which was conveniently situated as some target species were found either 20 minutes walking north towards the Masoala park, or 40 minutes south. Most species could readily be found on the trails starting just behind the lodge and crossing a low ridge. As we stayed four days and saw most of our target birds within two days, we could even do some snorkeling and swimming...

Guide: We got the company of two guides (Olivier and Josef) who were transferred together with us on the boat from Maroantsetra. Especially Josef (???) knew the birds and the places where to search for them.

Highlights: Helmet Vanga (one at the nest, and approx. 1 sighting daily, first one at -15.697716, 49.963762), Bernier's Vanga (-15.73061,49.968786), Scaly Ground-roller (1 couple -15.699455,49.964857), Short-legged Ground-roller (1 couple), Brown Mesite (a couple after playback at -15.700894, 49.965748), Collared Nightjar (found day roosting by our guides at -15.71115, 49.964307 and at -15.703337, 49.968178), Red-breasted Coua, Madagascar Ibis, Madagascar Pratincole, White-browed Owl, Madagascar Pygmy-Kingfisher, Banded Kestrel, Nuthatch-Vanga, Crossley's Babbler (-15.718806, 49.965011). One early morning we observed a low flying raptor from a watchpoint that might have been a Madagascar Serpent-Eagle. Although the jizz (shape, size, flight action) felt right, it was too short and far to be sure...
Tolagnaro (Fort Dauphin)

We briefly visited the harbour of Tolagnaro (-25.0268, 46.996266) in order to find the local subspecies of Kelp Gulls. As we had some spare time we tried some seawatching at (-25.030249, 46.999780). It appeared a good site to spot tens of whales.

Guide: No guide needed here.

Highlights: (Madagascar) Kelp Gull (several near the harbour and along the rest of the coast).
Andohahela NP

This park is probably the best site to see the Red-tailed Newtonia. On our first day we explored the wet forest in the Manangotsy area. There is some kind of a vague trail that starts at (-24.769999, 46.861329). After a crossing an open area, the trail becomes more clear to follow. It passes some stream crossings and then it goes up the mountain ridge again. From here onwards it is best to look for mixed species flocks to find the newtonia (see coordinates below).

En route to the Berenty Private Reserve there is a much drier part of this park. The Mangatsiaka area holds some good spiny forest and thus species similar to the Berenty park. On the main road turn off at (-24.996356, 46.544802), continue for a few kms on a dirt track and park at (-24.967556, 46.553527). From here there are a few well maintained trails to explore the area.

Guide: Via via we met Narcissus who is a guide for Madagascar National Park. He arranged the logistics for the 2 day trip. He was very friendly and helpful. He could show us the area where to look for the newtonia but knew little about other bird species.

Highlights: Red-tailed Newtonia (we observed 1 single bird high up in a mixed feeding flock and our way out we saw 2 singing birds almost at the same spot at -24.755483, 46.85243 in the Manangotsy part of the NP), Madagascar Cuckoo-Hawk (1 bird flew right above our heads in the Mangatsiaka area at -24.968228, 46.559262, a nice bonus!), (Green-capped) Red-capped Coua (1 bird in the Mangatsiaka part), Running Coua (1 seen and a few heard in the Mangatsiaka part), Banded Kestrel (1 bird in the Mangatsiaka area), Archbold's Newtonia (2 seen and 1 more heard in the Mangatsiaka area).
Berenty Private Reserve

In contrary to most other sites, this park is privately owned by Le Dauphin (SHTM). Within the compound of this large sisal company there are a few protected remnants which are a stronghold for some species. We mainly included this park as it used to be one of the most reliable sites for the Madagascar Cuckoo-Hawk, although there was no known nest at the time of our visit. In hindsight we could have skipped this site as we had already seen our only target (the Cuckoo-Hawk) in Andohahela, but that was not possible as we had booked flights...

Prices for the lodging and the food are quite high but the guiding fees are included. The website states that transport back and forth the reserve should be done through their own company. We don't know what they would say if one just turns up there - would be very convenient if comming from the nearby Mangatsiaka part of Andohahela, but wouldn't take the risk...

We tried to make contact by e-mail but never received any answer! Contacting local travel agents who offered this package were just too expensive. In the end we made the arrangement just by showing up in Hotel Le Dauphin in Tolagnaro just a couple of days on beforehand. This proved to be very straightforward and much cheaper than other options. Bear in mind that many tourist groups (bird companies and 'regular' ones) favour this park. It might be safer to book in advance during the high season.

Birding can be done starting right from the lodge as its adjacent a patch of gallery forest.

Another habitat and other bird species can be found in the remnant patches of spiny forest. These can also be visited during night excursions.

Guide: It is obliged to walk around in the company of a guide. The costs are included in the total packege price. We had Justin (not sure), a birding guide and knows most of the birds and places to look for them.

Highlights: Madagascar Cuckoo-Hawk (a single bird observed by a few of us in the gallery forest at -25.005204, 46.304517), Giant Coua (ridiculously common and easy to see in the gallery forest), Lafresnaye's Vanga (1 bird taped in in a spiny forest patch at -25.032188, 46.29786), (Green-capped) Red-capped Coua (a handful of birds encountered bsight and voice in the spiny forest pacthes), Madagascar Sandgrouse (a group of 13 birds flushed early morning from the airfield at -25.004825, 46.294343), Running Coua (1 single bird in the spiny forest), White-browed Owl (in the gallery forest we observed several birds at their day roost where they were very vocal at night), Torotoroka Scops-Owl (commonly heard and easily taped in several birds, mainly in the spiny forest), Archbold's Newtonia (2 birds in the spiny forest).
Ifaty

The coastal spiny forest near the village of Mangily (often referred to as Ifaty) holds several highly wanted birds. Most people tend to visit privately owned Moosa Park, but there are several other options... We arrived rather late in the village but easily found Moosa and some relatives near the entrance of the park (-23.122452, 43.614595). We made arrangements to acces the park next day early morning in company of a guide.

On our way back to Toliara we birded near some roadside ponds.

Guide: As these parks are private, one needs to go with a guide. We had Gila and another guy to show us all their the staked-out birds. Within 2.5 hours we were ready with that. They were very time efficient but we felt like walking in a zoo as we were walking from nest to nest...

Highlights: Long-tailed Ground-Roller (an unshy pair was observed near their nest hole in the ground in Moosa Park at -23.119393, 43.622427), Subdesert Mesite (we had views of a male that had been chased into a tree by our guides at -23.117233, 43.622246 where it stayed motionless for a while), Thamnornis (in Moosa Park first seen at -23.118486, 43.622815, several more oserved later on), Madagascar Plover (on our way back to Toliara we found 3 birds at a temporal pool -23.159904, 43.615188), Running Coua (2 birds in Moosa Park), Banded Kestrel (a pair next to their nest in Moosa Park at -23.122278, 43.633431), Archbold's Newtonia (2 birds seen in Moosa Park).
La Table NP (near Toliara)

Just half an hour south of Toliara not La Table itself, nearby area. About 17km along the main road from Toliara to Antananarivo Take the dirt road right at -23.410218, 43.801039. The trail starts at -23.411367, 43.802868

Guide: We went together with Moosa (see in the Ifaty section). Although the entrance seemed free, he needed to talk to the local army men to let us in. According to Moosa, the area is protected and cannot be entered on your own. But we didn't see any sign stating so.

Highlights: Red-shouldered Vanga (1 bird heard calling distantly and then seen at very close distance along some kind of trail at -23.413184, 43.807623), Verreaux's Coua (only 1 bird seen, not far from the RS Vanga), Lafresnaye's Vanga (3 birds).
Toliara mudflats (Tulear)

At low tide, a huge mudflat becomes visible just west of Tulear, both north and south of a long jetty into the sea. A part of this was clearly visible from the restaurant of our hotel (-23.363443, 43.666964). Usually thousands of waders are present, althoug the birds were often too far tob e seen from the beach, and the best option is to explore the mudflat on foot. Be carefull when doing so, as this area also acts as a huge public toilet!

Guide: No guides needed here.

Highlights: Crab Plover (a handful of these birds were present on the mudflats amongst huge numbers of other waders; at low tide only).
Anakao & Nosy Ve Island

Anakao is a small village located ca. 40 km south of Tulear with a broad range of tourist accommodations. It can easily be reached from Tulear by a speed boat that run daily between Anakao and Tulear in the morning hours, orby a more expensive private boat that can also be arranged by tour operators around harbour. The xeric coral rag vegetation in the dunes surrounding Anakao is very poor in birds, but it is one of the few locations where Littoral Rock-Thrush can easily be seen.


In addition, the breeding colony of the spectacular Red-tailed Tropicbirds on the nearby Nosy Ve island forms a major tourist attraction. Trips to this island in a small dhow can be arranged by local boatmen, but due to the wind conditions, an early start to the island strongly adviced.

Guide: Anakoa can be birded/visited by yourself. To get to Nosy Ve a boatman and guide will take you there. We were joined and showed around by one of the staff members of the lodge. We didn't have to pay for his assistance, but we were charged some kind of 'community tax' to land on the sacred island of Nosy Ve...

Highlights: Littoral Rock-Thrush (several birds readily found in the coral rag of Anakao, just between our accommodation and the village, near -23.6509, 43.652339), Red-tailed Tropicbird (about 50+ observed in the year-round breeding colony of Nosy Ve Island). Unfortunately there was no sign of a sporadically encountered White-tailed Tropicbird. Some of us did see it later in the Mascarenes though...
Zombitse-Vohibasia NP

Situated along the main road between Tulear and Isalo, the dry Zombitse forest is the only site where the restricted range Appert's Tetraka can conveniently be found. We birded the trails around the park's Headquarters, both north and south of the main road. Since we only arrived after noon, bird activity was very low and it took a long while before we saw the tetraka.

Guide: We had the company of our only female guide of the trip; she was not a birder at all. Later on we met another guide on the forest trails who joined us searching for the tetrakas.

Highlights: Appert's Tetraka (2 very tame birds observed in the lush forest at -22.883604, 44.693963), Giant Coua (a single bird), Coquerel's Coua (several birds seen and more heard), Madagascar Ibis (a single bird, here of the urschi subspecies).
Isalo NP

This surely is a scenic national park. It is situated en route from Zombitse to Ranomafana and visited by birding groups for the potentially split of Forest Rock-Thrush. There is plenty of accommodation. We left the nicely situated but expensive lodges aside and opted to spent the night in the town of Ranohira where prices are much cheaper.

We did not enter the park itself but started off with some roadside birding. We walked into the grassy fields along the main road westwards (see coordinates below) listening for calling quails and later on flushing them.

The main target however can be easily found on the rocky outcrops. We tried our luck (not really needed) behind Hotels de La Reine and Le Jardin du Roy where one can walk freely.

Guide: No guides needed here, except when you want to visit the park properly.

Highlights: (Benson's) Forest Rock-Thrush (at least 2 birds seen and 1 other heard near the rocky outcrops at -22.649566, 45.334541), Harlequin Quail (flushed several calling birds from the recently burned areas at -22.574082, 45.410752)
Ranomafana NP (incl Vohiparara)

We started birding the lower parts of the park, just a few km up the village of Ranomafana. The trail of the Varibolo circuit starts at (GPSxxx) and goes through some nice forest. Birding was somewhat slow here.

Most of the time however was spent on the Vohiparara circuit. The trail head is at (GPSxxx) and goes up a ridge. Most bird species can ben seen all along the trail, only for the Yellow-bellied Sunbird Asity it is probably necessary to climb up the ridge for about 45'. Checking flowering trees proved to be the best strategy for us.
One midday was spent looking for snipes in a small remnant marshy area between the many rice fields near the village of Halakinresy. We asked permission to walk though the fields and slowly walked on a line to flush the snipes. As soon as we saw one we stopped doing so in order not to disturb this/these bird(s). Probably it won't take too long before this marsh will be converted into agricultural fields as well...

The very last morning was spent at a stake-out for Gray Emutail. The Circuit Amboditanimana starts at (GPSxxx) and goes uphill and down again towards a scrubby and later on marshy area. We followed the Akaka trail - his was not really necessary as later we would easily get the emutail in Anjozorobe as well...

Guide: We used the services of several guides. The better bird guide was definitely Lloret as he knew every sound and had good spots for every wanted species. He gave somehow an absent general impression, but was very sharp when it came to birds. He charged some extras compared to the other guides as his specialization apparently is good bussinuess; he leads many birding groups. The first morning way went in company of a bird guide, but clearly a less experienced one. The last day we went together with a young guy starting off as a (birding) guide.

Highlights: Yellow-bellied Sunbird Asity (1 female feeding on flowers of a coffee plant in the Vohiparara area at -21.232999, 47.402267), Pollen's Vanga (several small vocal groups encountered, often aomngst other vangas), Ward's Flycatcher (2 single birds seen at both sites), Rufous-headed Ground-Roller (several heard and seen in the Vohiparara area, not too difficult), Pitta-like Ground-Roller (regularly heard and seen, even |playback, mainly in the Vohiparara area), Brown Emutail (several seen and more heard, mainly in the Vohiparara area -21.235648, 47.398234), Gray Emutail (several birds taped in at the marshy area of Amboditanimana -21.194429, 47.372228), Madagascar Snipe (flushed at a small marshy area amidst rice padies at -21.171329, 47.340903), Wedge-tailed Jery (several flocks encountered in the Vohiparara area), Meller's Duck (4 birds on the river near the Amboditanimana marshy area), Henst's Goshawk (1 adult bird near its nest), Sunbird Asity (1 bird only), Crossley's Babbler (2 very cooperative birds in the lower Ranomafana area), Cryptic Warbler (small numbers seen, the most cooperative birds singing along the main road at -21.240903, 47.39271), Yellow-browed Oxylabes (one flock of several birds moving low through the dense understorey of the Vohiparara area at-21.233489, 47.401906), Gray-crowned Tetraka (2 times a single bird recorded in a mixed species flock in the Vohiparara area, typical tree climbing behaviour), Forest Fody (a few 'pure' birds seen in the Vohiparara area while the majority showed signs of hybridisation).
Anjozorobe NP

The main attraction for birders is the presence of Slender-billed Flufftail. These days it is the most reliable and accessible site as older stake-outs seem to have dissappeared. In the village of Anjozorobe we chartered 4WD to take us up the Mananara Lodge (HYPERLINK), which is about 10km further. The lodge is regularly frequented by birding companies but they seemed somewhat surprised to receive independent visitors. Nevertheles the staff welcomed us friendly and summoned a guide to show us around.

The first area to visit was the marshy area where the flufftail occurs. Walking back from the lodge to the village, take the first clear dirt road right. After a while this somwhat ends but continous as a clear foot path. It goes down until it hits the marsh. We walked knee-deep through the marsh and followed the obvious track that cuts through it, as many visitors have gone there before...

Later on we also tried our luck on the trail system above the lodge. It goes up the ridge and then makes some kind of a loop.

Guide: We were joined by a non-birding but very friendly guide. Basically he was able to show us the site for the flufftail and he knew some bird and mammal sounds.

Highlights: Slender-billed Flufftail (we observed a single bird on two occasions in the marsh at -18.439304, 47.945001; it was little vocal and did not react too responsive to playback, probably overtaped...), Madagascar Snipe (a few seen daily in the flufftail marsh, they were roding at night), Gray Emutail (several at the flufftail marsh), Brown Emu-tail (2 birds in the forest understory at -18.447435, 47.952582), Meller's Duck (3 birds flying overhead at the lodge), Henst's Goshawk (1 bird flying close to the lodge), Madagascar Rail (several very tape responsive birds in the flufftail marsh), Pitta-like Ground-Roller (1 seen and more heard), Sunbird Asity (1 bird only), Crossley's Babbler (1), Cryptic Warbler (1), Yellow-browed Oxylabes (a flock of at least 3 birds, very tape responsive), Gray-crowned Tetraka (a flock of at least 5 birds including young ones near -18.444194, 47.947793).
EXTRA SITES
As our roads splitted, Geert, Nicolas and Kevin were off the next day for an adventorous trip towards the northwest of Madagascar. Their aim, to catch up with some more species the others had already seen before.
Lac Kinkony

With a surface area of ca. 14.000ha Lac Kinkony is the second largest lake in Madagascar, situated in the northwest at sea level altitude. Since 1971 the shallow lake has been protected as an integral part of the nature reserve Complex Mahavavy Kinkony, being 300.000ha in total. Varied biotopes are found here: open water, sandy river banks (mainly along the river Mahavavy), and extensive wetlands consisting of reeds, high brushwood vegetation and wet forests.

At 4AM we left from Mitsinjo to the banks of the river Mahavavy. The dusty walk to the river banks were good for some Madagascar Night-Jars. Our peroque, all day long being rowed by two young lads and their captain, took us up to the broad tidal river. From the peroque we've focused on the river banks for some birding. Highlights during the early morning were several Humblot's Herons, White-fronted Plovers, many Madagascar Sandgrouses (one group up to 18 individuals) and quite common Madagascar pratincoles. Also an Eleonora's Falcon was nicely perched alongside the river. We arrived approximately at 10AM at Makaray village. Here we switched peroques, and the friendly local guide Mr. Tavares took us on a 2h peroque trip through the Kinkony wetlands. After about 1h rowing through dense reeds and thickets we spotted the most wanted Sakalava Rail. Four adults and a juvenile bird were easily seen and heard, even on nest. Also, we picked up Hottentot Teal, Fulvous Whistling-Duck, Comb duck, Pygmy Goose, Little Bittern and Madagascar Jacana, and added African Spoonbill to the total trip list. On our way back we've spotted Decken's Sifaka along the river banks, and flushed some Madagascar Sandgrouse along the dusty track back to Mitsinjo.

Guide: Mr. Tavares (from Makary) guided through the Kinkony wetland; Jean-Cesar arranged a meeting with the Mitsinjo parc office and afterwards our private 4x4 transport out of Mitsinjo

Highlights: Sakalava Rail, Humblots Heron, Madagascar Pond-Heron, Madagascar Sandgrouse, (Madagascar) Sacred Ibis, Madagascar Jacana, Madagascar Harrier-Hawk.
Andasibe-Mantadia NP (Perinet)

Situated at the east, the Andasibe-Mantadia National Park is one of the largest in Madagascar. In total the park consists of 155km2 primary forest growth at 900-1250m of altitude. However, slash-and-burn, logging and Eucalyptus forestry put a lot of pressure on the parc's integrity.

As we still had one spare day before our return, we arranged for private transport from Tana with Ben from Visit Mada Tours (Benjamin Raveloarimanana visitmadatours@gmail.com; (0026120)2478250 / (00261)331131924; www.madagascar-tour.com), to Perinet. Aming for Madagascar Grebe and Madagascar Long-eared Owl, we left at 5AM. After a 3h15 drive we arrived at the parc headquarters and picked up two guides at the spot. Flore (jumelleaf@gmail.com; 0349611340), who was still 'learning the job' and bird guide Sambo knew the spots well. The 1h30 drive into Mantadia proved worthwhile as we soon saw Madagascar Grebe at some small pond aside a couple of Meller's Duck. Our short walk into the Mantadia forest was less successful, although we had 'petting views' of two male Indri's and Mantella baroni. Just recently a day roost of Madagascar Long-eared Owl was rediscovered. We searched the pine trees very intensively, but |success. It took us until 18h30 as we heard one individual calling in the distance. Nat able to tape it in, we decided to try our luck on an other spot nearby the parc headquarters. We heard one individual calling from the car, hit the breaks and one 'full grown' juvenile nicely perched overhead while an adult bird was calling further on (and which we were not able to tape in, again.). At 19h30 we left for Tana to reunite with the Mascare crew and have a drink.

Highlights: Madagascar Long-eared Owl, Ward's Flycatcher, Madagascar Grebe
FULL TRIP LIST
Taxonomy strictly follows Clements' 6th Edition (incl. updates). The list only contains species positively identified by at least one of our group. Birds identified by guides or other people only are not included, presumed species neither...
[206 species]
White-faced Whistling-Duck
Dendrocygna viduata
19/10/2012 - Ankarafantsika NP - 50+
22/10/2012 - en route - a few
24/10/2012 - Lac Mandrozo (Sakalava site) - 50+
28/10/2012 - Masoala - 2
29/10/2012 - Masoala - 3
04/11/2012 - Andohahela NP (Mangatsiaka) - 4 en route
05/11/2012 - Berenty - 50+ en route
06/11/2012 - Berenty - 2
Fulvous Whistling-Duck
Dendrocygna bicolor
24/10/2012 - Lac Mandrozo (Sakalava site) - 50+
White-backed Duck
Thalassornis leuconotus
24/10/2012 - Lac Mandrozo (Sakalava site) - ssp insularis - 9
Comb Duck
Sarkidiornis melanotos
15/10/2012 - en route - ssp melanotos - 3
19/10/2012 - Ankarafantsika NP - ssp melanotos - 2
22/10/2012 - en route - ssp melanotos - 4
24/10/2012 - Lac Mandrozo (Sakalava site) - ssp melanotos - 10+
African Pygmy-Goose
Nettapus auritus
24/10/2012 - Lac Mandrozo (Sakalava site) - 50+
Meller's Duck
Anas melleri
Endangered (EN)
Country endemic
16/10/2012 - Bemenavika (pochard site) - 3
17/10/2012 - Bemenavika (pochard site) - 4
14/11/2012 - Ranomafana NP - 4
16/11/2012 - Anjozorobe NP - 3
Red-billed Duck
Anas erythrorhyncha
16/10/2012 - Bemenavika (pochard site) - 4
17/10/2012 - Bemenavika (pochard site) - 10+
20/10/2012 - Betsiboka delta - 5+
08/11/2012 - Ifaty - 6
11/11/2012 - Isalo NP - 20+ en route
14/11/2012 - Ranomafana NP - 2
Bernier's Teal
Anas bernieri
Endangered (EN)
Country endemic
20/10/2012 - Betsiboka delta - 10+
Madagascar Pochard
Aythya innotata
Critically endangered (CR)
Country endemic
Restricted range
16/10/2012 - Bemenavika (pochard site) - 3
Helmeted Guineafowl
Numida meleagris
22/10/2012 - en route - a few
24/10/2012 - Lac Mandrozo (Sakalava site) - a few
25/10/2012 - Tsingy de Beanka - a few en route
31/10/2012 - Masoala - a few
05/11/2012 - Berenty - a few
06/11/2012 - Berenty - 20+
10/11/2012 - Zombitse NP - a few
11/11/2012 - Isalo NP - a few
Madagascar Partridge
Margaroperdix madagascarensis
Country endemic
22/10/2012 - en route - 3
25/10/2012 - Tsingy de Beanka - 2 en route
05/11/2012 - Berenty - 1
11/11/2012 - Isalo NP - 1 en route
14/11/2012 - Ranomafana NP - 1 male
Harlequin Quail
Coturnix delegorguei
11/11/2012 - Isalo NP - ssp histrionica - 3 seen + a few more heard
Little Grebe
Tachybaptus ruficollis
24/10/2012 - Lac Mandrozo (Sakalava site) - ssp capensis - 25+
08/11/2012 - Ifaty - ssp capensis - 10+
Madagascar Grebe
Tachybaptus pelzelnii
Vulnerable (VU)
Country endemic
16/10/2012 - Bemenavika (pochard site) - 30+
17/10/2012 - Bemenavika (pochard site) - 15+
24/10/2012 - Lac Mandrozo (Sakalava site) - 2
Greater Flamingo
Phoenicopterus roseus
06/11/2012 - Berenty - 3
08/11/2012 - Ifaty - 6
Wedge-tailed Shearwater
Puffinus pacificus
02/11/2012 - Fort Dauphin - 50+
07/11/2012 - Fort Dauphin - 5+
Red-tailed Tropicbird
Phaethon rubricauda
09/11/2012 - Anakoa & Nosy Ve Island - ssp rubricauda - 50+
African Openbill
Anastomus lamelligerus
24/10/2012 - Lac Mandrozo (Sakalava site) - ssp madagascariensis - 11
Long-tailed Cormorant
Phalacrocorax africanus
18/10/2012 - en route - ssp pictilis - 1
19/10/2012 - Ankarafantsika NP - ssp pictilis - 2
27/10/2012 - Masoala - ssp pictilis - 2
01/11/2012 - en route - ssp pictilis - 2
African Darter
Anhinga rufa
19/10/2012 - Ankarafantsika NP - ssp vulsini - 2
20/10/2012 - Ankarafantsika NP - ssp vulsini - 1
23/10/2012 - en route - ssp vulsini - 1
04/11/2012 - Andohahela NP (Mangatsiaka) - ssp umbretta - 2 en route
06/11/2012 - Berenty - ssp umbretta - 4 en route
15/11/2012 - Anjozorobe NP - ssp umbretta - 3 en route
17/11/2012 - Anjozorobe NP - ssp umbretta - 1 en route
Little Bittern
Ixobrychus minutus
19/10/2012 - Ankarafantsika NP - ssp podiceps - 1
24/10/2012 - Lac Mandrozo (Sakalava site) - ssp podiceps - 2
20/10/2012 - Betsiboka delta - ssp firasa - 3
24/10/2012 - Lac Mandrozo (Sakalava site) - ssp firasa - a few
27/10/2012 - Masoala - ssp firasa - 2
09/11/2012 - Anakoa & Nosy Ve Island - ssp firasa - 2
Humblot's Heron
Ardea humbloti
Endangered (EN)
Country endemic
Restricted range
16/10/2012 - Bemenavika (pochard site) - 1
19/10/2012 - Ankarafantsika NP - 1
20/10/2012 - Ankarafantsika NP - 1
23/10/2012 - en route - 1
Purple Heron
Ardea purpurea
17/10/2012 - Bemenavika (pochard site) - ssp madagascariensis - 1
19/10/2012 - Ankarafantsika NP - ssp madagascariensis - 20+
20/10/2012 - Ankarafantsika NP - ssp madagascariensis - a few
24/10/2012 - Lac Mandrozo (Sakalava site) - ssp madagascariensis - a few
01/11/2012 - en route - ssp madagascariensis - 10+
05/11/2012 - Berenty - ssp madagascariensis - 1
14/11/2012 - Ranomafana NP - ssp madagascariensis - 2
15/11/2012 - Anjozorobe NP - ssp madagascariensis - 2 en route
17/11/2012 - Anjozorobe NP - ssp madagascariensis - 1 en route
15/10/2012 - en route - ssp melanorhyncha - common
16/10/2012 - Bemenavika (pochard site) - ssp melanorhyncha - a few en route
19/10/2012 - Ankarafantsika NP - ssp melanorhyncha - 10+
20/10/2012 - Betsiboka delta - ssp melanorhyncha - a few
20/10/2012 - Ankarafantsika NP - ssp melanorhyncha - a few
24/10/2012 - Lac Mandrozo (Sakalava site) - ssp melanorhyncha - a few
26/10/2012 - Antananarivo - ssp melanorhyncha
27/10/2012 - Masoala - ssp melanorhyncha - a few
01/11/2012 - en route - ssp melanorhyncha - fairly common
04/11/2012 - Andohahela NP (Mangatsiaka) - ssp melanorhyncha - a few
06/11/2012 - Berenty - ssp melanorhyncha - 1
14/11/2012 - Ranomafana NP - ssp melanorhyncha - a few en route
15/11/2012 - Anjozorobe NP - ssp melanorhyncha - a few en route
Little Egret
Egretta garzetta
15/10/2012 - en route - ssp dimorpha - 3
19/10/2012 - Ankarafantsika NP - ssp dimorpha - 1
20/10/2012 - Betsiboka delta - ssp dimorpha - 10+
26/10/2012 - Antananarivo - ssp dimorpha
27/10/2012 - Masoala - ssp dimorpha - 2
28/10/2012 - Masoala - ssp dimorpha - 1
01/11/2012 - en route - ssp dimorpha - a few
08/11/2012 - Ifaty - ssp dimorpha - 4
09/11/2012 - Anakoa & Nosy Ve Island - ssp dimorpha - 50+
11/11/2012 - Isalo NP - ssp dimorpha - fairly common en route
14/11/2012 - Ranomafana NP - ssp dimorpha - a few en route
Black Heron
Egretta ardesiaca
15/10/2012 - en route - 50+
19/10/2012 - Ankarafantsika NP - 1
20/10/2012 - Ankarafantsika NP - 3
24/10/2012 - Lac Mandrozo (Sakalava site) - 1
26/10/2012 - Antananarivo
Cattle Egret
Bubulcus ibis
14/10/2012 - Montagne d'Ambre NP - ssp ibis - a few en route
15/10/2012 - en route - ssp ibis - common
16/10/2012 - Bemenavika (pochard site) - ssp ibis - common en route
17/10/2012 - Bemenavika (pochard site) - ssp ibis - a few
19/10/2012 - Ankarafantsika NP - ssp ibis - common
20/10/2012 - Betsiboka delta - ssp ibis - a few
20/10/2012 - Ankarafantsika NP - ssp ibis - common
22/10/2012 - en route - ssp ibis - a few
24/10/2012 - Lac Mandrozo (Sakalava site) - ssp ibis - a few
25/10/2012 - Tsingy de Beanka - ssp ibis - a few en route
26/10/2012 - Antananarivo - ssp ibis
27/10/2012 - Masoala - ssp ibis - fairly common
30/10/2012 - Masoala - ssp ibis - a few
31/10/2012 - Masoala - ssp ibis - a few
01/11/2012 - en route - ssp ibis - common
03/11/2012 - Andohahela NP (Manangotsy) - ssp ibis - a few
04/11/2012 - Andohahela NP (Mangatsiaka) - ssp ibis - a few
05/11/2012 - Berenty - ssp ibis - common
06/11/2012 - Berenty - ssp ibis - common
10/11/2012 - Zombitse NP - ssp ibis - fairly common en route
13/11/2012 - Ranomafana NP - ssp ibis - a few
14/11/2012 - Ranomafana NP - ssp ibis - a few en route
15/11/2012 - Anjozorobe NP - ssp ibis - fairly common en route
17/11/2012 - Anjozorobe NP - ssp ibis - a few en route
Squacco Heron
Ardeola ralloides
15/10/2012 - en route - 5+
19/10/2012 - Ankarafantsika NP - common
20/10/2012 - Ankarafantsika NP - common
24/10/2012 - Lac Mandrozo (Sakalava site) - 1
26/10/2012 - Antananarivo
01/11/2012 - en route - fairly common
05/11/2012 - Berenty - a few
Madagascar Pond-Heron
Ardeola idae
Endangered (EN)
14/10/2012 - Montagne d'Ambre NP - 1
15/10/2012 - en route - 1
23/10/2012 - en route - 1
01/11/2012 - en route - 2
03/11/2012 - Andohahela NP (Manangotsy) - 1
06/11/2012 - Berenty - 1 en route
Striated Heron
Butorides striata
15/10/2012 - en route - ssp rutenbergi - 3
19/10/2012 - Ankarafantsika NP - ssp rutenbergi - 10+
20/10/2012 - Ankarafantsika NP - ssp rutenbergi - a few
29/10/2012 - Masoala - ssp rutenbergi - 2
30/10/2012 - Masoala - ssp rutenbergi - 1
31/10/2012 - Masoala - ssp rutenbergi - 1
01/11/2012 - en route - ssp rutenbergi - 5+
06/11/2012 - Berenty - ssp rutenbergi - 1
08/11/2012 - Toliara (mudflats) - ssp rutenbergi - 5+
12/11/2012 - Ranomafana NP - ssp rutenbergi - 1
15/11/2012 - Anjozorobe NP - ssp rutenbergi - 1 en route
Black-crowned Night-Heron
Nycticorax nycticorax
19/10/2012 - Ankarafantsika NP - ssp nycticorax - 5
24/10/2012 - Lac Mandrozo (Sakalava site) - ssp nycticorax - 5+
08/11/2012 - Toliara (mudflats) - ssp nycticorax - 2
Glossy Ibis
Plegadis falcinellus
15/10/2012 - en route - 20+
19/10/2012 - Ankarafantsika NP - 25+
20/10/2012 - Ankarafantsika NP - 25+
24/10/2012 - Lac Mandrozo (Sakalava site) - 100+
Madagascar Ibis
Lophotibis cristata
Near-threatened (NT)
Country endemic
14/10/2012 - Montagne d'Ambre NP - ssp cristata - 2
28/10/2012 - Masoala - ssp cristata - 2
29/10/2012 - Masoala - ssp cristata - 1
30/10/2012 - Masoala - ssp cristata - 1
10/11/2012 - Zombitse NP - ssp urschi - 1
Sacred Ibis
Threskiornis aethiopicus
20/10/2012 - Betsiboka delta - ssp bernieri - 2
Madagascar Harrier-Hawk
Polyboroides radiatus
Country endemic
16/10/2012 - Bemenavika (pochard site) - 3
18/10/2012 - en route - 1
19/10/2012 - Ankarafantsika NP - 1
22/10/2012 - en route - 2
24/10/2012 - Lac Mandrozo (Sakalava site) - 5+
31/10/2012 - Masoala - 1
16/11/2012 - Anjozorobe NP - 1
Madagascar Cuckoo-Hawk
Aviceda madagascariensis
Country endemic
04/11/2012 - Andohahela NP (Mangatsiaka) - 1
05/11/2012 - Berenty - 1
Reunion Harrier
Circus maillardi
Endangered (EN)
Country endemic
Restricted range
16/10/2012 - Bemenavika (pochard site) - ssp macrosceles - 1
22/10/2012 - en route - ssp macrosceles - 3
Frances's Goshawk
Accipiter francesii
15/10/2012 - en route - ssp francesii - 1
16/10/2012 - Bemenavika (pochard site) - ssp francesii - 2
24/10/2012 - Lac Mandrozo (Sakalava site) - ssp francesii - 1
30/10/2012 - Masoala - ssp francesii - 1
03/11/2012 - Andohahela NP (Manangotsy) - ssp francesii - 1
05/11/2012 - Berenty - ssp francesii - 1
06/11/2012 - Berenty - ssp francesii - 3
17/11/2012 - Anjozorobe NP - ssp francesii - 1
Madagascar Sparrowhawk
Accipiter madagascariensis
Near-threatened (NT)
Country endemic
22/10/2012 - en route - 1
Henst's Goshawk
Accipiter henstii
Near-threatened (NT)
Country endemic
17/10/2012 - Bemenavika (pochard site) - 1
13/11/2012 - Ranomafana NP - 1 male
17/11/2012 - Anjozorobe NP - 1
Black Kite
Milvus migrans
14/10/2012 - Montagne d'Ambre NP - 1
16/10/2012 - Bemenavika (pochard site) - 5+
17/10/2012 - Bemenavika (pochard site) - 1
19/10/2012 - Ankarafantsika NP - 20+
20/10/2012 - Betsiboka delta - a few
20/10/2012 - Ankarafantsika NP - a few
22/10/2012 - en route - common
24/10/2012 - Lac Mandrozo (Sakalava site) - common
25/10/2012 - Tsingy de Beanka - common en route
01/11/2012 - en route - 1
04/11/2012 - Andohahela NP (Mangatsiaka) - 5+
05/11/2012 - Berenty - common
06/11/2012 - Berenty - common
07/11/2012 - Fort Dauphin - a few
08/11/2012 - Ifaty - a few
08/11/2012 - La Table - a few
09/11/2012 - Anakoa & Nosy Ve Island - a few
10/11/2012 - Zombitse NP - fairly common
11/11/2012 - Isalo NP - fairly common
Madagascar Fish-Eagle
Haliaeetus vociferoides
Critically endangered (CR)
Country endemic
Restricted range
19/10/2012 - Ankarafantsika NP - 2
20/10/2012 - Ankarafantsika NP - 1
24/10/2012 - Lac Mandrozo (Sakalava site) - 1
Madagascar Buzzard
Buteo brachypterus
Country endemic
14/10/2012 - Montagne d'Ambre NP - 5+
15/10/2012 - en route - a few
16/10/2012 - Bemenavika (pochard site) - 5+
17/10/2012 - Bemenavika (pochard site) - 3 seen + more heard
19/10/2012 - Ankarafantsika NP - 1 seen + a few heard
22/10/2012 - en route - 2
24/10/2012 - Lac Mandrozo (Sakalava site) - 5+
25/10/2012 - Tsingy de Beanka - 3
27/10/2012 - Masoala - 1
28/10/2012 - Masoala - 1
31/10/2012 - Masoala - 2
03/11/2012 - Andohahela NP (Manangotsy) - 4
04/11/2012 - Andohahela NP (Mangatsiaka) - 5+
13/11/2012 - Ranomafana NP - 2
14/11/2012 - Ranomafana NP - 1 en route
17/11/2012 - Anjozorobe NP - 1
White-breasted Mesite
Mesitornis variegatus
Vulnerable (VU)
Country endemic
Restricted range
19/10/2012 - Ankarafantsika NP - 3+
Brown Mesite
Mesitornis unicolor
Vulnerable (VU)
Country endemic
Restricted range
27/10/2012 - Masoala - HO - 1 heard
28/10/2012 - Masoala - HO - 2 heard
30/10/2012 - Masoala - 2
Subdesert Mesite
Monias benschi
Vulnerable (VU)
Country endemic
Restricted range
08/11/2012 - Ifaty - 1 male
Madagascar Flufftail
Sarothrura insularis
Country endemic
16/10/2012 - Bemenavika (pochard site) - HO - 1 heard
17/10/2012 - Bemenavika (pochard site) - 1 seen + more heard
11/11/2012 - Ranomafana NP - HO - 2 heard
12/11/2012 - Ranomafana NP - HO - a few heard
14/11/2012 - Ranomafana NP - 3 seen + more heard
15/11/2012 - Anjozorobe NP - 2 seen + more heard
16/11/2012 - Anjozorobe NP - 2 seen + more heard
17/11/2012 - Anjozorobe NP - HO - a few heard
Slender-billed Flufftail
Sarothrura watersi
Endangered (EN)
Country endemic
Restricted range
15/11/2012 - Anjozorobe NP - 1
16/11/2012 - Anjozorobe NP - 1
Madagascar Wood-Rail
Canirallus kioloides
Country endemic
28/10/2012 - Masoala - ssp kioloides - 3
29/10/2012 - Masoala - ssp kioloides - 3 seen + a few heard
30/10/2012 - Masoala - ssp kioloides - 1
31/10/2012 - Masoala - HO - ssp kioloides - 1 heard
03/11/2012 - Andohahela NP (Manangotsy) - HO - ssp kioloides - 1 heard
12/11/2012 - Ranomafana NP - ssp kioloides - 2
16/11/2012 - Anjozorobe NP - ssp kioloides - 1
Tsingy Wood-Rail
Canirallus beankaensis
Country endemic
Restricted range
25/10/2012 - Tsingy de Beanka - 2 seen + 1 heard
Madagascar Rail
Rallus madagascariensis
Vulnerable (VU)
Country endemic
Restricted range
16/10/2012 - Bemenavika (pochard site) - 2
15/11/2012 - Anjozorobe NP - 2 seen + a few heard
16/11/2012 - Anjozorobe NP - 1 seen + a few heard
White-throated Rail
Dryolimnas cuvieri
14/10/2012 - Montagne d'Ambre NP - ssp cuvieri - 2 seen + 1 heard
16/10/2012 - Bemenavika (pochard site) - HO - ssp cuvieri - 1 heard
17/10/2012 - Bemenavika (pochard site) - HO - ssp cuvieri - 1 heard
28/10/2012 - Masoala - HO - ssp cuvieri - 1 heard
29/10/2012 - Masoala - ssp cuvieri - 1 seen + 2 heard
30/10/2012 - Masoala - ssp cuvieri - 2
01/11/2012 - en route - ssp cuvieri - 1 seen + 2 heard
11/11/2012 - Ranomafana NP - HO - ssp cuvieri - 1 heard
Sakalava Rail
Amaurornis olivieri
Endangered (EN)
Country endemic
Restricted range
24/10/2012 - Lac Mandrozo (Sakalava site) - 1
Eurasian Moorhen
Gallinula chloropus
19/10/2012 - Ankarafantsika NP - ssp pyrrhorrhoa - 5+
20/10/2012 - Ankarafantsika NP - ssp pyrrhorrhoa - a few
24/10/2012 - Lac Mandrozo (Sakalava site) - ssp pyrrhorrhoa - common
01/11/2012 - en route - ssp pyrrhorrhoa - 1
Black-bellied Plover
Pluvialis squatarola
01/11/2012 - en route - 3
08/11/2012 - Toliara (mudflats) - 30+
10/11/2012 - Toliara (mudflats) - a few
Greater Sand-Plover
Charadrius leschenaultii
20/10/2012 - Betsiboka delta - ssp crassirostris - 5+
01/11/2012 - en route - ssp crassirostris - 3
08/11/2012 - Toliara (mudflats) - ssp crassirostris - 200+
10/11/2012 - Toliara (mudflats) - ssp crassirostris - a few
Kittlitz's Plover
Charadrius pecuarius
15/10/2012 - en route - 5+
08/11/2012 - Ifaty - 50+
Common Ringed Plover
Charadrius hiaticula
01/11/2012 - en route - 3
08/11/2012 - Toliara (mudflats) - 50+
10/11/2012 - Toliara (mudflats) - a few
Madagascar Plover
Charadrius thoracicus
Vulnerable (VU)
Country endemic
Restricted range
Three-banded Plover
Charadrius tricollaris
15/10/2012 - en route - ssp bifrontatus - 2
19/10/2012 - Ankarafantsika NP - ssp bifrontatus - 5+
20/10/2012 - Ankarafantsika NP - ssp bifrontatus - a few
08/11/2012 - Ifaty - ssp bifrontatus - 1
11/11/2012 - Ranomafana NP - ssp bifrontatus - a few
White-fronted Plover
Charadrius marginatus
01/11/2012 - en route - ssp tenellus - 4
09/11/2012 - Anakoa & Nosy Ve Island - ssp tenellus - 5+
Crab Plover
Dromas ardeola
20/10/2012 - Betsiboka delta - 16
08/11/2012 - Toliara (mudflats) - 4
Black-winged Stilt
Himantopus himantopus
15/10/2012 - en route - 5+
19/10/2012 - Ankarafantsika NP - 3
20/10/2012 - Ankarafantsika NP - a few
24/10/2012 - Lac Mandrozo (Sakalava site) - 6
08/11/2012 - Ifaty - 5+
Madagascar Jacana
Actophilornis albinucha
Country endemic
19/10/2012 - Ankarafantsika NP - 2
24/10/2012 - Lac Mandrozo (Sakalava site) - 30+
Terek Sandpiper
Xenus cinereus
20/10/2012 - Betsiboka delta - 20+
01/11/2012 - en route - 5+
Common Sandpiper
Actitis hypoleucos
15/10/2012 - en route - 10+
19/10/2012 - Ankarafantsika NP - 5+
20/10/2012 - Betsiboka delta - a few
20/10/2012 - Ankarafantsika NP - a few
24/10/2012 - Lac Mandrozo (Sakalava site) - 3
01/11/2012 - en route - 5+
05/11/2012 - Berenty - 2
08/11/2012 - Toliara (mudflats) - a few
Common Greenshank
Tringa nebularia
15/10/2012 - en route - 1
20/10/2012 - Ankarafantsika NP - 1 en route
01/11/2012 - en route - 10+
05/11/2012 - Berenty - 10+
06/11/2012 - Berenty - HO - 1 heard
08/11/2012 - Toliara (mudflats) - 50+
10/11/2012 - Toliara (mudflats) - a few
Whimbrel
Numenius phaeopus
20/10/2012 - Betsiboka delta - fairly common
28/10/2012 - Masoala - 5
01/11/2012 - en route - 5+
08/11/2012 - Toliara (mudflats) - 500+
09/11/2012 - Anakoa & Nosy Ve Island - 20+
10/11/2012 - Toliara (mudflats) - a few
Bar-tailed Godwit
Limosa lapponica
08/11/2012 - Toliara (mudflats) - 10+
Ruddy Turnstone
Arenaria interpres
01/11/2012 - en route - ssp interpres - 2
08/11/2012 - Toliara (mudflats) - ssp interpres - 10+
08/11/2012 - Toliara (mudflats) - 3
Little Stint
Calidris minuta
Curlew Sandpiper
Calidris ferruginea
20/10/2012 - Betsiboka delta - 4
08/11/2012 - Toliara (mudflats) - 500+
10/11/2012 - Toliara (mudflats) - a few
Madagascar Snipe
Gallinago macrodactyla
Vulnerable (VU)
Country endemic
13/11/2012 - Ranomafana NP - 1
15/11/2012 - Anjozorobe NP - 2
16/11/2012 - Anjozorobe NP - 3
Madagascar Buttonquail
Turnix nigricollis
Country endemic
17/10/2012 - Bemenavika (pochard site) - 2
19/10/2012 - Ankarafantsika NP - 5+
22/10/2012 - en route - 1
04/11/2012 - Andohahela NP (Mangatsiaka) - 1
06/11/2012 - Berenty - 5
08/11/2012 - Ifaty - 2
11/11/2012 - Isalo NP - 4
16/11/2012 - Anjozorobe NP - 1
Madagascar Pratincole
Glareola ocularis
Vulnerable (VU)
23/10/2012 - en route - 3
28/10/2012 - Masoala - 3+
29/10/2012 - Masoala - 10+
30/10/2012 - Masoala - a few
31/10/2012 - Masoala - 10+
01/11/2012 - en route - 5+
Greater Painted-Snipe
Rostratula benghalensis
15/10/2012 - en route - 5+
24/10/2012 - Lac Mandrozo (Sakalava site) - 1
11/11/2012 - Ranomafana NP - 1
Kelp Gull
Larus dominicanus
02/11/2012 - Fort Dauphin - ssp melisandae - 5+
07/11/2012 - Fort Dauphin - ssp melisandae - a 5+
Saunders's Tern
Sternula saundersi
20/10/2012 - Betsiboka delta - 50+
01/11/2012 - en route - 2
White-winged Tern
Chlidonias leucopterus
24/10/2012 - Lac Mandrozo (Sakalava site) - 20+
Roseate Tern
Sterna dougallii
27/10/2012 - Masoala - ssp arideensis - 20+
01/11/2012 - en route - ssp arideensis - 5+
Common Tern
Sterna hirundo
27/10/2012 - Masoala - a few
01/11/2012 - en route - a few
Great Crested Tern
Thalasseus bergii
20/10/2012 - Betsiboka delta - ssp enigmus - 2
02/11/2012 - Fort Dauphin - ssp enigmus - a few
07/11/2012 - Fort Dauphin - ssp enigmus - 2
08/11/2012 - Ifaty - ssp enigmus - 2
09/11/2012 - Anakoa & Nosy Ve Island - ssp enigmus - 1
Lesser Crested Tern
Thalasseus bengalensis
20/10/2012 - Betsiboka delta - ssp bengalensis - 1
29/10/2012 - Masoala - ssp bengalensis - 8
30/10/2012 - Masoala - ssp bengalensis - 1
01/11/2012 - en route - ssp bengalensis - 2
Madagascar Sandgrouse
Pterocles personatus
Country endemic
22/10/2012 - en route - 15+
06/11/2012 - Berenty - 13
Madagascar Turtle-Dove
Streptopelia picturata
14/10/2012 - Montagne d'Ambre NP - ssp picturata - 5+
15/10/2012 - en route - ssp picturata - 5+
16/10/2012 - Bemenavika (pochard site) - ssp picturata - a few
17/10/2012 - Bemenavika (pochard site) - ssp picturata - a few
19/10/2012 - Ankarafantsika NP - ssp picturata - 10+
20/10/2012 - Ankarafantsika NP - ssp picturata - a few en route
22/10/2012 - en route - ssp picturata - a few
24/10/2012 - Lac Mandrozo (Sakalava site) - ssp picturata - a few
25/10/2012 - Tsingy de Beanka - ssp picturata - a few
28/10/2012 - Masoala - ssp picturata - a few
29/10/2012 - Masoala - ssp picturata - 2 seen + more heard
30/10/2012 - Masoala - ssp picturata - 5+
31/10/2012 - Masoala - ssp picturata - 2 seen + more heard
03/11/2012 - Andohahela NP (Manangotsy) - ssp picturata - 3 seen + more heard
04/11/2012 - Andohahela NP (Mangatsiaka) - ssp picturata - 10+
05/11/2012 - Berenty - ssp picturata - fairly common
06/11/2012 - Berenty - ssp picturata - fairly common
08/11/2012 - Ifaty - ssp picturata - a few
10/11/2012 - Zombitse NP - ssp picturata - 5+
12/11/2012 - Ranomafana NP - ssp picturata - a few seen + more heard
13/11/2012 - Ranomafana NP - ssp picturata - a few seen + more heard
14/11/2012 - Ranomafana NP - ssp picturata - a few
16/11/2012 - Anjozorobe NP - ssp picturata - a few
17/11/2012 - Anjozorobe NP - ssp picturata - a few
Namaqua Dove
Oena capensis
15/10/2012 - en route - ssp aliena - common
16/10/2012 - Bemenavika (pochard site) - ssp aliena - fairly common en route
19/10/2012 - Ankarafantsika NP - ssp aliena - fairly common
20/10/2012 - Ankarafantsika NP - ssp aliena - fairly common en route
22/10/2012 - en route - ssp aliena - a few
24/10/2012 - Lac Mandrozo (Sakalava site) - ssp aliena - fairly common
25/10/2012 - Tsingy de Beanka - ssp aliena - a few en route
04/11/2012 - Andohahela NP (Mangatsiaka) - ssp aliena - fairly common
05/11/2012 - Berenty - ssp aliena - fairly common
06/11/2012 - Berenty - ssp aliena - common
08/11/2012 - Ifaty - ssp aliena - common
08/11/2012 - La Table - ssp aliena - fairly common
09/11/2012 - Anakoa & Nosy Ve Island - ssp aliena - a few
10/11/2012 - Zombitse NP - ssp aliena - fairly common
11/11/2012 - Isalo NP - ssp aliena - common
Madagascar Green-Pigeon
Treron australis
15/10/2012 - en route - ssp xenius - 3
19/10/2012 - Ankarafantsika NP - ssp xenius - 4
24/10/2012 - Lac Mandrozo (Sakalava site) - ssp xenius - 5+
27/10/2012 - Masoala - ssp australis - 2
29/10/2012 - Masoala - ssp australis - 2
31/10/2012 - Masoala - ssp australis - 5+
05/11/2012 - Berenty - ssp xenius - 2
08/11/2012 - Ifaty - ssp xenius - 2
Madagascar Blue-Pigeon
Alectroenas madagascariensis
Country endemic
15/10/2012 - en route - 2
16/10/2012 - Bemenavika (pochard site) - 5+
17/10/2012 - Bemenavika (pochard site) - 3
22/10/2012 - en route - 1
29/10/2012 - Masoala - 1
30/10/2012 - Masoala - 1
31/10/2012 - Masoala - 2
01/11/2012 - en route - 1
03/11/2012 - Andohahela NP (Manangotsy) - 1
11/11/2012 - Ranomafana NP - 1
13/11/2012 - Ranomafana NP - 1
15/11/2012 - Anjozorobe NP - 2
16/11/2012 - Anjozorobe NP - 25+
17/11/2012 - Anjozorobe NP - 10+
Madagascar Cuckoo
Cuculus rochii
14/10/2012 - Montagne d'Ambre NP - 2 seen + more heard
16/10/2012 - Bemenavika (pochard site) - HO - 2 heard
17/10/2012 - Bemenavika (pochard site) - HO - 1 heard
19/10/2012 - Ankarafantsika NP - 2 seen + more heard
22/10/2012 - en route - HO - 1 heard
24/10/2012 - Lac Mandrozo (Sakalava site) - HO - 1 heard
25/10/2012 - Tsingy de Beanka - HO - 1 heard
27/10/2012 - Masoala - HO - a few heard
28/10/2012 - Masoala - HO - a few heard
29/10/2012 - Masoala - HO - a few heard
31/10/2012 - Masoala - HO - 1 heard
03/11/2012 - Andohahela NP (Manangotsy) - HO - 1 heard
04/11/2012 - Andohahela NP (Mangatsiaka) - 1 seen + more heard
05/11/2012 - Berenty - HO - a few heard
06/11/2012 - Berenty - 2 seen + more heard
08/11/2012 - Ifaty - 1 seen + more heard
10/11/2012 - Zombitse NP - HO - 1 heard
11/11/2012 - Isalo NP - 2 seen + more heard
12/11/2012 - Ranomafana NP - 2 seen + more heard
13/11/2012 - Ranomafana NP - 1 seen + more heard
14/11/2012 - Ranomafana NP - HO - a few heard
16/11/2012 - Anjozorobe NP - 1 seen + more heard
17/11/2012 - Anjozorobe NP - HO - 1 heard
Giant Coua
Coua gigas
Country endemic
05/11/2012 - Berenty - 10+
06/11/2012 - Berenty - 3
10/11/2012 - Zombitse NP - 1
Coquerel's Coua
Coua coquereli
Country endemic
19/10/2012 - Ankarafantsika NP - 4
10/11/2012 - Zombitse NP - 4 seen + more heard
Red-breasted Coua
Coua serriana
Country endemic
27/10/2012 - Masoala - 1 seen + more heard
28/10/2012 - Masoala - 10+ seen + more heard
29/10/2012 - Masoala - 2 seen + more heard
30/10/2012 - Masoala - 2 seen + a few heard
31/10/2012 - Masoala - 2 seen + more heard
01/11/2012 - en route - HO - 1 heard
Red-fronted Coua
Coua reynaudii
Country endemic
16/10/2012 - Bemenavika (pochard site) - 1
17/10/2012 - Bemenavika (pochard site) - 1 seen + 2 heard
28/10/2012 - Masoala - HO - 1 heard
29/10/2012 - Masoala - HO - 1 heard
30/10/2012 - Masoala - HO - 1 heard
03/11/2012 - Andohahela NP (Manangotsy) - 1 seen + more heard
12/11/2012 - Ranomafana NP - HO - 1 heard
13/11/2012 - Ranomafana NP - 1 seen + a few heard
16/11/2012 - Anjozorobe NP - 3 seen + more heard
17/11/2012 - Anjozorobe NP - HO - 2 heard
Red-capped Coua
Coua ruficeps
Country endemic
19/10/2012 - Ankarafantsika NP - ssp ruficeps - 1
04/11/2012 - Andohahela NP (Mangatsiaka) - ssp olivaceiceps - 1
06/11/2012 - Berenty - ssp olivaceiceps - 4 seen + a few heard
Running Coua
Coua cursor
Country endemic
04/11/2012 - Andohahela NP (Mangatsiaka) - 1 seen + 2 heard
05/11/2012 - Berenty - 1
08/11/2012 - Ifaty - 2
Crested Coua
Coua cristata
Country endemic
15/10/2012 - en route - 1
19/10/2012 - Ankarafantsika NP - ssp dumonti - 10+
24/10/2012 - Lac Mandrozo (Sakalava site) - HO - ssp dumonti - 1 heard
25/10/2012 - Tsingy de Beanka - ssp dumonti - 1
28/10/2012 - Masoala - ssp cristata - 3
30/10/2012 - Masoala - ssp cristata - 1
05/11/2012 - Berenty - ssp maxima - 10+
06/11/2012 - Berenty - ssp maxima - fairly common
08/11/2012 - Ifaty - ssp pyropyga - 2
10/11/2012 - Zombitse NP - ssp pyropyga - 2 seen + more heard
Verreaux's Coua
Coua verreauxi
Near-threatened (NT)
Country endemic
08/11/2012 - La Table - 1
Blue Coua
Coua caerulea
Country endemic
16/10/2012 - Bemenavika (pochard site) - HO - 1 heard
17/10/2012 - Bemenavika (pochard site) - 3 seen + more heard
28/10/2012 - Masoala - 5+
29/10/2012 - Masoala - 5+
30/10/2012 - Masoala - 1 seen + more heard
31/10/2012 - Masoala - 3+ seen + more heard
01/11/2012 - en route - 1
03/11/2012 - Andohahela NP (Manangotsy) - 5+
12/11/2012 - Ranomafana NP - 4 seen + more heard
13/11/2012 - Ranomafana NP - 3 seen + more heard
Madagascar Coucal
Centropus toulou
14/10/2012 - Montagne d'Ambre NP - HO - ssp toulou - a few heard
15/10/2012 - en route - HO - ssp toulou - a few heard
16/10/2012 - Bemenavika (pochard site) - ssp toulou - 1 seen + more heard
19/10/2012 - Ankarafantsika NP - ssp toulou - 10+ seen + more heard
24/10/2012 - Lac Mandrozo (Sakalava site) - ssp toulou - a few seen + more heard
25/10/2012 - Tsingy de Beanka - HO - ssp toulou - a few heard
28/10/2012 - Masoala - ssp toulou - 2 seen + more heard
29/10/2012 - Masoala - HO - ssp toulou - a few heard
30/10/2012 - Masoala - ssp toulou - 1 seen + more heard
31/10/2012 - Masoala - ssp toulou - 2 seen + more heard
01/11/2012 - en route - ssp toulou - a few seen + more heard
05/11/2012 - Berenty - ssp toulou - a few seen + more heard
06/11/2012 - Berenty - ssp toulou - a few seen + more heard
08/11/2012 - Ifaty - ssp toulou - a few
10/11/2012 - Zombitse NP - ssp toulou - 2 seen + more heard
11/11/2012 - Isalo NP - ssp toulou - a few seen + more heard
14/11/2012 - Ranomafana NP - ssp toulou - a few
16/11/2012 - Anjozorobe NP - ssp toulou - a few seen + more heard
22/10/2012 - en route - ssp affinis - 1
25/10/2012 - Tsingy de Beanka - ssp affinis - 2 en route
05/11/2012 - Berenty - ssp affinis - 1
Madagascar Red Owl
Tyto soumagnei
Vulnerable (VU)
Country endemic
16/10/2012 - Bemenavika (pochard site) - 1
Malagasy Scops-Owl
Otus rutilus
14/10/2012 - Montagne d'Ambre NP - 2 seen + more heard
27/10/2012 - Masoala - 1 seen + more heard
28/10/2012 - Masoala - HO - a few heard
29/10/2012 - Masoala - HO - a few heard
30/10/2012 - Masoala - HO - a few heard
31/10/2012 - Masoala - HO - a few heard
12/11/2012 - Ranomafana NP - HO - 1 heard
16/11/2012 - Anjozorobe NP - HO - 2 heard
Torotoroka Scops-Owl
Otus madagascariensis
Country endemic
16/10/2012 - Bemenavika (pochard site) - HO - 2 heard
17/10/2012 - Bemenavika (pochard site) - HO - 1 heard
05/11/2012 - Berenty - 3 seen + more heard
Madagascar Long-eared Owl
Asio madagascariensis
Country endemic
16/10/2012 - Bemenavika (pochard site) - 2
18/10/2012 - en route - ssp hova - 1 found dead along the road
White-browed Owl
Ninox superciliaris
Country endemic
27/10/2012 - Masoala - 1
28/10/2012 - Masoala - HO - 1 heard
29/10/2012 - Masoala - 1
05/11/2012 - Berenty - 4 seen + a few heard
06/11/2012 - Berenty - 1 seen + more heard
Collared Nightjar
Gactornis enarratus
Country endemic
Madagascar Nightjar
Caprimulgus madagascariensis
16/10/2012 - Bemenavika (pochard site) - ssp madagascariensis - 1
17/10/2012 - Bemenavika (pochard site) - HO - ssp madagascariensis - 1 heard
24/10/2012 - Lac Mandrozo (Sakalava site) - ssp madagascariensis - a few seen + more heard
25/10/2012 - Tsingy de Beanka - ssp madagascariensis - a few en route
05/11/2012 - Berenty - ssp madagascariensis - 3 seen + more heard
11/11/2012 - Ranomafana NP - HO - ssp madagascariensis - 1 heard
15/11/2012 - Anjozorobe NP - ssp madagascariensis - 1 seen + more heard
16/11/2012 - Anjozorobe NP - ssp madagascariensis - a few seen + more heard
Malagasy Spinetail
Zoonavena grandidieri
14/10/2012 - Montagne d'Ambre NP - ssp grandidieri - 10+
15/10/2012 - en route - ssp grandidieri - 5+
27/10/2012 - Masoala - ssp grandidieri - 20+
28/10/2012 - Masoala - ssp grandidieri - 10+
29/10/2012 - Masoala - ssp grandidieri - 10+
30/10/2012 - Masoala - ssp grandidieri - 5+
31/10/2012 - Masoala - ssp grandidieri - 10+
01/11/2012 - en route - ssp grandidieri - 20+
03/11/2012 - Andohahela NP (Manangotsy) - ssp grandidieri - 10+
17/10/2012 - Bemenavika (pochard site) - ssp willsi - 20+
Madagascar Swift
Apus balstoni
Country endemic
14/10/2012 - Montagne d'Ambre NP - ssp balstoni - 10+ en route
20/10/2012 - Betsiboka delta - ssp balstoni - a few
22/10/2012 - en route - ssp balstoni - a few
24/10/2012 - Lac Mandrozo (Sakalava site) - ssp balstoni - a few
25/10/2012 - Tsingy de Beanka - ssp balstoni - a few
26/10/2012 - Antananarivo - ssp balstoni
04/11/2012 - Andohahela NP (Mangatsiaka) - ssp balstoni - a few
08/11/2012 - Ifaty - ssp balstoni - 1
10/11/2012 - Zombitse NP - ssp balstoni - a few
11/11/2012 - Isalo NP - ssp balstoni - 20+
13/11/2012 - Ranomafana NP - ssp balstoni - 10+
15/11/2012 - Anjozorobe NP - ssp balstoni - 20+
16/11/2012 - Anjozorobe NP - ssp balstoni - 20+
17/11/2012 - Anjozorobe NP - ssp balstoni - 10+
Little Swift
Apus affinis
26/10/2012 - Antananarivo
African Palm-Swift
Cypsiurus parvus
14/10/2012 - Montagne d'Ambre NP - ssp gracilis - a few
15/10/2012 - en route - ssp gracilis - common
16/10/2012 - Bemenavika (pochard site) - ssp gracilis - fairly common en route
19/10/2012 - Ankarafantsika NP - ssp gracilis - common
20/10/2012 - Ankarafantsika NP - ssp gracilis - a few en route
22/10/2012 - en route - ssp gracilis - a few
24/10/2012 - Lac Mandrozo (Sakalava site) - ssp gracilis - common
25/10/2012 - Tsingy de Beanka - ssp gracilis - common en route
26/10/2012 - Antananarivo - ssp gracilis
27/10/2012 - Masoala - ssp gracilis - a few
28/10/2012 - Masoala - ssp gracilis - a few
29/10/2012 - Masoala - ssp gracilis - a few
30/10/2012 - Masoala - ssp gracilis - a few
31/10/2012 - Masoala - ssp gracilis - 5+
01/11/2012 - en route - ssp gracilis - a few
03/11/2012 - Andohahela NP (Manangotsy) - ssp gracilis - a few
04/11/2012 - Andohahela NP (Mangatsiaka) - ssp gracilis - a few
06/11/2012 - Berenty - ssp gracilis - a few
11/11/2012 - Isalo NP - ssp gracilis - a few
12/11/2012 - Ranomafana NP - ssp gracilis - a few
13/11/2012 - Ranomafana NP - ssp gracilis - a few
14/11/2012 - Ranomafana NP - ssp gracilis - a few
Malagasy Kingfisher
Corythornis vintsioides
15/10/2012 - en route - ssp vintsioides - 2
16/10/2012 - Bemenavika (pochard site) - ssp vintsioides - 1
20/10/2012 - Betsiboka delta - ssp vintsioides - 1
22/10/2012 - en route - ssp vintsioides - 1
24/10/2012 - Lac Mandrozo (Sakalava site) - ssp vintsioides - 10+
26/10/2012 - Antananarivo - ssp vintsioides
28/10/2012 - Masoala - ssp vintsioides - 1
29/10/2012 - Masoala - ssp vintsioides - 2
30/10/2012 - Masoala - ssp vintsioides - 1
01/11/2012 - en route - ssp vintsioides - 2
04/11/2012 - Andohahela NP (Mangatsiaka) - ssp vintsioides - 2
05/11/2012 - Berenty - ssp vintsioides - 1
06/11/2012 - Berenty - ssp vintsioides - 1
11/11/2012 - Ranomafana NP - ssp vintsioides - 2
12/11/2012 - Ranomafana NP - ssp vintsioides - 1
17/11/2012 - Anjozorobe NP - ssp vintsioides - 1 en route
Madagascar Pygmy-Kingfisher
Corythornis madagascariensis
Country endemic
19/10/2012 - Ankarafantsika NP - ssp madagascariensis - 1
28/10/2012 - Masoala - ssp madagascariensis - 1
Madagascar Bee-eater
Merops superciliosus
14/10/2012 - Montagne d'Ambre NP - ssp superciliosus - 3 en route
15/10/2012 - en route - ssp superciliosus - fairly common
16/10/2012 - Bemenavika (pochard site) - ssp superciliosus - common en route
19/10/2012 - Ankarafantsika NP - ssp superciliosus - common
20/10/2012 - Ankarafantsika NP - ssp superciliosus - fairly common en route
22/10/2012 - en route - ssp superciliosus - fairly common
24/10/2012 - Lac Mandrozo (Sakalava site) - ssp superciliosus - common
25/10/2012 - Tsingy de Beanka - ssp superciliosus - common en route
26/10/2012 - Antananarivo - ssp superciliosus
27/10/2012 - Masoala - ssp superciliosus - a few
31/10/2012 - Masoala - ssp superciliosus - 10+
01/11/2012 - en route - ssp superciliosus - a few
05/11/2012 - Berenty - ssp superciliosus - 2
08/11/2012 - Ifaty - ssp superciliosus - fairly common
08/11/2012 - La Table - ssp superciliosus - a few
09/11/2012 - Anakoa & Nosy Ve Island - ssp superciliosus - a few
10/11/2012 - Zombitse NP - ssp superciliosus - a few
11/11/2012 - Isalo NP - ssp superciliosus - fairly common
12/11/2012 - Ranomafana NP - ssp superciliosus - a few
14/11/2012 - Ranomafana NP - ssp superciliosus - a few en route
16/11/2012 - Anjozorobe NP - ssp superciliosus - a few
European Bee-eater
Merops apiaster
04/11/2012 - Andohahela NP (Mangatsiaka) - a few
Broad-billed Roller
Eurystomus glaucurus
15/10/2012 - en route - ssp glaucurus - 2
16/10/2012 - Bemenavika (pochard site) - ssp glaucurus - 2
19/10/2012 - Ankarafantsika NP - ssp glaucurus - 20+
22/10/2012 - en route - ssp glaucurus - a few
24/10/2012 - Lac Mandrozo (Sakalava site) - ssp glaucurus - fairly common
25/10/2012 - Tsingy de Beanka - ssp glaucurus - fairly common en route
28/10/2012 - Masoala - ssp glaucurus - a few
29/10/2012 - Masoala - ssp glaucurus - a few
30/10/2012 - Masoala - ssp glaucurus - a few
31/10/2012 - Masoala - ssp glaucurus - a few
01/11/2012 - en route - ssp glaucurus - a few
03/11/2012 - Andohahela NP (Manangotsy) - ssp glaucurus - 1
04/11/2012 - Andohahela NP (Mangatsiaka) - ssp glaucurus - a few
05/11/2012 - Berenty - ssp glaucurus - a few
06/11/2012 - Berenty - ssp glaucurus - a few
10/11/2012 - Zombitse NP - ssp glaucurus - a few
11/11/2012 - Isalo NP - ssp glaucurus - fairly common
Short-legged Ground-Roller
Brachypteracias leptosomus
Vulnerable (VU)
Country endemic
Restricted range
27/10/2012 - Masoala - HO - 2 heard
28/10/2012 - Masoala - 2
Scaly Ground-Roller
Brachypteracias squamiger
Vulnerable (VU)
Country endemic
Restricted range
28/10/2012 - Masoala - 2
30/10/2012 - Masoala - 1
31/10/2012 - Masoala - HO - 1 heard
Pitta-like Ground-Roller
Atelornis pittoides
Country endemic
14/10/2012 - Montagne d'Ambre NP - 3
15/10/2012 - en route - HO - 1 heard
12/11/2012 - Ranomafana NP - 3 seen + 1 heard
13/11/2012 - Ranomafana NP - 3 seen + 2 heard
16/11/2012 - Anjozorobe NP - HO - 2 heard
17/11/2012 - Anjozorobe NP - 1 seen + 2 heard
Rufous-headed Ground-Roller
Atelornis crossleyi
Near-threatened (NT)
Country endemic
Restricted range
12/11/2012 - Ranomafana NP - 2 seen + 1 heard
13/11/2012 - Ranomafana NP - 2 seen + 1 heard
16/11/2012 - Anjozorobe NP - HO - 2 heard
Long-tailed Ground-Roller
Uratelornis chimaera
Vulnerable (VU)
Country endemic
Restricted range
Cuckoo-Roller
Leptosomus discolor
14/10/2012 - Montagne d'Ambre NP - ssp discolor - 2 seen + more heard
16/10/2012 - Bemenavika (pochard site) - HO - ssp discolor - 1 heard
17/10/2012 - Bemenavika (pochard site) - ssp discolor - 1 seen + more heard
19/10/2012 - Ankarafantsika NP - ssp discolor - 2 seen = more heard
28/10/2012 - Masoala - HO - ssp discolor - 2 heard
29/10/2012 - Masoala - HO - ssp discolor - 1 heard
30/10/2012 - Masoala - ssp discolor - 1 seen + 1 heard
31/10/2012 - Masoala - ssp discolor - 5+ seen + more heard
01/11/2012 - en route - ssp discolor - a few seen + more heard
03/11/2012 - Andohahela NP (Manangotsy) - ssp discolor - 5+ seen + more heard
08/11/2012 - Ifaty - ssp discolor - a few
10/11/2012 - Zombitse NP - ssp discolor - 5+ seen + more heard
13/11/2012 - Ranomafana NP - ssp discolor - 1 seen + more heard
15/11/2012 - Anjozorobe NP - ssp discolor - 2
16/11/2012 - Anjozorobe NP - ssp discolor - a few seen + more heard
17/11/2012 - Anjozorobe NP - ssp discolor - a few seen + more heard
Madagascar Hoopoe
Upupa marginata
Country endemic
15/10/2012 - en route - 2
19/10/2012 - Ankarafantsika NP - 5 seen + more heard
04/11/2012 - Andohahela NP (Mangatsiaka) - 5+
05/11/2012 - Berenty - 3+
06/11/2012 - Berenty - 5+
10/11/2012 - Zombitse NP - 1 seen + a few heard
Madagascar Kestrel
Falco newtoni
15/10/2012 - en route - 5+
16/10/2012 - Bemenavika (pochard site) - a few
19/10/2012 - Ankarafantsika NP - 1
20/10/2012 - Ankarafantsika NP - a few en route
22/10/2012 - en route - fairly common
24/10/2012 - Lac Mandrozo (Sakalava site) - a few
25/10/2012 - Tsingy de Beanka - fairly common en reoute
26/10/2012 - Antananarivo
27/10/2012 - Masoala - 1
29/10/2012 - Masoala - 2
30/10/2012 - Masoala - 2
31/10/2012 - Masoala - 3
01/11/2012 - en route - 2
04/11/2012 - Andohahela NP (Mangatsiaka) - 5+
05/11/2012 - Berenty - 5+
07/11/2012 - Fort Dauphin - 2
08/11/2012 - Ifaty - a few
10/11/2012 - Zombitse NP - a few
11/11/2012 - Isalo NP - a few
14/11/2012 - Ranomafana NP - a few
15/11/2012 - Anjozorobe NP - a few en route
Banded Kestrel
Falco zoniventris
Country endemic
28/10/2012 - Masoala - 1
31/10/2012 - Masoala - 2
04/11/2012 - Andohahela NP (Mangatsiaka) - 1
08/11/2012 - Ifaty - 2
Eleonora's Falcon
Falco eleonorae
23/10/2012 - en route - 1
Sooty Falcon
Falco concolor
Near-threatened (NT)
14/11/2012 - Ranomafana NP - 1
25/11/2012 - Antananarivo - 2
26/11/2012 - Antananarivo - 4+
Peregrine Falcon
Falco peregrinus
16/10/2012 - Bemenavika (pochard site) - ssp radama - 1
Gray-headed Lovebird
Agapornis canus
Country endemic
15/10/2012 - en route - ssp canus - 25+
19/10/2012 - Ankarafantsika NP - ssp canus - 10+
24/10/2012 - Lac Mandrozo (Sakalava site) - ssp canus - 50+
03/11/2012 - Andohahela NP (Manangotsy) - 10+
04/11/2012 - Andohahela NP (Mangatsiaka) - a few
05/11/2012 - Berenty - 10+
08/11/2012 - Ifaty - ssp ablectaneus - 15+
10/11/2012 - Zombitse NP - 20+
11/11/2012 - Isalo NP - 10+
Greater Vasa-Parrot
Mascarinus vasa
14/10/2012 - Montagne d'Ambre NP - 4+
15/10/2012 - en route - 10+
16/10/2012 - Bemenavika (pochard site) - ssp drouhardi - 10+
17/10/2012 - Bemenavika (pochard site) - ssp drouhardi - a few seen + more heard
19/10/2012 - Ankarafantsika NP - ssp drouhardi - a few
22/10/2012 - en route - 2
24/10/2012 - Lac Mandrozo (Sakalava site) - ssp drouhardi - a few
25/10/2012 - Tsingy de Beanka - ssp drouhardi - a few
27/10/2012 - Masoala - ssp vasa - a few
28/10/2012 - Masoala - ssp vasa - a few
29/10/2012 - Masoala - ssp vasa - a few
30/10/2012 - Masoala - ssp vasa - a few
31/10/2012 - Masoala - ssp vasa - a few
01/11/2012 - en route - a few
03/11/2012 - Andohahela NP (Manangotsy) - ssp drouhardi - a few
04/11/2012 - Andohahela NP (Mangatsiaka) - ssp drouhardi - a few
08/11/2012 - Ifaty - ssp drouhardi - 2
10/11/2012 - Zombitse NP - ssp drouhardi - a few
11/11/2012 - Isalo NP - ssp drouhardi - a few
16/11/2012 - Anjozorobe NP - ssp drouhardi - 1
17/11/2012 - Anjozorobe NP - ssp drouhardi - 1
Lesser Vasa-Parrot
Mascarinus niger
16/10/2012 - Bemenavika (pochard site) - ssp niger - 5+
17/10/2012 - Bemenavika (pochard site) - ssp niger - a few seen + more heard
19/10/2012 - Ankarafantsika NP - ssp libs - fairly common
24/10/2012 - Lac Mandrozo (Sakalava site) - ssp libs - a few
28/10/2012 - Masoala - ssp niger - a few
29/10/2012 - Masoala - ssp niger - a few
30/10/2012 - Masoala - ssp niger - a few
31/10/2012 - Masoala - ssp niger - a few
01/11/2012 - en route - a few
03/11/2012 - Andohahela NP (Manangotsy) - ssp libs - a few
04/11/2012 - Andohahela NP (Mangatsiaka) - ssp libs - fairly common
05/11/2012 - Berenty - ssp libs - fairly common
08/11/2012 - Ifaty - a few
10/11/2012 - Zombitse NP - ssp libs - a few
12/11/2012 - Ranomafana NP - ssp niger - a few
13/11/2012 - Ranomafana NP - ssp niger - a few
14/11/2012 - Ranomafana NP - ssp niger - a few
Velvet Asity
Philepitta castanea
Country endemic
17/10/2012 - Bemenavika (pochard site) - 1 female
28/10/2012 - Masoala - 2
12/11/2012 - Ranomafana NP - 1
13/11/2012 - Ranomafana NP - 2
Schlegel's Asity
Philepitta schlegeli
Near-threatened (NT)
Country endemic
19/10/2012 - Ankarafantsika NP - 2
Sunbird Asity
Neodrepanis coruscans
Country endemic
17/10/2012 - Bemenavika (pochard site) - 3
12/11/2012 - Ranomafana NP - 1
17/11/2012 - Anjozorobe NP - 1
Yellow-bellied Asity
Neodrepanis hypoxantha
Vulnerable (VU)
Country endemic
Restricted range
12/11/2012 - Ranomafana NP - 1 female
Tylas Vanga
Tylas eduardi
Country endemic
14/10/2012 - Montagne d'Ambre NP - ssp eduardi - 1
17/10/2012 - Bemenavika (pochard site) - ssp eduardi - 5+
28/10/2012 - Masoala - ssp eduardi - 10+
03/11/2012 - Andohahela NP (Manangotsy) - ssp eduardi - 1
12/11/2012 - Ranomafana NP - ssp eduardi - 5+
13/11/2012 - Ranomafana NP - ssp eduardi - 2+
Dark Newtonia
Newtonia amphichroa
Country endemic
16/10/2012 - Bemenavika (pochard site) - HO - 1 heard
17/10/2012 - Bemenavika (pochard site) - 4
12/11/2012 - Ranomafana NP - 2
13/11/2012 - Ranomafana NP - 1
16/11/2012 - Anjozorobe NP - 2
17/11/2012 - Anjozorobe NP - 4
Common Newtonia
Newtonia brunneicauda
Country endemic
14/10/2012 - Montagne d'Ambre NP - fairly common
15/10/2012 - en route - HO - a few heard
17/10/2012 - Bemenavika (pochard site) - a few
19/10/2012 - Ankarafantsika NP - common
22/10/2012 - en route - a few
24/10/2012 - Lac Mandrozo (Sakalava site) - a few seen + more heard
25/10/2012 - Tsingy de Beanka - a few seen + more heard
27/10/2012 - Masoala - fairly common
28/10/2012 - Masoala - fairly commo
29/10/2012 - Masoala - fairly common
30/10/2012 - Masoala - fairly common
31/10/2012 - Masoala - fairly common
01/11/2012 - en route - a few
03/11/2012 - Andohahela NP (Manangotsy) - 10+
04/11/2012 - Andohahela NP (Mangatsiaka) - fairly common
05/11/2012 - Berenty - fairly common
06/11/2012 - Berenty - fairly common
08/11/2012 - Ifaty - fairly common
08/11/2012 - La Table - a few
10/11/2012 - Zombitse NP - fairly common
11/11/2012 - Isalo NP - a few
12/11/2012 - Ranomafana NP - fairly common
13/11/2012 - Ranomafana NP - fairly common
14/11/2012 - Ranomafana NP - a few
15/11/2012 - Anjozorobe NP - a few
16/11/2012 - Anjozorobe NP - fairly common
17/11/2012 - Anjozorobe NP - fairly common
Archbold's Newtonia
Newtonia archboldi
Country endemic
04/11/2012 - Andohahela NP (Mangatsiaka) - 2 seen + 1 heard
06/11/2012 - Berenty - 2
08/11/2012 - Ifaty - 2
Red-tailed Newtonia
Newtonia fanovanae
Vulnerable (VU)
Country endemic
Restricted range
03/11/2012 - Andohahela NP (Manangotsy) - 2
Chabert Vanga
Leptopterus chabert
Country endemic
15/10/2012 - en route - ssp chabert - 3
19/10/2012 - Ankarafantsika NP - ssp chabert - 5+
20/10/2012 - Betsiboka delta - ssp chabert - 2
28/10/2012 - Masoala - ssp chabert - 1
29/10/2012 - Masoala - ssp chabert - 10+
31/10/2012 - Masoala - ssp chabert - 3
04/11/2012 - Andohahela NP (Mangatsiaka) - ssp chabert - 2
06/11/2012 - Berenty - ssp chabert - a few
08/11/2012 - Ifaty - ssp schistocercus - a few
12/11/2012 - Ranomafana NP - ssp chabert - 1
13/11/2012 - Ranomafana NP - ssp chabert - 2
15/11/2012 - Anjozorobe NP - ssp schistocercus - 2
16/11/2012 - Anjozorobe NP - ssp schistocercus - a few
Blue Vanga
Cyanolanius madagascarinus
14/10/2012 - Montagne d'Ambre NP - ssp madagascarinus - 3
17/10/2012 - Bemenavika (pochard site) - ssp madagascarinus - 2
19/10/2012 - Ankarafantsika NP - ssp madagascarinus - 5+
27/10/2012 - Masoala - ssp madagascarinus - 2
28/10/2012 - Masoala - ssp madagascarinus - 5+
29/10/2012 - Masoala - ssp madagascarinus - 3+
30/10/2012 - Masoala - ssp madagascarinus - 5+
31/10/2012 - Masoala - ssp madagascarinus - 5+
03/11/2012 - Andohahela NP (Manangotsy) - ssp madagascarinus - 5+
12/11/2012 - Ranomafana NP - ssp madagascarinus - 2
13/11/2012 - Ranomafana NP - ssp madagascarinus - 3
Red-tailed Vanga
Calicalicus madagascariensis
Country endemic
14/10/2012 - Montagne d'Ambre NP - 2
15/10/2012 - en route - HO - 1 heard
17/10/2012 - Bemenavika (pochard site) - 5+
25/10/2012 - Tsingy de Beanka - 1
27/10/2012 - Masoala - 2
28/10/2012 - Masoala - 5+
30/10/2012 - Masoala - 5+
31/10/2012 - Masoala - 5+
03/11/2012 - Andohahela NP (Manangotsy) - 10+
06/11/2012 - Berenty - 2
08/11/2012 - Ifaty - 2
12/11/2012 - Ranomafana NP - 3+
13/11/2012 - Ranomafana NP - 2 seen + more heard
16/11/2012 - Anjozorobe NP - 5+
17/11/2012 - Anjozorobe NP - 5+
Red-shouldered Vanga
Calicalicus rufocarpalis
Vulnerable (VU)
Country endemic
Restricted range
08/11/2012 - La Table - 1 male
Nuthatch-Vanga
Hypositta corallirostris
Country endemic
17/10/2012 - Bemenavika (pochard site) - 1
28/10/2012 - Masoala - 4+
31/10/2012 - Masoala - 1
Hook-billed Vanga
Vanga curvirostris
Country endemic
14/10/2012 - Montagne d'Ambre NP - ssp curvirostris - 1 seen + more heard
17/10/2012 - Bemenavika (pochard site) - ssp curvirostris - 1
19/10/2012 - Ankarafantsika NP - ssp curvirostris - 2 seen + a few heard
25/10/2012 - Tsingy de Beanka - ssp curvirostris - 1
28/10/2012 - Masoala - ssp curvirostris - 2
04/11/2012 - Andohahela NP (Mangatsiaka) - ssp cetera - 1
Helmet Vanga
Euryceros prevostii
Vulnerable (VU)
Country endemic
Restricted range
28/10/2012 - Masoala - 3
31/10/2012 - Masoala - 1
Rufous Vanga
Schetba rufa
Country endemic
19/10/2012 - Ankarafantsika NP - ssp occidentalis - 1
28/10/2012 - Masoala - ssp rufa - 1 seen + 1 heard
29/10/2012 - Masoala - HO - ssp rufa - 2 heard
30/10/2012 - Masoala - ssp rufa - 5+
31/10/2012 - Masoala - ssp rufa - 5+
03/11/2012 - Andohahela NP (Manangotsy) - ssp occidentalis - 2
12/11/2012 - Ranomafana NP - ssp rufa - 1
Sickle-billed Vanga
Falculea palliata
Country endemic
15/10/2012 - en route - 3
19/10/2012 - Ankarafantsika NP - 20+
20/10/2012 - Betsiboka delta - 10+
20/10/2012 - Ankarafantsika NP - 5+
24/10/2012 - Lac Mandrozo (Sakalava site) - 10+
04/11/2012 - Andohahela NP (Mangatsiaka) - 10+
06/11/2012 - Berenty - 1
08/11/2012 - Ifaty - 1
Bernier's Vanga
Oriolia bernieri
Vulnerable (VU)
Country endemic
Restricted range
29/10/2012 - Masoala - 2 seen + 1 heard
31/10/2012 - Masoala - 3
White-headed Vanga
Artamella viridis
Country endemic
15/10/2012 - en route - 1
16/10/2012 - Bemenavika (pochard site) - ssp viridis - 2
19/10/2012 - Ankarafantsika NP - ssp annae - 5+
20/10/2012 - Betsiboka delta - ssp annae - 5+
24/10/2012 - Lac Mandrozo (Sakalava site) - ssp annae - 5+
28/10/2012 - Masoala - ssp viridis - 4
29/10/2012 - Masoala - ssp viridis - 5+
30/10/2012 - Masoala - ssp viridis - 1
31/10/2012 - Masoala - ssp viridis - 2
04/11/2012 - Andohahela NP (Mangatsiaka) - ssp annae - 1
05/11/2012 - Berenty - ssp annae - 2
12/11/2012 - Ranomafana NP - ssp viridis - 2
Lafresnaye's Vanga
Xenopirostris xenopirostris
Country endemic
06/11/2012 - Berenty - 1
08/11/2012 - La Table - 3
Van Dam's Vanga
Xenopirostris damii
Endangered (EN)
Country endemic
Restricted range
19/10/2012 - Ankarafantsika NP - 3
Pollen's Vanga
Xenopirostris polleni
Near-threatened (NT)
Country endemic
12/11/2012 - Ranomafana NP - 2 and 2
13/11/2012 - Ranomafana NP - 2
Ward's Flycatcher
Pseudobias wardi
Country endemic
12/11/2012 - Ranomafana NP - 1
13/11/2012 - Ranomafana NP - 1
Crossley's Babbler
Mystacornis crossleyi
Country endemic
28/10/2012 - Masoala - 2
12/11/2012 - Ranomafana NP - 2
16/11/2012 - Anjozorobe NP - 1
Ashy Cuckooshrike
Coracina cinerea
14/10/2012 - Montagne d'Ambre NP - ssp cinerea - 3
16/10/2012 - Bemenavika (pochard site) - ssp cinerea - 1
17/10/2012 - Bemenavika (pochard site) - ssp cinerea - 5+
19/10/2012 - Ankarafantsika NP - ssp pallida - 5+
25/10/2012 - Tsingy de Beanka - ssp pallida - 4
28/10/2012 - Masoala - ssp cinerea - 5+
29/10/2012 - Masoala - ssp cinerea - 2
30/10/2012 - Masoala - ssp cinerea - 1
31/10/2012 - Masoala - ssp cinerea - 5+
03/11/2012 - Andohahela NP (Manangotsy) - ssp pallida - 5+
06/11/2012 - Berenty - ssp pallida - 1
11/11/2012 - Isalo NP - ssp pallida - 1
12/11/2012 - Ranomafana NP - ssp cinerea - 5+
13/11/2012 - Ranomafana NP - ssp cinerea - 3+
14/11/2012 - Ranomafana NP - ssp cinerea - 1
17/11/2012 - Anjozorobe NP - ssp cinerea - 1
Crested Drongo
Dicrurus forficatus
14/10/2012 - Montagne d'Ambre NP - ssp forficatus - 10+
15/10/2012 - en route - ssp forficatus - fairly common
16/10/2012 - Bemenavika (pochard site) - ssp forficatus - a few
17/10/2012 - Bemenavika (pochard site) - ssp forficatus - a few
19/10/2012 - Ankarafantsika NP - ssp forficatus - common
20/10/2012 - Betsiboka delta - ssp forficatus - a few
22/10/2012 - en route - ssp forficatus - a few
24/10/2012 - Lac Mandrozo (Sakalava site) - ssp forficatus - a few
25/10/2012 - Tsingy de Beanka - ssp forficatus - a few
27/10/2012 - Masoala - ssp forficatus - fairly common
28/10/2012 - Masoala - ssp forficatus - common
29/10/2012 - Masoala - ssp forficatus - common
30/10/2012 - Masoala - ssp forficatus - fairly common
31/10/2012 - Masoala - ssp forficatus - fairly common
01/11/2012 - en route - ssp forficatus - a few
03/11/2012 - Andohahela NP (Manangotsy) - ssp forficatus - a few
04/11/2012 - Andohahela NP (Mangatsiaka) - ssp forficatus - a few
05/11/2012 - Berenty - ssp forficatus - fairly common
06/11/2012 - Berenty - ssp forficatus - a few
08/11/2012 - La Table - ssp forficatus - a few
10/11/2012 - Zombitse NP - ssp forficatus - a few
11/11/2012 - Isalo NP - ssp forficatus - a few
12/11/2012 - Ranomafana NP - ssp forficatus - a few
13/11/2012 - Ranomafana NP - ssp forficatus - a few
14/11/2012 - Ranomafana NP - ssp forficatus - a few
15/11/2012 - Anjozorobe NP - ssp forficatus - a few
16/11/2012 - Anjozorobe NP - ssp forficatus - a few
17/11/2012 - Anjozorobe NP - ssp forficatus - a few
Madagascar Paradise-Flycatcher
Terpsiphone mutata
14/10/2012 - Montagne d'Ambre NP - ssp mutata - 3
16/10/2012 - Bemenavika (pochard site) - ssp mutata - 1
17/10/2012 - Bemenavika (pochard site) - ssp mutata - 10+
19/10/2012 - Ankarafantsika NP - ssp singetra - common
24/10/2012 - Lac Mandrozo (Sakalava site) - ssp singetra - a few
25/10/2012 - Tsingy de Beanka - ssp singetra - 2
27/10/2012 - Masoala - ssp mutata - a few
28/10/2012 - Masoala - ssp mutata - fairly common
29/10/2012 - Masoala - ssp mutata - a few
30/10/2012 - Masoala - ssp mutata - a few
31/10/2012 - Masoala - ssp mutata - a few
03/11/2012 - Andohahela NP (Manangotsy) - ssp mutata - a few
04/11/2012 - Andohahela NP (Mangatsiaka) - ssp mutata - a few
05/11/2012 - Berenty - ssp mutata - a few
06/11/2012 - Berenty - ssp mutata - 2
08/11/2012 - Ifaty - ssp singetra - a few
11/11/2012 - Isalo NP - ssp singetra - a few
12/11/2012 - Ranomafana NP - ssp mutata - a few
13/11/2012 - Ranomafana NP - ssp mutata - a few
14/11/2012 - Ranomafana NP - ssp mutata - a few
15/11/2012 - Anjozorobe NP - ssp singetra - 1
16/11/2012 - Anjozorobe NP - ssp singetra - a few
17/11/2012 - Anjozorobe NP - ssp singetra - a few
14/10/2012 - Montagne d'Ambre NP - a few
15/10/2012 - en route - fairly common
16/10/2012 - Bemenavika (pochard site) - fairly common
19/10/2012 - Ankarafantsika NP - a few
22/10/2012 - en route - fairly common
24/10/2012 - Lac Mandrozo (Sakalava site) - common
25/10/2012 - Tsingy de Beanka - common en route
01/11/2012 - en route - 2
03/11/2012 - Andohahela NP (Manangotsy) - a few
05/11/2012 - Berenty - common
06/11/2012 - Berenty - a few
08/11/2012 - La Table - a few
09/11/2012 - Anakoa & Nosy Ve Island - a few
10/11/2012 - Zombitse NP - common en route
11/11/2012 - Isalo NP - fairly common
14/11/2012 - Ranomafana NP - fairly common en route
15/11/2012 - Anjozorobe NP - a few en route
Madagascar Lark
Mirafra hova
Country endemic
14/10/2012 - Montagne d'Ambre NP - 5+ en route
15/10/2012 - en route - 1
16/10/2012 - Bemenavika (pochard site) - common
17/10/2012 - Bemenavika (pochard site) - a few
22/10/2012 - en route - common
24/10/2012 - Lac Mandrozo (Sakalava site) - fairly common
25/10/2012 - Tsingy de Beanka - common en route
06/11/2012 - Berenty - fairly common
08/11/2012 - Ifaty - a few
08/11/2012 - La Table - a few
09/11/2012 - Anakoa & Nosy Ve Island - a few
10/11/2012 - Zombitse NP - common en route
11/11/2012 - Isalo NP - common
14/11/2012 - Ranomafana NP - a few en route
Plain Martin
Riparia paludicola
15/10/2012 - en route - ssp cowani - 3
16/10/2012 - Bemenavika (pochard site) - ssp cowani - a few
17/10/2012 - Bemenavika (pochard site) - ssp cowani - a few
19/10/2012 - Ankarafantsika NP - ssp cowani - a few
08/11/2012 - Ifaty - ssp cowani - a few
11/11/2012 - Isalo NP - ssp cowani - a few en route
15/11/2012 - Anjozorobe NP - ssp cowani - 5+
16/11/2012 - Anjozorobe NP - ssp cowani - 20+
17/11/2012 - Anjozorobe NP - ssp cowani - a few
Mascarene Martin
Phedina borbonica
Restricted range
14/10/2012 - Montagne d'Ambre NP - ssp madagascariensis - fairly common en route
16/10/2012 - Bemenavika (pochard site) - ssp madagascariensis - 2
17/10/2012 - Bemenavika (pochard site) - ssp madagascariensis - 5+
19/10/2012 - Ankarafantsika NP - ssp madagascariensis - a few
24/10/2012 - Lac Mandrozo (Sakalava site) - ssp madagascariensis - 2
27/10/2012 - Masoala - ssp madagascariensis - a few
29/10/2012 - Masoala - ssp madagascariensis - a few
30/10/2012 - Masoala - ssp madagascariensis - a few
31/10/2012 - Masoala - ssp madagascariensis - 10+
01/11/2012 - en route - ssp madagascariensis - a few
06/11/2012 - Berenty - ssp madagascariensis - a few
11/11/2012 - Isalo NP - ssp madagascariensis - a few en route
13/11/2012 - Ranomafana NP - ssp madagascariensis - a few
Barn Swallow
Hirundo rustica
08/11/2012 - Ifaty - 20+ en route
Madagascar Bulbul
Hypsipetes madagascariensis
14/10/2012 - Montagne d'Ambre NP - ssp madagascariensis - common
15/10/2012 - en route - ssp madagascariensis - common
16/10/2012 - Bemenavika (pochard site) - ssp madagascariensis - fairly common
17/10/2012 - Bemenavika (pochard site) - ssp madagascariensis - fairly common
19/10/2012 - Ankarafantsika NP - ssp madagascariensis - common
24/10/2012 - Lac Mandrozo (Sakalava site) - ssp madagascariensis - a few
25/10/2012 - Tsingy de Beanka - ssp madagascariensis - a few
26/10/2012 - Antananarivo - ssp madagascariensis
27/10/2012 - Masoala - ssp madagascariensis - fairly common
28/10/2012 - Masoala - ssp madagascariensis - common
29/10/2012 - Masoala - ssp madagascariensis - common
30/10/2012 - Masoala - ssp madagascariensis - common
31/10/2012 - Masoala - ssp madagascariensis - common
01/11/2012 - en route - ssp madagascariensis - fairly common
03/11/2012 - Andohahela NP (Manangotsy) - ssp madagascariensis - fairly common
04/11/2012 - Andohahela NP (Mangatsiaka) - ssp madagascariensis - a few
05/11/2012 - Berenty - ssp madagascariensis - fairly common
06/11/2012 - Berenty - ssp madagascariensis - a few
10/11/2012 - Zombitse NP - ssp madagascariensis - a few
11/11/2012 - Isalo NP - ssp madagascariensis - a few
12/11/2012 - Ranomafana NP - ssp madagascariensis - a few
13/11/2012 - Ranomafana NP - ssp madagascariensis - a few
14/11/2012 - Ranomafana NP - ssp madagascariensis - fairly common
15/11/2012 - Anjozorobe NP - ssp madagascariensis - fairly common
16/11/2012 - Anjozorobe NP - ssp madagascariensis - fairly common
17/11/2012 - Anjozorobe NP - ssp madagascariensis - fairly common
Madagascar Brush-Warbler
Nesillas typica
14/10/2012 - Montagne d'Ambre NP - ssp typica - 2 seen + more heard
15/10/2012 - en route - HO - a few heard
16/10/2012 - Bemenavika (pochard site) - HO - ssp typica - a few heard
17/10/2012 - Bemenavika (pochard site) - ssp typica - a few
11/11/2012 - Ranomafana NP - ssp typica - 2
12/11/2012 - Ranomafana NP - ssp typica - 5+ seen + more heard
13/11/2012 - Ranomafana NP - ssp typica - a few seen + more heard
14/11/2012 - Ranomafana NP - ssp typica - fairly common
15/11/2012 - Anjozorobe NP - ssp typica - a few seen + more heard
16/11/2012 - Anjozorobe NP - ssp typica - fairly common
17/11/2012 - Anjozorobe NP - ssp typica - fairly common
Subdesert Brush-Warbler
Nesillas lantzii
Country endemic
06/11/2012 - Berenty - 5+ seen + more heard
08/11/2012 - Ifaty - 5+ seen + more heard
08/11/2012 - La Table - 5+ seen + more heard
09/11/2012 - Anakoa & Nosy Ve Island - 10+
Madagascar Swamp-Warbler
Acrocephalus newtoni
Country endemic
16/10/2012 - Bemenavika (pochard site) - 3 seen + more heard
19/10/2012 - Ankarafantsika NP - HO - 1 heard
06/11/2012 - Berenty - 5+ seen + more heard
08/11/2012 - Ifaty - 5+ seen + more heard
15/11/2012 - Anjozorobe NP - 2 seen + more heard
16/11/2012 - Anjozorobe NP - 3 seen + a few heard
Brown Emu-tail
Dromaeocercus brunneus
Country endemic
12/11/2012 - Ranomafana NP - 2 seen + 2 heard
13/11/2012 - Ranomafana NP - 2 seen + 1 heard
16/11/2012 - Anjozorobe NP - 1
17/11/2012 - Anjozorobe NP - 1 seen + 1 heard
Gray Emu-tail
Dromaeocercus seebohmi
Country endemic
16/10/2012 - Bemenavika (pochard site) - HO - 1 heard
14/11/2012 - Ranomafana NP - 3 seen + a few heard
15/11/2012 - Anjozorobe NP - 1 seen + 2 heard
16/11/2012 - Anjozorobe NP - 2 seen + a few heard
White-throated Oxylabes
Oxylabes madagascariensis
Country endemic
14/10/2012 - Montagne d'Ambre NP - 2
28/10/2012 - Masoala - 2
31/10/2012 - Masoala - 2
12/11/2012 - Ranomafana NP - 5+
16/11/2012 - Anjozorobe NP - 2
17/11/2012 - Anjozorobe NP - 5+
Long-billed Bernieria
Bernieria madagascariensis
Country endemic
14/10/2012 - Montagne d'Ambre NP - ssp inceleber - 1
15/10/2012 - en route - 2
17/10/2012 - Bemenavika (pochard site) - ssp inceleber - 4+
19/10/2012 - Ankarafantsika NP - ssp inceleber - fairly common
28/10/2012 - Masoala - ssp madagascariensis - 2
29/10/2012 - Masoala - ssp madagascariensis - 2
30/10/2012 - Masoala - ssp madagascariensis - 3
31/10/2012 - Masoala - ssp madagascariensis - 2
03/11/2012 - Andohahela NP (Manangotsy) - ssp madagascariensis - 3
12/11/2012 - Ranomafana NP - ssp madagascariensis - fairly common
13/11/2012 - Ranomafana NP - ssp madagascariensis - fairly common
16/11/2012 - Anjozorobe NP - ssp inceleber - 3+
17/11/2012 - Anjozorobe NP - ssp inceleber - 5+
Cryptic Warbler
Cryptosylvicola randrianasoloi
Country endemic
12/11/2012 - Ranomafana NP - 4
13/11/2012 - Ranomafana NP - 4+ seen + a few heard
17/11/2012 - Anjozorobe NP - 1
Wedge-tailed Jery
Hartertula flavoviridis
Near-threatened (NT)
Country endemic
12/11/2012 - Ranomafana NP - 10+
13/11/2012 - Ranomafana NP - 3
Thamnornis
Thamnornis chloropetoides
Country endemic
Yellow-browed Oxylabes
Crossleyia xanthophrys
Near-threatened (NT)
Country endemic
Restricted range
13/11/2012 - Ranomafana NP - 4+
17/11/2012 - Anjozorobe NP - 3
Spectacled Tetraka
Xanthomixis zosterops
Country endemic
14/10/2012 - Montagne d'Ambre NP - ssp fulvescens - 4
17/10/2012 - Bemenavika (pochard site) - ssp andapae - 20+
27/10/2012 - Masoala - ssp andapae - 2
28/10/2012 - Masoala - ssp andapae - 5+
30/10/2012 - Masoala - ssp andapae - 10+
03/11/2012 - Andohahela NP (Manangotsy) - ssp zosterops - 3 seen + a few more heard
12/11/2012 - Ranomafana NP - ssp ankafanae - fairly common
13/11/2012 - Ranomafana NP - ssp ankafanae - fairly common
17/11/2012 - Anjozorobe NP - ssp zosterops - 10+
Appert's Tetraka
Xanthomixis apperti
Vulnerable (VU)
Country endemic
Restricted range
10/11/2012 - Zombitse NP - 2
Gray-crowned Tetraka
Xanthomixis cinereiceps
Near-threatened (NT)
Country endemic
17/10/2012 - Bemenavika (pochard site) - 2+
12/11/2012 - Ranomafana NP - 1
13/11/2012 - Ranomafana NP - 1
17/11/2012 - Anjozorobe NP - 5+
Rand's Warbler
Randia pseudozosterops
Country endemic
17/10/2012 - Bemenavika (pochard site) - 1 seen + a few heard
12/11/2012 - Ranomafana NP - 4 seen + more heard
13/11/2012 - Ranomafana NP - 3 seen + more heard
14/11/2012 - Ranomafana NP - 5+ seen + more heard
16/11/2012 - Anjozorobe NP - HO - a few heard
17/11/2012 - Anjozorobe NP - a few seen + more heard
Common Jery
Neomixis tenella
Country endemic
15/10/2012 - en route - 2
16/10/2012 - Bemenavika (pochard site) - ssp tenella - 1 seen + more heard
17/10/2012 - Bemenavika (pochard site) - ssp tenella - 5+
19/10/2012 - Ankarafantsika NP - ssp decaryi - a few
25/10/2012 - Tsingy de Beanka - ssp decaryi - 2
28/10/2012 - Masoala - ssp orientalis - fairly common
29/10/2012 - Masoala - ssp orientalis - 10+
30/10/2012 - Masoala - ssp orientalis - fairly common
31/10/2012 - Masoala - ssp orientalis - 10+
03/11/2012 - Andohahela NP (Manangotsy) - ssp debilis - 10+
04/11/2012 - Andohahela NP (Mangatsiaka) - ssp debilis - fairly common
05/11/2012 - Berenty - ssp debilis - fairly common
07/11/2012 - Fort Dauphin - ssp debilis - 2
08/11/2012 - Ifaty - ssp decaryi - fairly common
10/11/2012 - Zombitse NP - ssp decaryi - a few
12/11/2012 - Ranomafana NP - ssp orientalis - 10+
13/11/2012 - Ranomafana NP - ssp orientalis - fairly common
14/11/2012 - Ranomafana NP - ssp orientalis - a few
16/11/2012 - Anjozorobe NP - ssp orientalis - a few seen + more heard
17/11/2012 - Anjozorobe NP - ssp orientalis - a few seen + more heard
Green Jery
Neomixis viridis
Country endemic
28/10/2012 - Masoala - ssp delacouri - 1
12/11/2012 - Ranomafana NP - ssp viridis - 5+
13/11/2012 - Ranomafana NP - ssp viridis - 5+
16/11/2012 - Anjozorobe NP - ssp viridis - 2
Stripe-throated Jery
Neomixis striatigula
Country endemic
16/10/2012 - Bemenavika (pochard site) - ssp sclateri - 1 seen + more heard
17/10/2012 - Bemenavika (pochard site) - ssp sclateri - 2 seen + more heard
03/11/2012 - Andohahela NP (Manangotsy) - ssp pallidior - 5+
08/11/2012 - Ifaty - ssp pallidior - fairly common
12/11/2012 - Ranomafana NP - ssp striatigula - 1
13/11/2012 - Ranomafana NP - ssp striatigula - 5+
Madagascar Cisticola
Cisticola cherina
15/10/2012 - en route - 5+
16/10/2012 - Bemenavika (pochard site) - common
17/10/2012 - Bemenavika (pochard site) - common
20/10/2012 - Ankarafantsika NP - a few en route
22/10/2012 - en route - common
24/10/2012 - Lac Mandrozo (Sakalava site) - fairly common
25/10/2012 - Tsingy de Beanka - fairly common en route
01/11/2012 - en route - a few
04/11/2012 - Andohahela NP (Mangatsiaka) - a few
05/11/2012 - Berenty - a few
08/11/2012 - Ifaty - fairly common
09/11/2012 - Anakoa & Nosy Ve Island - a few
11/11/2012 - Isalo NP - fairly common
13/11/2012 - Ranomafana NP - a few
15/11/2012 - Anjozorobe NP - a few
16/11/2012 - Anjozorobe NP - a few
Madagascar White-eye
Zosterops maderaspatanus
14/10/2012 - Montagne d'Ambre NP - ssp maderaspatanus - common
15/10/2012 - en route - ssp maderaspatanus - a few
16/10/2012 - Bemenavika (pochard site) - ssp maderaspatanus - a few
17/10/2012 - Bemenavika (pochard site) - ssp maderaspatanus - fairly common
19/10/2012 - Ankarafantsika NP - ssp maderaspatanus - 10+
22/10/2012 - en route - ssp maderaspatanus - a few
25/10/2012 - Tsingy de Beanka - ssp maderaspatanus - a few
26/10/2012 - Antananarivo - ssp maderaspatanus
27/10/2012 - Masoala - ssp maderaspatanus - a few
28/10/2012 - Masoala - ssp maderaspatanus - 10+
29/10/2012 - Masoala - ssp maderaspatanus - a few
30/10/2012 - Masoala - ssp maderaspatanus - a few
31/10/2012 - Masoala - ssp maderaspatanus - a few
03/11/2012 - Andohahela NP (Manangotsy) - ssp maderaspatanus - fairly common
05/11/2012 - Berenty - ssp maderaspatanus - a few
10/11/2012 - Zombitse NP - ssp maderaspatanus - a few
11/11/2012 - Isalo NP - ssp maderaspatanus - a few
12/11/2012 - Ranomafana NP - ssp maderaspatanus - fairly common
13/11/2012 - Ranomafana NP - ssp maderaspatanus - fairly common
16/11/2012 - Anjozorobe NP - ssp maderaspatanus - fairly common
17/11/2012 - Anjozorobe NP - ssp maderaspatanus - fairly common
Madagascar Magpie-Robin
Copsychus albospecularis
Country endemic
14/10/2012 - Montagne d'Ambre NP - ssp albospecularis - 2 seen + more heard
15/10/2012 - en route - HO - a few heard
16/10/2012 - Bemenavika (pochard site) - ssp albospecularis - 1 seen + more heard
17/10/2012 - Bemenavika (pochard site) - ssp albospecularis - 10+
19/10/2012 - Ankarafantsika NP - ssp pica - fairly common
20/10/2012 - Betsiboka delta - ssp pica - a few
24/10/2012 - Lac Mandrozo (Sakalava site) - ssp pica - a few
27/10/2012 - Masoala - ssp inexpectatus - a few
28/10/2012 - Masoala - ssp inexpectatus - a few
29/10/2012 - Masoala - ssp inexpectatus - a few
30/10/2012 - Masoala - ssp inexpectatus - a few
31/10/2012 - Masoala - ssp inexpectatus - a few
01/11/2012 - en route - a few
03/11/2012 - Andohahela NP (Manangotsy) - ssp winterbottomi - 1
04/11/2012 - Andohahela NP (Mangatsiaka) - ssp winterbottomi - 10+
05/11/2012 - Berenty - ssp winterbottomi - a few
08/11/2012 - Ifaty - ssp winterbottomi - a few
11/11/2012 - Isalo NP - ssp winterbottomi - a few
12/11/2012 - Ranomafana NP - ssp inexpectatus - a few
13/11/2012 - Ranomafana NP - ssp inexpectatus - a few
16/11/2012 - Anjozorobe NP - ssp winterbottomi - 1
Forest Rock-Thrush
Monticola sharpei
Country endemic
14/10/2012 - Montagne d'Ambre NP - ssp erythronotus - 2
17/10/2012 - Bemenavika (pochard site) - ssp sharpei - 1
11/11/2012 - Isalo NP - ssp bensoni - 2 seen + 1 heard
13/11/2012 - Ranomafana NP - ssp sharpei - 1 seen + 1 heard
17/11/2012 - Anjozorobe NP - ssp sharpei - 2
Littoral Rock-Thrush
Monticola imerina
Country endemic
09/11/2012 - Anakoa & Nosy Ve Island - 5+
African Stonechat
Saxicola torquatus
14/10/2012 - Montagne d'Ambre NP - ssp sibilla - 1
15/10/2012 - en route - ssp sibilla - 1
16/10/2012 - Bemenavika (pochard site) - ssp sibilla - common
17/10/2012 - Bemenavika (pochard site) - ssp sibilla - common
22/10/2012 - en route - ssp sibilla - a few
26/10/2012 - Antananarivo - ssp sibilla
11/11/2012 - Ranomafana NP - ssp sibilla - 1
13/11/2012 - Ranomafana NP - ssp sibilla - 2
14/11/2012 - Ranomafana NP - ssp sibilla - fairly common
15/11/2012 - Anjozorobe NP - ssp sibilla - a few
16/11/2012 - Anjozorobe NP - ssp sibilla - a few
Madagascar Starling
Saroglossa aurata
Country endemic
16/10/2012 - Bemenavika (pochard site) - 2
17/10/2012 - Bemenavika (pochard site) - 4
27/10/2012 - Masoala - 3
28/10/2012 - Masoala - 2
29/10/2012 - Masoala - 10+
30/10/2012 - Masoala - a few
31/10/2012 - Masoala - 10+
01/11/2012 - en route - 5+
14/11/2012 - Ranomafana NP - 1
15/11/2012 - Anjozorobe NP - 3
16/11/2012 - Anjozorobe NP - 2
17/11/2012 - Anjozorobe NP - 1
Common Myna
Acridotheres tristis
14/10/2012 - Montagne d'Ambre NP - fairly common en route
15/10/2012 - en route - fairly common
16/10/2012 - Bemenavika (pochard site) - a few
19/10/2012 - Ankarafantsika NP - 2
20/10/2012 - Ankarafantsika NP - a few en route
22/10/2012 - en route - fairly common
24/10/2012 - Lac Mandrozo (Sakalava site) - fairly common
27/10/2012 - Masoala - a few
28/10/2012 - Masoala - a few
29/10/2012 - Masoala - 10+
30/10/2012 - Masoala - a few
31/10/2012 - Masoala - a few
01/11/2012 - en route - a few
03/11/2012 - Andohahela NP (Manangotsy) - a few
04/11/2012 - Andohahela NP (Mangatsiaka) - fairly common
05/11/2012 - Berenty - fairly common
08/11/2012 - Ifaty - fairly common
09/11/2012 - Anakoa & Nosy Ve Island - a few
10/11/2012 - Zombitse NP - common en route
11/11/2012 - Isalo NP - common
12/11/2012 - Ranomafana NP - a few
13/11/2012 - Ranomafana NP - a few
14/11/2012 - Ranomafana NP - common en route
15/11/2012 - Anjozorobe NP - fairly common en route
16/11/2012 - Anjozorobe NP - a few
17/11/2012 - Anjozorobe NP - fairly common en route
Souimanga Sunbird
Cinnyris souimanga
14/10/2012 - Montagne d'Ambre NP - ssp souimanga - 10+
15/10/2012 - en route - ssp souimanga - fairly common
16/10/2012 - Bemenavika (pochard site) - ssp souimanga - a few
17/10/2012 - Bemenavika (pochard site) - ssp souimanga - fairly common
19/10/2012 - Ankarafantsika NP - ssp souimanga - common
22/10/2012 - en route - ssp souimanga - a few
24/10/2012 - Lac Mandrozo (Sakalava site) - ssp souimanga - a few
25/10/2012 - Tsingy de Beanka - ssp souimanga - a few
27/10/2012 - Masoala - ssp souimanga - common
28/10/2012 - Masoala - ssp souimanga - common
29/10/2012 - Masoala - ssp souimanga - common
30/10/2012 - Masoala - ssp souimanga - common
31/10/2012 - Masoala - ssp souimanga - common
01/11/2012 - en route - ssp souimanga - a few
03/11/2012 - Andohahela NP (Manangotsy) - ssp apolis - 10+
04/11/2012 - Andohahela NP (Mangatsiaka) - ssp apolis - fairly common
05/11/2012 - Berenty - ssp apolis - a few
08/11/2012 - Ifaty - ssp apolis - fairly common
08/11/2012 - La Table - ssp apolis - fairly common
09/11/2012 - Anakoa & Nosy Ve Island - ssp apolis - a few
10/11/2012 - Zombitse NP - ssp souimanga - fairly common
11/11/2012 - Isalo NP - ssp souimanga - a few
12/11/2012 - Ranomafana NP - ssp souimanga - a few
13/11/2012 - Ranomafana NP - ssp souimanga - fairly common
14/11/2012 - Ranomafana NP - ssp souimanga - a few
16/11/2012 - Anjozorobe NP - ssp souimanga - a few
17/11/2012 - Anjozorobe NP - ssp souimanga - a few
Madagascar Sunbird
Cinnyris notatus
15/10/2012 - en route - ssp notatus - 1
16/10/2012 - Bemenavika (pochard site) - ssp notatus - 2
19/10/2012 - Ankarafantsika NP - ssp notatus - 5+
24/10/2012 - Lac Mandrozo (Sakalava site) - ssp notatus - 1
28/10/2012 - Masoala - ssp notatus - 3
29/10/2012 - Masoala - ssp notatus - 5+
30/10/2012 - Masoala - ssp notatus - 2
31/10/2012 - Masoala - ssp notatus - 4
04/11/2012 - Andohahela NP (Mangatsiaka) - ssp notatus - 10+
05/11/2012 - Berenty - ssp notatus - 1
12/11/2012 - Ranomafana NP - ssp notatus - 2
13/11/2012 - Ranomafana NP - ssp notatus - 1
17/11/2012 - Anjozorobe NP - ssp notatus - 1
Madagascar Wagtail
Motacilla flaviventris
Country endemic
14/10/2012 - Montagne d'Ambre NP - 3 en route
15/10/2012 - en route - 2
16/10/2012 - Bemenavika (pochard site) - 2
20/10/2012 - Betsiboka delta - 1
22/10/2012 - en route - 1
24/10/2012 - Lac Mandrozo (Sakalava site) - 1
26/10/2012 - Antananarivo
11/11/2012 - Isalo NP - a few en route
12/11/2012 - Ranomafana NP - 10+
13/11/2012 - Ranomafana NP - 3
14/11/2012 - Ranomafana NP - a few
15/11/2012 - Anjozorobe NP - 3
16/11/2012 - Anjozorobe NP - 2
17/11/2012 - Anjozorobe NP - a few en route
House Sparrow
Passer domesticus
25/11/2012 - Antananarivo - a few
26/11/2012 - Antananarivo - a few
Nelicourvi Weaver
Ploceus nelicourvi
Country endemic
14/10/2012 - Montagne d'Ambre NP - 1
17/10/2012 - Bemenavika (pochard site) - 5+
28/10/2012 - Masoala - 2
29/10/2012 - Masoala - 1
31/10/2012 - Masoala - 2
03/11/2012 - Andohahela NP (Manangotsy) - 2
12/11/2012 - Ranomafana NP - 10+
13/11/2012 - Ranomafana NP - 15+
Sakalava Weaver
Ploceus sakalava
Country endemic
14/10/2012 - Montagne d'Ambre NP - ssp sakalava - 3
15/10/2012 - en route - ssp sakalava - 10+
19/10/2012 - Ankarafantsika NP - ssp minor - 20+
24/10/2012 - Lac Mandrozo (Sakalava site) - ssp minor - a few
03/11/2012 - Andohahela NP (Manangotsy) - ssp minor - 10+
05/11/2012 - Berenty - ssp minor - 20+
08/11/2012 - Ifaty - ssp minor - fairly common
Red Fody
Foudia madagascariensis
Country endemic
14/10/2012 - Montagne d'Ambre NP - 2 en route
16/10/2012 - Bemenavika (pochard site) - 5+
24/10/2012 - Lac Mandrozo (Sakalava site) - fairly common
26/10/2012 - Antananarivo
28/10/2012 - Masoala - 10+ hybrids
29/10/2012 - Masoala - 10+ hybrids
30/10/2012 - Masoala - 5+
31/10/2012 - Masoala - a few
01/11/2012 - en route - a few
03/11/2012 - Andohahela NP (Manangotsy) - 50+ hybrids
08/11/2012 - Ifaty - a few
09/11/2012 - Anakoa & Nosy Ve Island - a few
14/11/2012 - Ranomafana NP - a few
15/11/2012 - Anjozorobe NP - a few
16/11/2012 - Anjozorobe NP - fairly common
17/11/2012 - Anjozorobe NP - fairly common
Forest Fody
Foudia omissa
Country endemic
03/11/2012 - Andohahela NP (Manangotsy) - 2
12/11/2012 - Ranomafana NP - 1 pure + several hybrirds
13/11/2012 - Ranomafana NP - 2 pure + more hybrids
Madagascar Munia
Lonchura nana
Country endemic
16/10/2012 - Bemenavika (pochard site) - 20+
17/10/2012 - Bemenavika (pochard site) - 5+
19/10/2012 - Ankarafantsika NP - a few
22/10/2012 - en route - a few
24/10/2012 - Lac Mandrozo (Sakalava site) - fairly common
26/10/2012 - Antananarivo
28/10/2012 - Masoala - a few
29/10/2012 - Masoala - 20+
30/10/2012 - Masoala - a few
31/10/2012 - Masoala - a few
03/11/2012 - Andohahela NP (Manangotsy) - a few
08/11/2012 - Ifaty - a few
10/11/2012 - Zombitse NP - a few en route
11/11/2012 - Ranomafana NP - 10+
13/11/2012 - Ranomafana NP - 5+
15/11/2012 - Anjozorobe NP - a few en route
OTHER LISTS

Mammals
Brown (= Rufous) Mouse Lemur (Microcebus rufus)

Anjozorobe

Grey-brown Mouse Lemur (Microcebus griseorufus)

Berenty

Greater Dwarf Lemur (Cheirogaleus major)

Amber Mountain

Fat-tailed Dwarf Lemur (Cheirogaleus medius)

Ampijoroa

Amber Mountain Fork-marked Lemur (Phaner electromontis)

Amber Mountain

Masoala Sportive Lemur (Lepilemur scottorum)

Masoala

Hubbard's (= Zombitse) Sportive lemur (Lepilemur hubbardi)

Zombitse

White-footed Sportive Lemur (Lepilemur leucopus)

Andohahela, Berenty

Eastern Grey (= Lesser) Bamboo Lemur (Hapalemur griseus)

Ranomafana, Perinet

Ring-tailed Lemur (Lemur catta)

Andohahela, Berenty

Crowned Lemur (Eulemur coronatus)

Amber Mountain

Red-bellied Lemur (Eulemur rubriventer)

Ranomafana

Common Brown Lemur (Eulemur fulvus)

Ampijoroa

Sanford's Brown Lemur (Eulemur sanfordi)

Amber Mountain

White-fronted Brown Lemur (Eulemur albifrons)

Masoala

Red (= Rufous Brown) Lemur (Eulemur rufus)

Mandrozo Lake

Red-fronted Brown Lemur (Eulemur rufifrons)

Ranomafana

Red Ruffed Lemur (Varecia rubra)

Masoala

Eastern Avahi (Avahi laniger)

Masoala

Western Avahi (Avahi occidentalis)

Ampijoroa

Cleese's Avahi (Avahi cleesei)

Tsingy de Bemaraha

Sambirano Avahi (Avahi unicolor)

Bemanevika (pochard-site)

Verraux's Sifaka (Propithecus verreauxi)

Berenty, Zombitse

Coquerel's Sifaka (Propithecus coquereli)

Ampijoroa

Decken's Sifaka (Propithecus deckeni)

Mandrozo Lake, Tsingy de Bemaraha, en route from Mitsinjo to Kinkony along Mahavavy river

Indri (Indri indri)

Andjojorobe, Perinet

Ring-tailed Mongoose (Galidia elegans)
- ubspecies dambrensis

Amber Mountain

- subspecies elegans

Andohahela

Brown-tailed Mongoose (Salanoia concolor)

Masoala

Common Tenrec (Tenrec eucaudatus)

en route caught by hunter + Mauritius (introduced)

Greater Hedgehog tenrec (Setifer setosus)

Andohahela (probably this species)

Lesser Hedgehog Tenrec (Echinops telfairi)

Berenty

Lowland Streaked Tenrec (Hemicentetes semispinosus)

Masoala

Madagascar Flying Fox (Pteropus rufus)

Berenty + en route to Berenty

Mauritius Flying Fox (Pteropus niger)

Mauritius

Humpback Whale (Megaptera novaeangliae)

Fort Dauphin

Dolphin spec.

Masoala

Bottlenose Dolphin spec. (Tursiops truncatus / aduncus)

Anakao

Eastern / Lowland Red Forest Rat (Nesomys rufus/audeberti)

Ranomafana


Frogs
Gephyromanits luteus

Masoala

Heterixalus punctatus

Masoala

Boophis blommersae

Masoala

Boophis tephraeomystax

Masoala

Mantella ebenaui

Masoala

Mantella baroni

Mantadia

Mantella bernhardi

Masoala

Stumpffia tetradactyla

Masoala

Blommersia grandisonae

Masoala

Guibemantis pulcher

Vohiparara

Mantidactylus charlotae

Masoala

Mantidactylus sp. aff. biporus

Masoala

Mantidactylus binotatus

Vohiparara

Mantidactylus grandidieri

Masoala

Mantidactylus (Ochtomantis) spp. aff. femoralis

Masoala

Gephyromantis luteus

Masoala

Gephyromantis azzurae

Isalo

Gephyromantis (Duboimantis) redimitus

Ranomafana


Turtles
Pyxis arachnoides

Berenty

Astrochelys radiata

Isalo


Crocodiles
Crocodylus niloticus

Ampijoroa


Chameleons
Brookesia minima

Amber Mt.

Brookesia griveaudi

Masoala

Calumna brevicorne

Ranomafana

Calumna malthe

Bemanivika

Furcifer pardalis

Masoala

Furcifer lateralis

Anjozorobe

Furcifer oustaleti

Ampijoroa

Furcifer verrucosus

Andohahela


Lizards
Chalarodon madagascariensis

Berenty

Oplurus cuvieri

Ampjoroa

Oplurus quadrimaculatus

Isalo

Zonosaurus madagascariensis

Ampijoroa,...

Zonosaurus laticaudatus

Ampijoroa

Zonosaurus brygooi

Masoala

Zonosaurus trilineatus

Andohahela


Geckos
Blaesodactylus sakalava

Berenty

Hemidactylus mercatorius

Andohahela

Hemidactylus frenatus

Ifaty

Paroedura tanjaka

Berenty

Paroedura bastardi

Berenty

Uroplatus henkeli

Amber Mt.

Phelsuma guttata

Masoala

Phelsuma pusilla / lineata

Masoala

Phelsuma standingi

Zombitse

Phelsuma madagascariensis

Masoala


Snakes
Madagascarophis colubrinus

Masoala

Brygophis coulangesi

Masoala

Ithycyphus pireneti

Masoala

Ithycyphus oursi

Zombitse

Leioheterodon madagascariensis

Ampijoroa

Dromicodryas bernieri

Berenty

Mimophis mahfalensis

Berenty