KENYA
15/11 - 31/12/2003
Hans Matheve, Toon Spanhove & Valérie Lehouck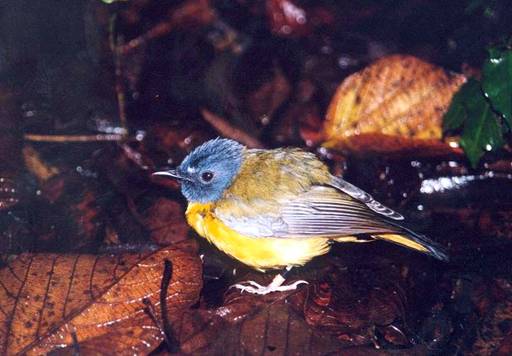 INTRODUCTION
As I was part of a Ghent University research project (effects of habitat fragmentation on tropical forest bird communities), I had to do some field work in Kenya. This trip was therefore not a real bird trip, but I had some the opportunities to do some birding. Our research area is situated in the Taita Hills, in the southeast of the country. We only did some serious birding in Tsavo West National Park (2days), Nairobi National Park (2days) and some less serious birding during our fieldwork period in the Taita Hills and around the National Museum of Kenya in Nairobi.

read more about the research project itself

Thanks are due to Luc Lens in the first place for sending me there to work and also for some useful birding tips. Diederik D'Hert and Simon Feys helped me with some bird sounds.
ITINERARY
| | |
| --- | --- |
| 15 nov | departure from Brussels Airport |
| 16 nov | arrival at Nairobi Airport + working in Nairobi |
| 17-19 nov | working in Nairobi |
| 20 nov | travel to Taita Hills |
| 21 nov - 5 dec | working in Taita Hills |
| 6-7 dec | birding in Tsavo West NP |
| 8-26 dec | working in Taita Hills |
| 27 dec | travel to Nairobi |
| 28-29 dec | birding in Nairobi NP |
| 30 dec | working in Nairobi + flight to Brusselsi |
| 31 dec | arrival at Brussels Airport |
VISITED SITES
Taita Hills

The Taita Hills are part of the Eastern Arc Mountains which are shared with Tanzania. The hills are known for their moist forests with a unique fauna and flora. The forested hills are home to 3 distinctive and endemic subspecies which are often treated as full species by several authors: Taita (Olive) Thrush, Taita (Bar-throated) Apalis and Taita (Broad-ringed) White-eye.

Guides: Only few independent birders go to the Taita Hills, probably beacause of logistic reasons. Hereby I could propose a solution as one of our local field assistants might be the best option for guiding you around and/or arranging transport. He's keen on birding and speaks English well (and some basic Dutch also). He lives in Wundanyi but as he is working on our project he might not be available though...

Max Chovu
mail: maxchovu@yahoo.com
phone: +254 721 66 81 84 or +254 736 39 81 46

FULL TRIP LIST
Taxonomy strictly follows Clements' 5th Edition (incl. updates). The list only contains species positively identified by at least one of our group. Birds identified by guides or other people only are not included, presumed species neither...
[342 species]
Ostrich Struthio camelus
ssp massaicus

Little Grebe Tachybaptus ruficollis
ssp capensis

Great White Pelican Pelecanus onocrotalus
monotypic

Pink-backed Pelican Pelecanus rufescens
monotypic

Great Cormorant Phalacrocorax carbo
ssp unspecified

Long-tailed Cormorant Phalacrocorax africanus
ssp unspecified

Gray Heron Ardea cinerea
ssp unspecified

Black-headed Heron Ardea melanocephala
monotypic

Squacco Heron Ardeola ralloides
monotypic

Cattle Egret Bubulcus ibis
ssp unspecified

Striated Heron Butorides striata
ssp unspecified

Black-crowned Night-Heron Nycticorax nycticorax
ssp unspecified

Hamerkop Scopus umbretta
ssp unspecified

Yellow-billed Stork Mycteria ibis
monotypic

Black Stork Ciconia nigra
monotypic

Marabou Stork Leptoptilos crumeniferus
monotypic

Sacred Ibis Threskiornis aethiopicus
ssp unspecified

Hadada Ibis Bostrychia hagedash
ssp unspecified

African Spoonbill Platalea alba
monotypic

White-faced Whistling-Duck Dendrocygna viduata
monotypic

Egyptian Goose Alopochen aegyptiacus
monotypic

Comb Duck Sarkidiornis melanotos
ssp unspecified

Northern Pintail Anas acuta
monotypic

Red-billed Duck Anas erythrorhyncha
monotypic

European Honey-buzzard Pernis apivorus
monotypic

Black-shouldered Kite Elanus caeruleus
ssp unspecified

Black Kite Milvus migrans
ssp parasitus

African Fish-Eagle Haliaeetus vocifer
monotypic

White-backed Vulture Gyps africanus
monotypic

Lappet-faced Vulture Torgos tracheliotus Vulnerable (VU)
ssp unspecified

Black-breasted Snake-Eagle Circaetus pectoralis
monotypic

Brown Snake-Eagle Circaetus cinereus
monotypic

Bateleur Terathopius ecaudatus
monotypic

Western Marsh-Harrier Circus aeruginosus
ssp unspecified

Pallid Harrier Circus macrourus Near-threatened (NT)
monotypic

Montagu's Harrier Circus pygargus
monotypic

African Harrier-Hawk Polyboroides typus
ssp unspecified

Eastern Chanting-Goshawk Melierax poliopterus
monotypic

Gabar Goshawk Micronisus gabar
ssp unspecified

African Goshawk Accipiter tachiro
ssp unspecified

Shikra Accipiter badius
ssp unspecified

Black Goshawk Accipiter melanoleucus
ssp unspecified

Eurasian Buzzard Buteo buteo
ssp vulpinus

Augur Buzzard Buteo augur
monotypic

Lesser Spotted Eagle Aquila pomarina
monotypic

Tawny Eagle Aquila rapax
ssp unspecified

Steppe Eagle Aquila nipalensis
ssp unspecified

Wahlberg's Eagle Aquila wahlbergi
monotypic

Verreaux's Eagle Aquila verreauxii
monotypic

African Hawk-Eagle Aquila spilogaster
monotypic

Booted Eagle Aquila pennatus
monotypic

Martial Eagle Polemaetus bellicosus
monotypic

Long-crested Eagle Lophaetus occipitalis
monotypic

Crowned Hawk-Eagle Stephanoaetus coronatus
monotypic

Secretary-bird Sagittarius serpentarius
monotypic

Pygmy Falcon Polihierax semitorquatus
monotypic

Lesser Kestrel Falco naumanni Vulnerable (VU)
monotypic

Eurasian Kestrel Falco tinnunculus
ssp rufescens

Lanner Falcon Falco biarmicus
ssp unspecified

Taita Falcon Falco fasciinucha Near-threatened (NT)
monotypic

Crested Francolin Francolinus sephaena
ssp rovuma

Scaly Francolin Francolinus squamatus
monotypic

Yellow-necked Francolin Francolinus leucoscepus
monotypic

Blue Quail Coturnix adansonii
monotypic

Helmeted Guineafowl Numida meleagris
ssp reichenowi

Vulturine Guineafowl Acryllium vulturinum
monotypic

Gray Crowned-Crane Balearica regulorum
ssp unspecified

Black Crake Amaurornis flavirostris
monotypic

Common Moorhen Gallinula chloropus
ssp unspecified

Kori Bustard Ardeotis kori
ssp unspecified

White-bellied Bustard Eupodotis senegalensis
ssp unspecified

Buff-crested Bustard Eupodotis gindiana
monotypic

Black-bellied Bustard Lissotis melanogaster
ssp unspecified

Hartlaub's Bustard Lissotis hartlaubii
monotypic

Blacksmith Plover Vanellus armatus
monotypic

Black-winged Lapwing Vanellus melanopterus
ssp unspecified

Crowned Lapwing Vanellus coronatus
ssp unspecified

Three-banded Plover Charadrius tricollaris
ssp unspecified

Marsh Sandpiper Tringa stagnatilis
monotypic

Common Greenshank Tringa nebularia
monotypic

Green Sandpiper Tringa ochropus
monotypic

Wood Sandpiper Tringa glareola
monotypic

Common Sandpiper Actitis hypoleucos
monotypic

Little Stint Calidris minuta
monotypic

Black-faced Sandgrouse Pterocles decoratus
ssp loverridgei

Speckled Pigeon Columba guinea
ssp guinea

Rameron Pigeon Columba arquatrix
monotypic

Lemon Dove Columba larvata
ssp larvata

African Mourning Dove Streptopelia decipiens
ssp elegans

Red-eyed Dove Streptopelia semitorquata
monotypic

Ring-necked Dove Streptopelia capicola
ssp tropica

Laughing Dove Streptopelia senegalensis
ssp senegalensis

Emerald-spotted Wood-Dove Turtur chalcospilos
monotypic

Tambourine Dove Turtur tympanistria
monotypic

Namaqua Dove Oena capensis
ssp capensis

African Green-Pigeon Treron calva
ssp unspecified

Red-bellied Parrot Poicephalus rufiventris
ssp rufiventris

Hartlaub's Turaco Tauraco hartlaubi
monotypic

White-bellied Go-away-bird Corythaixoides leucogaster
monotypic

Great Spotted Cuckoo Clamator glandarius
monotypic

Red-chested Cuckoo Cuculus solitarius
monotypic

African Cuckoo Cuculus gularis
monotypic

Klaas' Cuckoo Chrysococcyx klaas
monotypic

African Emerald Cuckoo Chrysococcyx cupreus
ssp unspecified

Dideric Cuckoo Chrysococcyx caprius
monotypic

Yellowbill Ceuthmochares aereus
ssp australis

White-browed Coucal Centropus superciliosus
ssp superciliosus

Barn Owl Tyto alba
ssp affinis

African Wood-Owl Strix woodfordii
ssp nigricantior

Pearl-spotted Owlet Glaucidium perlatum
ssp licua

Sombre Nightjar Caprimulgus fraenatus
monotypic

Plain Nightjar Caprimulgus inornatus
monotypic

Scarce Swift Schoutedenapus myoptilus
ssp unspecified

African Palm-Swift Cypsiurus parvus
ssp unspecified

Common Swift Apus apus
ssp unspecified

African Swift Apus barbatus
ssp roehli

Little Swift Apus affinis
ssp affinis

Horus Swift Apus horus
ssp horus

White-rumped Swift Apus caffer
monotypic

Speckled Mousebird Colius striatus
ssp unspecified

Blue-naped Mousebird Urocolius macrourus
ssp unspecified

Malachite Kingfisher Alcedo cristata
ssp cristata

Gray-headed Kingfisher Halcyon leucocephala
ssp leucocephala

Brown-hooded Kingfisher Halcyon albiventris
ssp orientalis

Giant Kingfisher Megaceryle maximus
ssp maximus

Pied Kingfisher Ceryle rudis
ssp rudis

Little Bee-eater Merops pusillus
ssp cyanostictus

Cinnamon-chested Bee-eater Merops oreobates
monotypic

European Bee-eater Merops apiaster
monotypic

European Roller Coracias garrulus
ssp unspecified

Lilac-breasted Roller Coracias caudata
ssp caudata

Rufous-crowned Roller Coracias naevia
ssp naevia

Eurasian Hoopoe Upupa epops
ssp africana

Violet Woodhoopoe Phoeniculus damarensis
ssp granti

Abyssinian Scimitar-bill Rhinopomastus minor
ssp cabanisi

Red-billed Hornbill Tockus erythrorhynchus
ssp erythrorhynchus

Von der Decken's Hornbill Tockus deckeni
monotypic

African Gray Hornbill Tockus nasutus
ssp nasutus

Trumpeter Hornbill Ceratogymna bucinator
monotypic

Silvery-cheeked Hornbill Ceratogymna brevis
monotypic

Southern Ground-Hornbill Bucorvus leadbeateri
monotypic

Yellow-rumped Tinkerbird Pogoniulus bilineatus
ssp jacksoni

Red-fronted Tinkerbird Pogoniulus pusillus
ssp affinis

Red-fronted Barbet Tricholaema diademata
ssp massaica

Spot-flanked Barbet Tricholaema lachrymosa
ssp lachrymosa

Black-throated Barbet Tricholaema melanocephala
ssp stigmatothorax

White-headed Barbet Lybius leucocephalus
ssp senex

Brown-breasted Barbet Lybius melanopterus
monotypic

D'Arnaud's Barbet Trachyphonus darnaudii
ssp boehmi
ssp darnaudii

Greater Honeyguide Indicator indicator
monotypic

Lesser Honeyguide Indicator minor
ssp teitensis

Green-backed Honeyguide Prodotiscus zambesiae
ssp ellenbecki

Nubian Woodpecker Campethera nubica
ssp nubica

Cardinal Woodpecker Dendropicos fuscescens
ssp massaicus

Gray Woodpecker Dendropicos goertae
ssp goertae

Brown-backed Woodpecker Dendropicos obsoletus
ssp ingens

Red-winged Lark Mirafra hypermetra
ssp hypermetra

Rufous-naped Lark Mirafra africana
ssp athi

Pink-breasted Lark Calendulauda poecilosterna
monotypic

Foxy Lark Calendulauda alopex
ssp intercedens

Fischer's Sparrow-Lark Eremopterix leucopareia
monotypic

Somali Short-toed Lark Calandrella somalica
ssp athensis

Bank Swallow Riparia riparia
ssp riparia

Banded Martin Riparia cincta
ssp suahelica

Rock Martin Ptyonoprogne fuligula
ssp unspecified

Barn Swallow Hirundo rustica
ssp unspecified

Wire-tailed Swallow Hirundo smithii
ssp unspecified

Lesser Striped-Swallow Cecropis abyssinica
ssp unspecified

Red-rumped Swallow Cecropis daurica
ssp unspecified

House Martin Delichon urbica
ssp unspecified

White-headed Sawwing Psalidoprocne albiceps
ssp albiceps

African Pied Wagtail Motacilla aguimp
ssp unspecified

Yellow Wagtail Motacilla flava
ssp unspecified

Gray Wagtail Motacilla cinerea
ssp unspecified

Mountain Wagtail Motacilla clara
ssp unspecified

Yellow-throated Longclaw Macronyx croceus
monotypic

Rosy-throated Longclaw Macronyx ameliae
monotypic

Pangani Longclaw Macronyx aurantiigula
monotypic

Striped Pipit Anthus lineiventris
monotypic

African Pipit Anthus cinnamomeus
ssp unspecified

Long-billed Pipit Anthus similis
ssp unspecified

Tree Pipit Anthus trivialis
ssp unspecified

Red-throated Pipit Anthus cervinus
monotypic

Common Bulbul Pycnonotus barbatus
ssp dodsoni

Yellow-whiskered Bulbul Andropadus latirostris
ssp latirostris

Stripe-cheeked Bulbul Andropadus milanjensis
ssp striifacies

Cabanis' Greenbul Phyllastrephus cabanisi
ssp placidus

Northern Brownbul Phyllastrephus strepitans
monotypic

Eastern Nicator Nicator gularis
monotypic

Rufous-tailed Rock-Thrush Monticola saxatilis
monotypic

Orange Ground-Thrush Zoothera gurneyi
ssp raineyi

Olive Thrush Turdus olivaceus
ssp helleri
ssp abyssinicus

African Bare-eyed Thrush Turdus tephronotus
monotypic

Red-faced Cisticola Cisticola erythrops
ssp unspecified

Singing Cisticola Cisticola cantans
ssp pictipennis

Rattling Cisticola Cisticola chiniana
ssp ukamba
ssp humilis

Ashy Cisticola Cisticola cinereolus
ssp unspecified

Winding Cisticola Cisticola galactotes
ssp amphilectus

Stout Cisticola Cisticola robustus
ssp unspecified

Siffling Cisticola Cisticola brachypterus
ssp unspecified

Tiny Cisticola Cisticola nana
monotypic

Zitting Cisticola Cisticola juncidis
ssp unspecified

Desert Cisticola Cisticola aridulus
ssp unspecified

Pectoral-patch Cisticola Cisticola brunnescens
ssp hindii

Tawny-flanked Prinia Prinia subflava
ssp unspecified

Pale Prinia Prinia somalica
ssp unspecified

Bar-throated Apalis Apalis thoracica
ssp fuscigularis

Yellow-breasted Apalis Apalis flavida
ssp unspecified

Black-headed Apalis Apalis melanocephala
ssp melanocephala

Gray-capped Warbler Eminia lepida
monotypic

Green-backed Camaroptera Camaroptera brachyura
ssp brachyura

Gray Wren-Warbler Calamonastes simplex
monotypic

Cameroon Scrub-Warbler Bradypterus lopezi
ssp usambarae

Moustached Grass-Warbler Melocichla mentalis
ssp mentalis

Sedge Warbler Acrocephalus schoenobaenus
monotypic

Great Reed-Warbler Acrocephalus arundinaceus
ssp unspecified

Lesser Swamp-Warbler Acrocephalus gracilirostris
ssp leptorhynchus
ssp parvus

Eastern Olivaceous Warbler Hippolais pallida
ssp unspecified

Olive-tree Warbler Hippolais olivetorum
monotypic

African Yellow Warbler Chloropeta natalensis
ssp massaica

Buff-bellied Warbler Phyllolais pulchella
monotypic

Yellow-bellied Eremomela Eremomela icteropygialis
ssp unspecified

Northern Crombec Sylvietta brachyura
ssp leucopsis

Red-faced Crombec Sylvietta whytii
ssp jacksoni

Yellow-throated Wood-Warbler Phylloscopus ruficapillus
ssp minullus

Willow Warbler Phylloscopus trochilus
ssp acredula

Blackcap Sylvia atricapilla
ssp unspecified

Greater Whitethroat Sylvia communis
ssp unspecified

Barred Warbler Sylvia nisoria
ssp unspecified

Pale Flycatcher Bradornis pallidus
ssp unspecified

African Gray Flycatcher Bradornis microrhynchus
ssp unspecified

White-eyed Slaty-Flycatcher Melaenornis fischeri
ssp fischeri

Spotted Flycatcher Muscicapa striata
ssp unspecified

African Dusky Flycatcher Muscicapa adusta
ssp unspecified

White-starred Robin Pogonocichla stellata
ssp helleri

Thrush Nightingale Luscinia luscinia
monotypic

Cape Robin-Chat Cossypha caffra
ssp iolaema

Rueppell's Robin-Chat Cossypha semirufa
ssp intercedens

Spotted Morning-Thrush Cichladusa guttata
ssp unspecified

Brown-backed Scrub-Robin Cercotrichas hartlaubi
monotypic

Red-backed Scrub-Robin Cercotrichas leucophrys
ssp brunneiceps

Rufous-tailed Scrub-Robin Cercotrichas galactotes
ssp unspecified

Whinchat Saxicola rubetra
monotypic

African Stonechat Saxicola torquata
ssp unspecified

Northern Wheatear Oenanthe oenanthe
ssp unspecified

Pied Wheatear Oenanthe pleschanka
monotypic

Isabelline Wheatear Oenanthe isabellina
monotypic

Chinspot Batis Batis molitor
ssp unspecified

African Paradise-Flycatcher Terpsiphone viridis
ssp ferretti

Northern Pied-Babbler Turdoides hypoleucus
ssp hypoleucus

White-bellied Tit Melaniparus albiventris
monotypic

Somali Tit Melaniparus thruppi
ssp barakae

Mouse-colored Penduline-Tit Anthoscopus musculus
monotypic

Kenya Violet-backed Sunbird Anthreptes orientalis
ssp unspecified

Collared Sunbird Hedydipna collaris
ssp unspecified

Eastern Olive-Sunbird Cyanomitra olivacea
ssp neglecta
ssp changamwensis

Amethyst Sunbird Chalcomitra amethystina
ssp unspecified

Scarlet-chested Sunbird Chalcomitra senegalensis
ssp lamperti

Hunter's Sunbird Chalcomitra hunteri
monotypic

Bronze Sunbird Nectarinia kilimensis
ssp kilimensis

Northern Double-collared Sunbird Cinnyris preussi
ssp unspecified

Eastern Double-collared Sunbird Cinnyris mediocris
ssp mediocris

Beautiful Sunbird Cinnyris pulchellus
ssp melanogastra

Black-bellied Sunbird Cinnyris nectarinioides
ssp nectarinioides

Variable Sunbird Cinnyris venustus
ssp falkensteini

Broad-ringed White-eye Zosterops poliogastrus
ssp silvanus
ssp kikuyensis

White-breasted White-eye Zosterops abyssinicus
ssp unspecified

African Black-headed Oriole Oriolus larvatus
ssp unspecified

Red-backed Shrike Lanius collurio
ssp unspecified

Rufous-tailed Shrike Lanius isabellinus
ssp unspecified

Long-tailed Fiscal Lanius cabanisi
monotypic

Taita Fiscal Lanius dorsalis
monotypic

Common Fiscal Lanius collaris
ssp humeralis

White-rumped Shrike Eurocephalus rueppelli
monotypic

Brubru Nilaus afer
ssp massaicus

Black-backed Puffback Dryoscopus cubla
ssp hamatus

Black-crowned Tchagra Tchagra senegala
ssp senegala

Three-streaked Tchagra Tchagra jamesi
ssp jamesi

Tropical Boubou Laniarius aethiopicus
ssp unspecified

Slate-colored Boubou Laniarius funebris
ssp unspecified

Rosy-patched Bushshrike Rhodophoneus cruentus
monotypic

Sulphur-breasted Bushshrike Telophorus sulfureopectus
ssp unspecified

Fork-tailed Drongo Dicrurus adsimilis
ssp adsimilis

Pied Crow Corvus albus
monotypic

White-necked Raven Corvus albicollis
monotypic

Wattled Starling Creatophora cinerea
monotypic

Greater Blue-eared Glossy-Starling Lamprotornis chalybaeus
ssp cyaniventris

Rueppell's Glossy-Starling Lamprotornis purpuropterus
ssp unspecified

Golden-breasted Starling Lamprotornis regius
monotypic

Superb Starling Lamprotornis superbus
monotypic

Hildebrandt's Starling Lamprotornis hildebrandti
monotypic

Fischer's Starling Spreo fischeri
monotypic

Red-winged Starling Onychognathus morio
ssp unspecified

Red-billed Oxpecker Buphagus erythrorhynchus
monotypic

Yellow-billed Oxpecker Buphagus africanus
ssp africanus

Kenya Rufous Sparrow Passer rufocinctus
monotypic

Parrot-billed Sparrow Passer gongonensis
monotypic

Yellow-spotted Petronia Petronia pyrgita
ssp unspecified

Red-billed Buffalo-Weaver Bubalornis niger
ssp unspecified

White-headed Buffalo-Weaver Dinemellia dinemelli
ssp dinemelli

White-browed Sparrow-Weaver Plocepasser mahali
ssp melanorhynchus

Gray-headed Social-Weaver Pseudonigrita arnaudi
ssp arnaudi

Black-capped Social-Weaver Pseudonigrita cabanisi
monotypic

Baglafecht Weaver Ploceus baglafecht
ssp reichenowi

Spectacled Weaver Ploceus ocularis
ssp unspecified

African Golden-Weaver Ploceus subaureus
ssp aureoflavus

Holub's Golden-Weaver Ploceus xanthops
monotypic

Vitelline Masked-Weaver Ploceus vitellinus
ssp uluensis

Village Weaver Ploceus cucullatus
ssp unspecified

Speke's Weaver Ploceus spekei
monotypic

Chestnut Weaver Ploceus rubiginosus
ssp unspecified

Red-headed Weaver Anaplectes rubriceps
ssp leuconotus

Red-billed Quelea Quelea quelea
ssp aethiopica

Yellow Bishop Euplectes capensis
ssp unspecified

White-winged Widowbird Euplectes albonotatus
ssp eques

Jackson's Widowbird Euplectes jacksoni Near-threatened (NT)
monotypic

Grosbeak Weaver Amblyospiza albifrons
ssp montana

Green-winged Pytilia Pytilia melba
ssp unspecified

Peters' Twinspot Hypargos niveoguttatus
ssp macrospilotus

Red-billed Firefinch Lagonosticta senegala
ssp unspecified

African Firefinch Lagonosticta rubricata
ssp unspecified

Red-cheeked Cordonbleu Uraeginthus bengalus
ssp brunneigularis

Blue-capped Cordonbleu Uraeginthus cyanocephalus
monotypic

Purple Grenadier Uraeginthus ianthinogaster
ssp unspecified

Yellow-bellied Waxbill Estrilda quartinia
ssp unspecified

Crimson-rumped Waxbill Estrilda rhodopyga
ssp centralis

Common Waxbill Estrilda astrild
ssp massaica
ssp minor

Black-cheeked Waxbill Estrilda erythronotos
ssp delamerei

African Quailfinch Ortygospiza fuscocrissa
ssp muelleri

Bronze Mannikin Spermestes cucullatus
ssp scutatus
ssp cucullatus

Black-and-white Mannikin Spermestes bicolor
ssp unspecified

Cut-throat Amadina fasciata
ssp alexanderi

Village Indigobird Vidua chalybeata
ssp centralis

Straw-tailed Whydah Vidua fischeri
monotypic

Pin-tailed Whydah Vidua macroura
monotypic

Eastern Paradise-Whydah Vidua paradisaea
monotypic

African Citril Serinus citrinelloides
ssp kikuyensis

Brimstone Canary Serinus sulphuratus
ssp sharpii

Reichard's Seedeater Serinus reichardi
ssp unspecified

Streaky Seedeater Serinus striolatus
ssp striolatus

Cinnamon-breasted Bunting Emberiza tahapisi
ssp tahapisi

Somali Bunting Emberiza poliopleura
monotypic