COLOMBIA
01/03 - 02/04/2013
Hans Matheve, Wout Opdekamp, Lien Van den Eynde & Jasmin Lauwaert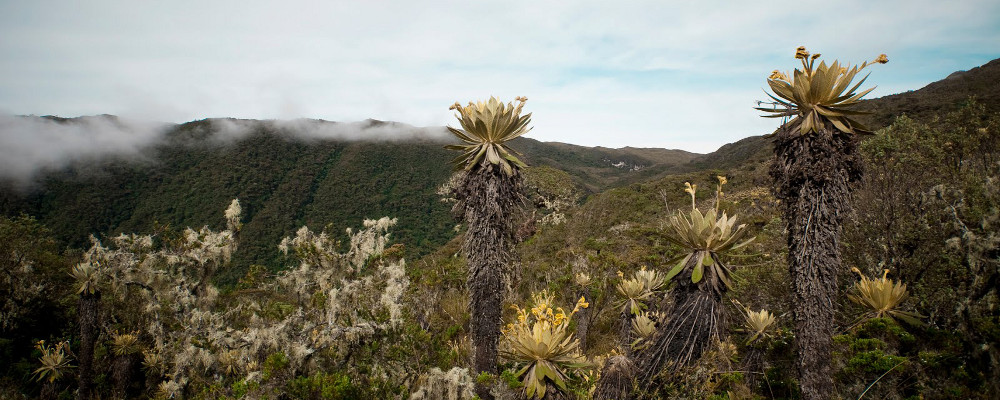 INTRODUCTION
Many thanks go out to Lieven De Temmerman, David Billy Herman, Wouter Courtens, David Van den Schoor and Jurgen Beckers for their invaluable pre-trip information. Luisa of Ecoturs kindly helped us booking the ProAVes lodges.



A set of my bird sound recordings of this trip can be found at Xeno-Canto.
ITINERARY
28 feb

WO, LV: Departure from Brussels Airport + arrival at Bogota Airport. Night in Bogota. (WO+LV)

1 mar

Visit ProAves-desk + travel to Sogamoso (4h bus). Night in Sogamoso.

2 mar

Travel to (45min bus to Cabana Lago de Sicunsi + further 25 min by jeep to Paramo) and birding Lago de Siscunsi + travel to Sogamoso (idem) + travel to San Gil (6h, change in Tunja). Night in San Gil.

3 mar

Birding El Gallineral (1h) + travel to Barichara (35min bus), walk to Guane and birding along Camino Real + bus from Guane to San Gil (50min). Night in San Gil.

4 mar

Travel to Bucaramanga (2h30 bus), travel to San Vicente de Chuchuri (3h15 bus), travel to lodge (40min jeep). Night in Lodge Reinita Cielo Azul.

5 mar

Birding Reinita Cielo Azul (up to 5th bench). Night in Lodge Reinita Cielo Azul.

6 mar

Birding Reinita Cielo Azul (down to school). Night in Lodge Reinita Cielo Azul.

7 mar

Birding Reinita Cielo Azul (lodge, up to 2nd bench). Travel to San Vicente de Chuchuri (40min jeep), travel to Bucaramanga (3hr30 bus). Night bus to Santa Marta (9hr bus).

8 mar

HM, JL: Departure from Brussels Airport + arrival at Bogota Airport. Night in Bogota.
WO, LV: Travel to (1hr) and snorkelling at Tayrona NP (Neguange). Night in Santa Marta.

9 mar

Flight to Santa Marta (1hr45) + travel to (2hr45 4WD) and birding El Dorado BR. Night in El Dorado Lodge.

10 mar

Birding El Dorado BR. Night in El Dorado Lodge.

11 mar

Birding El Dorado BR. Night in El Dorado Lodge.

12 mar

Travel to (3hr, incl. road side stops) and birding Minca + travel to Santa Marta (1hr, incl. road side stop). Night in Santa Marta.

13 mar

Travel to (2hr45 bus) and birding Los Flamencos NP + travel to (2hr45 bus + 30min taxi) and birding Cienaga. Night in Santa Marta.

14 mar

Travel to (2hr bus) and birding Isla Salamanca NP + travel Cartagena (1hr to Barranquilla + 3hr bus). Night in Cartagena.

15 mar

Visit Cartagena. Night in Cartagena.

16 mar

Snorkelling near Isla del Rosario + travel to Medellin (13hr bus). Night on bus.

17 mar

Travel + birding La Romera + visit Medellin. Night in Medellin

18 mar

Travel to (5hr bus) and birding Arrierito Antioqueno BR. Night in ProAves lodge.

19 mar

Birding Arrierito Antioqueno BR. Night in ProAves lodge.

20 mar

Birding Arrierito Antioqueno BR + travel to Medellin (5hr20 bus). Night in Medellin.

21 mar

Travel to Colibri del Sol BR (4hr30 hus + 1hr30 horse). Night in ProAves lodge.

22 mar

Birding Colibri del Sol BR. Night in ProAves lodge.

23 mar

Birding Colibri del Sol BR + travel to Las Tangaras BR (1hr15 horse + 4hr 4WD) with roadstops (1hr30). Night in ProAves lodge.

24 mar

Birding Las Tangaras BR. Night in ProAves lodge.

25 mar

Birding Las Tangaras BR + travel to Jardin (4hr bus). Night in Jardin.

26 mar

Birding Loro Orejiamarillo BR + visit Jardin. Night in Jardin.

27 mar

HM, JL: Travel to (1hr30 bus) and birding Bolombolo + travel to Medellin (2hr bus). Night in Medellin.
WO, LV: Travel to (1hr30 bus) and birding Bolombolo + travel to Medellin (2hr bus) + travel to Rio Claro (3hr bus). Night in Rio Claro Refugio.

28 mar

HM, JL: Visit Medellin + travel to Rio Claro (3hr bus). Night in Rio Claro Refugio.
WO, LV: Birding Rio Claro NR. Night in Rio Claro Refugio.

29 mar

Birding Rio Claro NR. Night in Rio Claro Refugio.

30 mar

Birding Rio Claro NR + travel to Bogota (5hr bus). Night in Bogota.

31 mar

HM, JL: Visit Bogota. Night in Bogota.
WO, LV: Departure from Bogota Airport.

1 apr

Birding Parque La Florida + visit Bogota. Night in Bogota.

2 apr

Visit Bogota + departure from Bogota Airport.

3-8 apr

New York trip
Note: Not all members of our group were birders so we took some more time to travel and hang around at some places.
.
Download kml file with all gps coordinates
PRACTICALITIES

Transport
Most of the time we used public transport to get around. It was often very easy and fairly cheap. Most cities have well organized bus terminals with a variety of companies offering more costly luxury busses to very basic 'trucks' (chivas). Taxis were also frequently used. They were fairly cheap as well, except in more touristic areas.

On a few occasions we hired a 4WD as it was difficult to cover the distance by bus and would have cost us far more time.
from Santa Marta to the El Dorado Lodge;

between Colibri del Sol and Las Tangaras.
Both in El Dorado and Las Tangaras we had ourselves dropped at the birding sites by 4WD. In contrary to public transport all 4WD vehicles arranged by ProAves were very expensive and not included in the lodge fares, which we found a pity for young/independent travellers.

HM and JL took a national flight from Bogota to Santa Marta to save time. There are plenty of comfortable night busses available too.



Accommodation
Tourism in Colombia is booming. There seem to pop up more and more resorts, hotels and hostels. In larger cities good options for economically prized accommodation are available. In most ProAves reserves it is advised to stay in their lodges as these are the most conveniently located. Unfortunately they are rather expensive, with no cheaper rooms/dorms available.



Money
ATM's were easy to find throughout the country. We also exchanged some Euros. Only in the very touristic regions it was necessary to bargain, and mostly only for typical souvenirs etc.

Weather
The North was pleasantly warm and dry. We were rather late in the season so we regularly encountered some showers, clouds and mist in the Andes part. Higher up the mountains (e.g. Colibri del Sol) it could be pretty cold at night.

Health and safety
We encountered no health problems. Travelling independently caused no safety problems at all. We never experienced any kind of hassle. Colombian people are very friendly and helpful!
VISITED SITES

Below is a list of the sites we birded. We used a preliminary version of the site guide Bird watching in Colombia by Beckers & Florez; it contains some useful information on the birding sites, accommodation and directions (incl. public transport). To gather additional information www.cloudbirders.com was consulted for bird trip reports.

Lago de Siscunsi

This lake is situated near the well-known Lago de Toto. To get there we followed the descriptions in Beckers' site guide and took an realy morning bus in Sogamoso and got off at the tienda mentioned. Here we arranged transport to drive us to the lake and pick us up. We were dropped off about 1 km before the paramo in little interesting habitat. Insist to be dropped off at the start of the paramo. From here it's an easy walk to the lake. Birding the paramo around the lake yielded amongst others Noble Snipe, Bearded Helmetcrest and the paramo subspecies of Apolinar's Wren.

Highlights: Noble Snipe (one perched after being flushed), Bearded Helmetcrest, Apolinar's Wren (noisy family near outflow lake).

El Gallineral

This park, located conveniently near the center of San Gil, is known as an easy location for Niceforo's Wren, which can be seen right at the entrance. Unfortunately the park does not open until 8:30am and, apart from the wren, is not really worth a visit.

Highlights: Niceforo's Wren (1 at entrance gate).

Reinita Cielo Azul BR

This lodge is surrounded by plantations and pastures. The latter are partly planted to restore the former forest. To fully bird the area, one should bird the lodge grounds, the Lengueke Trail up and down towards the village. At the lodge feeders check especially for Chestnut-bellied Hummingbird and Indigo-capped Hummingbird. Turquoise Dacnis can be seen early morning feeding in the big trees behind the lodge.

To get to the reserve itself, follow the Lengueke trail uphill. Once the path follows the forest edge (app. 30' walk), look for a small gate in the fence at your left handside. Follow the small path through the forest which leads you to the Wood-quail feeder. Gorgeted Wood-Quail apparently visits the feeder all moments of the day, we had one in late afternoon. The main birding is done along the Lengueke trial itself. At the 5th bench, near the end of the reserve, you have a nice view over two valleys. Mountain Grackle can be found from this point and more uphill.

Other targets are located further down. We walked along the main road to the school and back up along the Lengueke trail. Apart from Niceforo's Wren and Turquoise Dacnis this area is also good for Yellow-browed Shrike-vireo. As we had seen it before in Venezuela, we did not try to hard for this species.

Recurve-billed Bushbird can be present in the area. Unfortunately, there was no more vocal nor visual observations since a few months.

Walking even further down towards the village of San Vicente de Chuchuri can yield Beautiful Woodpecker and other lowland species.

Highlights: Gorgeted Wood-Quail (quail feeder), Black Inca (most near quail feeder), Chestnut-bellied Hummingbird (1 at feeders lodge), Indigo-capped Hummingbird (feeders lodge), White-mantled Barbet (near 1st bench), Parker's Antbird (1st bench), Upper Magdalena Tapaculo (1 at 2nd bench), Yellow-throated Spadebill (1 at 2nd bench), Niceforo's Wren (2 along road, few hundred meters before lodge), Turquoise Dacnis (1 male at tree behind lodge eating room, 1 couple along road near Niceforo's Wren), Mountain Grackle (at 5th bench).

El Dorado BR

The isolated mountain ridge near Santa Marta holds a large number of endemic species and therefore is probably the premier birding site in Colombia. From Santa Marta we chartered a 4WD to take us up to the El Dorado lodge (11.100754, -74.072077). This is the most conveniently situated accommodation as most of the birding can be done by foot from here, but quite expensive as well. For people on low budget another option would be to stay a bit lower down at the Palo Alto Mountain Hostel(11.096864, -74.076267). Getting to the top for Santa Marta Parakeet will be a very long tenuous walk though.

Birding around the lodge is very rewarding with the hummingbird feeders, the compost heap which attracts the wood-quails (highest chances around 4 pm) and Santa Marta Screech Owl with a day-time roost during our stay.

The first morning we had us dropped off at the parakeet site (11.110429, -74.042452) which was not included in the fare. We wandered a few hundred meters and then walked down again while birding en route. For those on a tight budget, walking up is possible. Be sure to be at the spot before sunrise, otherwise you will miss Santa Marta Parakeet.

Lower down we tried our luck along the trail winding through lush forest at (11.091539, -74.073614). Look here especially for Santa Marta Foliage Gleaner. In our search for the hummingbirds we visited the private house of Palo Alto (Coppery Emerald, Blossomcrown) which has a flower-rich garden (gps see above) and later on the flowers and feeders at the 'tienda' (=shop) a bit lower down (Santa Marta Woodstar 11.096222, -74.077442).

On our way out towards Minca we had a brief stop at a second location for Santa Marta Woodstar (11.094328, -74.081539). Further down we searched for the potential split of Long-tailed Antbird, which occurs in the tangled vegetation at 11.099307, -74.081682.

Highlights: Black-backed Thornbill (1 male seen on 2 days at the lodge feeders), Santa Marta Antpitta (1 bird seen and a few more heard), Santa Marta Parakeet (10+ birds were seen eraly morning at their ususal site - see gps above), Santa Marta Screech-Owl (first taped in at night, later we saw one daytime next to the cabins), Santa Marta Bush-Tyrant (1 bird at 11.108071, -74.047723), Santa Marta Tapaculo (1 seen and more heard below the lodge), Brown-rumped Tapaculo (several seen and heard), Santa Marta Foliage-gleaner (2 birds seen along a trail at 11.090239, -74.073504), Black-cheeked Mountain-Tanager (10+ seen, mainly in the higher parts), White-tailed Starfrontlet (several seen), White-lored Warbler (daily seen), Santa Marta Warbler (4 seen, mainly at the higher parts), Santa Marta Woodstar (1 female seen at the 'tienda' and a male in the village lower down at 11.094335, -74.081554), Coppery Emerald (2 birds at the Palo Alto garden), Blossomcrown (2x 1 at the Palo Alto garden, 1 at the tienda), Black-fronted Wood-Quail (2 evenings a family visited the compost pile near the lodge), White-tipped Quetzal (several), Streak-capped Spinetail (2 seen and 1 heard), Rusty-headed Spinetail (5+ seen and more heard, mainly the higher parts), Yellow-crowned Redstart (several), Santa Marta Brush-Finch (fairly common), (Santa Marta) Long-tailed Antbird (1 bird seen in at the coordinate mentioned above), (Santa Marta) Emerald Toucanet (several), (Santa Marta) Groove-billed Toucanet (5+ seen lower down).

Minca area

We only visited the Minca Hotel for its hummingbird feeders () and made a walk towards Pozo Azul where Santa Marta Sabrewing has been reported (11.134021, -74.101142).

On the way down we made a quick road stop to scan for the macaws. It is about 4-5 km below Minca (11.161061, -74.139441).

Highlights: Military Macaw (a flock of at least 15 birds flew in to roost at around 5.45). We were not able to find the day roosting Black-and-white Owl(s) in the bamboo/trees along the driveway to hotel Finca Sanssouci.

Los Flamencos NP

In the very NE of the country the La Guajira area holds several species that are restricted to its dry desert/scrub. From Santa Marta we took an early morning bus towards Riohacha and got off at the turn-off to Camarones (11.400779, -73.067083).

As WO and HM birded similar habitat in Venezuela before, we were mainly after the piculet. We birded along the paved road for several kilometres. Once we saw the piculet we decided to walk back and return to Santa Marta in order to visit the next site and be back in time for our partners...

Highlights: Chestnut Piculet (first 1 seen at 11.413985, -73.066885 and later on 4 more next to the main road at 11.40614, -73.064602; the latter is next to a bridge), Bronzed Cowbird (5+, potential split according to some authors), Buffy Hummingbird (2), White-whiskered Spinetail (10+), Slender-billed Tyrannulet (2+), Glaucous Tanager (a few), Vermilion Cardinal (1).

Cienaga area

A few kilometres before Cienaga (coming from Santa Marta) there is a stake-out for Chestnut-winged Chachalaca. Late afternoon we took a taxi from Santa Marta and parked along a dirt road at (11.037571, -74.203752). As the road is fenced by a company we walked back to the main road and birded there. Another, maybe better, option is to take the next dirt road at (11.031495, -74.20468) as it will be much more quite.

Highlights: Chestnut-winged Chachalaca (at 11.041162, -74.204396).

Isla Salamanca NP

On the way from Santa Marta to Cartagena we got off the bus at the entrance of the park (11.006099, -74.683584). At the HQ we arranged a canoe trip through the mangroves in order to find Sapphire-bellied Hummingbird. Later on we also explored the mangrove boardwalk and surroundings of the HQ. To continue our travel it took a while to stop a bus as most do not stop.

Highlights: Sapphire-bellied Hummingbird (2 birds were seen well along the boardwalk and the HQ surroundings), Rufous-necked Wood-Rail (1 shy bird in the mangroves).

Isla del Rosario

We included this marine national park for snorkelling. A Cartagena based diving/snorkelling agent took care of the ferry, food, snorkelling gear and guide for the whole day. The snorkelling did not add much bird wise. Nevertheless it was pretty nice.

Highlights: none

La Romera

We were very limited in time, but tried our luck anyway for Yellow-headed manakin. The very efficient Metro took us to the Itagui station where we took a bus towards La Romera. We had to walk the last stretch which did cost valuable time. When calling a taxi, clearly explain you only want to get to the entrance gate and not further. As the last stretches of road well beyond the entrance gate are in bad condition, all taxis we stopped were reluctant to go there. We birded near the entrance gate (6.12681, -75.601038)

Highlights: Red-bellied Grackle (10+), Stiles's Tapaculo (1), Unfortunately we did not find any Yellow-headed Manakins...

Arrierito Antioqueno BR

This small reserve has been established after the discovery of the Chestnut-capped Piha. From the North Bus Terminal in Medellin we took an early morning bus towards the village of Anori. About 20km before this village one passes the ProAves lodge (clearly signed at 6.984778, -75.111895), where we stayed.

The best birding is done along the trail system, which starts just below the lodge along the main road. After a few hundred meters there is a lookout point from where you can observe the wood-quails coming to the feeder (6.983351, -75.11058). We were accompanied by the lodge caretaker who had good knowledge of birds and their whereabouts. We did not bird the whole loop but went up to the observation platform (6.979964, -75.119134) and birded our way down again, including some side-trails.

Continuing along the road to Anori will get you to a small swamp (6.992333, -75.115017), good for Blackish Rail. Search for Parker's Antbird and Lyre-tailed Nightjar along this road as well. Stygian Owl can be heard from the lodge grounds. Best chances to observe them well are to walk up the small trail in the clearing in front of the lodge. Sooty-headed wren and Colombian Chachalaca can easily be observed on the lodge grounds.

White-mantled barbet is most easy further back along the road towards Bucaramanga near the switch to a hydro-electrical plant. A few meters further along the entrance road at the entrance gate (6.981008, -75.107615) Black-headed Brush-Finch is present.

Highlights: Chestnut-capped Piha (3 birds seen), Chestnut Wood-Quail (3 birds seen at close distance at 6.978513, -75.114054 and several heard), Stygian Owl (1 bird taped in at the clearing in front of the lodge), White-mantled Barbet (3 seen next to the hydro-electrical plant), Colombian Chachalaca (daily present in the garden of the lodge), Parker's Antbird (a pair taped in the scrubby area at 6.990898, -75.111849), Black-and-gold Tanager (1 seen in a flock and 1 seen from the observation platform), Rufous-browed Tyrannulet (1 bird near the observation platform), Sooty-headed Wren (in the garden of the lodge), Multicolored Tanager (3 birds seen in mixed flocks at 6.982001, -75.113604 and also at the gps position for the next species), Scarlet-and-white Tanager (1 seen in a mixed flock at 6.981564, -75.114145), Tooth-billed Hummingbird (2 birds together with a Lancebill were a nice bonus at 6.982738, -75.113883).

Colibri del Sol BR

Dusky Starfrontlet is the flagship species of this ProAves reserve. We took an early morning bus from Medellin North Terminal and got off at El Chuscal after 4hr30 hours. The ranger/guide would meet us there. Unfortunately these directions were too vague as El Chuscal is the name for a settlement with few scattered farms. Furthermore our bus driver did not truly know the location. Hence we got off at the wrong settlement after which it took us quite some time to find out where we had to be and how to get to the correct spot. Anyway, the exact spot where to get off the bus is: (6.371515, -76.078048). The ranger and some horses were waiting further along the track at (6.39333, -76.077983). From there it is a 1hr pleasant and scenic horse ride up to the lodge (6.42668, -76.088047). The rangers phone number is 317 70 34 009.

Another 40' horse ride up the main birding is done near the paramo patches. On the way up there are some feeders with ever present Starfrontlets (6.436808, -76.088535). We walked back down following a different route with Undulated Antpitta (calling close by, alas no visual contact at 6.436139, -76.088979 and Chestnut-naped Antpitta at 6.433390, -76.088302.

The last morning we explored a trail on the other side of the stream. After a couple of hundred meters there is an antpitta feeder (6.427426, -76.089479) where Urrao Antpitta was ridiculously easy early morning. The trail seemed to end at a clearing.

Highlights: Dusky Starfrontlet (5+ were easily seen ath the feeders near the paramo), Chestnut-bellied Flowerpiercer (5+ seen in the paramo), Urrao Antpitta (regularly heard, a few seen along the trails and a extremely tame pair at the antpitta feeder), Red-bellied Grackle (5+ seen), Paramillo Tapaculo (1 seen and 1 heard next to the steps up to the paramo 6.436955, -76.087578), Rusty-faced Parrot (2 seen near the paramo), Dusky Piha (several seen).

Munchique Wood-wren roadside stop

Travelling by public transport between Colibri del Sol and Las Tangaras requires lots of time. We estimated it would take at least one day. Traffic is scarce and very slow. We opted to get picked with a 4WD prearranged by ProAves and take a shortcut towards Las Tangaras, via Urrao and El Carmen. Most guided tours follow the same route and make a roadside stop to see Munchique Wood-Wren. Tanager Finch can be seen along this road, but is most easy in the morning. This can be included more easily by first visiting Las Tangaras and then Colibri Del Sol as done by most companies.

Highlights: Munchique Wood-Wren (6.005213, -76.164399).

Las Tangaras BR

This ProAves reserve is situated in the foothills of the Chocó. The nearest village with hotels is El Carmen, but we opted to stay in the lodge as it is much closer to the birding spots. Unfortunately it is still about 9km from where the real birding starts. Both days we had to charter an highly overcharged 4WD to drop us off and pick us up at the start of the trail (0hr30 drive). For the independent / low budget traveller it might be a cheaper option to base yourself in El Carmen and take a moto taxi up and down...

To bird, cross the bridge and about 6km from the main road there is a small brick building. The short trail at the back leads to some hummingbird feeders (5.820023, -76.177244).

Apparently birding along the main road can be rewarding, but we found most of the specialities along the trail. It starts right here: (5.806473, -76.181704). In the mornings a large mixed species flock gathers in the trees in the bend just right before the trail head. Several top species as Black Solitaire, Choco Vireo, Yellow-collared & Chestnut-breasted Chlorophonia, ... were seen there.
The first few hundred meters of the trail leads through some pastures, look here for White-headed Wren. The trail then enters the forest, continues uphill, passes a waterfall and landslide until you reach pasture with a shelter at the junction on the top. The trail straight/left goes nowhere (we nearly got lost)! If you take RIGHT, it first leads through decent forest, continues through secondary forest and then hits the road again near the hummingbird feeders.

As we took the wrong trail at the top, we were short in time and could not bird the whole loop. Nevertheless most goodies were seen in between the trail start and the shelter. For Gold-ringed Tanager one has to follow the RIGHT trail and bird up to the right altitude (>1800m).

Highlights: Gold-ringed Tanager (1 bird in the highest part at 5.817192, -76.188126), Black-and-gold Tanager (daily several seen), Black Solitaire (3 seen and more heard along the trail), Choco Vireo (1 seen along the trail, 1 in the morning mixed species flock and another heard), Fulvous-dotted Treehunter (daily a few seen), Cloud-forest Pygmy-Owl (1 bird seen along the trail at 5.812837, -76.186369), White-headed Wren (a pair in the open area at the beginning of the trail at 5.807217, -76.182291), Yellow-collared Chlorophonia (3 birds in the morning mixed flock), Chestnut-breasted Chlorophonia (2 and 1 bird seen in the morning mixed flock), Olive Finch (1 bird taped in along the trail at 5.812026, -76.185396), Crested Ant-Tanager (1 bird at the lodge grounds and 2 more in the reserve), Buffy Tuftedcheeck (daily a few seen), Beautiful Jay (1 came into view at 5.811986, -76.184881).

Loro Orejiamarillo BR

Above the cosy village of Jardin ProAves created a nature reserve to protect the Yellow-eared Parakeet. Jardin can be easily reached by bus from Medellin. One morning we hired a 4WD (+driver) to take us all the way up (xx hrs). Arriving early morning on the ridge (necessary!) we had to wait long for the fog to clear and get some flight views of the parakeet (5.538928, -75.804296). Once seen we walked and birded back down towards Jardin for a few kilometres. Some more distant flight views were obtained along the road.

Highlights: Yellow-eared Parakeet (about 20 birds seen in total, some at the top, some flying by lower down).

Bolombolo

En route from Jardin to Medellin we made a brief stop to bird the dry forest/scrub near Bolombolo. We asked 2 moto taxis to drop us after 3 kilometres along the road to Urrao. From there we road side birded and walked back down.

Highlights: Grayish Piculet (at 5.963526, -75.856666), Antioquia Wren (at 5.967376, -75.858831), Apical Flycatcher (common), Colombian Chachalaca (common).

Rio Claro NR

This private reserve is situated en route between Medellin and Bogota. We took a bus from Medellin's North Terminal and got off at the entrance gate (5.901205, -74.856876). Most drivers know where you have to be as it is a well-known touristic area. During weekends and holidays this park can be very crowded by Colombians who are out for camping, BBQ, swimming and some beers. Unfortunately we visited the place during the busiest weekend (Semana Santa)... Nevertheless birding was good.

Birding can be done along the entrance road, but we preferred the Mulata Creek trail that goes uphill next to the bridge (5.894733, -74.858716). We followed this not too far and saw most of the best birds there. If we had more time we would have liked to explore the higher areas as well...

One afternoon we birded the trail that leads to an oilbird cave. The start of the trail is a few km towards Bogota (5.92129, -74.836155). The cave itself is at 5.929619, -74.838596 and is surrounded by some nice forest. This visit was only little rewarding but often yields Blue Cotinga.

Highlights: Antioquia Bristle-Tyrant (2 singles on 2 days), Sooty Ant-Tanager (1 and 2 birds seen at the same place at 5.888895, -74.86186), Black-bellied Wren (1 bird seen on both days at 5.887313, -74.862852), White-mantled Barbet (several seen), Magdalena Antbird (a few seen, best along the side trail - 5.891608, -74.860017).

Parque La Florida

This park is conveniently situated within the city limits of Bogota. We took the Transmilenio towards 'Portal de la 80' and from there a microbus towards Las Penas. The entrance road towards the park is at 4.74044, -74.137306. After 1.3 km take left (4.734145, -74.147429). 500m further your reach the entrance. Apparently the nature park with the lagoon is closed these days but it can be opened upon request at the guard buildings.

We birded the short trail towards an observation hut where most of our target species were seen (4.725845, -74.150041). Later on we made a strawl through the public park on the other side. We did not feel unsecure but several people/guards warned us to be careful and not to expose our optical gear too much...

Highlights: Bogota Rail (1 seen and 3 more heard at the observation hut), Apolinar's Wren (1 seen in the marshy vegetation at the observation hut), Subtropical Doradito (1 seen in the reed bed at the observation hut), Noble Snipe (1 seen near the observation hut), Silvery-throated Spinetail (a pair seen in the public park - 4.729211, -74.146482), Rufous-browed Conebill (1 in the public park at 4.730873, -74.140772).
FULL TRIP LIST
Taxonomy strictly follows Clements' 6th Edition (incl. updates). The list only contains species positively identified by at least one of our group. Birds identified by guides or other people only are not included, presumed species neither...
[618 species]
Little Tinamou
Crypturellus soui
28/03/2013 - Rio Claro NR - HO - 1 heard
29/03/2013 - Rio Claro NR - HO - 2 heard
30/03/2013 - Rio Claro NR - HO - 2 heard
Blue-winged Teal
Anas discors
14/03/2013 - Isla Salamanca NP - 13
01/04/2013 - La Florida - 20+
02/03/2013 - Lago de Siscunsi - 10+
01/04/2013 - La Florida - 5+
Ruddy Duck
Oxyura jamaicensis
01/04/2013 - La Florida - 20+
Chestnut-winged Chachalaca
Ortalis garrula
Country endemic
13/03/2013 - Santa Marta (Chestnut-winged Chachalaca site) - 2 seen, more heard
Colombian Chachalaca
Ortalis columbiana
Country endemic
03/03/2013 - walk Barichari - Guane - 10+
04/03/2013 - Reinita Cielo Azul (lodge to quail feeders) - 1 en route
18/03/2013 - Arrierito Antioqueno BR - 1
19/03/2013 - Arrierito Antioqueno BR - 5+
20/03/2013 - Arrierito Antioqueno BR - 10+
27/03/2013 - Bolombolo - 10+
Band-tailed Guan
Penelope argyrotis
09/03/2013 - Santa Marta (travel + El Dorado lodge) - 1
11/03/2013 - Santa Marta (lodge down to shop) - 1
Wattled Guan
Aburria aburri
Near-threatened (NT)
05/03/2013 - Reinita Cielo Azul (lodge to 5th bench) - HO - 1
07/03/2013 - Reinita Cielo Azul (lodge to 2nd bench) - HO - 1 heard
17/03/2013 - La Romera - 1
18/03/2013 - Arrierito Antioqueno BR - HO - 1 heard
19/03/2013 - Arrierito Antioqueno BR - HO - 2 heard
20/03/2013 - Arrierito Antioqueno BR - HO - 1 heard
Sickle-winged Guan
Chamaepetes goudotii
09/03/2013 - Santa Marta (travel + El Dorado lodge) - 1
10/03/2013 - Santa Marta (Santa Marta Parakeet site to lodge) - 5+
11/03/2013 - Santa Marta (lodge down to shop) - 3
19/03/2013 - Arrierito Antioqueno BR - 1
22/03/2013 - Colibri del Sol BR - 1
24/03/2013 - Las Tangaras BR - 1
26/03/2013 - Jardin - 2
Black-fronted Wood-Quail
Odontophorus atrifrons
Vulnerable (VU)
Restricted range
10/03/2013 - Santa Marta (Santa Marta Parakeet site to lodge) - 4 at compost pile lodge
11/03/2013 - Santa Marta (lodge down to shop) - 3 at compost pile lodge
Chestnut Wood-Quail
Odontophorus hyperythrus
Near-threatened (NT)
Country endemic
Restricted range
19/03/2013 - Arrierito Antioqueno BR - 3 seen + a few heard
24/03/2013 - Las Tangaras BR - HO - a few heard
25/03/2013 - Las Tangaras BR - HO - a few heard
Gorgeted Wood-Quail
Odontophorus strophium
Endangered (EN)
Country endemic
Restricted range
04/03/2013 - Reinita Cielo Azul (lodge to quail feeders) - 1 at quail feeder
Least Grebe
Tachybaptus dominicus
14/03/2013 - Isla Salamanca NP - 5+ en route
01/04/2013 - La Florida - 2
Pied-billed Grebe
Podilymbus podiceps
01/04/2013 - La Florida - 3
American Flamingo
Phoenicopterus ruber
14/03/2013 - Isla Salamanca NP - a few en route
Magnificent Frigatebird
Fregata magnificens
08/03/2013 - Tayrona NP - 1
13/03/2013 - Los Flamencos - Few en route
14/03/2013 - Isla Salamanca NP - a few en route
16/03/2013 - Isla del Rosario - fairly common
Brown Booby
Sula leucogaster
16/03/2013 - Isla del Rosario - 2
Neotropic Cormorant
Phalacrocorax brasilianus
08/03/2013 - Tayrona NP - 10+
13/03/2013 - Los Flamencos - 2 en route
14/03/2013 - Isla Salamanca NP - fairly common en route
15/03/2013 - Cartagena - City visit - Few
Brown Pelican
Pelecanus occidentalis
08/03/2013 - Tayrona NP - 1
13/03/2013 - Los Flamencos - Few en route
14/03/2013 - Isla Salamanca NP - a few en route
15/03/2013 - Cartagena - City visit - Few
16/03/2013 - Isla del Rosario - fairly common
Great Blue Heron
Ardea herodias
02/03/2013 - Lago de Siscunsi - 1 - at lake (>3500m)
13/03/2013 - Los Flamencos - 2 en route
14/03/2013 - Isla Salamanca NP - 1
16/03/2013 - Isla del Rosario - a few
14/03/2013 - Isla Salamanca NP - 10+
16/03/2013 - Isla del Rosario - a few
01/03/2013 - Bogota City - Few en route
08/03/2013 - Tayrona NP - Few en route
13/03/2013 - Los Flamencos - Few en route
14/03/2013 - Isla Salamanca NP - common
15/03/2013 - Cartagena - City visit - Few
16/03/2013 - Isla del Rosario - fairly common
20/03/2013 - En route - a few
Snowy Egret
Egretta thula
09/03/2013 - Santa Marta (travel + El Dorado lodge) - Few en route
13/03/2013 - Los Flamencos - Few en route
14/03/2013 - Isla Salamanca NP - a few
15/03/2013 - Cartagena - City visit - Few
16/03/2013 - Isla del Rosario - fairly common
Little Blue Heron
Egretta caerulea
13/03/2013 - Los Flamencos - 2
14/03/2013 - Isla Salamanca NP - a few
16/03/2013 - Isla del Rosario - 1
Tricolored Heron
Egretta tricolor
08/03/2013 - Tayrona NP - 1
14/03/2013 - Isla Salamanca NP - 5+
15/03/2013 - Cartagena - City visit - Few
16/03/2013 - Isla del Rosario - 1
Cattle Egret
Bubulcus ibis
01/03/2013 - Bogota City - Few en route
04/03/2013 - Reinita Cielo Azul (lodge to quail feeders) - Few en route
13/03/2013 - Los Flamencos - Few en route
14/03/2013 - Isla Salamanca NP - common en route
15/03/2013 - Cartagena - City visit - Few
16/03/2013 - Isla del Rosario - fairly common
20/03/2013 - En route - a few
23/03/2013 - En route between CDS - LT - fairly common
25/03/2013 - Las Tangaras BR - Few en route
26/03/2013 - Jardin - Few en route
27/03/2013 - Bolombolo - Fairly common en route
29/03/2013 - Rio Claro NR - a few
Green Heron
Butorides virescens
16/03/2013 - Isla del Rosario - a few
Striated Heron
Butorides striata
13/03/2013 - Los Flamencos - 1
14/03/2013 - Isla Salamanca NP - 10+
16/03/2013 - Isla del Rosario - a few
01/04/2013 - La Florida - 1
Capped Heron
Pilherodius pileatus
13/03/2013 - Los Flamencos - 2
29/03/2013 - Rio Claro NR - 2
Black-crowned Night-Heron
Nycticorax nycticorax
14/03/2013 - Isla Salamanca NP - 3
White Ibis
Eudocimus albus
13/03/2013 - Los Flamencos - 20+
Bare-faced Ibis
Phimosus infuscatus
14/03/2013 - Isla Salamanca NP - 3
20/03/2013 - En route - fairly common
01/04/2013 - La Florida - 10+
Roseate Spoonbill
Platalea ajaja
13/03/2013 - Los Flamencos - 1
Black Vulture
Coragyps atratus
01/03/2013 - Bogota City - Few en route
02/03/2013 - Lago de Siscunsi - 1
03/03/2013 - El Gallineral (San Gil) - Few
03/03/2013 - walk Barichari - Guane - Common
04/03/2013 - Reinita Cielo Azul (lodge to quail feeders) - Few
05/03/2013 - Reinita Cielo Azul (lodge to 5th bench) - Fairly common
06/03/2013 - Reinita Cielo Azul (lodge to school) - Fairly common
07/03/2013 - Reinita Cielo Azul (lodge to 2nd bench) - Fairly common
08/03/2013 - Tayrona NP - Few
09/03/2013 - Santa Marta (travel + El Dorado lodge) - Few en route
11/03/2013 - Santa Marta (lodge down to shop) - Few
12/03/2013 - Santa Marta (roadside stops to Minca) + Minca - Few
13/03/2013 - Los Flamencos - Few
13/03/2013 - Santa Marta (Chestnut-winged Chachalaca site) - Few
14/03/2013 - Isla Salamanca NP - common
15/03/2013 - Cartagena - City visit - Few
16/03/2013 - Isla del Rosario - a few
17/03/2013 - La Romera - fairly common
18/03/2013 - Arrierito Antioqueno BR - a few
20/03/2013 - En route - common
23/03/2013 - En route between CDS - LT - fairly common
25/03/2013 - Las Tangaras BR - Few
26/03/2013 - Jardin - Common
27/03/2013 - Bolombolo - Common
28/03/2013 - Rio Claro NR - Few
29/03/2013 - Rio Claro NR - a few
30/03/2013 - Rio Claro NR - a few
01/04/2013 - La Florida - a few
Turkey Vulture
Cathartes aura
03/03/2013 - walk Barichari - Guane - Few
06/03/2013 - Reinita Cielo Azul (lodge to school) - Fairly common
07/03/2013 - Reinita Cielo Azul (lodge to 2nd bench) - Few
08/03/2013 - Tayrona NP - Few
09/03/2013 - Santa Marta (travel + El Dorado lodge) - Few en route
10/03/2013 - Santa Marta (Santa Marta Parakeet site to lodge) - Few
11/03/2013 - Santa Marta (lodge down to shop) - Few
12/03/2013 - Santa Marta (roadside stops to Minca) + Minca - Few
13/03/2013 - Los Flamencos - Few
13/03/2013 - Santa Marta (Chestnut-winged Chachalaca site) - Few
14/03/2013 - Isla Salamanca NP - common
15/03/2013 - Cartagena - City visit - Few
16/03/2013 - Isla del Rosario - a few
17/03/2013 - La Romera - fairly common
18/03/2013 - Arrierito Antioqueno BR - a few
19/03/2013 - Arrierito Antioqueno BR - a few
20/03/2013 - En route - a few
23/03/2013 - En route between CDS - LT - fairly common
25/03/2013 - Las Tangaras BR - Few
26/03/2013 - Jardin - Few
27/03/2013 - Bolombolo - Few
28/03/2013 - Rio Claro NR - Few
29/03/2013 - Rio Claro NR - a few
30/03/2013 - Rio Claro NR - a few
08/03/2013 - Tayrona NP - 1
14/03/2013 - Isla Salamanca NP - 2
White-tailed Kite
Elanus leucurus
06/03/2013 - Reinita Cielo Azul (lodge to school) - 2
20/03/2013 - En route - 1
30/03/2013 - Rio Claro NR - 1 en route
01/04/2013 - La Florida - 1
Hook-billed Kite
Chondrohierax uncinatus
04/03/2013 - Reinita Cielo Azul (lodge to quail feeders) - 1
06/03/2013 - Reinita Cielo Azul (lodge to school) - 2
Swallow-tailed Kite
Elanoides forficatus
06/03/2013 - Reinita Cielo Azul (lodge to school) - 1
18/03/2013 - Arrierito Antioqueno BR - 4
19/03/2013 - Arrierito Antioqueno BR - 3
20/03/2013 - Arrierito Antioqueno BR - 1
Black Hawk-Eagle
Spizaetus tyrannus
18/03/2013 - Arrierito Antioqueno BR - 1
Ornate Hawk-Eagle
Spizaetus ornatus
18/03/2013 - Arrierito Antioqueno BR - 1
Black-collared Hawk
Busarellus nigricollis
13/03/2013 - Los Flamencos - 1
14/03/2013 - Isla Salamanca NP - 1
Double-toothed Kite
Harpagus bidentatus
28/03/2013 - Rio Claro NR - 1
Plumbeous Kite
Ictinia plumbea
12/03/2013 - Santa Marta (roadside stops to Minca) + Minca - 2+
Sharp-shinned Hawk
Accipiter striatus
17/03/2013 - La Romera - 1
18/03/2013 - Arrierito Antioqueno BR - 1
Solitary Eagle
Buteogallus solitarius
Near-threatened (NT)
20/03/2013 - Arrierito Antioqueno BR - 2
Roadside Hawk
Rupornis magnirostris
03/03/2013 - El Gallineral (San Gil) - 1 en route
04/03/2013 - Reinita Cielo Azul (lodge to quail feeders) - 1
18/03/2013 - Arrierito Antioqueno BR - 1 en route
20/03/2013 - Arrierito Antioqueno BR - 1
21/03/2013 - Colibri del Sol BR - 1
23/03/2013 - En route between CDS - LT - 1
24/03/2013 - Las Tangaras BR - 1
01/04/2013 - La Florida - 1
White-rumped Hawk
Parabuteo leucorrhous
09/03/2013 - Santa Marta (travel + El Dorado lodge) - 1
11/03/2013 - Santa Marta (lodge down to shop) - 1
Broad-winged Hawk
Buteo platypterus
11/03/2013 - Santa Marta (lodge down to shop) - 1
18/03/2013 - Arrierito Antioqueno BR - 1
Short-tailed Hawk
Buteo brachyurus
13/03/2013 - Santa Marta (Chestnut-winged Chachalaca site) - 1
27/03/2013 - Bolombolo - 1
01/04/2013 - La Florida - 1
Bogota Rail
Rallus semiplumbeus
Endangered (EN)
Country endemic
Restricted range
01/04/2013 - La Florida - 1 seen + 3 heard
Rufous-necked Wood-Rail
Aramides axillaris
14/03/2013 - Isla Salamanca NP - 1
01/04/2013 - La Florida - 1 seen + 1 heard
Blackish Rail
Pardirallus nigricans
18/03/2013 - Arrierito Antioqueno BR - 1
20/03/2013 - Arrierito Antioqueno BR - HO - 1 heard
23/03/2013 - En route between CDS - LT - 1
Purple Gallinule
Porphyrio martinicus
01/04/2013 - La Florida - 3
Common Gallinule
Gallinula galeata
14/03/2013 - Isla Salamanca NP - a few en route
Spot-flanked Gallinule
Gallinula melanops
01/04/2013 - La Florida - 1
American Coot
Fulica americana
02/03/2013 - Lago de Siscunsi - 5+
01/04/2013 - La Florida - fairly common
14/03/2013 - Isla Salamanca NP - 1 en route
Southern Lapwing
Vanellus chilensis
17/03/2013 - La Romera - a few en route
18/03/2013 - Arrierito Antioqueno BR - a few en route
20/03/2013 - En route - a few
23/03/2013 - En route between CDS - LT - a few
01/04/2013 - La Florida - a few
Black-necked Stilt
Himantopus mexicanus
08/03/2013 - Tayrona NP - 5+
Wattled Jacana
Jacana jacana
13/03/2013 - Los Flamencos - 5+
14/03/2013 - Isla Salamanca NP - fairly common en route
Spotted Sandpiper
Actitis macularius
13/03/2013 - Los Flamencos - 2 en route
14/03/2013 - Isla Salamanca NP - a few
01/04/2013 - La Florida - 1
Solitary Sandpiper
Tringa solitaria
02/03/2013 - Lago de Siscunsi - 2 en route
14/03/2013 - Isla Salamanca NP - 2
18/03/2013 - Arrierito Antioqueno BR - 1
01/04/2013 - La Florida - 3
Greater Yellowlegs
Tringa melanoleuca
02/03/2013 - Lago de Siscunsi - 1 at lake
Whimbrel
Numenius phaeopus
14/03/2013 - Isla Salamanca NP - 2
Noble Snipe
Gallinago nobilis
Near-threatened (NT)
02/03/2013 - Lago de Siscunsi - 1 (paramo near lake)
01/04/2013 - La Florida - 1
Laughing Gull
Leucophaeus atricilla
14/03/2013 - Isla Salamanca NP - a few en route
15/03/2013 - Cartagena - City visit - Few
16/03/2013 - Isla del Rosario - fairly common
Caspian Tern
Hydroprogne caspia
14/03/2013 - Isla Salamanca NP - 5+
15/03/2013 - Cartagena - City visit - Few
16/03/2013 - Isla del Rosario - a few
Royal Tern
Thalasseus maximus
14/03/2013 - Isla Salamanca NP - a few en route
15/03/2013 - Cartagena - City visit - Few
16/03/2013 - Isla del Rosario - a few
Sandwich Tern
Thalasseus sandvicensis
15/03/2013 - Cartagena - City visit - Few
16/03/2013 - Isla del Rosario - a few
Bare-eyed Pigeon
Patagioenas corensis
13/03/2013 - Los Flamencos - 3
Band-tailed Pigeon
Patagioenas fasciata
06/03/2013 - Reinita Cielo Azul (lodge to school) - 10+
07/03/2013 - Reinita Cielo Azul (lodge to 2nd bench) - 10+
09/03/2013 - Santa Marta (travel + El Dorado lodge) - 10+
10/03/2013 - Santa Marta (Santa Marta Parakeet site to lodge) - 5+
11/03/2013 - Santa Marta (lodge down to shop) - 2+
17/03/2013 - La Romera - 10+
19/03/2013 - Arrierito Antioqueno BR - 2
20/03/2013 - Arrierito Antioqueno BR - 5+
23/03/2013 - Colibri del Sol BR - a few
26/03/2013 - Jardin - 2+
Plumbeous Pigeon
Patagioenas plumbea
24/03/2013 - Las Tangaras BR - 1
25/03/2013 - Las Tangaras BR - HO - 1 seen, more heard
Ruddy Pigeon
Patagioenas subvinacea
06/03/2013 - Reinita Cielo Azul (lodge to school) - 5+
19/03/2013 - Arrierito Antioqueno BR - HO - 1 heard
Eared Dove
Zenaida auriculata
02/03/2013 - Lago de Siscunsi - 1 en route
13/03/2013 - Los Flamencos - 1
15/03/2013 - Cartagena - City visit - Few
16/03/2013 - Isla del Rosario - a few
17/03/2013 - La Romera - fairly common
01/04/2013 - La Florida - common
Common Ground-Dove
Columbina passerina
03/03/2013 - walk Barichari - Guane - Few
13/03/2013 - Los Flamencos - 3+
Ruddy Ground-Dove
Columbina talpacoti
01/03/2013 - Bogota City - Few en route
02/03/2013 - Lago de Siscunsi - Few en route
03/03/2013 - El Gallineral (San Gil) - Few
03/03/2013 - walk Barichari - Guane - Few
04/03/2013 - Reinita Cielo Azul (lodge to quail feeders) - Few en route
06/03/2013 - Reinita Cielo Azul (lodge to school) - 5+
07/03/2013 - Reinita Cielo Azul (lodge to 2nd bench) - Few en route
08/03/2013 - Tayrona NP - Few en route
09/03/2013 - Santa Marta (travel + El Dorado lodge) - Few en route
27/03/2013 - Bolombolo - Few en route
29/03/2013 - Rio Claro NR - a few
30/03/2013 - Rio Claro NR - a few
Scaled Dove
Columbina squammata
13/03/2013 - Los Flamencos - 3
White-tipped Dove
Leptotila verreauxi
03/03/2013 - walk Barichari - Guane - Few
06/03/2013 - Reinita Cielo Azul (lodge to school) - 5+
07/03/2013 - Reinita Cielo Azul (lodge to 2nd bench) - Few en route
08/03/2013 - Tayrona NP - Few en route
09/03/2013 - Santa Marta (travel + El Dorado lodge) - 1+
10/03/2013 - Santa Marta (Santa Marta Parakeet site to lodge) - 1+
12/03/2013 - Santa Marta (roadside stops to Minca) + Minca - 2
27/03/2013 - Bolombolo - Few en route
Lined Quail-Dove
Geotrygon linearis
04/03/2013 - Reinita Cielo Azul (lodge to quail feeders) - 3 at quail feeder
05/03/2013 - Reinita Cielo Azul (lodge to 5th bench) - 1, Few heard
06/03/2013 - Reinita Cielo Azul (lodge to school) - HO - Few heard
07/03/2013 - Reinita Cielo Azul (lodge to 2nd bench) - 3 seen, more heard
09/03/2013 - Santa Marta (travel + El Dorado lodge) - 3+
10/03/2013 - Santa Marta (Santa Marta Parakeet site to lodge) - 2 seen, more heard
11/03/2013 - Santa Marta (lodge down to shop) - 2 seen, more heard
12/03/2013 - Santa Marta (roadside stops to Minca) + Minca - 1
19/03/2013 - Arrierito Antioqueno BR - 1
22/03/2013 - Colibri del Sol BR - 1
Squirrel Cuckoo
Piaya cayana
03/03/2013 - walk Barichari - Guane - 1
05/03/2013 - Reinita Cielo Azul (lodge to 5th bench) - 1
06/03/2013 - Reinita Cielo Azul (lodge to school) - 1
13/03/2013 - Los Flamencos - 2
14/03/2013 - Isla Salamanca NP - 1
18/03/2013 - Arrierito Antioqueno BR - 1 en route
19/03/2013 - Arrierito Antioqueno BR - 1
20/03/2013 - Arrierito Antioqueno BR - 1
Striped Cuckoo
Tapera naevia
05/03/2013 - Reinita Cielo Azul (lodge to 5th bench) - HO - Few heard
06/03/2013 - Reinita Cielo Azul (lodge to school) - HO - Few heard
20/03/2013 - Arrierito Antioqueno BR - HO - 1 heard
Pavonine Cuckoo
Dromococcyx pavoninus
20/03/2013 - Arrierito Antioqueno BR - HO - 1 heard
Greater Ani
Crotophaga major
14/03/2013 - Isla Salamanca NP - 5+
28/03/2013 - Rio Claro NR - Few
29/03/2013 - Rio Claro NR - 10+
30/03/2013 - Rio Claro NR - a few
01/04/2013 - La Florida - a few
Smooth-billed Ani
Crotophaga ani
03/03/2013 - walk Barichari - Guane - 5+
04/03/2013 - Reinita Cielo Azul (lodge to quail feeders) - 5+
05/03/2013 - Reinita Cielo Azul (lodge to 5th bench) - 10+
06/03/2013 - Reinita Cielo Azul (lodge to school) - 10+
13/03/2013 - Santa Marta (Chestnut-winged Chachalaca site) - 1+
18/03/2013 - Arrierito Antioqueno BR - a few en route
20/03/2013 - Arrierito Antioqueno BR - a few
23/03/2013 - En route between CDS - LT - a few
27/03/2013 - Bolombolo - Few
Tropical Screech-Owl
Megascops choliba
04/03/2013 - Reinita Cielo Azul (lodge to quail feeders) - 1 at lodge
05/03/2013 - Reinita Cielo Azul (lodge to 5th bench) - 1 at lodge
06/03/2013 - Reinita Cielo Azul (lodge to school) - HO - 1 heard
07/03/2013 - Reinita Cielo Azul (lodge to 2nd bench) - HO - 1 heard at lodge
19/03/2013 - Arrierito Antioqueno BR - HO - 1 heard
26/03/2013 - Jardin - 1 at central plaza
Vermiculated Screech-Owl
Megascops guatemalae
09/03/2013 - Santa Marta (travel + El Dorado lodge) - 2 seen, more heard (Santa Marta Screech Owl)
10/03/2013 - Santa Marta (Santa Marta Parakeet site to lodge) - 1 at day roost at lodge (Santa Marta Screech Owl)
11/03/2013 - Santa Marta (lodge down to shop) - HO - 1 heard (Santa Marta Screech Owl)
Spectacled Owl
Pulsatrix perspicillata
09/03/2013 - Santa Marta (travel + El Dorado lodge) - HO - 1 heard
12/03/2013 - Santa Marta (roadside stops to Minca) + Minca - 1 at day roost
Cloud-forest Pygmy-Owl
Glaucidium nubicola
Vulnerable (VU)
Restricted range
25/03/2013 - Las Tangaras BR - 1
Andean Pygmy-Owl
Glaucidium jardinii
22/03/2013 - Colibri del Sol BR - 1
Mottled Owl
Ciccaba virgata
19/03/2013 - Arrierito Antioqueno BR - 1
18/03/2013 - Arrierito Antioqueno BR - HO - 1 heard
19/03/2013 - Arrierito Antioqueno BR - 1
20/03/2013 - Arrierito Antioqueno BR - HO - 1 heard
Common Pauraque
Nyctidromus albicollis
28/03/2013 - Rio Claro NR - 2
Band-winged Nightjar
Caprimulgus longirostris
10/03/2013 - Santa Marta (Santa Marta Parakeet site to lodge) - 2
26/03/2013 - Jardin - 1
Lyre-tailed Nightjar
Uropsalis lyra
20/03/2013 - Arrierito Antioqueno BR - 1
Oilbird
Steatornis caripensis
28/03/2013 - Rio Claro NR - 20+
Chestnut-collared Swift
Streptoprocne rutila
10/03/2013 - Santa Marta (Santa Marta Parakeet site to lodge) - 10+
17/03/2013 - La Romera - a few
18/03/2013 - Arrierito Antioqueno BR - a few
19/03/2013 - Arrierito Antioqueno BR - a few
20/03/2013 - Arrierito Antioqueno BR - a few
23/03/2013 - Colibri del Sol BR - a few
White-collared Swift
Streptoprocne zonaris
10/03/2013 - Santa Marta (Santa Marta Parakeet site to lodge) - 10+
11/03/2013 - Santa Marta (lodge down to shop) - 5+
18/03/2013 - Arrierito Antioqueno BR - a few
23/03/2013 - Colibri del Sol BR - a few
25/03/2013 - Las Tangaras BR - Fairly common
27/03/2013 - Bolombolo - Few
Gray-rumped Swift
Chaetura cinereiventris
04/03/2013 - Reinita Cielo Azul (lodge to quail feeders) - 1 en route
28/03/2013 - Rio Claro NR - 3+
29/03/2013 - Rio Claro NR - 5+
White-tipped Swift
Aeronautes montivagus
03/03/2013 - walk Barichari - Guane - 2
White-necked Jacobin
Florisuga mellivora
04/03/2013 - Reinita Cielo Azul (lodge to quail feeders) - 2
05/03/2013 - Reinita Cielo Azul (lodge to 5th bench) - 3
06/03/2013 - Reinita Cielo Azul (lodge to school) - 3
07/03/2013 - Reinita Cielo Azul (lodge to 2nd bench) - 4 at feeders lodge
12/03/2013 - Santa Marta (roadside stops to Minca) + Minca - 20+, feeders Hotel Minca
Rufous-breasted Hermit
Glaucis hirsutus
12/03/2013 - Santa Marta (roadside stops to Minca) + Minca - 1, feeders Hotel Minca
29/03/2013 - Rio Claro NR - 2
Band-tailed Barbthroat
Threnetes ruckeri
28/03/2013 - Rio Claro NR - 2
29/03/2013 - Rio Claro NR - 1
Green Hermit
Phaethornis guy
05/03/2013 - Reinita Cielo Azul (lodge to 5th bench) - 1
06/03/2013 - Reinita Cielo Azul (lodge to school) - 1
07/03/2013 - Reinita Cielo Azul (lodge to 2nd bench) - 2
19/03/2013 - Arrierito Antioqueno BR - 2
Tawny-bellied Hermit
Phaethornis syrmatophorus
04/03/2013 - Reinita Cielo Azul (lodge to quail feeders) - 1 at feeders lodge
17/03/2013 - La Romera - 1
24/03/2013 - Las Tangaras BR - 1
25/03/2013 - Las Tangaras BR - 1
Long-billed Hermit
Phaethornis longirostris
09/03/2013 - Santa Marta (travel + El Dorado lodge) - 1
10/03/2013 - Santa Marta (Santa Marta Parakeet site to lodge) - 1
11/03/2013 - Santa Marta (lodge down to shop) - 1
28/03/2013 - Rio Claro NR - 1
29/03/2013 - Rio Claro NR - 2
Pale-bellied Hermit
Phaethornis anthophilus
12/03/2013 - Santa Marta (roadside stops to Minca) + Minca - 1, feeders Hotel Minca
Stripe-throated Hermit
Phaethornis striigularis
12/03/2013 - Santa Marta (roadside stops to Minca) + Minca - 1, feeders Hotel Minca
29/03/2013 - Rio Claro NR - 4
Green-fronted Lancebill
Doryfera ludovicae
19/03/2013 - Arrierito Antioqueno BR - 1
24/03/2013 - Las Tangaras BR - 1
Brown Violetear
Colibri delphinae
06/03/2013 - Reinita Cielo Azul (lodge to school) - 1 at feeders lodge
09/03/2013 - Santa Marta (travel + El Dorado lodge) - 1+
10/03/2013 - Santa Marta (Santa Marta Parakeet site to lodge) - 1+
Green Violetear
Colibri thalassinus
09/03/2013 - Santa Marta (travel + El Dorado lodge) - Farily common
10/03/2013 - Santa Marta (Santa Marta Parakeet site to lodge) - Fairly common
11/03/2013 - Santa Marta (lodge down to shop) - Fairly common
12/03/2013 - Santa Marta (roadside stops to Minca) + Minca - Few, feeders Hotel Minca
21/03/2013 - Colibri del Sol BR - a few
22/03/2013 - Colibri del Sol BR - a few
23/03/2013 - Colibri del Sol BR - a few
Sparkling Violetear
Colibri coruscans
21/03/2013 - Colibri del Sol BR - 2+
22/03/2013 - Colibri del Sol BR - a few
23/03/2013 - Colibri del Sol BR - a few
Tooth-billed Hummingbird
Androdon aequatorialis
19/03/2013 - Arrierito Antioqueno BR - 2
Black-throated Mango
Anthracothorax nigricollis
04/03/2013 - Reinita Cielo Azul (lodge to quail feeders) - 2 at feeders lodge, 1 at quail feeders
06/03/2013 - Reinita Cielo Azul (lodge to school) - 5+ at feeders lodge
07/03/2013 - Reinita Cielo Azul (lodge to 2nd bench) - 2+
18/03/2013 - Arrierito Antioqueno BR - 2
20/03/2013 - Arrierito Antioqueno BR - 1
29/03/2013 - Rio Claro NR - 1
Tourmaline Sunangel
Heliangelus exortis
21/03/2013 - Colibri del Sol BR - 10+
22/03/2013 - Colibri del Sol BR - 20+
23/03/2013 - Colibri del Sol BR - 15+
23/03/2013 - En route between CDS - LT - 2
26/03/2013 - Jardin - 5+
Speckled Hummingbird
Adelomyia melanogenys
04/03/2013 - Reinita Cielo Azul (lodge to quail feeders) - 1 at quail feeders
05/03/2013 - Reinita Cielo Azul (lodge to 5th bench) - 2
06/03/2013 - Reinita Cielo Azul (lodge to school) - 2
07/03/2013 - Reinita Cielo Azul (lodge to 2nd bench) - 2+
Blossomcrown
Anthocephala floriceps
Vulnerable (VU)
Country endemic
Restricted range
11/03/2013 - Santa Marta (lodge down to shop) - 1 in garden Palo Alto
12/03/2013 - Santa Marta (roadside stops to Minca) + Minca - 1 in garden Palo Alto, 1 at small shop
Long-tailed Sylph
Aglaiocercus kingi
04/03/2013 - Reinita Cielo Azul (lodge to quail feeders) - 1 at quail feeders
21/03/2013 - Colibri del Sol BR - 3
22/03/2013 - Colibri del Sol BR - 2
23/03/2013 - Colibri del Sol BR - 2
Violet-tailed Sylph
Aglaiocercus coelestis
Restricted range
24/03/2013 - Las Tangaras BR - 10+
25/03/2013 - Las Tangaras BR - 5+
Black-backed Thornbill
Ramphomicron dorsale
Endangered (EN)
Country endemic
Restricted range
09/03/2013 - Santa Marta (travel + El Dorado lodge) - 1 at feeders lodge
10/03/2013 - Santa Marta (Santa Marta Parakeet site to lodge) - 1 at feeders lodge
Purple-backed Thornbill
Ramphomicron microrhynchum
22/03/2013 - Colibri del Sol BR - 3+
Bearded Helmetcrest
Oxypogon guerinii
Restricted range
02/03/2013 - Lago de Siscunsi - 2 near lake
Tyrian Metaltail
Metallura tyrianthina
09/03/2013 - Santa Marta (travel + El Dorado lodge) - 5+
10/03/2013 - Santa Marta (Santa Marta Parakeet site to lodge) - 20+
11/03/2013 - Santa Marta (lodge down to shop) - 2
21/03/2013 - Colibri del Sol BR - 2+
22/03/2013 - Colibri del Sol BR - 5+
23/03/2013 - Colibri del Sol BR - 3+
26/03/2013 - Jardin - 1
Viridian Metaltail
Metallura williami
22/03/2013 - Colibri del Sol BR - 2
Greenish Puffleg
Haplophaedia aureliae
17/03/2013 - La Romera - 1
18/03/2013 - Arrierito Antioqueno BR - 3+
19/03/2013 - Arrierito Antioqueno BR - 2
24/03/2013 - Las Tangaras BR - 1
25/03/2013 - Las Tangaras BR - 1
Glowing Puffleg
Eriocnemis vestita
21/03/2013 - Colibri del Sol BR - 1
23/03/2013 - Colibri del Sol BR - 1
Brown Inca
Coeligena wilsoni
Restricted range
24/03/2013 - Las Tangaras BR - 2
25/03/2013 - Las Tangaras BR - 1
Black Inca
Coeligena prunellei
Vulnerable (VU)
Country endemic
Restricted range
04/03/2013 - Reinita Cielo Azul (lodge to quail feeders) - 5 at quail feeders
05/03/2013 - Reinita Cielo Azul (lodge to 5th bench) - at quail feeders and in forest
07/03/2013 - Reinita Cielo Azul (lodge to 2nd bench) - 3+ at quail feeders
Collared Inca
Coeligena torquata
21/03/2013 - Colibri del Sol BR - 5+
22/03/2013 - Colibri del Sol BR - 10+
23/03/2013 - Colibri del Sol BR - 10+
23/03/2013 - En route between CDS - LT - 1
26/03/2013 - Jardin - 5+
White-tailed Starfrontlet
Coeligena phalerata
Country endemic
Restricted range
09/03/2013 - Santa Marta (travel + El Dorado lodge) - 2
10/03/2013 - Santa Marta (Santa Marta Parakeet site to lodge) - 5+
Dusky Starfrontlet
Coeligena orina
Critically endangered (CR)
Country endemic
Restricted range
22/03/2013 - Colibri del Sol BR - 5+
Buff-winged Starfrontlet
Coeligena lutetiae
23/03/2013 - Colibri del Sol BR - 5+
Mountain Velvetbreast
Lafresnaya lafresnayi
10/03/2013 - Santa Marta (Santa Marta Parakeet site to lodge) - 1
21/03/2013 - Colibri del Sol BR - 3
22/03/2013 - Colibri del Sol BR - 10+
23/03/2013 - Colibri del Sol BR - 1
26/03/2013 - Jardin - 1
Sword-billed Hummingbird
Ensifera ensifera
21/03/2013 - Colibri del Sol BR - 2
22/03/2013 - Colibri del Sol BR - 3
Buff-tailed Coronet
Boissonneaua flavescens
04/03/2013 - Reinita Cielo Azul (lodge to quail feeders) - 5 at quail feeders
07/03/2013 - Reinita Cielo Azul (lodge to 2nd bench) - 1+
21/03/2013 - Colibri del Sol BR - 5+
22/03/2013 - Colibri del Sol BR - 10+
23/03/2013 - Colibri del Sol BR - 5+
Velvet-purple Coronet
Boissonneaua jardini
Restricted range
24/03/2013 - Las Tangaras BR - 5+
Booted Racket-tail
Ocreatus underwoodii
04/03/2013 - Reinita Cielo Azul (lodge to quail feeders) - 1 at quail feeders
05/03/2013 - Reinita Cielo Azul (lodge to 5th bench) - 2
07/03/2013 - Reinita Cielo Azul (lodge to 2nd bench) - 2+
19/03/2013 - Arrierito Antioqueno BR - 1
24/03/2013 - Las Tangaras BR - 2
Purple-bibbed Whitetip
Urosticte benjamini
Restricted range
24/03/2013 - Las Tangaras BR - 1
Fawn-breasted Brilliant
Heliodoxa rubinoides
04/03/2013 - Reinita Cielo Azul (lodge to quail feeders) - 4 at quail feeders (or mistaken with juv green-crowned?)
24/03/2013 - Las Tangaras BR - 1
Green-crowned Brilliant
Heliodoxa jacula
04/03/2013 - Reinita Cielo Azul (lodge to quail feeders) - 3 at quail feeders
05/03/2013 - Reinita Cielo Azul (lodge to 5th bench) - 1
06/03/2013 - Reinita Cielo Azul (lodge to school) - 1+
07/03/2013 - Reinita Cielo Azul (lodge to 2nd bench) - 2+
18/03/2013 - Arrierito Antioqueno BR - 5+
19/03/2013 - Arrierito Antioqueno BR - 5+
20/03/2013 - Arrierito Antioqueno BR - 5+
Empress Brilliant
Heliodoxa imperatrix
Restricted range
24/03/2013 - Las Tangaras BR - 5+
25/03/2013 - Las Tangaras BR - 2+
Long-billed Starthroat
Heliomaster longirostris
12/03/2013 - Santa Marta (roadside stops to Minca) + Minca - 1 at feeders Hotel Minca
White-bellied Woodstar
Chaetocercus mulsant
20/03/2013 - Arrierito Antioqueno BR - 1
21/03/2013 - Colibri del Sol BR - 5+
22/03/2013 - Colibri del Sol BR - 15+
23/03/2013 - Colibri del Sol BR - 15+
Gorgeted Woodstar
Chaetocercus heliodor
18/03/2013 - Arrierito Antioqueno BR - 1
19/03/2013 - Arrierito Antioqueno BR - 1
20/03/2013 - Arrierito Antioqueno BR - 1
Santa Marta Woodstar
Chaetocercus astreans
Country endemic
Restricted range
11/03/2013 - Santa Marta (lodge down to shop) - 1 female at small shop
Purple-throated Woodstar
Calliphlox mitchellii
Restricted range
24/03/2013 - Las Tangaras BR - 3
25/03/2013 - Las Tangaras BR - 1
Western Emerald
Chlorostilbon melanorhynchus
19/03/2013 - Arrierito Antioqueno BR - 4
Red-billed Emerald
Chlorostilbon gibsoni
06/03/2013 - Reinita Cielo Azul (lodge to school) - 1+
07/03/2013 - Reinita Cielo Azul (lodge to 2nd bench) - 1+
12/03/2013 - Santa Marta (roadside stops to Minca) + Minca - 5+
13/03/2013 - Los Flamencos - 1
Coppery Emerald
Chlorostilbon russatus
Restricted range
11/03/2013 - Santa Marta (lodge down to shop) - 2 in garden Palo Alto
Lazuline Sabrewing
Campylopterus falcatus
09/03/2013 - Santa Marta (travel + El Dorado lodge) - 3
10/03/2013 - Santa Marta (Santa Marta Parakeet site to lodge) - 2
12/03/2013 - Santa Marta (roadside stops to Minca) + Minca - 1+
White-vented Plumeleteer
Chalybura buffonii
12/03/2013 - Santa Marta (roadside stops to Minca) + Minca - 20+
28/03/2013 - Rio Claro NR - 1
29/03/2013 - Rio Claro NR - 2
Violet-crowned Woodnymph
Thalurania colombica
04/03/2013 - Reinita Cielo Azul (lodge to quail feeders) - 10 at quail feeders
05/03/2013 - Reinita Cielo Azul (lodge to 5th bench) - 3+
06/03/2013 - Reinita Cielo Azul (lodge to school) - 3+
07/03/2013 - Reinita Cielo Azul (lodge to 2nd bench) - 5+
09/03/2013 - Santa Marta (travel + El Dorado lodge) - common
10/03/2013 - Santa Marta (Santa Marta Parakeet site to lodge) - Common
11/03/2013 - Santa Marta (lodge down to shop) - Fairly common
12/03/2013 - Santa Marta (roadside stops to Minca) + Minca - Few
Green-crowned Woodnymph
Thalurania fannyi
18/03/2013 - Arrierito Antioqueno BR - 20+
19/03/2013 - Arrierito Antioqueno BR - 20+
20/03/2013 - Arrierito Antioqueno BR - 20+
Buffy Hummingbird
Leucippus fallax
13/03/2013 - Los Flamencos - 2
Chestnut-bellied Hummingbird
Amazilia castaneiventris
Endangered (EN)
Country endemic
Restricted range
06/03/2013 - Reinita Cielo Azul (lodge to school) - 1 at feeders lodge
Andean Emerald
Amazilia franciae
04/03/2013 - Reinita Cielo Azul (lodge to quail feeders) - 2 at feeders lodge, 5 at quail feeders
05/03/2013 - Reinita Cielo Azul (lodge to 5th bench) - 5+
06/03/2013 - Reinita Cielo Azul (lodge to school) - 5+
07/03/2013 - Reinita Cielo Azul (lodge to 2nd bench) - 5+
18/03/2013 - Arrierito Antioqueno BR - 30+
19/03/2013 - Arrierito Antioqueno BR - 30+
20/03/2013 - Arrierito Antioqueno BR - 30+
25/03/2013 - Las Tangaras BR - 2+
Blue-chested Hummingbird
Amazilia amabilis
18/03/2013 - Arrierito Antioqueno BR - 1
25/03/2013 - Las Tangaras BR - 1
Steely-vented Hummingbird
Amazilia saucerrottei
12/03/2013 - Santa Marta (roadside stops to Minca) + Minca - 5+
18/03/2013 - Arrierito Antioqueno BR - 20+
19/03/2013 - Arrierito Antioqueno BR - 15+
20/03/2013 - Arrierito Antioqueno BR - 20+
Rufous-tailed Hummingbird
Amazilia tzacatl
03/03/2013 - El Gallineral (San Gil) - 4
06/03/2013 - Reinita Cielo Azul (lodge to school) - 5+
07/03/2013 - Reinita Cielo Azul (lodge to 2nd bench) - 5+
12/03/2013 - Santa Marta (roadside stops to Minca) + Minca - 10+
18/03/2013 - Arrierito Antioqueno BR - 3+
19/03/2013 - Arrierito Antioqueno BR - 2
20/03/2013 - Arrierito Antioqueno BR - 3+
25/03/2013 - Las Tangaras BR - 3+
29/03/2013 - Rio Claro NR - 1
Indigo-capped Hummingbird
Goldmania cyanifrons
06/03/2013 - Reinita Cielo Azul (lodge to school) - 2 at feeders lodge
07/03/2013 - Reinita Cielo Azul (lodge to 2nd bench) - 1+
Sapphire-bellied Hummingbird
Lepidopyga lilliae
Critically endangered (CR)
Country endemic
Restricted range
08/03/2013 - Tayrona NP - 1
14/03/2013 - Isla Salamanca NP - 3
Violet-bellied Hummingbird
Damophila julie
18/03/2013 - Arrierito Antioqueno BR - 2+
19/03/2013 - Arrierito Antioqueno BR - 1
20/03/2013 - Arrierito Antioqueno BR - 3
Golden-headed Quetzal
Pharomachrus auriceps
24/03/2013 - Las Tangaras BR - 2
White-tipped Quetzal
Pharomachrus fulgidus
Restricted range
09/03/2013 - Santa Marta (travel + El Dorado lodge) - 1
10/03/2013 - Santa Marta (Santa Marta Parakeet site to lodge) - 2
11/03/2013 - Santa Marta (lodge down to shop) - HO - 2 heard
12/03/2013 - Santa Marta (roadside stops to Minca) + Minca - HO - 1 heard
25/03/2013 - Las Tangaras BR - 1
White-tailed Trogon
Trogon chionurus
28/03/2013 - Rio Claro NR - 1
Gartered Trogon
Trogon caligatus
28/03/2013 - Rio Claro NR - 1
Black-throated Trogon
Trogon rufus
29/03/2013 - Rio Claro NR - 1
Collared Trogon
Trogon collaris
05/03/2013 - Reinita Cielo Azul (lodge to 5th bench) - 3
06/03/2013 - Reinita Cielo Azul (lodge to school) - 1
07/03/2013 - Reinita Cielo Azul (lodge to 2nd bench) - 1
Masked Trogon
Trogon personatus
09/03/2013 - Santa Marta (travel + El Dorado lodge) - 2
10/03/2013 - Santa Marta (Santa Marta Parakeet site to lodge) - 2
11/03/2013 - Santa Marta (lodge down to shop) - HO - 1 heard
12/03/2013 - Santa Marta (roadside stops to Minca) + Minca - HO - 2 heard
19/03/2013 - Arrierito Antioqueno BR - 2
24/03/2013 - Las Tangaras BR - 2
Whooping Motmot
Momotus subrufescens
03/03/2013 - El Gallineral (San Gil) - 1
03/03/2013 - walk Barichari - Guane - 3
12/03/2013 - Santa Marta (roadside stops to Minca) + Minca - 2
18/03/2013 - Arrierito Antioqueno BR - 1
19/03/2013 - Arrierito Antioqueno BR - 1
25/03/2013 - Las Tangaras BR - 1
Andean Motmot
Momotus aequatorialis
21/03/2013 - Colibri del Sol BR - 1
Rufous Motmot
Baryphthengus martii
29/03/2013 - Rio Claro NR - 3
Ringed Kingfisher
Megaceryle torquata
13/03/2013 - Los Flamencos - Few en route
14/03/2013 - Isla Salamanca NP - fairly common
Green Kingfisher
Chloroceryle americana
13/03/2013 - Los Flamencos - 1 en route
14/03/2013 - Isla Salamanca NP - 1
28/03/2013 - Rio Claro NR - 1
29/03/2013 - Rio Claro NR - 3
Green-and-rufous Kingfisher
Chloroceryle inda
13/03/2013 - Los Flamencos - 1 en route
American Pygmy Kingfisher
Chloroceryle aenea
14/03/2013 - Isla Salamanca NP - 10+
Pied Puffbird
Notharchus tectus
14/03/2013 - Isla Salamanca NP - 1
Barred Puffbird
Nystalus radiatus
28/03/2013 - Rio Claro NR - 1
Russet-throated Puffbird
Hypnelus ruficollis
08/03/2013 - Tayrona NP - 2 en route
14/03/2013 - Isla Salamanca NP - 2
White-whiskered Puffbird
Malacoptila panamensis
28/03/2013 - Rio Claro NR - 1
29/03/2013 - Rio Claro NR - 1
Moustached Puffbird
Malacoptila mystacalis
18/03/2013 - Arrierito Antioqueno BR - 1
Gray-cheeked Nunlet
Nonnula frontalis
29/03/2013 - Rio Claro NR - 1
Rufous-tailed Jacamar
Galbula ruficauda
12/03/2013 - Santa Marta (roadside stops to Minca) + Minca - 1
13/03/2013 - Los Flamencos - 2
13/03/2013 - Santa Marta (Chestnut-winged Chachalaca site) - 1
White-mantled Barbet
Capito hypoleucus
Endangered (EN)
Country endemic
Restricted range
06/03/2013 - Reinita Cielo Azul (lodge to school) - HO - 1
07/03/2013 - Reinita Cielo Azul (lodge to 2nd bench) - 1 (between first and second bench)
20/03/2013 - Arrierito Antioqueno BR - 3
28/03/2013 - Rio Claro NR - 2
29/03/2013 - Rio Claro NR - 3
Red-headed Barbet
Eubucco bourcierii
19/03/2013 - Arrierito Antioqueno BR - 10+
20/03/2013 - Arrierito Antioqueno BR - 2
25/03/2013 - Las Tangaras BR - 1+
Toucan Barbet
Semnornis ramphastinus
Near-threatened (NT)
Restricted range
24/03/2013 - Las Tangaras BR - 1 seen + a few heard
25/03/2013 - Las Tangaras BR - HO - Few heard
Emerald Toucanet
Aulacorhynchus prasinus
09/03/2013 - Santa Marta (travel + El Dorado lodge) - 2
10/03/2013 - Santa Marta (Santa Marta Parakeet site to lodge) - 2
11/03/2013 - Santa Marta (lodge down to shop) - 2
22/03/2013 - Colibri del Sol BR - HO - a few heard
Groove-billed Toucanet
Aulacorhynchus sulcatus
11/03/2013 - Santa Marta (lodge down to shop) - 5+
Crimson-rumped Toucanet
Aulacorhynchus haematopygus
19/03/2013 - Arrierito Antioqueno BR - 2 seen + a few heard
24/03/2013 - Las Tangaras BR - 2
25/03/2013 - Las Tangaras BR - 2
Black-billed Mountain-Toucan
Andigena nigrirostris
21/03/2013 - Colibri del Sol BR - 3
23/03/2013 - En route between CDS - LT - 1
Collared Aracari
Pteroglossus torquatus
28/03/2013 - Rio Claro NR - 1
29/03/2013 - Rio Claro NR - 2
30/03/2013 - Rio Claro NR - 5+
Black-mandibled Toucan
Ramphastos ambiguus
30/03/2013 - Rio Claro NR - 1
Keel-billed Toucan
Ramphastos sulfuratus
09/03/2013 - Santa Marta (travel + El Dorado lodge) - 1
11/03/2013 - Santa Marta (lodge down to shop) - 2
12/03/2013 - Santa Marta (roadside stops to Minca) + Minca - 5+ seen, more heard
Channel-billed Toucan
Ramphastos vitellinus
29/03/2013 - Rio Claro NR - 2
30/03/2013 - Rio Claro NR - 2
Olivaceous Piculet
Picumnus olivaceus
28/03/2013 - Rio Claro NR - 2
29/03/2013 - Rio Claro NR - 1
Grayish Piculet
Picumnus granadensis
Country endemic
Restricted range
27/03/2013 - Bolombolo - 4
Chestnut Piculet
Picumnus cinnamomeus
13/03/2013 - Los Flamencos - 5 seen, 1 more heard
Red-crowned Woodpecker
Melanerpes rubricapillus
03/03/2013 - walk Barichari - Guane - 1
06/03/2013 - Reinita Cielo Azul (lodge to school) - 2
12/03/2013 - Santa Marta (roadside stops to Minca) + Minca - 2
13/03/2013 - Los Flamencos - 2+
13/03/2013 - Santa Marta (Chestnut-winged Chachalaca site) - 1+
14/03/2013 - Isla Salamanca NP - 2
15/03/2013 - Cartagena - City visit - 1+
17/03/2013 - La Romera - 1
28/03/2013 - Rio Claro NR - 2
29/03/2013 - Rio Claro NR - 5+
30/03/2013 - Rio Claro NR - 2
Smoky-brown Woodpecker
Picoides fumigatus
05/03/2013 - Reinita Cielo Azul (lodge to 5th bench) - 1
10/03/2013 - Santa Marta (Santa Marta Parakeet site to lodge) - 2
26/03/2013 - Jardin - 2
Red-rumped Woodpecker
Veniliornis kirkii
27/03/2013 - Bolombolo - 2
28/03/2013 - Rio Claro NR - 2
29/03/2013 - Rio Claro NR - 1
Yellow-vented Woodpecker
Veniliornis dignus
24/03/2013 - Las Tangaras BR - 1
Golden-olive Woodpecker
Colaptes rubiginosus
05/03/2013 - Reinita Cielo Azul (lodge to 5th bench) - 1
09/03/2013 - Santa Marta (travel + El Dorado lodge) - 1
10/03/2013 - Santa Marta (Santa Marta Parakeet site to lodge) - 2
19/03/2013 - Arrierito Antioqueno BR - HO - 1 heard
24/03/2013 - Las Tangaras BR - 1
26/03/2013 - Jardin - 1
Spot-breasted Woodpecker
Colaptes punctigula
03/03/2013 - walk Barichari - Guane - 1
14/03/2013 - Isla Salamanca NP - 1
15/03/2013 - Cartagena - City visit - 1
Cinnamon Woodpecker
Celeus loricatus
28/03/2013 - Rio Claro NR - 1
29/03/2013 - Rio Claro NR - 5+
30/03/2013 - Rio Claro NR - 2
Lineated Woodpecker
Dryocopus lineatus
06/03/2013 - Reinita Cielo Azul (lodge to school) - 2
14/03/2013 - Isla Salamanca NP - 3
Crimson-crested Woodpecker
Campephilus melanoleucos
29/03/2013 - Rio Claro NR - 2
Barred Forest-Falcon
Micrastur ruficollis
29/03/2013 - Rio Claro NR - 1
Collared Forest-Falcon
Micrastur semitorquatus
07/03/2013 - Reinita Cielo Azul (lodge to 2nd bench) - HO - 1 heard
Crested Caracara
Caracara cheriway
13/03/2013 - Los Flamencos - Few en route
14/03/2013 - Isla Salamanca NP - a few
27/03/2013 - Bolombolo - 1
Yellow-headed Caracara
Milvago chimachima
04/03/2013 - Reinita Cielo Azul (lodge to quail feeders) - 3
06/03/2013 - Reinita Cielo Azul (lodge to school) - 2
07/03/2013 - Reinita Cielo Azul (lodge to 2nd bench) - Few en route
08/03/2013 - Tayrona NP - 2
09/03/2013 - Santa Marta (travel + El Dorado lodge) - Few en route
13/03/2013 - Los Flamencos - Few
13/03/2013 - Santa Marta (Chestnut-winged Chachalaca site) - Few
14/03/2013 - Isla Salamanca NP - a few
16/03/2013 - Isla del Rosario - a few
20/03/2013 - En route - a few
27/03/2013 - Bolombolo - 10+
28/03/2013 - Rio Claro NR - 2+
29/03/2013 - Rio Claro NR - a few
American Kestrel
Falco sparverius
04/03/2013 - Reinita Cielo Azul (lodge to quail feeders) - 1
07/03/2013 - Reinita Cielo Azul (lodge to 2nd bench) - 2
21/03/2013 - Colibri del Sol BR - 1
15/03/2013 - Cartagena - City visit - 1
Bat Falcon
Falco rufigularis
10/03/2013 - Santa Marta (Santa Marta Parakeet site to lodge) - 1
28/03/2013 - Rio Claro NR - 2
Santa Marta Parakeet
Pyrrhura viridicata
Endangered (EN)
Country endemic
Restricted range
10/03/2013 - Santa Marta (Santa Marta Parakeet site to lodge) - 10+
Scarlet-fronted Parakeet
Aratinga wagleri
09/03/2013 - Santa Marta (travel + El Dorado lodge) - 10+
10/03/2013 - Santa Marta (Santa Marta Parakeet site to lodge) - 5+
Brown-throated Parakeet
Aratinga pertinax
08/03/2013 - Tayrona NP - 10+
13/03/2013 - Los Flamencos - Few en route
13/03/2013 - Santa Marta (Chestnut-winged Chachalaca site) - Few
14/03/2013 - Isla Salamanca NP - 20+
Military Macaw
Ara militaris
Vulnerable (VU)
12/03/2013 - Santa Marta (roadside stops to Minca) + Minca - 15+
Yellow-eared Parrot
Ognorhynchus icterotis
Endangered (EN)
Restricted range
Spectacled Parrotlet
Forpus conspicillatus
06/03/2013 - Reinita Cielo Azul (lodge to school) - 5+
28/03/2013 - Rio Claro NR - 10+
29/03/2013 - Rio Claro NR - 15+
30/03/2013 - Rio Claro NR - 15+
Orange-chinned Parakeet
Brotogeris jugularis
13/03/2013 - Los Flamencos - 10+
28/03/2013 - Rio Claro NR - Few
29/03/2013 - Rio Claro NR - 20+
30/03/2013 - Rio Claro NR - 20+
Blue-fronted Parrotlet
Touit dilectissimus
19/03/2013 - Arrierito Antioqueno BR - 2
Rusty-faced Parrot
Hapalopsittaca amazonina
Vulnerable (VU)
Restricted range
22/03/2013 - Colibri del Sol BR - 2
Blue-headed Parrot
Pionus menstruus
10/03/2013 - Santa Marta (Santa Marta Parakeet site to lodge) - 1+
27/03/2013 - Bolombolo - 10+
Red-billed Parrot
Pionus sordidus
09/03/2013 - Santa Marta (travel + El Dorado lodge) - 10+
10/03/2013 - Santa Marta (Santa Marta Parakeet site to lodge) - 5+
11/03/2013 - Santa Marta (lodge down to shop) - 1
Scaly-naped Parrot
Amazona mercenarius
10/03/2013 - Santa Marta (Santa Marta Parakeet site to lodge) - 3+
12/03/2013 - Santa Marta (roadside stops to Minca) + Minca - 5+
Fasciated Antshrike
Cymbilaimus lineatus
29/03/2013 - Rio Claro NR - 2
Black-crested Antshrike
Sakesphorus canadensis
12/03/2013 - Santa Marta (roadside stops to Minca) + Minca - 1
13/03/2013 - Los Flamencos - 10+
13/03/2013 - Santa Marta (Chestnut-winged Chachalaca site) - 1
Barred Antshrike
Thamnophilus doliatus
12/03/2013 - Santa Marta (roadside stops to Minca) + Minca - 1 seen, more heard
Bar-crested Antshrike
Thamnophilus multistriatus
03/03/2013 - walk Barichari - Guane - 1 female
06/03/2013 - Reinita Cielo Azul (lodge to school) - 4
20/03/2013 - Arrierito Antioqueno BR - 2
27/03/2013 - Bolombolo - 3 seen, more heard
Uniform Antshrike
Thamnophilus unicolor
19/03/2013 - Arrierito Antioqueno BR - 2
Black-backed Antshrike
Thamnophilus melanonotus
08/03/2013 - Tayrona NP - 1 en route
Plain Antvireo
Dysithamnus mentalis
05/03/2013 - Reinita Cielo Azul (lodge to 5th bench) - 2
18/03/2013 - Arrierito Antioqueno BR - 1 seen + 1 heard
19/03/2013 - Arrierito Antioqueno BR - 5+ seen + a few heard
Checker-throated Antwren
Epinecrophylla fulviventris
28/03/2013 - Rio Claro NR - 3
29/03/2013 - Rio Claro NR - 2
Pacific Antwren
Myrmotherula pacifica
29/03/2013 - Rio Claro NR - 3
30/03/2013 - Rio Claro NR - HO - 1 heard
Slaty Antwren
Myrmotherula schisticolor
05/03/2013 - Reinita Cielo Azul (lodge to 5th bench) - 1
07/03/2013 - Reinita Cielo Azul (lodge to 2nd bench) - 2
09/03/2013 - Santa Marta (travel + El Dorado lodge) - 1
19/03/2013 - Arrierito Antioqueno BR - 2
Dot-winged Antwren
Microrhopias quixensis
29/03/2013 - Rio Claro NR - 2
White-fringed Antwren
Formicivora grisea
03/03/2013 - walk Barichari - Guane - 6
13/03/2013 - Los Flamencos - 10+
27/03/2013 - Bolombolo - 1
Long-tailed Antbird
Drymophila caudata
12/03/2013 - Santa Marta (roadside stops to Minca) + Minca - 1
Rufous-rumped Antwren
Terenura callinota
19/03/2013 - Arrierito Antioqueno BR - 2
Dusky Antbird
Cercomacra tyrannina
28/03/2013 - Rio Claro NR - 1
Parker's Antbird
Cercomacra parkeri
Country endemic
Restricted range
05/03/2013 - Reinita Cielo Azul (lodge to 5th bench) - a couple near first bench
18/03/2013 - Arrierito Antioqueno BR - 2
20/03/2013 - Arrierito Antioqueno BR - HO - 1 heard
Bare-crowned Antbird
Gymnocichla nudiceps
29/03/2013 - Rio Claro NR - 1
Chestnut-backed Antbird
Myrmeciza exsul
27/03/2013 - Rio Claro NR - 1
28/03/2013 - Rio Claro NR - 5+
29/03/2013 - Rio Claro NR - 3 seen + more heard
30/03/2013 - Rio Claro NR - 1 seen + more heard
Magdalena Antbird
Myrmeciza palliata
Near-threatened (NT)
28/03/2013 - Rio Claro NR - 1
29/03/2013 - Rio Claro NR - 2 seen + 1 heard
Bicolored Antbird
Gymnopithys leucaspis
28/03/2013 - Rio Claro NR - 2
29/03/2013 - Rio Claro NR - 2
Chestnut-crowned Gnateater
Conopophaga castaneiceps
05/03/2013 - Reinita Cielo Azul (lodge to 5th bench) - A female near quail feeders
19/03/2013 - Arrierito Antioqueno BR - 2 seen + 1 heard
Undulated Antpitta
Grallaria squamigera
22/03/2013 - Colibri del Sol BR - HO - 1 heard
26/03/2013 - Jardin - HO - 3 heard
Santa Marta Antpitta
Grallaria bangsi
Vulnerable (VU)
Country endemic
Restricted range
09/03/2013 - Santa Marta (travel + El Dorado lodge) - HO - 2 heard
10/03/2013 - Santa Marta (Santa Marta Parakeet site to lodge) - 1 seen, more heard
11/03/2013 - Santa Marta (lodge down to shop) - HO - 1 heard
Chestnut-naped Antpitta
Grallaria nuchalis
Restricted range
22/03/2013 - Colibri del Sol BR - 1 seen + 3 heard
26/03/2013 - Jardin - HO - 2 heard
Yellow-breasted Antpitta
Grallaria flavotincta
Restricted range
24/03/2013 - Las Tangaras BR - 2 seen + a few heard
25/03/2013 - Las Tangaras BR - 1 seen, more heard
White-bellied Antpitta
Grallaria hypoleuca
05/03/2013 - Reinita Cielo Azul (lodge to 5th bench) - 1, 5 heard
06/03/2013 - Reinita Cielo Azul (lodge to school) - HO - 2 heard
Rufous Antpitta
Grallaria rufula
10/03/2013 - Santa Marta (Santa Marta Parakeet site to lodge) - 1
22/03/2013 - Colibri del Sol BR - 1
23/03/2013 - Colibri del Sol BR - 1
Urrao Antpitta
Grallaria urraoensis
Country endemic
22/03/2013 - Colibri del Sol BR - 3 seen + 1 heard
23/03/2013 - Colibri del Sol BR - 2
Ochre-breasted Antpitta
Grallaricula flavirostris
04/03/2013 - Reinita Cielo Azul (lodge to quail feeders) - 1 near quail feeders
25/03/2013 - Las Tangaras BR
Rusty-breasted Antpitta
Grallaricula ferrugineipectus
11/03/2013 - Santa Marta (lodge down to shop) - 1
12/03/2013 - Santa Marta (roadside stops to Minca) + Minca - HO - 2 heard
Slate-crowned Antpitta
Grallaricula nana
22/03/2013 - Colibri del Sol BR - HO - 1 heard
26/03/2013 - Jardin - 1 heard
Santa Marta Tapaculo
Scytalopus sanctaemartae
Country endemic
Restricted range
11/03/2013 - Santa Marta (lodge down to shop) - 1 seen, 4 heard
Long-tailed Tapaculo
Scytalopus micropterus
Restricted range
05/03/2013 - Reinita Cielo Azul (lodge to 5th bench) - HO - 1
07/03/2013 - Reinita Cielo Azul (lodge to 2nd bench) - between 1st and 2nd bench
Upper Magdalena Tapaculo
Scytalopus rodriguezi
Endangered (EN)
Country endemic
Restricted range
05/03/2013 - Reinita Cielo Azul (lodge to 5th bench) - 1 near second bench, Few heard
Stiles's Tapaculo
Scytalopus stilesi
Country endemic
Restricted range
17/03/2013 - La Romera - 1
18/03/2013 - Arrierito Antioqueno BR - HO - 1 heard
19/03/2013 - Arrierito Antioqueno BR - HO - a few heard
20/03/2013 - Arrierito Antioqueno BR - HO - a few heard
Narino Tapaculo
Scytalopus vicinior
Restricted range
24/03/2013 - Las Tangaras BR - 2 seen + more heard
25/03/2013 - Las Tangaras BR - 1 seen, more heard
Brown-rumped Tapaculo
Scytalopus latebricola
Restricted range
09/03/2013 - Santa Marta (travel + El Dorado lodge) - HO - 1 heard
10/03/2013 - Santa Marta (Santa Marta Parakeet site to lodge) - 4 seen, more heard
Spillmann's Tapaculo
Scytalopus spillmanni
22/03/2013 - Colibri del Sol BR - 3 seen + a few heard
23/03/2013 - Colibri del Sol BR - HO - a few heard
26/03/2013 - Jardin - Few heard
Paramillo Tapaculo
Scytalopus canus
Endangered (EN)
Country endemic
Restricted range
22/03/2013 - Colibri del Sol BR - 1 seen + 1 heard
Tawny-throated Leaftosser
Sclerurus mexicanus
25/03/2013 - Las Tangaras BR - 1
Gray-throated Leaftosser
Sclerurus albigularis
11/03/2013 - Santa Marta (lodge down to shop) - 1 seen, 3 heard
12/03/2013 - Santa Marta (roadside stops to Minca) + Minca - HO - 1 heard
Olivaceous Woodcreeper
Sittasomus griseicapillus
28/03/2013 - Rio Claro NR - 2
Plain-brown Woodcreeper
Dendrocincla fuliginosa
29/03/2013 - Rio Claro NR - 1
Wedge-billed Woodcreeper
Glyphorynchus spirurus
28/03/2013 - Rio Claro NR - 2
29/03/2013 - Rio Claro NR - 1
30/03/2013 - Rio Claro NR - 1
Black-banded Woodcreeper
Dendrocolaptes picumnus
05/03/2013 - Reinita Cielo Azul (lodge to 5th bench) - 1
07/03/2013 - Reinita Cielo Azul (lodge to 2nd bench) - 1
10/03/2013 - Santa Marta (Santa Marta Parakeet site to lodge) - 1
Strong-billed Woodcreeper
Xiphocolaptes promeropirhynchus
09/03/2013 - Santa Marta (travel + El Dorado lodge) - 2
11/03/2013 - Santa Marta (lodge down to shop) - 1
Cocoa Woodcreeper
Xiphorhynchus susurrans
28/03/2013 - Rio Claro NR - 2
Olive-backed Woodcreeper
Xiphorhynchus triangularis
05/03/2013 - Reinita Cielo Azul (lodge to 5th bench) - 1
07/03/2013 - Reinita Cielo Azul (lodge to 2nd bench) - 1
19/03/2013 - Arrierito Antioqueno BR - 1
23/03/2013 - Colibri del Sol BR - 1
24/03/2013 - Las Tangaras BR - 1
25/03/2013 - Las Tangaras BR - 1
Straight-billed Woodcreeper
Dendroplex picus
03/03/2013 - walk Barichari - Guane - 1
13/03/2013 - Los Flamencos - 5+
14/03/2013 - Isla Salamanca NP - 10+
Red-billed Scythebill
Campylorhamphus trochilirostris
13/03/2013 - Los Flamencos - 1
Brown-billed Scythebill
Campylorhamphus pusillus
07/03/2013 - Reinita Cielo Azul (lodge to 2nd bench) - 3
Streak-headed Woodcreeper
Lepidocolaptes souleyetii
27/03/2013 - Bolombolo - 1 seen, more heard
29/03/2013 - Rio Claro NR - 1
Montane Woodcreeper
Lepidocolaptes lacrymiger
05/03/2013 - Reinita Cielo Azul (lodge to 5th bench) - 1
09/03/2013 - Santa Marta (travel + El Dorado lodge) - 1
10/03/2013 - Santa Marta (Santa Marta Parakeet site to lodge) - 1
Plain Xenops
Xenops minutus
05/03/2013 - Reinita Cielo Azul (lodge to 5th bench) - 1
28/03/2013 - Rio Claro NR - 1
29/03/2013 - Rio Claro NR - 2
Buffy Tuftedcheek
Pseudocolaptes lawrencii
Restricted range
24/03/2013 - Las Tangaras BR - 2
25/03/2013 - Las Tangaras BR - 2
Streaked Tuftedcheek
Pseudocolaptes boissonneautii
05/03/2013 - Reinita Cielo Azul (lodge to 5th bench) - 2
22/03/2013 - Colibri del Sol BR - 2
23/03/2013 - Colibri del Sol BR - 1
26/03/2013 - Jardin - 1 seen
Pale-legged Hornero
Furnarius leucopus
13/03/2013 - Los Flamencos - 1
Slaty-winged Foliage-gleaner
Philydor fuscipenne
28/03/2013 - Rio Claro NR - 1
29/03/2013 - Rio Claro NR - 2
Buff-fronted Foliage-gleaner
Philydor rufum
24/03/2013 - Las Tangaras BR - 1
Scaly-throated Foliage-gleaner
Anabacerthia variegaticeps
24/03/2013 - Las Tangaras BR - 1
25/03/2013 - Las Tangaras BR - 2
Montane Foliage-gleaner
Anabacerthia striaticollis
05/03/2013 - Reinita Cielo Azul (lodge to 5th bench) - 2
07/03/2013 - Reinita Cielo Azul (lodge to 2nd bench) - 2+
10/03/2013 - Santa Marta (Santa Marta Parakeet site to lodge) - 2
Lineated Foliage-gleaner
Syndactyla subalaris
05/03/2013 - Reinita Cielo Azul (lodge to 5th bench) - 1
Striped Woodhaunter
Hyloctistes subulatus
19/03/2013 - Arrierito Antioqueno BR - 3
Santa Marta Foliage-gleaner
Automolus rufipectus
Near-threatened (NT)
Country endemic
Restricted range
11/03/2013 - Santa Marta (lodge down to shop) - 2
Uniform Treehunter
Thripadectes ignobilis
Restricted range
24/03/2013 - Las Tangaras BR - 3
25/03/2013 - Las Tangaras BR - 1
Flammulated Treehunter
Thripadectes flammulatus
23/03/2013 - Colibri del Sol BR - 1
26/03/2013 - Jardin - HO - 1 heard
Spotted Barbtail
Premnoplex brunnescens
05/03/2013 - Reinita Cielo Azul (lodge to 5th bench) - 1
25/03/2013 - Las Tangaras BR - 1
Fulvous-dotted Treerunner
Margarornis stellatus
Near-threatened (NT)
Restricted range
24/03/2013 - Las Tangaras BR - 3
25/03/2013 - Las Tangaras BR - 2
Pearled Treerunner
Margarornis squamiger
22/03/2013 - Colibri del Sol BR - 2
23/03/2013 - Colibri del Sol BR - 1
24/03/2013 - Las Tangaras BR - 1
Andean Tit-Spinetail
Leptasthenura andicola
02/03/2013 - Lago de Siscunsi - 1+
White-browed Spinetail
Hellmayrea gularis
22/03/2013 - Colibri del Sol BR - 1
23/03/2013 - En route between CDS - LT - 1
Many-striped Canastero
Asthenes flammulata
02/03/2013 - Lago de Siscunsi - 3+
Red-faced Spinetail
Cranioleuca erythrops
18/03/2013 - Arrierito Antioqueno BR - 1
24/03/2013 - Las Tangaras BR - 4
25/03/2013 - Las Tangaras BR - 5+
Streak-capped Spinetail
Cranioleuca hellmayri
Country endemic
Restricted range
09/03/2013 - Santa Marta (travel + El Dorado lodge) - 2
11/03/2013 - Santa Marta (lodge down to shop) - HO - 1 heard
Ash-browed Spinetail
Cranioleuca curtata
07/03/2013 - Reinita Cielo Azul (lodge to 2nd bench) - 2
Yellow-chinned Spinetail
Certhiaxis cinnamomeus
14/03/2013 - Isla Salamanca NP - 2
Silvery-throated Spinetail
Synallaxis subpudica
Country endemic
Restricted range
01/04/2013 - La Florida - 2
Azara's Spinetail
Synallaxis azarae
19/03/2013 - Arrierito Antioqueno BR - 2 seen + a few heard
20/03/2013 - Arrierito Antioqueno BR - 1
24/03/2013 - Las Tangaras BR - 1 seen + a few heard
25/03/2013 - Las Tangaras BR - 1 seen, more heard
Pale-breasted Spinetail
Synallaxis albescens
04/03/2013 - Reinita Cielo Azul (lodge to quail feeders) - 3
05/03/2013 - Reinita Cielo Azul (lodge to 5th bench) - 1, few heard
06/03/2013 - Reinita Cielo Azul (lodge to school) - HO - 1, few heard
07/03/2013 - Reinita Cielo Azul (lodge to 2nd bench) - 1 seen, more heard
12/03/2013 - Santa Marta (roadside stops to Minca) + Minca - 1
18/03/2013 - Arrierito Antioqueno BR - 1 seen + more heard
20/03/2013 - Arrierito Antioqueno BR - a few heard
Rusty-headed Spinetail
Synallaxis fuscorufa
Vulnerable (VU)
Country endemic
Restricted range
10/03/2013 - Santa Marta (Santa Marta Parakeet site to lodge) - 5+ seen, more heard
Slaty Spinetail
Synallaxis brachyura
19/03/2013 - Arrierito Antioqueno BR - 2
20/03/2013 - Arrierito Antioqueno BR - 3
White-whiskered Spinetail
Synallaxis candei
13/03/2013 - Los Flamencos - 10+
Southern Beardless-Tyrannulet
Camptostoma obsoletum
13/03/2013 - Los Flamencos - Few
13/03/2013 - Santa Marta (Chestnut-winged Chachalaca site) - 1
White-throated Tyrannulet
Mecocerculus leucophrys
10/03/2013 - Santa Marta (Santa Marta Parakeet site to lodge) - 5+
22/03/2013 - Colibri del Sol BR - 5+
01/04/2013 - La Florida - 2
Mouse-colored Tyrannulet
Phaeomyias murina
14/03/2013 - Isla Salamanca NP - 1
Subtropical Doradito
Pseudocolopteryx acutipennis
01/04/2013 - La Florida - 1
Yellow-crowned Tyrannulet
Tyrannulus elatus
27/03/2013 - Rio Claro NR - 1
29/03/2013 - Rio Claro NR - 1
Forest Elaenia
Myiopagis gaimardii
28/03/2013 - Rio Claro NR - 1
Yellow-bellied Elaenia
Elaenia flavogaster
03/03/2013 - El Gallineral (San Gil) - 1
03/03/2013 - walk Barichari - Guane - 1
06/03/2013 - Reinita Cielo Azul (lodge to school) - 5+
20/03/2013 - Arrierito Antioqueno BR - 5+
Lesser Elaenia
Elaenia chiriquensis
05/03/2013 - Reinita Cielo Azul (lodge to 5th bench) - 1
Mountain Elaenia
Elaenia frantzii
09/03/2013 - Santa Marta (travel + El Dorado lodge) - 2
10/03/2013 - Santa Marta (Santa Marta Parakeet site to lodge) - 10+
25/03/2013 - Las Tangaras BR - 1
26/03/2013 - Jardin - 1 seen
Torrent Tyrannulet
Serpophaga cinerea
03/03/2013 - El Gallineral (San Gil) - 2
23/03/2013 - En route between CDS - LT - 1
24/03/2013 - Las Tangaras BR - 1
Streak-necked Flycatcher
Mionectes striaticollis
18/03/2013 - Arrierito Antioqueno BR - 1
19/03/2013 - Arrierito Antioqueno BR - 3
24/03/2013 - Las Tangaras BR - 1
Olive-striped Flycatcher
Mionectes olivaceus
05/03/2013 - Reinita Cielo Azul (lodge to 5th bench) - 1
07/03/2013 - Reinita Cielo Azul (lodge to 2nd bench) - 1
09/03/2013 - Santa Marta (travel + El Dorado lodge) - 1
10/03/2013 - Santa Marta (Santa Marta Parakeet site to lodge) - 2
11/03/2013 - Santa Marta (lodge down to shop) - 1
Ochre-bellied Flycatcher
Mionectes oleagineus
12/03/2013 - Santa Marta (roadside stops to Minca) + Minca - 1
28/03/2013 - Rio Claro NR - 2
29/03/2013 - Rio Claro NR - 1
Sepia-capped Flycatcher
Leptopogon amaurocephalus
28/03/2013 - Rio Claro NR - 2+
Slaty-capped Flycatcher
Leptopogon superciliaris
05/03/2013 - Reinita Cielo Azul (lodge to 5th bench) - 1
06/03/2013 - Reinita Cielo Azul (lodge to school) - 4+
07/03/2013 - Reinita Cielo Azul (lodge to 2nd bench) - 1+
19/03/2013 - Arrierito Antioqueno BR - 1
28/03/2013 - Rio Claro NR - 5+
Rufous-breasted Flycatcher
Leptopogon rufipectus
26/03/2013 - Jardin - 3 seen
Variegated Bristle-Tyrant
Phylloscartes poecilotis
07/03/2013 - Reinita Cielo Azul (lodge to 2nd bench) - 1+
24/03/2013 - Las Tangaras BR - 2
25/03/2013 - Las Tangaras BR - 3
Antioquia Bristle-Tyrant
Phylloscartes lanyoni
Endangered (EN)
Country endemic
Restricted range
28/03/2013 - Rio Claro NR - 1
29/03/2013 - Rio Claro NR - 1
Rufous-browed Tyrannulet
Phylloscartes superciliaris
Restricted range
05/03/2013 - Reinita Cielo Azul (lodge to 5th bench) - 1
19/03/2013 - Arrierito Antioqueno BR - 1
Black-capped Tyrannulet
Phyllomyias nigrocapillus
09/03/2013 - Santa Marta (travel + El Dorado lodge) - 2
23/03/2013 - En route between CDS - LT - 1
26/03/2013 - Jardin - 1
Ashy-headed Tyrannulet
Phyllomyias cinereiceps
24/03/2013 - Las Tangaras BR - 1
Paltry Tyrannulet
Zimmerius vilissimus
11/03/2013 - Santa Marta (lodge down to shop) - 2
Choco Tyrannulet
Zimmerius albigularis
24/03/2013 - Las Tangaras BR - 5+
25/03/2013 - Las Tangaras BR - 3
Golden-faced Tyrannulet
Zimmerius chrysops
05/03/2013 - Reinita Cielo Azul (lodge to 5th bench) - 1
06/03/2013 - Reinita Cielo Azul (lodge to school) - 3+
07/03/2013 - Reinita Cielo Azul (lodge to 2nd bench) - 2+
18/03/2013 - Arrierito Antioqueno BR - 1
19/03/2013 - Arrierito Antioqueno BR - 5+
20/03/2013 - Arrierito Antioqueno BR - 2
Northern Scrub-Flycatcher
Sublegatus arenarum
13/03/2013 - Los Flamencos - 1+
Slender-billed Tyrannulet
Inezia tenuirostris
13/03/2013 - Los Flamencos - 2+
Pale-tipped Tyrannulet
Inezia caudata
13/03/2013 - Los Flamencos - 2+
Ornate Flycatcher
Myiotriccus ornatus
05/03/2013 - Reinita Cielo Azul (lodge to 5th bench) - 3
07/03/2013 - Reinita Cielo Azul (lodge to 2nd bench) - 1+
18/03/2013 - Arrierito Antioqueno BR - 1
19/03/2013 - Arrierito Antioqueno BR - 3
25/03/2013 - Las Tangaras BR - 5+
Bronze-olive Pygmy-Tyrant
Pseudotriccus pelzelni
24/03/2013 - Las Tangaras BR - 1
25/03/2013 - Las Tangaras BR - 2
Rufous-headed Pygmy-Tyrant
Pseudotriccus ruficeps
22/03/2013 - Colibri del Sol BR - 2
Black-capped Pygmy-Tyrant
Myiornis atricapillus
28/03/2013 - Rio Claro NR - 1
30/03/2013 - Rio Claro NR - 1
Scale-crested Pygmy-Tyrant
Lophotriccus pileatus
05/03/2013 - Reinita Cielo Azul (lodge to 5th bench) - 5+
18/03/2013 - Arrierito Antioqueno BR - 2 seen + a few heard
19/03/2013 - Arrierito Antioqueno BR - 1 seen + 1 heard
20/03/2013 - Arrierito Antioqueno BR - HO - 1 heard
26/03/2013 - Jardin - 1
Southern Bentbill
Oncostoma olivaceum
28/03/2013 - Rio Claro NR - 1 seen, more heard
Pearly-vented Tody-Tyrant
Hemitriccus margaritaceiventer
12/03/2013 - Santa Marta (roadside stops to Minca) + Minca - 1
13/03/2013 - Los Flamencos - 1
Black-throated Tody-Tyrant
Hemitriccus granadensis
10/03/2013 - Santa Marta (Santa Marta Parakeet site to lodge) - 3 seen, more heard
Common Tody-Flycatcher
Todirostrum cinereum
06/03/2013 - Reinita Cielo Azul (lodge to school) - 5+
07/03/2013 - Reinita Cielo Azul (lodge to 2nd bench) - 1+
14/03/2013 - Isla Salamanca NP - 1
27/03/2013 - Bolombolo - 2
28/03/2013 - Rio Claro NR - 3+
29/03/2013 - Rio Claro NR - 3+
30/03/2013 - Rio Claro NR - 2
Black-headed Tody-Flycatcher
Todirostrum nigriceps
29/03/2013 - Rio Claro NR - 4
30/03/2013 - Rio Claro NR - 2
Olivaceous Flatbill
Rhynchocyclus olivaceus
28/03/2013 - Rio Claro NR - 5+
29/03/2013 - Rio Claro NR - 3+
Fulvous-breasted Flatbill
Rhynchocyclus fulvipectus
19/03/2013 - Arrierito Antioqueno BR - 1
Yellow-olive Flycatcher
Tolmomyias sulphurescens
03/03/2013 - El Gallineral (San Gil) - 1
03/03/2013 - walk Barichari - Guane - 2
12/03/2013 - Santa Marta (roadside stops to Minca) + Minca - 1
28/03/2013 - Rio Claro NR - 2+
Yellow-margined Flycatcher
Tolmomyias assimilis
28/03/2013 - Rio Claro NR - 2+
29/03/2013 - Rio Claro NR - 2
Yellow-breasted Flycatcher
Tolmomyias flaviventris
13/03/2013 - Los Flamencos - 5+
White-throated Spadebill
Platyrinchus mystaceus
19/03/2013 - Arrierito Antioqueno BR - 1
Yellow-throated Spadebill
Platyrinchus flavigularis
07/03/2013 - Reinita Cielo Azul (lodge to 2nd bench) - 1 at 2nd bench
Cinnamon Flycatcher
Pyrrhomyias cinnamomeus
10/03/2013 - Santa Marta (Santa Marta Parakeet site to lodge) - 1
11/03/2013 - Santa Marta (lodge down to shop) - 1
19/03/2013 - Arrierito Antioqueno BR - 1
24/03/2013 - Las Tangaras BR - 2
25/03/2013 - Las Tangaras BR - 1
Handsome Flycatcher
Nephelomyias pulcher
24/03/2013 - Las Tangaras BR - 10+
25/03/2013 - Las Tangaras BR - 10+
26/03/2013 - Jardin - 2
Black-tailed Flycatcher
Myiobius atricaudus
28/03/2013 - Rio Claro NR - 1
29/03/2013 - Rio Claro NR - 1
Olive-sided Flycatcher
Contopus cooperi
Near-threatened (NT)
11/03/2013 - Santa Marta (lodge down to shop) - 3
Smoke-colored Pewee
Contopus fumigatus
19/03/2013 - Arrierito Antioqueno BR - 1
24/03/2013 - Las Tangaras BR - 3
25/03/2013 - Las Tangaras BR - 1
Tropical Pewee
Contopus cinereus
06/03/2013 - Reinita Cielo Azul (lodge to school) - 3+
12/03/2013 - Santa Marta (roadside stops to Minca) + Minca - 1
30/03/2013 - Rio Claro NR - 1
Acadian Flycatcher
Empidonax virescens
01/04/2013 - La Florida - 1
Black Phoebe
Sayornis nigricans
03/03/2013 - El Gallineral (San Gil) - 2
12/03/2013 - Santa Marta (roadside stops to Minca) + Minca - 2
18/03/2013 - Arrierito Antioqueno BR - a few en route
20/03/2013 - Arrierito Antioqueno BR - 2
23/03/2013 - En route between CDS - LT - a few
24/03/2013 - Las Tangaras BR - 3+
25/03/2013 - Las Tangaras BR - 3
28/03/2013 - Rio Claro NR - 3+
29/03/2013 - Rio Claro NR - a few
30/03/2013 - Rio Claro NR - a few
01/04/2013 - La Florida - a few
Vermilion Flycatcher
Pyrocephalus rubinus
03/03/2013 - walk Barichari - Guane - 10+
04/03/2013 - Reinita Cielo Azul (lodge to quail feeders) - 2
07/03/2013 - Reinita Cielo Azul (lodge to 2nd bench) - Few en route
13/03/2013 - Los Flamencos - 1
17/03/2013 - La Romera - 1
23/03/2013 - En route between CDS - LT - a few
01/04/2013 - La Florida - a few
Streak-throated Bush-Tyrant
Myiotheretes striaticollis
Santa Marta Bush-Tyrant
Myiotheretes pernix
Endangered (EN)
Country endemic
Restricted range
10/03/2013 - Santa Marta (Santa Marta Parakeet site to lodge) - 1
Pied Water-Tyrant
Fluvicola pica
13/03/2013 - Los Flamencos - 2
14/03/2013 - Isla Salamanca NP - 5+
Crowned Chat-Tyrant
Ochthoeca frontalis
22/03/2013 - Colibri del Sol BR - 1
Yellow-bellied Chat-Tyrant
Ochthoeca diadema
10/03/2013 - Santa Marta (Santa Marta Parakeet site to lodge) - 2
Slaty-backed Chat-Tyrant
Ochthoeca cinnamomeiventris
22/03/2013 - Colibri del Sol BR - 1
24/03/2013 - Las Tangaras BR - 2
Rufous-breasted Chat-Tyrant
Ochthoeca rufipectoralis
22/03/2013 - Colibri del Sol BR - 1
26/03/2013 - Jardin - 1
Brown-backed Chat-Tyrant
Ochthoeca fumicolor
02/03/2013 - Lago de Siscunsi - 3+
Long-tailed Tyrant
Colonia colonus
29/03/2013 - Rio Claro NR - 2
Cattle Tyrant
Machetornis rixosa
03/03/2013 - walk Barichari - Guane - 3
07/03/2013 - Reinita Cielo Azul (lodge to 2nd bench) - Few en route
Dusky-capped Flycatcher
Myiarchus tuberculifer
11/03/2013 - Santa Marta (lodge down to shop) - 1
12/03/2013 - Santa Marta (roadside stops to Minca) + Minca - 1
Venezuelan Flycatcher
Myiarchus venezuelensis
08/03/2013 - Tayrona NP - 2
Panama Flycatcher
Myiarchus panamensis
14/03/2013 - Isla Salamanca NP - 1+
Apical Flycatcher
Myiarchus apicalis
Country endemic
Restricted range
03/03/2013 - walk Barichari - Guane - 5+
27/03/2013 - Bolombolo - 3
Pale-edged Flycatcher
Myiarchus cephalotes
18/03/2013 - Arrierito Antioqueno BR - 1
Great Crested Flycatcher
Myiarchus crinitus
03/03/2013 - walk Barichari - Guane - 2+
29/03/2013 - Rio Claro NR - 5+
30/03/2013 - Rio Claro NR - 2
Brown-crested Flycatcher
Myiarchus tyrannulus
13/03/2013 - Los Flamencos - 1
Great Kiskadee
Pitangus sulphuratus
03/03/2013 - El Gallineral (San Gil) - Few
03/03/2013 - walk Barichari - Guane - Few
04/03/2013 - Reinita Cielo Azul (lodge to quail feeders) - Few
05/03/2013 - Reinita Cielo Azul (lodge to 5th bench) - Few
06/03/2013 - Reinita Cielo Azul (lodge to school) - Few
07/03/2013 - Reinita Cielo Azul (lodge to 2nd bench) - Few
14/03/2013 - Isla Salamanca NP - 1
26/03/2013 - Jardin - Few
27/03/2013 - Bolombolo - Few
29/03/2013 - Rio Claro NR - a few
30/03/2013 - Rio Claro NR - a few
Boat-billed Flycatcher
Megarynchus pitangua
12/03/2013 - Santa Marta (roadside stops to Minca) + Minca - 1
18/03/2013 - Arrierito Antioqueno BR - 1
Rusty-margined Flycatcher
Myiozetetes cayanensis
06/03/2013 - Reinita Cielo Azul (lodge to school) - Few
18/03/2013 - Arrierito Antioqueno BR - a few
19/03/2013 - Arrierito Antioqueno BR - a few
20/03/2013 - Arrierito Antioqueno BR - a few
Social Flycatcher
Myiozetetes similis
12/03/2013 - Santa Marta (roadside stops to Minca) + Minca - Few
28/03/2013 - Rio Claro NR - 2+
29/03/2013 - Rio Claro NR - a few
30/03/2013 - Rio Claro NR - a few
Golden-crowned Flycatcher
Myiodynastes chrysocephalus
05/03/2013 - Reinita Cielo Azul (lodge to 5th bench) - 1
11/03/2013 - Santa Marta (lodge down to shop) - 2
12/03/2013 - Santa Marta (roadside stops to Minca) + Minca - 2
18/03/2013 - Arrierito Antioqueno BR - 1
19/03/2013 - Arrierito Antioqueno BR - 2
24/03/2013 - Las Tangaras BR - 1
Streaked Flycatcher
Myiodynastes maculatus
06/03/2013 - Reinita Cielo Azul (lodge to school) - 2
28/03/2013 - Rio Claro NR - 5+
29/03/2013 - Rio Claro NR - a few
30/03/2013 - Rio Claro NR - a few
Piratic Flycatcher
Legatus leucophaius
06/03/2013 - Reinita Cielo Azul (lodge to school) - 1
28/03/2013 - Rio Claro NR - 2+
29/03/2013 - Rio Claro NR - a few
30/03/2013 - Rio Claro NR - a few
Tropical Kingbird
Tyrannus melancholicus
02/03/2013 - Lago de Siscunsi - 1 en route
03/03/2013 - El Gallineral (San Gil) - Few
03/03/2013 - walk Barichari - Guane - Few
04/03/2013 - Reinita Cielo Azul (lodge to quail feeders) - Few
05/03/2013 - Reinita Cielo Azul (lodge to 5th bench) - Few
06/03/2013 - Reinita Cielo Azul (lodge to school) - Fairly common
07/03/2013 - Reinita Cielo Azul (lodge to 2nd bench) - Fairly common
09/03/2013 - Santa Marta (travel + El Dorado lodge) - Few en route
12/03/2013 - Santa Marta (roadside stops to Minca) + Minca - 1
15/03/2013 - Cartagena - City visit - 1
17/03/2013 - La Romera - a few
18/03/2013 - Arrierito Antioqueno BR - a few
19/03/2013 - Arrierito Antioqueno BR - a few
20/03/2013 - Arrierito Antioqueno BR - a few
21/03/2013 - Colibri del Sol BR - a few en route
23/03/2013 - En route between CDS - LT - a few
24/03/2013 - Las Tangaras BR - a few
25/03/2013 - Las Tangaras BR - Few
26/03/2013 - Jardin - Few
27/03/2013 - Bolombolo - Few
28/03/2013 - Rio Claro NR - 1
29/03/2013 - Rio Claro NR - a few
30/03/2013 - Rio Claro NR - a few
01/04/2013 - La Florida - a few
Gray Kingbird
Tyrannus dominicensis
15/03/2013 - Cartagena - City visit - 1
Fork-tailed Flycatcher
Tyrannus savana
03/03/2013 - walk Barichari - Guane - 1 en route
07/03/2013 - Reinita Cielo Azul (lodge to 2nd bench) - 1 en route
21/03/2013 - Colibri del Sol BR - a few en route
27/03/2013 - Bolombolo - 1
Green-and-black Fruiteater
Pipreola riefferii
22/03/2013 - Colibri del Sol BR - HO - 1 heard
24/03/2013 - Las Tangaras BR - 4
26/03/2013 - Jardin - 2
Golden-breasted Fruiteater
Pipreola aureopectus
Restricted range
09/03/2013 - Santa Marta (travel + El Dorado lodge) - HO - 1 heard
10/03/2013 - Santa Marta (Santa Marta Parakeet site to lodge) - 2 seen, few heard
11/03/2013 - Santa Marta (lodge down to shop) - HO - Few heard
19/03/2013 - Arrierito Antioqueno BR - HO - 1 heard
Orange-breasted Fruiteater
Pipreola jucunda
Restricted range
24/03/2013 - Las Tangaras BR - 2
Andean Cock-of-the-rock
Rupicola peruvianus
23/03/2013 - En route between CDS - LT - 1 female
Olivaceous Piha
Snowornis cryptolophus
24/03/2013 - Las Tangaras BR - 2
25/03/2013 - Las Tangaras BR - 5
Red-ruffed Fruitcrow
Pyroderus scutatus
25/03/2013 - Las Tangaras BR - 1
Chestnut-capped Piha
Lipaugus weberi
Endangered (EN)
Country endemic
Restricted range
19/03/2013 - Arrierito Antioqueno BR - 3
Dusky Piha
Lipaugus fuscocinereus
Restricted range
22/03/2013 - Colibri del Sol BR - 1
23/03/2013 - Colibri del Sol BR - 5
Golden-winged Manakin
Masius chrysopterus
05/03/2013 - Reinita Cielo Azul (lodge to 5th bench) - a couple
07/03/2013 - Reinita Cielo Azul (lodge to 2nd bench) - 2
19/03/2013 - Arrierito Antioqueno BR - 2
Club-winged Manakin
Machaeropterus deliciosus
Restricted range
24/03/2013 - Las Tangaras BR - 1
Striped Manakin
Machaeropterus regulus
28/03/2013 - Rio Claro NR - 1
29/03/2013 - Rio Claro NR - 1 seen + 1 heard
White-bearded Manakin
Manacus manacus
12/03/2013 - Santa Marta (roadside stops to Minca) + Minca - 1 seen, more heard
28/03/2013 - Rio Claro NR - 10+
29/03/2013 - Rio Claro NR - 5+ seen + more heard
30/03/2013 - Rio Claro NR - 2
Golden-headed Manakin
Pipra erythrocephala
28/03/2013 - Rio Claro NR - 3
Wing-barred Piprites
Piprites chloris
19/03/2013 - Arrierito Antioqueno BR - HO - 1 heard
29/03/2013 - Rio Claro NR - HO - 2 heard
Black-crowned Tityra
Tityra inquisitor
29/03/2013 - Rio Claro NR - 1
30/03/2013 - Rio Claro NR - 2
Masked Tityra
Tityra semifasciata
10/03/2013 - Santa Marta (Santa Marta Parakeet site to lodge) - 2
11/03/2013 - Santa Marta (lodge down to shop) - 2
Barred Becard
Pachyramphus versicolor
24/03/2013 - Las Tangaras BR - 1
25/03/2013 - Las Tangaras BR - 2
26/03/2013 - Jardin - 2
Cinereous Becard
Pachyramphus rufus
03/03/2013 - walk Barichari - Guane - 1 male
06/03/2013 - Reinita Cielo Azul (lodge to school) - 1 male
Cinnamon Becard
Pachyramphus cinnamomeus
28/03/2013 - Rio Claro NR - 1+
29/03/2013 - Rio Claro NR - 2+
One-colored Becard
Pachyramphus homochrous
28/03/2013 - Rio Claro NR - 2
29/03/2013 - Rio Claro NR - 5+
30/03/2013 - Rio Claro NR - 3
Choco Vireo
Vireo masteri
Endangered (EN)
Restricted range
24/03/2013 - Las Tangaras BR - 1 seen + 1 heard
25/03/2013 - Las Tangaras BR - 1
Brown-capped Vireo
Vireo leucophrys
09/03/2013 - Santa Marta (travel + El Dorado lodge) - 1
10/03/2013 - Santa Marta (Santa Marta Parakeet site to lodge) - 3+
18/03/2013 - Arrierito Antioqueno BR - 2
Red-eyed Vireo
Vireo olivaceus
12/03/2013 - Santa Marta (roadside stops to Minca) + Minca - 1
19/03/2013 - Arrierito Antioqueno BR - 1
20/03/2013 - Arrierito Antioqueno BR - 1
24/03/2013 - Las Tangaras BR - 1
26/03/2013 - Jardin - 1
29/03/2013 - Rio Claro NR - 1
Rufous-naped Greenlet
Hylophilus semibrunneus
Restricted range
05/03/2013 - Reinita Cielo Azul (lodge to 5th bench) - 1
19/03/2013 - Arrierito Antioqueno BR - 2 seen + a few heard
24/03/2013 - Las Tangaras BR - 5+
Scrub Greenlet
Hylophilus flavipes
03/03/2013 - walk Barichari - Guane - 1
13/03/2013 - Los Flamencos - 5+
Rufous-browed Peppershrike
Cyclarhis gujanensis
03/03/2013 - walk Barichari - Guane - 1
Black-billed Peppershrike
Cyclarhis nigrirostris
19/03/2013 - Arrierito Antioqueno BR - HO - 1 heard
24/03/2013 - Las Tangaras BR - 1 seen + 1 heard
25/03/2013 - Las Tangaras BR - 1
Beautiful Jay
Cyanolyca pulchra
Near-threatened (NT)
Restricted range
24/03/2013 - Las Tangaras BR - HO - 1 heard
25/03/2013 - Las Tangaras BR - 1
Black-chested Jay
Cyanocorax affinis
09/03/2013 - Santa Marta (travel + El Dorado lodge) - 3
10/03/2013 - Santa Marta (Santa Marta Parakeet site to lodge) - 1
11/03/2013 - Santa Marta (lodge down to shop) - 5+
12/03/2013 - Santa Marta (roadside stops to Minca) + Minca - Few
28/03/2013 - Rio Claro NR - 3
Green Jay
Cyanocorax yncas
05/03/2013 - Reinita Cielo Azul (lodge to 5th bench) - 7
07/03/2013 - Reinita Cielo Azul (lodge to 2nd bench) - 5+
18/03/2013 - Arrierito Antioqueno BR - 3
19/03/2013 - Arrierito Antioqueno BR - HO - a few heard
20/03/2013 - Arrierito Antioqueno BR - a few
26/03/2013 - Jardin - 1
29/03/2013 - Rio Claro NR - 1
Blue-and-white Swallow
Pygochelidon cyanoleuca
03/03/2013 - El Gallineral (San Gil) - Few
03/03/2013 - walk Barichari - Guane - Few
18/03/2013 - Arrierito Antioqueno BR - a few
19/03/2013 - Arrierito Antioqueno BR - a few
20/03/2013 - Arrierito Antioqueno BR - a few
21/03/2013 - Colibri del Sol BR - a few
22/03/2013 - Colibri del Sol BR - a few
23/03/2013 - Colibri del Sol BR - a few
23/03/2013 - En route between CDS - LT - a few
24/03/2013 - Las Tangaras BR - a few
25/03/2013 - Las Tangaras BR - Few
26/03/2013 - Jardin - Few
Brown-bellied Swallow
Orochelidon murina
02/03/2013 - Lago de Siscunsi - 10+ en route
01/04/2013 - La Florida - 10+
White-thighed Swallow
Atticora tibialis
18/03/2013 - Arrierito Antioqueno BR - 5+
20/03/2013 - Arrierito Antioqueno BR - 3
29/03/2013 - Rio Claro NR - 2
Southern Rough-winged Swallow
Stelgidopteryx ruficollis
12/03/2013 - Santa Marta (roadside stops to Minca) + Minca - 5+
18/03/2013 - Arrierito Antioqueno BR - a few
20/03/2013 - Arrierito Antioqueno BR - a few
23/03/2013 - En route between CDS - LT - a few
28/03/2013 - Rio Claro NR - Few
29/03/2013 - Rio Claro NR - a few
30/03/2013 - Rio Claro NR - a few
Gray-breasted Martin
Progne chalybea
03/03/2013 - El Gallineral (San Gil) - 1
09/03/2013 - Santa Marta (travel + El Dorado lodge) - Few
13/03/2013 - Los Flamencos - 1+
26/03/2013 - Jardin - Few
28/03/2013 - Rio Claro NR - Few
29/03/2013 - Rio Claro NR - a few
30/03/2013 - Rio Claro NR - a few
Mangrove Swallow
Tachycineta albilinea
16/03/2013 - Isla del Rosario - 2
Barn Swallow
Hirundo rustica
14/03/2013 - Isla Salamanca NP - a few
16/03/2013 - Isla del Rosario - a few
Scaly-breasted Wren
Microcerculus marginatus
18/03/2013 - Arrierito Antioqueno BR - HO - 1 heard
28/03/2013 - Rio Claro NR - HO - 2 heard
29/03/2013 - Rio Claro NR - HO - 3 heard
30/03/2013 - Rio Claro NR - HO - 1 heard
House Wren
Troglodytes aedon
05/03/2013 - Reinita Cielo Azul (lodge to 5th bench) - 1
06/03/2013 - Reinita Cielo Azul (lodge to school) - 1+
07/03/2013 - Reinita Cielo Azul (lodge to 2nd bench) - 1+
11/03/2013 - Santa Marta (lodge down to shop) - 1
14/03/2013 - Isla Salamanca NP - 1
18/03/2013 - Arrierito Antioqueno BR - 2
20/03/2013 - Arrierito Antioqueno BR - 3
21/03/2013 - Colibri del Sol BR - a few en route
23/03/2013 - En route between CDS - LT - 1
26/03/2013 - Jardin - 1
27/03/2013 - Bolombolo - 1 en route
28/03/2013 - Rio Claro NR - 1
01/04/2013 - La Florida - 2
Sedge Wren
Cistothorus platensis
02/03/2013 - Lago de Siscunsi - 2 along access road
Apolinar's Wren
Cistothorus apolinari
Endangered (EN)
Country endemic
Restricted range
02/03/2013 - Lago de Siscunsi - 5+ around lake, esp. at overflow
01/04/2013 - La Florida - 1
White-headed Wren
Campylorhynchus albobrunneus
24/03/2013 - Las Tangaras BR - 2
Band-backed Wren
Campylorhynchus zonatus
06/03/2013 - Reinita Cielo Azul (lodge to school) - 2
28/03/2013 - Rio Claro NR - 10+
29/03/2013 - Rio Claro NR - 5+ seen + more heard
30/03/2013 - Rio Claro NR - 5+ seen + more heard
Bicolored Wren
Campylorhynchus griseus
03/03/2013 - walk Barichari - Guane - 5+
04/03/2013 - Reinita Cielo Azul (lodge to quail feeders) - Few en route
05/03/2013 - Reinita Cielo Azul (lodge to 5th bench) - Few
06/03/2013 - Reinita Cielo Azul (lodge to school) - Few
07/03/2013 - Reinita Cielo Azul (lodge to 2nd bench) - 1+
08/03/2013 - Tayrona NP - Few
09/03/2013 - Santa Marta (travel + El Dorado lodge) - Few en route
12/03/2013 - Santa Marta (roadside stops to Minca) + Minca - Few
13/03/2013 - Los Flamencos
Sooty-headed Wren
Pheugopedius spadix
Restricted range
18/03/2013 - Arrierito Antioqueno BR - 1
20/03/2013 - Arrierito Antioqueno BR - HO - 1 heard
Black-bellied Wren
Pheugopedius fasciatoventris
06/03/2013 - Reinita Cielo Azul (lodge to school) - 1
28/03/2013 - Rio Claro NR - 1
29/03/2013 - Rio Claro NR - 1
Whiskered Wren
Pheugopedius mystacalis
05/03/2013 - Reinita Cielo Azul (lodge to 5th bench) - 1
Rufous-and-white Wren
Thryophilus rufalbus
13/03/2013 - Los Flamencos - 1+
Antioquia Wren
Thryophilus sernai
Country endemic
27/03/2013 - Bolombolo - 1
Niceforo's Wren
Thryophilus nicefori
Critically endangered (CR)
Country endemic
Restricted range
03/03/2013 - El Gallineral (San Gil) - 1 near entrance
06/03/2013 - Reinita Cielo Azul (lodge to school) - 2 along road, few hundred meters before lodge
Bay Wren
Cantorchilus nigricapillus
26/03/2013 - Jardin - 2
28/03/2013 - Rio Claro NR - 3
Buff-breasted Wren
Cantorchilus leucotis
13/03/2013 - Los Flamencos - 5+
Rufous Wren
Cinnycerthia unirufa
22/03/2013 - Colibri del Sol BR - 1
Sharpe's Wren
Cinnycerthia olivascens
25/03/2013 - Las Tangaras BR - 10+
Gray-breasted Wood-Wren
Henicorhina leucophrys
05/03/2013 - Reinita Cielo Azul (lodge to 5th bench) - 2, few heard
07/03/2013 - Reinita Cielo Azul (lodge to 2nd bench) - 2+
09/03/2013 - Santa Marta (travel + El Dorado lodge) - 3 seen, more heard
10/03/2013 - Santa Marta (Santa Marta Parakeet site to lodge) - HO - Few heard
11/03/2013 - Santa Marta (lodge down to shop) - 1+
19/03/2013 - Arrierito Antioqueno BR - 1 seen + more heard
20/03/2013 - Arrierito Antioqueno BR - HO - a few heard
22/03/2013 - Colibri del Sol BR - HO - a few heard
23/03/2013 - Colibri del Sol BR - 1
24/03/2013 - Las Tangaras BR - a few seen + more heard
25/03/2013 - Las Tangaras BR - Few seen, more heard
26/03/2013 - Jardin - HO - Few heard
Munchique Wood-Wren
Henicorhina negreti
Critically endangered (CR)
Country endemic
Restricted range
23/03/2013 - En route between CDS - LT - 1 seen + 2 heard
Long-billed Gnatwren
Ramphocaenus melanurus
19/03/2013 - Arrierito Antioqueno BR - HO - 1 heard
Tropical Gnatcatcher
Polioptila plumbea
12/03/2013 - Santa Marta (roadside stops to Minca) + Minca - 1
13/03/2013 - Los Flamencos - 10+
White-capped Dipper
Cinclus leucocephalus
25/03/2013 - Las Tangaras BR - 2
Andean Solitaire
Myadestes ralloides
05/03/2013 - Reinita Cielo Azul (lodge to 5th bench) - HO - Few heard
19/03/2013 - Arrierito Antioqueno BR - HO - a few heard
24/03/2013 - Las Tangaras BR - 1 seen + more heard
25/03/2013 - Las Tangaras BR - HO - Few heard
Orange-billed Nightingale-Thrush
Catharus aurantiirostris
12/03/2013 - Santa Marta (roadside stops to Minca) + Minca - 1
25/03/2013 - Las Tangaras BR - 1
Slaty-backed Nightingale-Thrush
Catharus fuscater
09/03/2013 - Santa Marta (travel + El Dorado lodge) - 2
10/03/2013 - Santa Marta (Santa Marta Parakeet site to lodge) - 1 see, more heard
Gray-cheeked Thrush
Catharus minimus
05/03/2013 - Reinita Cielo Azul (lodge to 5th bench) - 1
19/03/2013 - Arrierito Antioqueno BR - 1
Swainson's Thrush
Catharus ustulatus
05/03/2013 - Reinita Cielo Azul (lodge to 5th bench) - 5+
06/03/2013 - Reinita Cielo Azul (lodge to school) - 5+
07/03/2013 - Reinita Cielo Azul (lodge to 2nd bench) - 3+
18/03/2013 - Arrierito Antioqueno BR - 1
20/03/2013 - Arrierito Antioqueno BR - 1
27/03/2013 - Bolombolo - 5+
Black Solitaire
Entomodestes coracinus
Restricted range
24/03/2013 - Las Tangaras BR - HO - 2 heard
25/03/2013 - Las Tangaras BR - 3
Pale-eyed Thrush
Turdus leucops
19/03/2013 - Arrierito Antioqueno BR - 1 seen + 1 heard
Yellow-legged Thrush
Turdus flavipes
04/03/2013 - Reinita Cielo Azul (lodge to quail feeders) - 1
05/03/2013 - Reinita Cielo Azul (lodge to 5th bench) - 1
07/03/2013 - Reinita Cielo Azul (lodge to 2nd bench) - 2+
09/03/2013 - Santa Marta (travel + El Dorado lodge) - 1+
11/03/2013 - Santa Marta (lodge down to shop) - 3
12/03/2013 - Santa Marta (roadside stops to Minca) + Minca - 5+
Pale-breasted Thrush
Turdus leucomelas
09/03/2013 - Santa Marta (travel + El Dorado lodge) - 1
11/03/2013 - Santa Marta (lodge down to shop) - 1
12/03/2013 - Santa Marta (roadside stops to Minca) + Minca - Few
17/03/2013 - La Romera - 1
28/03/2013 - Rio Claro NR - 1+
29/03/2013 - Rio Claro NR - 5+
30/03/2013 - Rio Claro NR - 3
Black-billed Thrush
Turdus ignobilis
04/03/2013 - Reinita Cielo Azul (lodge to quail feeders) - Few
05/03/2013 - Reinita Cielo Azul (lodge to 5th bench) - Few
06/03/2013 - Reinita Cielo Azul (lodge to school) - Fairly common
07/03/2013 - Reinita Cielo Azul (lodge to 2nd bench) - Few
09/03/2013 - Santa Marta (travel + El Dorado lodge) - 1+
11/03/2013 - Santa Marta (lodge down to shop) - 2
12/03/2013 - Santa Marta (roadside stops to Minca) + Minca - Few
17/03/2013 - La Romera - a few
20/03/2013 - Arrierito Antioqueno BR - a few
21/03/2013 - Colibri del Sol BR - a few en route
27/03/2013 - Bolombolo - Few
28/03/2013 - Rio Claro NR - 1+
Black-hooded Thrush
Turdus olivater
09/03/2013 - Santa Marta (travel + El Dorado lodge) - 2+
11/03/2013 - Santa Marta (lodge down to shop) - 3
12/03/2013 - Santa Marta (roadside stops to Minca) + Minca - FEw
Great Thrush
Turdus fuscater
01/03/2013 - Bogota City - Few en route
02/03/2013 - Lago de Siscunsi - Few
10/03/2013 - Santa Marta (Santa Marta Parakeet site to lodge) - 4+
17/03/2013 - La Romera - a few
18/03/2013 - Arrierito Antioqueno BR - a few
19/03/2013 - Arrierito Antioqueno BR - a few
20/03/2013 - Arrierito Antioqueno BR - a few
21/03/2013 - Colibri del Sol BR - a few
22/03/2013 - Colibri del Sol BR - a few
23/03/2013 - Colibri del Sol BR - a few
23/03/2013 - En route between CDS - LT - a few
26/03/2013 - Jardin - Few
01/04/2013 - La Florida - a few
Glossy-black Thrush
Turdus serranus
05/03/2013 - Reinita Cielo Azul (lodge to 5th bench) - 1
24/03/2013 - Las Tangaras BR - 1
Tropical Mockingbird
Mimus gilvus
03/03/2013 - walk Barichari - Guane - 3
04/03/2013 - Reinita Cielo Azul (lodge to quail feeders) - 2
05/03/2013 - Reinita Cielo Azul (lodge to 5th bench) - Few
06/03/2013 - Reinita Cielo Azul (lodge to school) - Few
07/03/2013 - Reinita Cielo Azul (lodge to 2nd bench) - Few
08/03/2013 - Tayrona NP - Few
12/03/2013 - Santa Marta (roadside stops to Minca) + Minca - Few
13/03/2013 - Los Flamencos - Few
Northern Waterthrush
Parkesia noveboracensis
03/03/2013 - El Gallineral (San Gil) - 1
13/03/2013 - Los Flamencos - 2
14/03/2013 - Isla Salamanca NP - 15+
28/03/2013 - Rio Claro NR - 2
29/03/2013 - Rio Claro NR - 2
30/03/2013 - Rio Claro NR - 1
01/04/2013 - La Florida - 1
Black-and-white Warbler
Mniotilta varia
07/03/2013 - Reinita Cielo Azul (lodge to 2nd bench) - 2
19/03/2013 - Arrierito Antioqueno BR - 2
Prothonotary Warbler
Protonotaria citrea
14/03/2013 - Isla Salamanca NP - 20+
Tennessee Warbler
Oreothlypis peregrina
06/03/2013 - Reinita Cielo Azul (lodge to school) - 1
10/03/2013 - Santa Marta (Santa Marta Parakeet site to lodge) - 1
11/03/2013 - Santa Marta (lodge down to shop) - 3
12/03/2013 - Santa Marta (roadside stops to Minca) + Minca - 3
18/03/2013 - Arrierito Antioqueno BR - 5+
19/03/2013 - Arrierito Antioqueno BR - a few
20/03/2013 - Arrierito Antioqueno BR - 5+
Mourning Warbler
Geothlypis philadelphia
05/03/2013 - Reinita Cielo Azul (lodge to 5th bench) - 1
06/03/2013 - Reinita Cielo Azul (lodge to school) - 5+
07/03/2013 - Reinita Cielo Azul (lodge to 2nd bench) - 1+
18/03/2013 - Arrierito Antioqueno BR - 2
19/03/2013 - Arrierito Antioqueno BR - 1
20/03/2013 - Arrierito Antioqueno BR - 1
American Redstart
Setophaga ruticilla
06/03/2013 - Reinita Cielo Azul (lodge to school) - 1
11/03/2013 - Santa Marta (lodge down to shop) - 1
12/03/2013 - Santa Marta (roadside stops to Minca) + Minca - 1
Cerulean Warbler
Setophaga cerulea
Vulnerable (VU)
06/03/2013 - Reinita Cielo Azul (lodge to school) - 1
07/03/2013 - Reinita Cielo Azul (lodge to 2nd bench) - 1
11/03/2013 - Santa Marta (lodge down to shop) - 1
19/03/2013 - Arrierito Antioqueno BR - 2
Tropical Parula
Setophaga pitiayumi
03/03/2013 - El Gallineral (San Gil) - 3
03/03/2013 - walk Barichari - Guane - 3
04/03/2013 - Reinita Cielo Azul (lodge to quail feeders) - 1
05/03/2013 - Reinita Cielo Azul (lodge to 5th bench) - 1+
11/03/2013 - Santa Marta (lodge down to shop) - 1
18/03/2013 - Arrierito Antioqueno BR - 1
Bay-breasted Warbler
Setophaga castanea
20/03/2013 - Arrierito Antioqueno BR - 1
29/03/2013 - Rio Claro NR - 1
Blackburnian Warbler
Setophaga fusca
04/03/2013 - Reinita Cielo Azul (lodge to quail feeders) - 3
05/03/2013 - Reinita Cielo Azul (lodge to 5th bench) - 20+
06/03/2013 - Reinita Cielo Azul (lodge to school) - 20+
07/03/2013 - Reinita Cielo Azul (lodge to 2nd bench) - 10+
10/03/2013 - Santa Marta (Santa Marta Parakeet site to lodge) - 2+
11/03/2013 - Santa Marta (lodge down to shop) - 10+
12/03/2013 - Santa Marta (roadside stops to Minca) + Minca - 5+
17/03/2013 - La Romera - 1
18/03/2013 - Arrierito Antioqueno BR - 1
19/03/2013 - Arrierito Antioqueno BR - a few
20/03/2013 - Arrierito Antioqueno BR - 10+
24/03/2013 - Las Tangaras BR - a few
25/03/2013 - Las Tangaras BR - Few
26/03/2013 - Jardin - 1+
Yellow Warbler
Setophaga petechia
03/03/2013 - El Gallineral (San Gil) - 1
12/03/2013 - Santa Marta (roadside stops to Minca) + Minca - 1
13/03/2013 - Los Flamencos - 5+
14/03/2013 - Isla Salamanca NP - 5+
27/03/2013 - Bolombolo - 3
Blackpoll Warbler
Setophaga striata
03/03/2013 - walk Barichari - Guane - 3
20/03/2013 - Arrierito Antioqueno BR - 1
Rufous-capped Warbler
Basileuterus rufifrons
03/03/2013 - El Gallineral (San Gil) - 3
03/03/2013 - walk Barichari - Guane - 1
04/03/2013 - Reinita Cielo Azul (lodge to quail feeders) - 1+
05/03/2013 - Reinita Cielo Azul (lodge to 5th bench) - 2+
06/03/2013 - Reinita Cielo Azul (lodge to school) - 2
07/03/2013 - Reinita Cielo Azul (lodge to 2nd bench) - 1+
12/03/2013 - Santa Marta (roadside stops to Minca) + Minca - 5+
Golden-crowned Warbler
Basileuterus culicivorus
27/03/2013 - Bolombolo - 2
Three-striped Warbler
Basileuterus tristriatus
05/03/2013 - Reinita Cielo Azul (lodge to 5th bench) - 5+
19/03/2013 - Arrierito Antioqueno BR - 10+
20/03/2013 - Arrierito Antioqueno BR - 5+
24/03/2013 - Las Tangaras BR - 10+
25/03/2013 - Las Tangaras BR - 5+
Santa Marta Warbler
Basileuterus basilicus
Vulnerable (VU)
Country endemic
Restricted range
10/03/2013 - Santa Marta (Santa Marta Parakeet site to lodge) - 4
Citrine Warbler
Myiothlypis luteoviridis
22/03/2013 - Colibri del Sol BR - 10+
23/03/2013 - Colibri del Sol BR - 5+
26/03/2013 - Jardin - 5+
Buff-rumped Warbler
Myiothlypis fulvicauda
28/03/2013 - Rio Claro NR - 10+
29/03/2013 - Rio Claro NR - 5+ seen + more heard
30/03/2013 - Rio Claro NR - 3+
White-lored Warbler
Myiothlypis conspicillata
Near-threatened (NT)
Country endemic
Restricted range
09/03/2013 - Santa Marta (travel + El Dorado lodge) - 3
10/03/2013 - Santa Marta (Santa Marta Parakeet site to lodge) - 5+
11/03/2013 - Santa Marta (lodge down to shop) - 2
12/03/2013 - Santa Marta (roadside stops to Minca) + Minca - 2
Russet-crowned Warbler
Myiothlypis coronata
05/03/2013 - Reinita Cielo Azul (lodge to 5th bench) - 1
17/03/2013 - La Romera - 1
Canada Warbler
Cardellina canadensis
05/03/2013 - Reinita Cielo Azul (lodge to 5th bench) - 3
17/03/2013 - La Romera - 1
19/03/2013 - Arrierito Antioqueno BR - 5+
20/03/2013 - Arrierito Antioqueno BR - 1
24/03/2013 - Las Tangaras BR - 4
25/03/2013 - Las Tangaras BR - 2+
26/03/2013 - Jardin - 1+
Slate-throated Redstart
Myioborus miniatus
05/03/2013 - Reinita Cielo Azul (lodge to 5th bench) - 15+
09/03/2013 - Santa Marta (travel + El Dorado lodge) - 2+
10/03/2013 - Santa Marta (Santa Marta Parakeet site to lodge) - 10+
11/03/2013 - Santa Marta (lodge down to shop) - 10+
12/03/2013 - Santa Marta (roadside stops to Minca) + Minca - Few
17/03/2013 - La Romera - a few
19/03/2013 - Arrierito Antioqueno BR - 10+
24/03/2013 - Las Tangaras BR - fairly common
25/03/2013 - Las Tangaras BR - Fairly common
26/03/2013 - Jardin - Few
Yellow-crowned Redstart
Myioborus flavivertex
Country endemic
Restricted range
09/03/2013 - Santa Marta (travel + El Dorado lodge) - 2+
10/03/2013 - Santa Marta (Santa Marta Parakeet site to lodge) - 5+
Golden-fronted Redstart
Myioborus ornatus
21/03/2013 - Colibri del Sol BR - 2
22/03/2013 - Colibri del Sol BR - 5+
23/03/2013 - Colibri del Sol BR - 5+
23/03/2013 - En route between CDS - LT - 5+
26/03/2013 - Jardin - Few
Black-faced Tanager
Schistochlamys melanopis
18/03/2013 - Arrierito Antioqueno BR - 1
20/03/2013 - Arrierito Antioqueno BR - 1
Black-capped Hemispingus
Hemispingus atropileus
Gray-hooded Bush Tanager
Cnemoscopus rubrirostris
23/03/2013 - Colibri del Sol BR - 5+
23/03/2013 - En route between CDS - LT - 3
24/03/2013 - Las Tangaras BR - 1
26/03/2013 - Jardin - 2+
Gray-headed Tanager
Eucometis penicillata
06/03/2013 - Reinita Cielo Azul (lodge to school) - 5
12/03/2013 - Santa Marta (roadside stops to Minca) + Minca - 2
28/03/2013 - Rio Claro NR - 2
White-shouldered Tanager
Tachyphonus luctuosus
28/03/2013 - Rio Claro NR - 1
29/03/2013 - Rio Claro NR - 1
Tawny-crested Tanager
Tachyphonus delatrii
28/03/2013 - Rio Claro NR - 10+
29/03/2013 - Rio Claro NR - 15+
30/03/2013 - Rio Claro NR - 5+
White-lined Tanager
Tachyphonus rufus
11/03/2013 - Santa Marta (lodge down to shop) - 2
12/03/2013 - Santa Marta (roadside stops to Minca) + Minca - 5+
20/03/2013 - Arrierito Antioqueno BR - 1
Crimson-backed Tanager
Ramphocelus dimidiatus
04/03/2013 - Reinita Cielo Azul (lodge to quail feeders) - 4
05/03/2013 - Reinita Cielo Azul (lodge to 5th bench) - 5+
06/03/2013 - Reinita Cielo Azul (lodge to school) - 15+
07/03/2013 - Reinita Cielo Azul (lodge to 2nd bench) - 1+
12/03/2013 - Santa Marta (roadside stops to Minca) + Minca - 10+
17/03/2013 - La Romera - a few
18/03/2013 - Arrierito Antioqueno BR - a few
20/03/2013 - Arrierito Antioqueno BR - a few
28/03/2013 - Rio Claro NR - 2+
29/03/2013 - Rio Claro NR - a few
30/03/2013 - Rio Claro NR - a few
Flame-rumped Tanager
Ramphocelus flammigerus
04/03/2013 - Reinita Cielo Azul (lodge to quail feeders) - 1
05/03/2013 - Reinita Cielo Azul (lodge to 5th bench) - 4
06/03/2013 - Reinita Cielo Azul (lodge to school) - 5+
18/03/2013 - Arrierito Antioqueno BR - 2
19/03/2013 - Arrierito Antioqueno BR - 1
20/03/2013 - Arrierito Antioqueno BR - 5+
23/03/2013 - En route between CDS - LT - a few
25/03/2013 - Las Tangaras BR - 1
Blue-gray Tanager
Thraupis episcopus
03/03/2013 - El Gallineral (San Gil) - Few
03/03/2013 - walk Barichari - Guane - Few
04/03/2013 - Reinita Cielo Azul (lodge to quail feeders) - Few
05/03/2013 - Reinita Cielo Azul (lodge to 5th bench) - Few
06/03/2013 - Reinita Cielo Azul (lodge to school) - Few
07/03/2013 - Reinita Cielo Azul (lodge to 2nd bench) - Few
12/03/2013 - Santa Marta (roadside stops to Minca) + Minca - Few
17/03/2013 - La Romera - a few
18/03/2013 - Arrierito Antioqueno BR - a few
19/03/2013 - Arrierito Antioqueno BR - a few
20/03/2013 - Arrierito Antioqueno BR - a few
23/03/2013 - En route between CDS - LT - a few
25/03/2013 - Las Tangaras BR - Few
27/03/2013 - Bolombolo - Few
28/03/2013 - Rio Claro NR - Few
29/03/2013 - Rio Claro NR - a few
Glaucous Tanager
Thraupis glaucocolpa
13/03/2013 - Los Flamencos - Few
Palm Tanager
Thraupis palmarum
03/03/2013 - El Gallineral (San Gil) - 2
03/03/2013 - walk Barichari - Guane - 3
04/03/2013 - Reinita Cielo Azul (lodge to quail feeders) - Few
05/03/2013 - Reinita Cielo Azul (lodge to 5th bench) - Few
06/03/2013 - Reinita Cielo Azul (lodge to school) - Few
07/03/2013 - Reinita Cielo Azul (lodge to 2nd bench) - Few
12/03/2013 - Santa Marta (roadside stops to Minca) + Minca - 1+
18/03/2013 - Arrierito Antioqueno BR - a few
19/03/2013 - Arrierito Antioqueno BR - 2
20/03/2013 - Arrierito Antioqueno BR - a few
24/03/2013 - Las Tangaras BR - a few
27/03/2013 - Bolombolo - Few
28/03/2013 - Rio Claro NR - Few
29/03/2013 - Rio Claro NR - a few
30/03/2013 - Rio Claro NR - a few
01/04/2013 - La Florida - a few
Blue-capped Tanager
Thraupis cyanocephala
09/03/2013 - Santa Marta (travel + El Dorado lodge) - 5+
10/03/2013 - Santa Marta (Santa Marta Parakeet site to lodge) - 2
23/03/2013 - Colibri del Sol BR - 2
24/03/2013 - Las Tangaras BR - 2
26/03/2013 - Jardin - 2+
Black-and-gold Tanager
Bangsia melanochlamys
Vulnerable (VU)
Country endemic
Restricted range
19/03/2013 - Arrierito Antioqueno BR - 2
24/03/2013 - Las Tangaras BR - 5+
25/03/2013 - Las Tangaras BR - 2+
Gold-ringed Tanager
Bangsia aureocincta
Endangered (EN)
Country endemic
Restricted range
25/03/2013 - Las Tangaras BR - 1
Hooded Mountain-Tanager
Buthraupis montana
23/03/2013 - Colibri del Sol BR - 2
Black-cheeked Mountain-Tanager
Anisognathus melanogenys
Country endemic
Restricted range
10/03/2013 - Santa Marta (Santa Marta Parakeet site to lodge) - 10+
Lacrimose Mountain-Tanager
Anisognathus lacrymosus
22/03/2013 - Colibri del Sol BR - 5+
23/03/2013 - Colibri del Sol BR - 5+
23/03/2013 - En route between CDS - LT - 2
Blue-winged Mountain-Tanager
Anisognathus somptuosus
05/03/2013 - Reinita Cielo Azul (lodge to 5th bench) - 1
19/03/2013 - Arrierito Antioqueno BR - 10+
26/03/2013 - Jardin - 5+
Black-chinned Mountain-Tanager
Anisognathus notabilis
Restricted range
24/03/2013 - Las Tangaras BR - 15+
25/03/2013 - Las Tangaras BR - 5+
Grass-green Tanager
Chlorornis riefferii
23/03/2013 - Colibri del Sol BR - 3
26/03/2013 - Jardin - 2+
Purplish-mantled Tanager
Iridosornis porphyrocephalus
Near-threatened (NT)
Restricted range
19/03/2013 - Arrierito Antioqueno BR - 4
24/03/2013 - Las Tangaras BR - 2
25/03/2013 - Las Tangaras BR - 2
Glistening-green Tanager
Chlorochrysa phoenicotis
Restricted range
24/03/2013 - Las Tangaras BR - 5+
25/03/2013 - Las Tangaras BR - 4+
Multicolored Tanager
Chlorochrysa nitidissima
Vulnerable (VU)
Country endemic
Restricted range
19/03/2013 - Arrierito Antioqueno BR - 3
Black-capped Tanager
Tangara heinei
09/03/2013 - Santa Marta (travel + El Dorado lodge) - 2
10/03/2013 - Santa Marta (Santa Marta Parakeet site to lodge) - 1
11/03/2013 - Santa Marta (lodge down to shop) - 5+
12/03/2013 - Santa Marta (roadside stops to Minca) + Minca - Few
18/03/2013 - Arrierito Antioqueno BR - 2
Scrub Tanager
Tangara vitriolina
04/03/2013 - Reinita Cielo Azul (lodge to quail feeders) - 5+
05/03/2013 - Reinita Cielo Azul (lodge to 5th bench) - 3+
06/03/2013 - Reinita Cielo Azul (lodge to school) - 10+
07/03/2013 - Reinita Cielo Azul (lodge to 2nd bench) - 2+
17/03/2013 - La Romera - 1
18/03/2013 - Arrierito Antioqueno BR - 5+
19/03/2013 - Arrierito Antioqueno BR - 5+
20/03/2013 - Arrierito Antioqueno BR - 10+
21/03/2013 - Colibri del Sol BR - a few en route
27/03/2013 - Bolombolo - 5+
Golden-hooded Tanager
Tangara larvata
28/03/2013 - Rio Claro NR - 1
29/03/2013 - Rio Claro NR - 2
30/03/2013 - Rio Claro NR - 3
Blue-necked Tanager
Tangara cyanicollis
06/03/2013 - Reinita Cielo Azul (lodge to school) - 10+
07/03/2013 - Reinita Cielo Azul (lodge to 2nd bench) - 2+
17/03/2013 - La Romera - 2+
18/03/2013 - Arrierito Antioqueno BR - 5+
19/03/2013 - Arrierito Antioqueno BR - 3
20/03/2013 - Arrierito Antioqueno BR - 5+
Rufous-throated Tanager
Tangara rufigula
Restricted range
24/03/2013 - Las Tangaras BR - 1
Speckled Tanager
Tangara guttata
18/03/2013 - Arrierito Antioqueno BR - 2
19/03/2013 - Arrierito Antioqueno BR - 3
20/03/2013 - Arrierito Antioqueno BR - 1
Blue-and-black Tanager
Tangara vassorii
22/03/2013 - Colibri del Sol BR - 3
23/03/2013 - Colibri del Sol BR - 2
26/03/2013 - Jardin - 2
Beryl-spangled Tanager
Tangara nigroviridis
05/03/2013 - Reinita Cielo Azul (lodge to 5th bench) - 1
19/03/2013 - Arrierito Antioqueno BR - 5+
20/03/2013 - Arrierito Antioqueno BR - 5+
24/03/2013 - Las Tangaras BR - 15+
25/03/2013 - Las Tangaras BR - 10+
Metallic-green Tanager
Tangara labradorides
05/03/2013 - Reinita Cielo Azul (lodge to 5th bench) - 1+
07/03/2013 - Reinita Cielo Azul (lodge to 2nd bench) - 1+
Plain-colored Tanager
Tangara inornata
29/03/2013 - Rio Claro NR - 3+
Bay-headed Tanager
Tangara gyrola
06/03/2013 - Reinita Cielo Azul (lodge to school) - 1
10/03/2013 - Santa Marta (Santa Marta Parakeet site to lodge) - 2+
11/03/2013 - Santa Marta (lodge down to shop) - 5+
12/03/2013 - Santa Marta (roadside stops to Minca) + Minca - 5+
17/03/2013 - La Romera - 1
18/03/2013 - Arrierito Antioqueno BR - 3
19/03/2013 - Arrierito Antioqueno BR - 1
Saffron-crowned Tanager
Tangara xanthocephala
05/03/2013 - Reinita Cielo Azul (lodge to 5th bench) - 1+
24/03/2013 - Las Tangaras BR - 2
Flame-faced Tanager
Tangara parzudakii
05/03/2013 - Reinita Cielo Azul (lodge to 5th bench) - 1+
07/03/2013 - Reinita Cielo Azul (lodge to 2nd bench) - 1+
Golden Tanager
Tangara arthus
05/03/2013 - Reinita Cielo Azul (lodge to 5th bench) - 1+
07/03/2013 - Reinita Cielo Azul (lodge to 2nd bench) - 1+
19/03/2013 - Arrierito Antioqueno BR - 5+
24/03/2013 - Las Tangaras BR - 15+
25/03/2013 - Las Tangaras BR - 5+
Silver-throated Tanager
Tangara icterocephala
12/03/2013 - Santa Marta (roadside stops to Minca) + Minca - 10+
18/03/2013 - Arrierito Antioqueno BR - 1
19/03/2013 - Arrierito Antioqueno BR - 1
Swallow Tanager
Tersina viridis
11/03/2013 - Santa Marta (lodge down to shop) - 2
19/03/2013 - Arrierito Antioqueno BR - 1
29/03/2013 - Rio Claro NR - 1
Black-faced Dacnis
Dacnis lineata
29/03/2013 - Rio Claro NR - 2
Turquoise Dacnis
Dacnis hartlaubi
Vulnerable (VU)
Country endemic
Restricted range
06/03/2013 - Reinita Cielo Azul (lodge to school) - 1 male at tree behind lodge aeting room, 1 couple along road near niceforo's wren
Blue Dacnis
Dacnis cayana
28/03/2013 - Rio Claro NR - 1
29/03/2013 - Rio Claro NR - 1
Purple Honeycreeper
Cyanerpes caeruleus
28/03/2013 - Rio Claro NR - 2
Green Honeycreeper
Chlorophanes spiza
19/03/2013 - Arrierito Antioqueno BR - 1
29/03/2013 - Rio Claro NR - 1
Golden-collared Honeycreeper
Iridophanes pulcherrimus
24/03/2013 - Las Tangaras BR - 3
25/03/2013 - Las Tangaras BR - 2
Guira Tanager
Hemithraupis guira
19/03/2013 - Arrierito Antioqueno BR - 1
Yellow-backed Tanager
Hemithraupis flavicollis
28/03/2013 - Rio Claro NR - 1
29/03/2013 - Rio Claro NR - 2
Scarlet-and-white Tanager
Chrysothlypis salmoni
19/03/2013 - Arrierito Antioqueno BR - 1
Bicolored Conebill
Conirostrum bicolor
14/03/2013 - Isla Salamanca NP - 5+
Capped Conebill
Conirostrum albifrons
Rufous-browed Conebill
Conirostrum rufum
Restricted range
01/04/2013 - La Florida - 1
Chestnut-bellied Flowerpiercer
Diglossa gloriosissima
Endangered (EN)
Country endemic
Restricted range
22/03/2013 - Colibri del Sol BR - 5+
Black Flowerpiercer
Diglossa humeralis
10/03/2013 - Santa Marta (Santa Marta Parakeet site to lodge) - 1
Black-throated Flowerpiercer
Diglossa brunneiventris
22/03/2013 - Colibri del Sol BR - 3
White-sided Flowerpiercer
Diglossa albilatera
09/03/2013 - Santa Marta (travel + El Dorado lodge) - 1
10/03/2013 - Santa Marta (Santa Marta Parakeet site to lodge) - 2
11/03/2013 - Santa Marta (lodge down to shop) - 3
21/03/2013 - Colibri del Sol BR - 1
22/03/2013 - Colibri del Sol BR - 10+
23/03/2013 - Colibri del Sol BR - 1
23/03/2013 - En route between CDS - LT - 1
Indigo Flowerpiercer
Diglossa indigotica
Restricted range
19/03/2013 - Arrierito Antioqueno BR - 3
24/03/2013 - Las Tangaras BR - 1
Rusty Flowerpiercer
Diglossa sittoides
11/03/2013 - Santa Marta (lodge down to shop) - 2
12/03/2013 - Santa Marta (roadside stops to Minca) + Minca - 1
Bluish Flowerpiercer
Diglossa caerulescens
05/03/2013 - Reinita Cielo Azul (lodge to 5th bench) - 4
19/03/2013 - Arrierito Antioqueno BR - 1
Masked Flowerpiercer
Diglossa cyanea
22/03/2013 - Colibri del Sol BR - 5+
23/03/2013 - En route between CDS - LT - 2
26/03/2013 - Jardin - 5+
Plushcap
Catamblyrhynchus diadema
22/03/2013 - Colibri del Sol BR - 1
Plumbeous Sierra-Finch
Phrygilus unicolor
02/03/2013 - Lago de Siscunsi - 5+
Saffron Finch
Sicalis flaveola
03/03/2013 - El Gallineral (San Gil) - Few
03/03/2013 - walk Barichari - Guane - Few
04/03/2013 - Reinita Cielo Azul (lodge to quail feeders) - Few
05/03/2013 - Reinita Cielo Azul (lodge to 5th bench) - Few
06/03/2013 - Reinita Cielo Azul (lodge to school) - Few
07/03/2013 - Reinita Cielo Azul (lodge to 2nd bench) - Few
15/03/2013 - Cartagena - City visit - Few
16/03/2013 - Isla del Rosario - a few
29/03/2013 - Rio Claro NR - a few
30/03/2013 - Rio Claro NR - a few
Wedge-tailed Grass-Finch
Emberizoides herbicola
20/03/2013 - Arrierito Antioqueno BR - 1
Blue-black Grassquit
Volatinia jacarina
04/03/2013 - Reinita Cielo Azul (lodge to quail feeders) - 3+
07/03/2013 - Reinita Cielo Azul (lodge to 2nd bench) - 1+
18/03/2013 - Arrierito Antioqueno BR - 1
21/03/2013 - Colibri del Sol BR - a few en route
23/03/2013 - En route between CDS - LT - a few
27/03/2013 - Bolombolo - Few
Slate-colored Seedeater
Sporophila schistacea
30/03/2013 - Rio Claro NR - 2
Yellow-bellied Seedeater
Sporophila nigricollis
04/03/2013 - Reinita Cielo Azul (lodge to quail feeders) - 1
06/03/2013 - Reinita Cielo Azul (lodge to school) - 3+
11/03/2013 - Santa Marta (lodge down to shop) - 1
18/03/2013 - Arrierito Antioqueno BR - a few
27/03/2013 - Bolombolo - Few
Ruddy-breasted Seedeater
Sporophila minuta
05/03/2013 - Reinita Cielo Azul (lodge to 5th bench) - 1
21/03/2013 - Colibri del Sol BR - 1 en route
Thick-billed Seed-Finch
Oryzoborus funereus
06/03/2013 - Reinita Cielo Azul (lodge to school) - 2
12/03/2013 - Santa Marta (roadside stops to Minca) + Minca - 1
27/03/2013 - Bolombolo - 1 female
29/03/2013 - Rio Claro NR - 1
Large-billed Seed-Finch
Oryzoborus crassirostris
06/03/2013 - Reinita Cielo Azul (lodge to school) - 2
Bananaquit
Coereba flaveola
04/03/2013 - Reinita Cielo Azul (lodge to quail feeders) - 1
07/03/2013 - Reinita Cielo Azul (lodge to 2nd bench) - 2
13/03/2013 - Los Flamencos - 10+
18/03/2013 - Arrierito Antioqueno BR - a few
19/03/2013 - Arrierito Antioqueno BR - a few
20/03/2013 - Arrierito Antioqueno BR - a few
25/03/2013 - Las Tangaras BR - Few
29/03/2013 - Rio Claro NR - a few
Yellow-faced Grassquit
Tiaris olivaceus
05/03/2013 - Reinita Cielo Azul (lodge to 5th bench) - 1
06/03/2013 - Reinita Cielo Azul (lodge to school) - 10+
07/03/2013 - Reinita Cielo Azul (lodge to 2nd bench) - 2+
18/03/2013 - Arrierito Antioqueno BR - 1
19/03/2013 - Arrierito Antioqueno BR - 3
21/03/2013 - Colibri del Sol BR - a few en route
27/03/2013 - Bolombolo - Few
Dull-colored Grassquit
Tiaris obscurus
11/03/2013 - Santa Marta (lodge down to shop) - 1
Sooty Grassquit
Tiaris fuliginosus
12/03/2013 - Santa Marta (roadside stops to Minca) + Minca - 1
Black-faced Grassquit
Tiaris bicolor
03/03/2013 - walk Barichari - Guane - 10+
Dusky-faced Tanager
Mitrospingus cassinii
28/03/2013 - Rio Claro NR - 10+
29/03/2013 - Rio Claro NR - 5+
Streaked Saltator
Saltator striatipectus
03/03/2013 - walk Barichari - Guane - 20+
06/03/2013 - Reinita Cielo Azul (lodge to school) - 2+
27/03/2013 - Bolombolo - 1
Grayish Saltator
Saltator coerulescens
12/03/2013 - Santa Marta (roadside stops to Minca) + Minca - 1
13/03/2013 - Los Flamencos - 5+
Buff-throated Saltator
Saltator maximus
05/03/2013 - Reinita Cielo Azul (lodge to 5th bench) - 5+
06/03/2013 - Reinita Cielo Azul (lodge to school) - 1+
07/03/2013 - Reinita Cielo Azul (lodge to 2nd bench) - 1+
12/03/2013 - Santa Marta (roadside stops to Minca) + Minca - 5+
18/03/2013 - Arrierito Antioqueno BR - 3+
20/03/2013 - Arrierito Antioqueno BR - a few
28/03/2013 - Rio Claro NR - 5+
29/03/2013 - Rio Claro NR - 5+
30/03/2013 - Rio Claro NR - 5+
Black-winged Saltator
Saltator atripennis
04/03/2013 - Reinita Cielo Azul (lodge to quail feeders) - 1
05/03/2013 - Reinita Cielo Azul (lodge to 5th bench) - 1
20/03/2013 - Arrierito Antioqueno BR - 3
Tanager Finch
Oreothraupis arremonops
Vulnerable (VU)
Restricted range
26/03/2013 - Jardin - HO - 1 heard
Olive Finch
Arremon castaneiceps
25/03/2013 - Las Tangaras BR - 1
Chestnut-capped Brush-Finch
Arremon brunneinucha
04/03/2013 - Reinita Cielo Azul (lodge to quail feeders) - 1 at quail feeders
05/03/2013 - Reinita Cielo Azul (lodge to 5th bench) - 5+
07/03/2013 - Reinita Cielo Azul (lodge to 2nd bench) - 1+
19/03/2013 - Arrierito Antioqueno BR - 3
24/03/2013 - Las Tangaras BR - 4
25/03/2013 - Las Tangaras BR - 2
Orange-billed Sparrow
Arremon aurantiirostris
28/03/2013 - Rio Claro NR - 2
29/03/2013 - Rio Claro NR - 2
Golden-winged Sparrow
Arremon schlegeli
12/03/2013 - Santa Marta (roadside stops to Minca) + Minca - 5+
Black-headed Brush-Finch
Arremon atricapillus
20/03/2013 - Arrierito Antioqueno BR - 2
Sierra Nevada Brush-Finch
Arremon basilicus
Country endemic
09/03/2013 - Santa Marta (travel + El Dorado lodge) - 3
10/03/2013 - Santa Marta (Santa Marta Parakeet site to lodge) - 3
11/03/2013 - Santa Marta (lodge down to shop) - 1
12/03/2013 - Santa Marta (roadside stops to Minca) + Minca - 1
Gray-browed Brush-Finch
Arremon assimilis
22/03/2013 - Colibri del Sol BR - 2
26/03/2013 - Jardin - 1
Black-striped Sparrow
Arremonops conirostris
18/03/2013 - Arrierito Antioqueno BR - 2
20/03/2013 - Arrierito Antioqueno BR - 1
27/03/2013 - Bolombolo - 10+
White-naped Brush-Finch
Atlapetes albinucha
20/03/2013 - Arrierito Antioqueno BR - 4
Santa Marta Brush-Finch
Atlapetes melanocephalus
Country endemic
Restricted range
09/03/2013 - Santa Marta (travel + El Dorado lodge) - 20+
10/03/2013 - Santa Marta (Santa Marta Parakeet site to lodge) - Fairly common
11/03/2013 - Santa Marta (lodge down to shop) - Fairly common
12/03/2013 - Santa Marta (roadside stops to Minca) + Minca - 5+
Tricolored Brush-Finch
Atlapetes tricolor
24/03/2013 - Las Tangaras BR - 10+
Slaty Brush-Finch
Atlapetes schistaceus
22/03/2013 - Colibri del Sol BR - 2
Rufous-collared Sparrow
Zonotrichia capensis
01/03/2013 - Bogota City - Few en route
03/03/2013 - El Gallineral (San Gil) - Few
04/03/2013 - Reinita Cielo Azul (lodge to quail feeders) - Few
05/03/2013 - Reinita Cielo Azul (lodge to 5th bench) - Few
06/03/2013 - Reinita Cielo Azul (lodge to school) - Few
07/03/2013 - Reinita Cielo Azul (lodge to 2nd bench) - Few
08/03/2013 - Tayrona NP - Few
09/03/2013 - Santa Marta (travel + El Dorado lodge) - Few
10/03/2013 - Santa Marta (Santa Marta Parakeet site to lodge) - Few
11/03/2013 - Santa Marta (lodge down to shop) - Few
12/03/2013 - Santa Marta (roadside stops to Minca) + Minca - Few
17/03/2013 - La Romera - a few
20/03/2013 - Arrierito Antioqueno BR - a few
21/03/2013 - Colibri del Sol BR - a few en route
23/03/2013 - En route between CDS - LT - a few
01/04/2013 - La Florida - a few
Common Bush-Tanager
Chlorospingus ophthalmicus
05/03/2013 - Reinita Cielo Azul (lodge to 5th bench) - 10+
Dusky Bush-Tanager
Chlorospingus semifuscus
Restricted range
24/03/2013 - Las Tangaras BR - 10+
Yellow-throated Bush-Tanager
Chlorospingus flavigularis
18/03/2013 - Arrierito Antioqueno BR - 10+
19/03/2013 - Arrierito Antioqueno BR - fairly common
20/03/2013 - Arrierito Antioqueno BR - 5+
Yellow-green Bush-Tanager
Chlorospingus flavovirens
Vulnerable (VU)
Restricted range
24/03/2013 - Las Tangaras BR - 1
Ashy-throated Bush-Tanager
Chlorospingus canigularis
07/03/2013 - Reinita Cielo Azul (lodge to 2nd bench) - 1+
Summer Tanager
Piranga rubra
06/03/2013 - Reinita Cielo Azul (lodge to school) - 3
18/03/2013 - Arrierito Antioqueno BR - 3
19/03/2013 - Arrierito Antioqueno BR - 2
20/03/2013 - Arrierito Antioqueno BR - 2
27/03/2013 - Bolombolo - 3+
28/03/2013 - Rio Claro NR - 1
Scarlet Tanager
Piranga olivacea
20/03/2013 - Arrierito Antioqueno BR - 1
27/03/2013 - Bolombolo - 1
28/03/2013 - Rio Claro NR - 1
White-winged Tanager
Piranga leucoptera
19/03/2013 - Arrierito Antioqueno BR - 1
Sooty Ant-Tanager
Habia gutturalis
Near-threatened (NT)
Country endemic
28/03/2013 - Rio Claro NR - 1
29/03/2013 - Rio Claro NR - 2
Crested Ant-Tanager
Habia cristata
Country endemic
Restricted range
25/03/2013 - Las Tangaras BR - 1 at lodge, 2 at reserve
Vermilion Cardinal
Cardinalis phoeniceus
13/03/2013 - Los Flamencos - 1
Rose-breasted Grosbeak
Pheucticus ludovicianus
04/03/2013 - Reinita Cielo Azul (lodge to quail feeders) - 2
05/03/2013 - Reinita Cielo Azul (lodge to 5th bench) - 1+
06/03/2013 - Reinita Cielo Azul (lodge to school) - 3+
11/03/2013 - Santa Marta (lodge down to shop) - 1
12/03/2013 - Santa Marta (roadside stops to Minca) + Minca - 5+
17/03/2013 - La Romera - 3
21/03/2013 - Colibri del Sol BR - 1 en route
24/03/2013 - Las Tangaras BR - 1
Blue-black Grosbeak
Cyanocompsa cyanoides
29/03/2013 - Rio Claro NR - 1
Red-breasted Blackbird
Sturnella militaris
30/03/2013 - Rio Claro NR - a few en route
Eastern Meadowlark
Sturnella magna
02/03/2013 - Lago de Siscunsi - Few en route
04/03/2013 - Reinita Cielo Azul (lodge to quail feeders) - 1 en route
05/03/2013 - Reinita Cielo Azul (lodge to 5th bench) - 3+
06/03/2013 - Reinita Cielo Azul (lodge to school) - Few
07/03/2013 - Reinita Cielo Azul (lodge to 2nd bench) - Few
Great-tailed Grackle
Quiscalus mexicanus
08/03/2013 - Tayrona NP - Fairly common
09/03/2013 - Santa Marta (travel + El Dorado lodge) - Few en route
13/03/2013 - Los Flamencos - Fairly common en route
14/03/2013 - Isla Salamanca NP - a few en route
Mountain Grackle
Macroagelaius subalaris
Endangered (EN)
Country endemic
Restricted range
05/03/2013 - Reinita Cielo Azul (lodge to 5th bench) - distant views of 2 birds near the 5th bench
Red-bellied Grackle
Hypopyrrhus pyrohypogaster
Endangered (EN)
Country endemic
Restricted range
17/03/2013 - La Romera - 10+
19/03/2013 - Arrierito Antioqueno BR - 5+
Yellow-hooded Blackbird
Chrysomus icterocephalus
01/04/2013 - La Florida - 10+
Shiny Cowbird
Molothrus bonariensis
04/03/2013 - Reinita Cielo Azul (lodge to quail feeders) - Few en route
06/03/2013 - Reinita Cielo Azul (lodge to school) - Few
26/03/2013 - Jardin - Few
01/04/2013 - La Florida - 5+
Bronzed Cowbird
Molothrus aeneus
13/03/2013 - Los Flamencos - 5+
Giant Cowbird
Molothrus oryzivorus
29/03/2013 - Rio Claro NR - 2
Yellow-backed Oriole
Icterus chrysater
06/03/2013 - Reinita Cielo Azul (lodge to school) - 1+
07/03/2013 - Reinita Cielo Azul (lodge to 2nd bench) - 1+
27/03/2013 - Bolombolo - 3+
01/04/2013 - La Florida - 3
Yellow-tailed Oriole
Icterus mesomelas
20/03/2013 - Arrierito Antioqueno BR - 2
Yellow Oriole
Icterus nigrogularis
13/03/2013 - Los Flamencos - 2
13/03/2013 - Santa Marta (Chestnut-winged Chachalaca site) - 2
Mountain Cacique
Cacicus chrysonotus
23/03/2013 - Colibri del Sol BR - 5+
26/03/2013 - Jardin - 5+
Scarlet-rumped Cacique
Cacicus uropygialis
21/03/2013 - Colibri del Sol BR - 1 en route
Yellow-rumped Cacique
Cacicus cela
29/03/2013 - Rio Claro NR - 30+
30/03/2013 - Rio Claro NR - a few
Russet-backed Oropendola
Psarocolius angustifrons
04/03/2013 - Reinita Cielo Azul (lodge to quail feeders) - Few
05/03/2013 - Reinita Cielo Azul (lodge to 5th bench) - Fairly common
06/03/2013 - Reinita Cielo Azul (lodge to school) - Fairly common
07/03/2013 - Reinita Cielo Azul (lodge to 2nd bench) - Fairly common
19/03/2013 - Arrierito Antioqueno BR - a few
Crested Oropendola
Psarocolius decumanus
09/03/2013 - Santa Marta (travel + El Dorado lodge) - 5+
10/03/2013 - Santa Marta (Santa Marta Parakeet site to lodge) - 5+
11/03/2013 - Santa Marta (lodge down to shop) - 10+
12/03/2013 - Santa Marta (roadside stops to Minca) + Minca - Few
13/03/2013 - Santa Marta (Chestnut-winged Chachalaca site) - 5+
21/03/2013 - Colibri del Sol BR - 2 en route
Chestnut-headed Oropendola
Psarocolius wagleri
28/03/2013 - Rio Claro NR - Few
29/03/2013 - Rio Claro NR - 20+
30/03/2013 - Rio Claro NR - a few
Thick-billed Euphonia
Euphonia laniirostris
03/03/2013 - El Gallineral (San Gil) - 5+
06/03/2013 - Reinita Cielo Azul (lodge to school) - 5+
12/03/2013 - Santa Marta (roadside stops to Minca) + Minca - 5+
27/03/2013 - Bolombolo - 2+
28/03/2013 - Rio Claro NR - 3+
29/03/2013 - Rio Claro NR - 10+
30/03/2013 - Rio Claro NR - 5+
Fulvous-vented Euphonia
Euphonia fulvicrissa
28/03/2013 - Rio Claro NR - 2
29/03/2013 - Rio Claro NR - 5+
30/03/2013 - Rio Claro NR - 1
Orange-bellied Euphonia
Euphonia xanthogaster
05/03/2013 - Reinita Cielo Azul (lodge to 5th bench) - 5+
06/03/2013 - Reinita Cielo Azul (lodge to school) - 5+
18/03/2013 - Arrierito Antioqueno BR - 2
19/03/2013 - Arrierito Antioqueno BR - 5+
24/03/2013 - Las Tangaras BR - 3+
25/03/2013 - Las Tangaras BR - 2+
Blue-naped Chlorophonia
Chlorophonia cyanea
09/03/2013 - Santa Marta (travel + El Dorado lodge) - 2
10/03/2013 - Santa Marta (Santa Marta Parakeet site to lodge) - 1
11/03/2013 - Santa Marta (lodge down to shop) - 4
12/03/2013 - Santa Marta (roadside stops to Minca) + Minca - 2
Chestnut-breasted Chlorophonia
Chlorophonia pyrrhophrys
24/03/2013 - Las Tangaras BR - 2
25/03/2013 - Las Tangaras BR - 1
Yellow-collared Chlorophonia
Chlorophonia flavirostris
Restricted range
25/03/2013 - Las Tangaras BR - 3
Lesser Goldfinch
Spinus psaltria
06/03/2013 - Reinita Cielo Azul (lodge to school) - 10+
23/03/2013 - En route between CDS - LT - 2
Andean Siskin
Spinus spinescens
02/03/2013 - Lago de Siscunsi - 10+
01/04/2013 - La Florida - 10+
Yellow-bellied Siskin
Spinus xanthogastrus
20/03/2013 - En route - 2