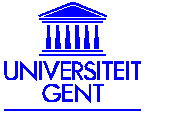 Joris Van der Jeugt

---
Position | Areas of interest | Teaching subjects | Home address | Collaborators | Hobbies | General links
---
This website features a Blank Page according to the recommendations of the TPILB-Project.
POSITION
I am a regular staff member of the University of Ghent in the Department of Applied Mathematics and Computer Science. (since 1 October 2000). Before that, I was for a long time Research Associate of the FWO (Fund for Scientific Research - Flanders (Belgium)).

AREAS OF INTEREST
Group theoretical methods in physics. Representation theory of Lie algebras, Lie superalgebras and quantum groups with applications in mathematical physics. Special functions and applications. Numerical and computational methods, computer physics.
Have a look at my general Mathematics links or links related to my own research work: List of publications | Preprints | Erdös number | Einstein number.

HOME ADDRESS
Touwstraat 9, B-9160 Lokeren. More personal information (including family pictures) is available.

I HAVE JOINT PAPERS WITH
R. Chakrabarti | N. Debergh | H. De Meyer | P. De Wilde | V. Fack | J.W.B. Hughes | E.I. Jafarov | R. Jagannathan | A. Jellal | R.C. King | H.T. Koelink | V.K.B. Kota | S. Lievens | E. Moens | B. Morel | S.M. Nagiyev | T.D. Palev | J. Patera | S.N. Pitre | V. Rajeswari | J. Raynal | G. Regniers | R.T. Sharp | K. Srinivasa Rao | N.I. Stoilova | J. Thierry-Mieg | G. Vanden Berghe | J. Vanthournout | R.B. Zhang .

HOBBIES
Hiking. Travelling. Cooking. Skating. Beer. I'm also working in a Fair Trade Shop as a volunteer.
---
Vakgroep Toegepaste Wiskunde en Informatica, Universiteit Gent
Krijgslaan 281-S9, B-9000 Gent, BELGIUM.
phone: +32 9 264 48 12
telefax: +32 9 264 49 95
e-mail: Joris.VanderJeugt@UGent.be
---
Last update: March 2013.
---